YouTube blocks Trump from posting, Apple makes good on $100M racial equity and social justice promises, and Glassdoor's 'Best Places to Work'
Also: CNN to end its Airport Network, Yelp to display COVID-19 feedback, Chipotle aims to hire 15,000 employees, and more.
Hello, communicators:
 On March 31, CNN is ending its Airport Network, a customized news service for nearly 60 airports in the United States. The network has operated for 30 years. In a memo, Jeff Zucker, CNN's president, pointed to decreased travel during COVID-19 as well as shifting news consumption behaviors.
"The steep decline in airport traffic because of COVID-19, coupled with all the new ways that people are consuming content on their personal devices, has lessened the need" for the network, Zucker wrote.

… "I am sure most of us have a story to tell about which airport we were at when we first learned of a major news event," Zucker wrote. "Be proud that we had a hand in sharing some incredible stories with many millions of people over the past three decades."
Here are today's top stories:
 YouTube bars Trump from uploading videos
 The social media platform announced that "in light of concerns about the ongoing potential for violence," it removed President Donald Trump's latest video and suspended the channel's ability to post additional content for at least a week. YouTube also said it's disabling comments on Trump's channel "indefinitely":
2/ Given the ongoing concerns about violence, we will also be indefinitely disabling comments on President Trump's channel, as we've done to other channels where there are safety concerns found in the comments section. https://t.co/1aBENHGU5z

— YouTubeInsider (@YouTubeInsider) January 13, 2021
The video that prompted the YouTube suspension came from Mr. Trump's remarks on Wednesday before a trip to Texas to visit a partly completed portion of his long-promised wall along the Mexican border.

In his first address to reporters since last week's events, Mr. Trump said that a speech he had made at a rally before the riots at the Capitol was "totally appropriate" and that an effort by Congress to impeach and convict him was "causing tremendous anger."
Why it's important: YouTube's move follows similar efforts by social media platforms and technology companies to distance themselves from both Trump and the U.S. Capitol riots. As with Twitter, Facebook, Reddit, Twitch and more, YouTube kept its statements brief, with links to its current safety policies and terms of service—crucial for crisis communications response, especially in a polarized political landscape.
---
SOCIAL BUZZ
Yelp is rolling out new features aimed at updating consumers on organizations' adherence to COVID-19 safety protocols—including showcasing consumer feedback on how much businesses are following these efforts.
 In a blog post, the social media app wrote:
Similar to how users can provide Yelp with feedback on whether a business is "kid-friendly" or "great for groups," we're now reflecting our users' observations about businesses' safety practices during the pandemic.

This information will be displayed on a business's Yelp page under the "Health & Safety Measures" heading in the COVID-19 section. At this time, "social distancing enforced" and "staff wears masks" are the only properties where detailed user feedback can be displayed because these are the health and safety precautions that can be most easily observed by customers.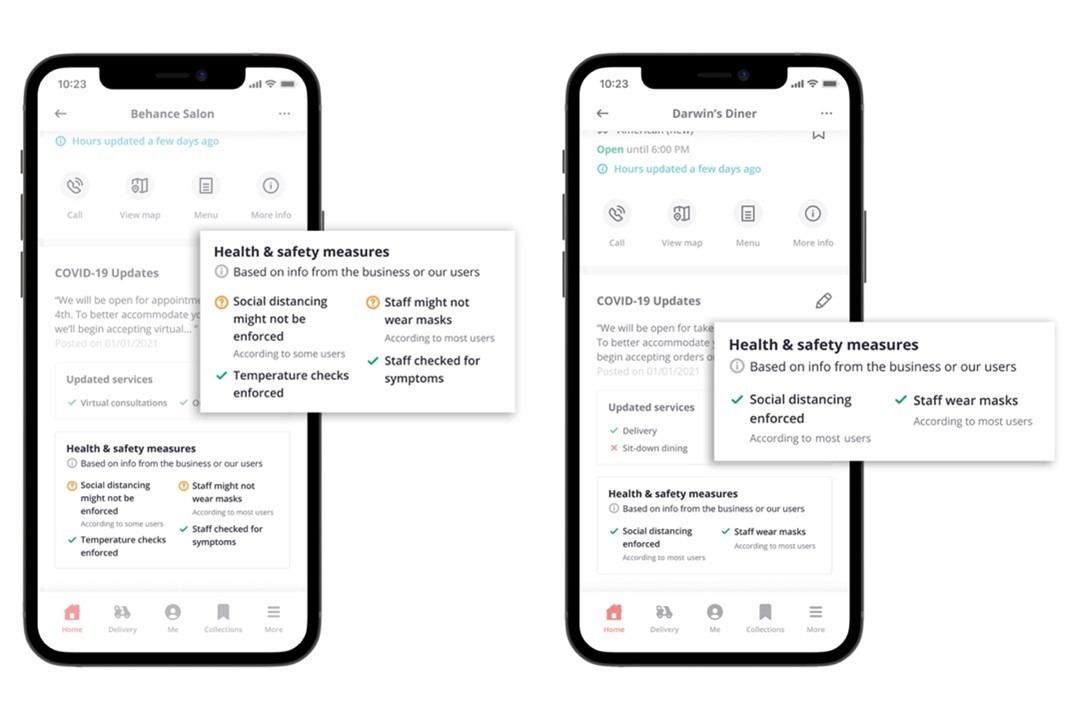 Yelp is also offering organizations the opportunity to indicate if they offer indoor dining, heated or covered outdoor seating, disposable or contactless menu, private dining, do-it-yourself meal kits, outdoor services and other offerings aimed at limiting COVID-19's spread.
"We saw consumer interest increase 41% for businesses that added COVID-19 business updates to their Yelp pages between September 1 and December 31, 2020," the company said in its blog post.
---
MEASURED THOUGHTS
Glassdoor released its 2021 Best Places to Work list:
Employees have spoken! These are the Best Places to Work in 2021: https://t.co/rVEW8I7vx3 #GlassdoorBPTW pic.twitter.com/2ZwJFxudhi

— Glassdoor (@Glassdoor) January 13, 2021
Management consulting firm Bain & Company topped the list, with employees giving it kudos for "a very thoughtful COVID response plan" as well as DE&I initiatives. The company led these other top 10 places to work:
Nvidia
In-N-Out Burger
HubSpot
McKinsey & Company
Google
Delta Air Lines
Lululemon
Microsoft
H.E.B.
The top employee comments and kudos for these workplace leaders mentioned outstanding internal communications, incorporating employee feedback, a thriving corporate culture and a focus on team members' wellbeing as well as work/life balance—especially during COVID-19.
Glassdoor also created a short video highlighting several organizations on the list, featuring employees from Bain & Company, St. Jude Children's Research Hospital (No. 47), Hubspot, Facebook, DocuSign (No. 15) and more:
Both the organizations on the list and Glassdoor's content strategy behind this effort offer ideas and inspiration for bolstering workplace culture, strengthening wellbeing initiatives, and showcasing employees in storytelling efforts.
---
TACTICALLY SPEAKING
Chipotle is looking to hire 15,000 employees, and is asking people to sign up for interviews during its "Coast to Coast Career Day" on Jan. 14. "Celebrate #Not2020 with a real career and free guac," the restaurant said on its careers website.
In a press release, Marissa Andrada, chief diversity, inclusion and people officer for Chipotle, said:
We are fortunate to be experiencing growth during this unique time and want to safely provide an opportunity for purpose-driven individuals to join us on our mission of cultivating a better world. To attract and retain top talent and foster a culture of well-being, we offer best-in-class benefits coupled with training and development opportunities that create a learning culture for continual growth.
Chipotle said it ended 2020 with "nearly 11,000 internal promotions and the possibility of roughly 200 new restaurant locations on the horizon." The casual dining chain said it's requiring online interview registrations in advance to help maintain COVID-19 safety protocols, promising "mandatory masks and social distancing" at interviews, along with outdoor meeting options, based on location.
---
CRISIS LEADERSHIP NETWORK
Looking for more insight on how to address the current global crisis and lead your organization into a strong recovery?
Join Ragan's Crisis Leadership Network to connect and brainstorm with peers, get the latest intelligence and research and start to strategize for the future of your organization.
Learn more about this exclusive membership here.
Apple makes good on its $100M racial equity and justice commitments
The tech company announced three new projects aimed to "help dismantle systemic barriers to opportunity and combat injustices faced by communities of color." The efforts are part of Apple's $100 million Racial Equity and Justice Initiative, which the company announced in June 2020.
 Apple's chief executive officer, Tim Cook, tweeted:
Apple's Racial Equity and Justice Initiative is taking three big steps. Supporting the Propel Center, a global innovation and learning hub for HBCUs. Our first Developer Academy in the US—in Detroit. And funding to accelerate minority-owned businesses. https://t.co/Z21ThemYe1

— Tim Cook (@tim_cook) January 13, 2021
Apple will donate $25 million to help launch the Propel Center, a "first-of-its-kind innovation and learning hub" for historically Black colleges and universities. It's also opening an Apple Developer Academy in Detroit, to help "empower young Black entrepreneurs, creators and coders, helping them cultivate the skills necessary for jobs in the rapidly growing iOS app economy," and investing $10 million in the early-stage venture capital firm Harlem Capital as well as $25 million in Sieber Williiams Shank's Clear Vision Impact Fund, which has an emphasis on providing capital to minority-owned small and medium-sized companies.
We are all accountable to the urgent work of building a more just, more equitable world—and these new projects send a clear signal of Apple's enduring commitment. We're launching REJI's latest initiatives with partners across a broad range of industries and backgrounds—from students to teachers, developers to entrepreneurs, and community organizers to justice advocates—working together to empower communities that have borne the brunt of racism and discrimination for far too long. We are honored to help bring this vision to bear, and to match our words and actions to the values of equity and inclusion we have always prized at Apple.
Why it matters: Apple's announcement is an outstanding example of meaningful social justice initiatives as well as DE&I accountability. Rather than simply announcing donations, the company's press release details specific plans, along with community partners and how the efforts will positively affect BIPOC students, business owners and more. All three projects offer either skill development to open more opportunities, or funding to help various opportunities come to life. Along with a promise of mentorship, Apple's projects not only fit its brand image and values, but are meaningful and measurable efforts that are meant to clearly realize its commitments.
---
TACTICALLY SPEAKING
Staples announced its intention to purchase competitor Office Depot for $2.1 billion. The proposed acquisition is the third attempt in 25 years to merge the office supply companies. Yet, both brands are putting a positive face on what might be an uphill battle with the Federal Trade Commission.
"The regulatory process will take at least six months," Staples' parent company, USR Parent, said in a press release.
Staples said it's "prepared to take all necessary measures" to get the merger approved by the Federal Trade Commission, which said in 2015 that the combination would give the combined companies too large a chunk of the office supply retail market and would violate antitrust law.

To avoid antitrust scrutiny, Staples proposed selling its IT management company CompuCom or its business-to-business unit.
Office Depot's parent company, ODP, said this in a press release:
While the Board review is underway, the Company and its employees remain focused on positioning the business to deliver value for stakeholders through the implementation of its strategy to build upon the capabilities of its B2B platform, supported by its "Maximize B2B" restructuring plan, to drive future growth, achieve cost savings and pave the way for an enhanced competitive profile that builds on its unique strengths.
---
TAKE OUR SURVEY
The start of a new year brings more opportunities for communicators across roles, organizations and industries to develop effective strategies and efforts that can strengthen their brands amid continuing crises, including the COVID-19 pandemic.
Ragan's Communications Leadereship Council has created The 2021 Communications Benchmark Survey, and wants to know your challenges, successes and needs as you navigate the rapidly shifting communications landscape and respond to unprecedented crises as well as new opportunities.
Please share your insights with us. As a thank you for your time and insights, you'll receive an Executive Summary of the report, packed with proprietary research that can help you better shape communications strategies in 2021. You'll also be entered to win one of five $100 Visa gift cards.
---
WHAT YOU SAID
We asked for the top challenges you're focusing on this year, and nearly 44% of you said employee communications and well-being is a top priority, while 26% are concentrating on measurement and reporting efforts and 17% are focusing on fulfilling diversity, equity and inclusion commitments. For 13% of you, getting executive buy-in or a bigger slice of the budget is the aim for 2021:
What challenge are you focusing on this year, communicators?

Weigh in below and let us know how you're planning to overcome hurdles, and we'll share in tomorrow's #DailyScop.

— PR Daily (@PRDaily) January 12, 2021
Is there a question you'd like us to ask in an upcoming poll? Let us know below or under the #DailyScoop hashtag on Twitter!
---
SOUNDING BOARD
How do you maintain productivity, especially after the holidays?
How do you maintain productivity, especially after the holidays?

Share with us below how you're boosting motivation, and we'll share in tomorrow's #DailyScoop.

— PR Daily (@PRDaily) January 13, 2021
Please weigh in below and share your insights on Twitter, and we'll share in tomorrow's #DailyScoop.
COMMENT
No Responses to "YouTube blocks Trump from posting, Apple makes good on $100M racial equity and social justice promises, and Glassdoor's 'Best Places to Work'"
Ronald N. Levy

says:

It's unnecessary to keep Trump from posting because clearly Trump is a
loser.

The voters have said in effect: Trump, you're a loser.

The state election authorities have also said it: Trump, you're a loser.

Some 60 different courts have said it not 41 to 39 nor 50 to 10 but
unanimously 60 to nothing: Trump, you're a loser.

He did a great job in many ways just as many football teams played
great football but except for Alabama even great teams lost, and except for
the economy and other great achievements Trump is a loser.

But in America should even a loser not be prevented from communicating?