Zoom lifts Thanksgiving call limit, WW launches personalized wellness program, and SEC chair to step down
Also: BarkBox embraces risqué humor to boost its holiday buzz, Dunkin' wins big from influencer campaign, Qatar Airways markets 'travel bubble' holiday,  and more.
Hello, communicators:
Zoom is lifting its 40-minute limit on all meetings made around the wold for the U.S. Thanksgiving holiday:
As a thank you to our customers, we will be lifting the 40-minute limit for all meetings globally from midnight ET on Nov. 26 through 6 a.m. ET on Nov. 27 so your family gatherings don't get cut short. ❤️🏡 #ZoomTogether pic.twitter.com/aubsH0tfxG

— Zoom (@zoom_us) November 10, 2020
The removal is temporary and only for customers on Thanksgiving Day, or November 26. It will last from midnight to 6am ET on November 27. While this is only a short-lived change for users that friends and families will no doubt benefit from, it's still a nice gesture on Zoom's part to help ensure those looking for a peaceful gathering for the holiday can have just that if they want it.
What are you doing to uplift your customers and employees around the holidays? Share your efforts with us under the #DailyScoop hashtag.
Here are today's top stories:
WW launches personalized wellness program
The company formerly known as Weight Watchers is introducing a new, comprehensive offering that helps users balance their sleep, mental well-being and exercise along with their eating habits.
The Oprah Winfrey-backed company's new myWW+  comes with a more personal approach that can help with stress eating and lack of sleep, which have hit not only weight-conscious consumers during the coronavirus pandemic.

"They want more support, they want more motivation, they want more inspiration but they want what they need," WW President and CEO Mindy Grossman told USA TODAY. "And they want a certain amount of personal accountability."
The company ended its third quarter with 4.7 million subscribers, which WW said is a record for closing the quarter.
Why it's important: This move highlights the importance of personalization when reaching consumers—a crucial component of successful offerings and campaigns during COVID-19, but also a strategy that will remain important as consumer behaviors permanently change.
WW's offering also showcases the increasing focus on wellness and a holistic approach to mental and physical wellbeing. If you haven't already started addressing wellness within your workplace, you might want to reconsider.
---
SOCIAL BUZZ
BarkBox brought back its Thanksgiving-themed dog toy that caused a stir on social media last year: "Big Honkin' Pigs in a Blanket." The company's social media team received more than 18,000 comments after consumers snarked that the stuffed toys looked more risqué than family-friendly, so BarkBox decided to bring them back in 2020 for Valentine's Day and Thanksgiving.
The team leaned in even more to the joke, however, by creating an OnlyFans account for a limited-edition "XXL" version of the toy, which BarkBox offered to 10 consumers willing to donate $150 to the nonprofit of their choice:
i can't wait to see how quickly these get taken down… anyway… grab an XXL pigs in a blanket toy while you can 😘 pic.twitter.com/dJucESipeH

— BarkBox (@barkbox) November 11, 2020
https://t.co/jwhkDHNJxd WE'RE ALREADY DOWN TO 9 OUT OF 10 XXL PIGS IN A BLANKET SO…

— BarkBox (@barkbox) November 11, 2020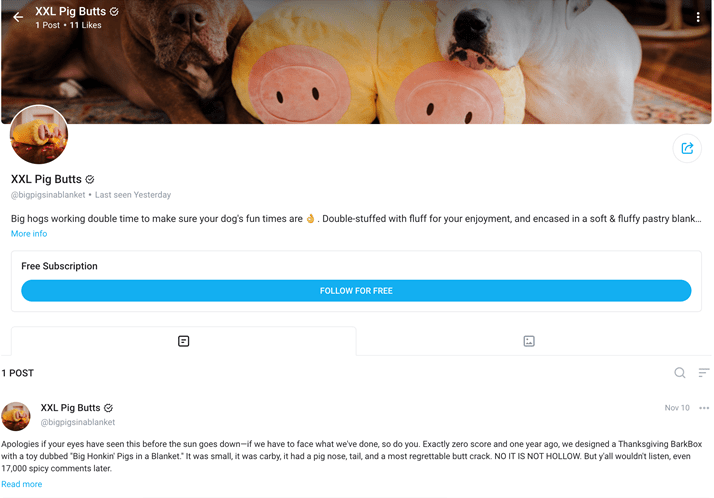 Image courtesy of BarkBox and OnlyFans.
The offering has already sold out, and BarkBox is taking advantage of the buzz to sell this year's stuffed pigs.
In a blog post, the team wrote:

'Tis the anniversary of these scandalous butt crack pigs, and we're bringing them back so you can arrange them in the background of a holiday Zoom and wait for your family to look uncomfortable.

The OG oinkers are making their grand re-debut as a FREE TOY for you lucky dogs quick enough to sign up for this November's "Dogsgiving" box. AAAAND before you start pounding your keyboards in buttless-induced anger, YES, you can get them if you already subscribe—we found a small collection of them in the warehouse so get 'em while they're hot, you beautiful weirdos.
---
MEASURED THOUGHTS
StatSocial recently analyzed the purchasing behaviors of content creator Charili D'Amelio's social media audience and compared it with total Dunkin' purchases, revealing that D'Amelio's fans averaged less on their purchases than other Dunkin' customers. However, that changed with Dunkin's influencer campaign with D'Amelio, which boosted both her audience's purchases and overall revenue:
@charlidamelio / @dunkindonuts September 2020 campaign@StatSocial Influencer Attribution infographichttps://t.co/ROhUivc41B pic.twitter.com/GYtg0KB3Dr

— StatSocial (@StatSocial) November 13, 2020
StatSocial reported that D'Amelio fans' sales rose to 44% more than the U.S. consumer average during September, bringing another successful case study for influencer relations strategies.
---
CRISIS LEADERSHIP NETWORK
Looking for more insight on how to address the current global crisis and lead your organization into a strong recovery?
Join Ragan's Crisis Leadership Network to network and brainstorm with peers, get the latest intelligence and research and start to strategize for the future of your organization.
Learn more about this exclusive membership here.
Head of SEC to step down
Jay Clayton, chair of the Securities and Exchange Commission, announced that he was resigning at the end of 2020, instead of staying on until June 2021, when the position's term expires.
"The U.S. capital markets ecosystem is the strongest and most nimble in the world, and thanks to the hard work of the diverse and inclusive SEC team, we have improved investor protections, promoted capital formation for small and larger businesses, and enabled our markets to function more transparently and efficiently," Clayton said.
Why it matters: Clayton's critics say he was too lenient on corporations, so watch for the next leader's strategy. It could mean big changes and additional enforcement are in store, including for social media platforms and executive actions (such as Elon Musk, who received a $20 million fine for his tweets). Organizations across industries will also want to keep up with current guidelines and regulations when working with content creators and influencers.
---
TACTICALLY SPEAKING 
Qatar Airways is promoting COVID-19 "Travel Bubble Holiday" packages, which offer consumers a holiday in the Maldives without the need for an Exceptional Entry Permit or quarantine requirement upon returning home.
Qatar Airways Holidays is delighted to announce the launch of special 'Travel Bubble Holidays' packages to the Maldives entitling Qatar citizens and residents to be exempt from local quarantine or self-isolation and the Exceptional Entry Permit (for residents) upon return to Doha pic.twitter.com/MC4TurqXLW

— Qatar Airways (@qatarairways) November 16, 2020
Enjoy #Maldives with @QRHolidays exclusive 'Travel Bubble Holidays' packages entitling Qatar citizens and residents to enjoy a safe holiday without quarantine or self-isolation, or an Exceptional Entry Permit (for residents) upon their return to Doha. https://t.co/6PX08xqC55 pic.twitter.com/nIuliB0Say

— Qatar Airways (@qatarairways) November 16, 2020
The offering, brought by Qatar's "very first 'Safe Travel Bubble'" highlights what travel and hospitality marketing might look like for the next 6-12 months as brand managers tailor their messages to shifting consumer behaviors as well as changing crisis landscapes.
---
WORKPLACE WELLNESS
As communicators face unprecedented challenges around crisis management, shifting consumer behaviors and more—and as many work to connect, engage and support their employees as the workplace landscape dramatically changes—wellbeing has become an important focus.
That's why we launched Ragan's Workplace Wellness Insider. Our new offering is a treasure trove of research, guidance and insights for wellness, employee communications and HR pros. Get the help you need through our website, newsletter, Slack group, research, complimentary reports and more showcasing trends and revealing how organizations are addressing and managing their employees' wellbeing.
Subscribers also receive discounts on workplace wellness conferences, award entries and Ragan webinars, for additional takeaways and insights to help power your initiatives and strategies.
---
EDITOR'S PICKS
Balanced, nutritious meals can give you the energy necessary to draft your next press release, trying a new pitch angle, responding to social media trends and preparing for crisis response internally and externally. However, making these meals is no small task, especially when your task list grows. For those balancing their children's distance-learning needs with their communications campaigns, the task becomes even more difficult.
Consider these meal options instead:
---
SOUNDING BOARD
Where do you splurge on tools and resources, communications pros?
Where do you splurge on tools and resources, communications pros?

Weigh in below and share your favorite tools and hacks. We'll dish in tomorrow's #DailyScoop!

— PR Daily (@PRDaily) November 16, 2020
Weigh in below, via our Twitter poll and through the #DailyScoop hashtag, and we'll share the results in tomorrow's roundup. Is there a question you'd like us to ask in an upcoming poll? Let us know!
Editor's note: Ragan Communications may earn a commission through our affiliate partnerships when purchasing items in our content.
COMMENT