62% of Americans say COVID restrictions worth the cost, TikTok faces GDPR investigation, and lawmakers decry Instagram for Kids
Also: Arizona sues over Biden's vaccine rules, GIF subject looks to reclaim likeness, #ThislittleGirlIsMe takes off on LinkedIn, Chevron's lower-carbon investments, and more.
Hello communicators:
Arizona has become the first state to sue the Biden Administration over its new vaccine rules for businesses with more than 100 employees. The new rule from the Department of Labor says that employers must require employees to get vaccinated or receive regular testing—or face a hefty fine.
The lawsuit claims that the rules violate the Constitution's Equal Protections clause, because undocumented immigrants will not be subject to a vaccine requirement whereas U.S. citizens will be compelled to comply.
"In a nutshell: unauthorized aliens will not be subject to any vaccination requirements even when released directly into the United States (where most will remain), while roughly a hundred million U.S. citizens will be subject to unprecedented vaccination requirements," the state told the court. "This reflects an unmistakable — and unconstitutional — brand of favoritism in favor of unauthorized aliens."
The lawsuit comes as many companies are working to respond to the new rules from the Biden administration. Many companies are offering bonuses to workers who get vaccinated. Southwest Airlines is offering extra pay, travel rewards and more for workers who get the jab while removing pay protections for unvaccinated workers who miss work due to the virus.
Southwest told staff that its new policies are "unrelated" to the sweeping measures President Joe Biden announced last week to increase Covid-19 vaccinations. However, Southwest last week said it was "prepared to move toward compliance" with the forthcoming rules. Biden has asked the Department of Labor to make Covid inoculations mandatory for companies with more than 100 employees.
While legal experts debate the veracity of the White House's new guidance, companies should consider the ways they can exercise their own authority to fight the COVID-19 crisis. By placing the emphasis on protecting workers and jobs, companies will find plenty of justification for new measures to combat rising case numbers.
Here are today's other top stories:
TikTok faces inquiry over user data under GDPR law
The Irish Data Commissioner has begun an investigation into how the popular video company is handling the data of users, specifically children, and whether that data is being transferred back to China. TikTok says it has abided by the law and that it has "robust policies" to protect all users, and children in particular.
"We've implemented extensive policies and controls to safeguard user data and rely on approved methods for data being transferred from Europe, such as standard contractual clause," the company said, adding that it would co-operate with the Irish regulator. The investigations came as TikTok, which soared in popularity among teenagers during pandemic-related lockdowns, battles national security and privacy concerns worldwide.
What you should know: Communication about privacy and consumer data use continues to be a hot topic for the business world. As laws like Europe's GDPR rules become more widespread, companies will have to show that they are following best practices when it comes to data privacy—and be proactive and transparent in defending customer data rights.
---
MEASURED THOUGHTS
The majority of Americans see the benefits of COVID-19 restrictions as outweighing the costs, according to new data from Pew Research.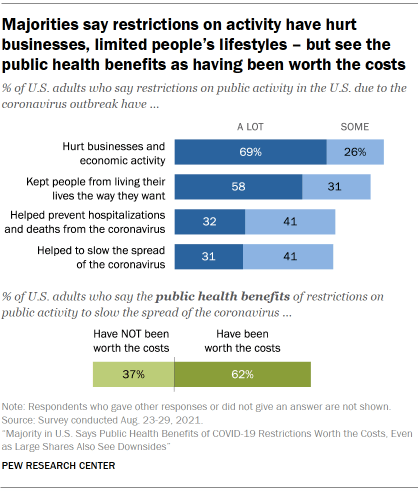 ---
SOCIAL BUZZ
Drew Scanlon, the individual who was turned into a popular GIF of a man blinking in surprise, is trying to reclaim a bit of his likeness. The producer and podcast host asked users who have enjoyed the meme or used his image to consider donating to the National MS Society.
Hi Internet! I'm Drew and THIS IS MY FACE.

If this GIF has ever brought you joy in the past, I humbly ask you to consider making a donation to the National MS Society. It would mean a lot to me and to those I know affected by the disease!

Donate at https://t.co/JkdnTG7DCO pic.twitter.com/E0ChZ9brNL

— Drew Scanlon (@drewscanlon) September 15, 2021
The tweet is a reminder for brand managers and companies to consider where the digital content they use is coming from—and to maintain open lines of communication with digital creators whose work underpins their marketing efforts.
Scanlon's received plenty of reactions and retweets on Twitter, but many were asking for more information about the origin of the now ubiquitous video image. It's an example of how the internet has a short memory, and that a bit of extra storytelling could go a long way in drawing in new readers and viewers.
Lawmakers call on Facebook to scrap plans for Instagram for Kids
The new scrutiny comes after the Wall Street Journal's report this week and Instagram's own response to the story which tried to add nuance and alternative perspectives. Sen. Ed Markey of Massachusetts, and Reps. Kathy Castor of Florida and Lori Trahan of Massachusetts, all Democrats, sent a letter which stated their concern over the platform's record on teen mental health.
"Although you have publicly told Congress that 'the research [I have] seen is that using social apps to connect with other people can have positive mental-health benefits,' your own company's research points to disturbing relationships between Instagram use and young people's mental health challenges," Markey, Castor and Trahan wrote.
What you should know: The proposed platform for kids has received criticism since it was reported by Buzzfeed in March, and the latest reporting form the Wall Street Journal has undermined confidence in Facebook's ability to build a safe space for young users.
The incident is a reminder of the true cost of reputation on your bottom line and how a perceived lack of transparency will harm new product launches and create the market for investigative journalism that looks under the hood for other ways you might be falling short of your intended goals.
Marks and Spencer blames Brexit after shuttering stores
The retail chain is closing 11 of its stores in France over supply chain problems it says are caused by the U.K. withdrawing from the European Union, a move known as "Brexit." The statement shows how European companies are explaining their strategic decisions that have been forced by the economic shift.
"The supply chain complexities in place following the UK's exit from the European Union now make it near impossible for us to serve fresh and chilled products to customers to the high standards they expect, resulting in an ongoing impact to the performance of our business," M&S managing director of international Paul Friston said in a statement.
What you should know: When public policy or political change threatens your business model, it's essential to explain to stakeholders why the changes that are coming are connected to those big picture decisions. As complicated as the European trade system is, the ability to make these complex tradeoffs clearly understood by a wide audience will be crucial for companies facing the turmoil of the transition ahead.
---
STORYTELLING
Lavinia Thanapathy started a conversation on LinkedIn where women shared pictures of themselves as young girls to inspire the next generation of leaders and entrepreneurs.
The hashtag #ThisLittleGirlIsMe took off as women shared their stories of how they got to where they are. The photos and personal narratives are examples of how authentic storytelling can resonate on social media.
And a good hashtag still has a lot of power.
---
EXECUTIVE COMMUNICATIONS
Chevron's CEO Mike Worth, in an interview with "Mad Money," explained that the company is not investing its resources earmarked for "lower-carbon" projects to wind and solar because management doesn't foresee being able to offer shareholder profit.
"One of the things we've chosen not to go into is wind and solar," Wirth said in a "Mad Money" interview. "These are technologies that are relatively mature. There is plenty of capital that's available. The returns in wind and solar are actually being bid down, and we've concluded that management in our company can't create value for shareholders by going into wind and solar."
The interview comes one day after Chevron announced it would triple its capital investment in lower-carbon energy businesses as part of its response to the climate crisis and to meet its commitments to reduce emissions.
However, the message is clear that oil companies are not going to sacrifice profit to invest in technology that could more quickly resolve the emissions problems that are driving global climate change. The story reminds communicators that their messages about social purpose most take care not to overpromise or mislead about the decisions that the business is making about its future.
It's all well and good to stand for something beyond just profit, but for most companies, profit is still the deciding factor.
COMMENT
One Response to "62% of Americans say COVID restrictions worth the cost, TikTok faces GDPR investigation, and lawmakers decry Instagram for Kids"
Ronald N Levy

says:

Damn right. Profit is "the deciding factor" for Chevron and nearly ALL American companies just as having enough food and rent money is a "deciding factor" in where most of us choose to work, because survival is a common sense goal. What's the alternative, NOT having profit as a deciding factor, deciding based on what's best for poor people or minorities or some philosophical gestalt?

No one who wants personal survival should look down on companies that want more income than outgo so their employees, stockholders, neighbors and suppliers can survive.

We should resist holding our noses, as if we're superior, at companies for whom a deciding factor in making decisions is profit. Even top journalists may not be superior to people who survive by working to make a profit.