Alaska Airlines bans state senator for refusing to wear a mask, over 1/4 of American workers oppose vaccines, and Basecamp's CEO takes heat over culture shake-up
Also: Federal officials soften outdoor mask guidelines, Roku takes fight with Google to its customers, Zoom launches immersive backgrounds feature, and more.
Hello, communicators:
This week, the Biden administration plans to announce relaxed federal public health guidelines on wearing masks outdoors. The announcement is expected to give separate recommendations for fully-vaccinated people and people who have not received a vaccine.
"What I believe you're going to be hearing, what the country is going to be hearing soon, is updated guidelines from the CDC,"  Dr. Anthony Fauci said on ABC's Sunday program "This Week With George Stephanopoulos."   "The CDC is a science-based organization. They don't want to make any guidelines unless they look at the data and the data backs it up."
Communicators, remember to provide data in any company messaging about shifting employee guidelines or other sudden operational changes. Leading your communications with data encourages stakeholder confidence and fortifies your company's decisions by providing context around why the operational changes were made in the first place.
Alaska Airlines defends suspension of lawmaker who refused to wear a mask
Alaska Airlines has suspended Alaskan state Sen. Lora Reinbold from flying on the airline after alleging that she continuously refused to comply with its mask mandate.
"We have notified Senator Lora Reinbold that she is not permitted to fly with us for her continued refusal to comply with employee instruction regarding the current mask policy," [Alaska Airlines] spokesman Tim Thompson said by email.

"This suspension is effective immediately, pending further review. Federal law requires all guests to wear a mask over their nose and mouth at all times during travel, including throughout the flight, during boarding and deplaning, and while traveling through an airport," he said.
Reinbold said she was "reasonable with all Alaska Airlines employees" in a statement posted to her Facebook page, and felt the airline should have kept the issue confidential until further review.

"I inquired about mask exemption with uptight employees at the counter," Reinbold said in the statement. "I learned about (Alaska Airlines) decision before I knew there was even an inquiry and before I had a chance to talk to or discuss this with anyone at Alaska Air," she said. Reinbold said she didn't receive a warning per their policy.
Why it matters:
Communicators, take note to reach out to high-profile detractors privately whenever possible before publicly addressing their criticisms. If you are pushed to issue a public response, lean on the guidelines and standards that govern your company or industry when defending your decision. Ask larger regulatory agencies and industry partners to publicly weigh in on your response to align your messaging with industry best practices.
---
MEASURED THOUGHTS
A new study by Buck found that approximately 30% of American workers surveyed are opposed to vaccination, with 24% of respondents claiming they were "unsure."
"The most important segment from a communications perspective is the segment referred to as the unsure," the study reads. "Unlike hardcore anti-vaxxers, the opposition of the unsure is not absolute, suggesting that a substantial proportion are 'moveable' through the right messages delivered from the right sources."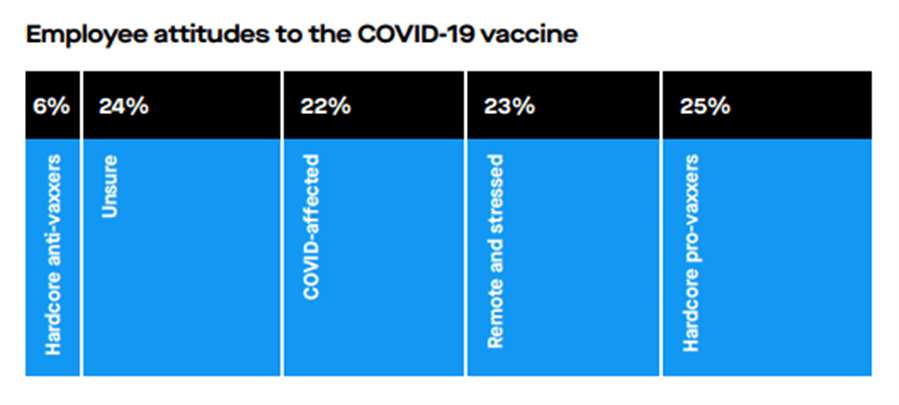 Communicators, remember to partner with your HR and people teams to create open channels of communication that address practical issues around vaccines, remove concerns about cost, reduce fear about the vaccination experience and tackle mistrust/misinformation.
---
TACTICALLY SPEAKING
Streaming software company Roku is warning its customers with YouTube TV subscriptions that their subscriptions may become inactive in coming days, alleging that YouTube parent company Google is practicing "predatory" and "monopoly" behavior.
In a statement, YouTube TV said it is negotiating "in good faith" with Roku to reach a new deal. "Unfortunately, Roku often engages in these types of tactics in their negotiations," the statement said. "We're disappointed that they chose to make baseless claims while we continue our ongoing negotiations. All of our work with them has been focused on ensuring a high quality and consistent experience for our viewers. We have made no requests to access user data or interfere with search results. We hope we can resolve this for the sake of our mutual users."

In its own lengthy statement, a Roku spokesperson blasted Google's actions in detail. The tech giant is "attempting to use its YouTube monopoly position to force Roku into accepting predatory, anti-competitive and discriminatory terms that will directly harm Roku and our users." The company has also sent an email to customers this morning expressing the concerns.
Communicators, take note to be careful and deliberate when messaging your customers about an industry competitor. Craft customer communications that walk the line between identifying the core conflict while remaining diplomatic and solution oriented.
---
TECH TALK
Zoom has released a video background feature called "Immersive View" that hopes to make video calls feel more like office meetings.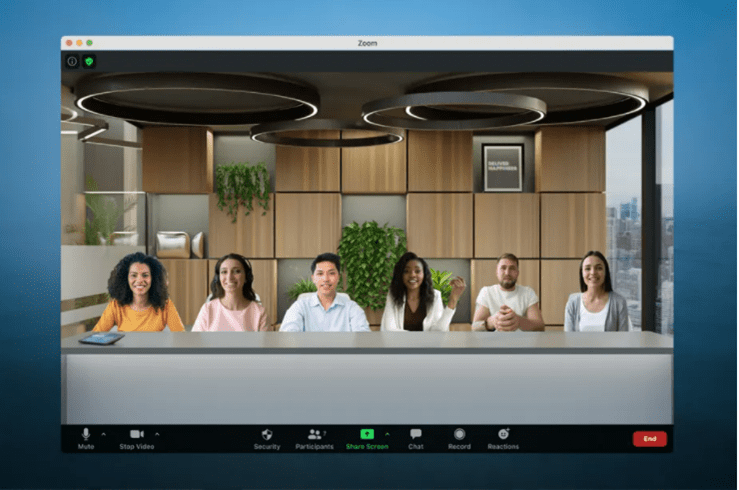 Immersive View builds on the virtual background features Zoom already has but focuses on actually placing meeting attendees in a realistic-looking location, rather than just switching out a flat background. Meeting hosts can enable Immersive View from the same menu where you can find Speaker View and Gallery View; from there, Zoom will automatically place attendees in a variety of built-in virtual scenes like a board room or auditorium, or the meeting host can manually place them themselves.
Communicators, remember to set realistic expectations with employees about what virtual meetings can and cannot accomplish. Be deliberate when experimenting with new tools and features and always gauge employee sentiment before requiring them to get onboard with new procedures for remote communication.
---
CRISIS LEADERSHIP NETWORK
Looking for more insight on how to address the current global crisis and lead your organization into a strong recovery?
Join Ragan's Crisis Leadership Network to connect and brainstorm with peers, get the latest intelligence and research and start to strategize for the future of your organization.
Learn more about this exclusive membership here.
Basecamp's CEO slammed for planned culture changes
Jason Fried, CEO of the project management software company Basecamp, has published a blog post explaining a heap of internal changes to the company culture. They include a ban on political and cultural discussions, an end to "paternalistic benefits," including fitness and wellness benefits which will be folded into general employee compensation, an end to employee working committees and more.
No more lingering or dwelling on past decisions. We've become a bit too precious with decision making over the last few years. Either by wallowing in indecisiveness, worrying ourselves into overthinking things, taking on a defensive posture and assuming the worst outcome is the likely outcome, putting too much energy into something that only needed a quick fix, inadvertently derailing projects when casual suggestions are taken as essential imperatives, or rehashing decisions in different forums or mediums. It's time to get back to making calls, explaining why once, and moving on.
Fried's post made the rounds on Twitter, where users questioned the tone and implications of his messaging:
everyone's been commenting on the politics, but I think "No more lingering or dwelling on past decisions. It's time to get back to making calls, explaining why once, and moving on" might be my favorite part

NO QUESTIONING OR SELF-REFLECTION ALLOWED HERE

— Ian Coldwater 📦💥 (@IanColdwater) April 26, 2021
"The problem is, peer feedback is often positive and reassuring, which is fun to read but not very useful."

NEGATIVITY IS THE ONLY THING THAT'S USEFUL

— Ian Coldwater 📦💥 (@IanColdwater) April 26, 2021
Some suggested that Fried's decisions reflected a larger "tech bro" culture and white privilege:
And god forbid that important culture shifting decisions (like those of your DEI program) be made with the input of a diverse pool of perspectives. This whole thing screams of tech bros desperate to restore the nostalgic "startup culture".

— Alyssa Miller 👑 Duchess of Hackington (@AlyssaM_InfoSec) April 26, 2021
"I, as CEO or whatever of Basecamp, am tired of everyone implying I'm racist when in reality I'm simply not willing to THINK about racism or self-reflect at all. Let's get back to Business As Usual."

— Jasper 'Lope – Enough is Enough (@Jasperlope) April 26, 2021
Others questioned the larger role of a CEO, criticizing Fried's changes and his unwillingness to create an environment for employees to have difficult conversations:
The part that really grinds me gears about the Basecamp thing is a CEOs entire role is to work through the hard conversations. Basically he just nope'd out of all his responsibilities as CEO. The engineers are writing the code, sales is making sales, what is he doing now?

— Colin Cornaby (@colincornaby) April 26, 2021
Disappointing & **scary** to see this. Normalisation of not caring beyond your own bank account.. Only your personal needs as a founder or CEO.. No employees, community, society. And that's coming from an industry "role model" @dhh @jasonfried FFS 🤦‍♂️ RIP D&I @basecamp 🪦 https://t.co/OgbxTcpODZ

— Vessy #BlackLivesMatter |🏳️‍🌈🇧🇬🇮🇪| she/they (@vessytash) April 26, 2021
Why it matters:
Communicators, take note to vet all thought leadership communications with employees and trusted third-party advisors before publishing. Seek feedback from stakeholders from diverse racial, culture and socioeconomic backgrounds to ensure that the messaging will resonate with its intended audience. Weigh the sentiments of the communication against the prevailing social and cultural consensus of your industry to ensure that it doesn't miss the mark.
---
CONFERENCE ALERT
Communicators are in a unique position to collaborate with other DE&I leaders to foster unity, build a stronger internal and external brand reputation, maximize innovation and improve the bottom line. The days of brands comfortably remaining silent are gone as employees and customers are demanding impactful change.
Join us at Ragan's Diversity, Equity and Inclusion conference on May 19, 2021 and glean timely strategies to educate, engage and uplift your employees and customers in the wake of unparalleled uncertainty, political upheaval and a new mandate for social justice change.
Learn powerful insights and approaches from speakers at organizations including Ben & Jerry's, Reebok, Warner Music Group, E.W. Scripps, NielsenIQ, Facebook and more.
---
WHAT YOU SAID
Yesterday, we checked in to learn how you were feeling at the start of another week.
Some of acknowledged coffee's role in getting your week started:
— Meagan Fox (Labrie) (@__MeaganLaBrie) April 26, 2021
— Whitney Wells (@whitpwells) April 26, 2021
— Erica (@EricaLDonohue) April 26, 2021
Others woke up ready to take on the week:
— ECPR (@ECPRAustin) April 26, 2021
— RoselleK (@roselle_pk) April 26, 2021
— Courtney Khandjian (@cvkhantweets) April 26, 2021
Is there a question you'd like to see asked? Let us know with the hashtag #DailyScoop!
---
SOUNDING BOARD
Are you working with HR to craft any language or communications around employee vaccinations?
Are you working with HR to craft any language or communications around employee vaccinations, PR pros and communicators? #DailyScoop

— PR Daily (@PRDaily) April 27, 2021
Let us know how closely you work with HR and be sure to hashtag #DailyScoop. We will share the results in tomorrow's roundup.
COMMENT