Apple CEO Tim Cook defends privacy updates, U.S. adults use YouTube in record numbers, and Lululemon counters employee claims of 'toxic positivity' in workplace
Also: U.S. colleges disagree on vaccine requirements, Uber addresses driver shortage with new incentives, Bitcoin exchange CEO issues warning to industry, and more.
Hello, communicators:
U.S. colleges and universities are divided on whether they will require students to be vaccinated before returning to campus next fall. While universities including Rutgers, Brown, Cornell and Northeastern recently informed students that they must be vaccinated to attend fall semester, other schools like Virginia Tech and Dartmouth College are waiting to make a decision.
"It takes away any ambiguity about whether individuals should be vaccinated," Kenneth Henderson, the chancellor of Northeastern University told Associated Press in defense of the vaccination requirement. "It also provides a level of confidence for the entire community that we are taking all appropriate measures."
While schools have long required students to be vaccinated against other diseases, the emergency FDA approval of COVID-19 vaccines makes a vaccine mandate something of a legal gray area that leaves room for potential court cases, prompting some schools to bide their time.
Diana Lawrence, a spokesperson for Dartmouth, told AP that officials "cannot make a determination regarding required vaccination until vaccines are accessible for all students."
Communicators, take note to partner with your legal teams on an appropriate action regarding vaccine IDs that is specific to your industry and the needs of your stakeholders.
Apple CEO Tim Cook defends upcoming software update to promote tracking transparency
In an exclusive interview with The Toronto Star, Apple CEO Tim Cook defended an incoming update to the iOS mobile operating system that gives users more control over who can collect their data and how that data is used.
Affirming his long-stated belief that privacy is a fundamental human right, and not a branding exercise, Cook reinforces Apple's commitment to its users above its advertising partners.
"We're not against digital advertising. I think digital advertising is going to thrive in any situation, because more and more time is spent online, less and less is spent on linear TV. And digital advertising will do well in any situation. The question is, do we allow the building of this detailed profile to exist without your consent?"
The interview comes the week after a WSJ report alleging that Proctor & Gamble was working with Chinese state-run media on a tool to skirt Apple's imminent privacy tools. P&G pushed back on this report in a statement shared with PR Daily.
When asked why companies would attempt to work around Apple's new privacy tools, Cook was blunt:
"The only reason why you would push back is if you believe you'll get less data. The only reason you would get less data is because people are consciously deciding not to do it and were not being asked before."
Cook also framed the imminent privacy updates around a responsibility to Apple's users:
"You think about it, you search on your phone and so the information about what you're thinking is on your phone. Your bank records, your health records, your conversations with friends and family, business colleagues—all of this information is on your phone. And so we feel a tremendous sense of responsibility to help users from a privacy and security point of view."
Why it matters:
Position your company's values around the needs of external stakeholders. Encourage leadership to share those values in their own voice to quell any accusations of inauthenticity or insincerity that may be lobbed at your purpose-driven campaigns. Anticipate the criticisms that such bold initiatives may elicit, and address those criticisms in your statements before your detractors get the chance to vocalize their opposition.
---
MEASURED THOUGHTS
In a new study conducted by Pew Research, 81% of Americans said that they now use YouTube, up from 73% in 2019. The video platform is followed by Facebook, which is used by 69% of U.S. adults.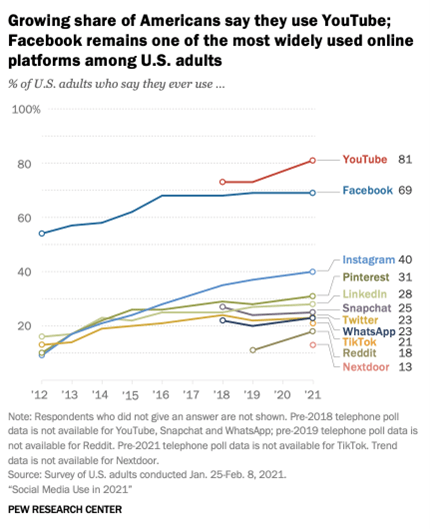 Image courtesy of Pew Research Center
Communicators, take note that an increased amount of traffic on YouTube makes it a particularly useful platform for publishing thought leadership videos and long-form content. Content published on YouTube also has the chance to reach a wider audience than Facebook, as YouTube's algorithm still allows for organic reach based on numbers of views and comments, while Facebook has increasingly forgone organic reach in efforts to encourage companies to spend more on its ad platform.
---
TECH TALK
The Federal Communications Commission (FCC) has released a new speed test app that allows users to measure internet speeds across the country, which will then provide the FCC with more accurate data than it has previously been able to collect.
"To close the gap between digital haves and have nots, we are working to build a comprehensive, user-friendly dataset on broadband availability," Acting Chair Jessica Rosenworcel said in a statement Monday. "Expanding the base of consumers who use the FCC Speed Test app will enable us to provide improved coverage information to the public and add to the measurement tools we're developing to show where broadband is truly available throughout the United States."

The app is part of the agency's broader efforts to collect more accurate broadband speed data across the country. The FCC's current coverage maps are built from self-reported data from internet service providers like AT&T and Verizon. In doing so, the process has allowed ISPs to exaggerate their current coverage, drawing heated criticism from broadband access advocates.
Communicators, remember that launching a survey or program to crowdsource data from your stakeholders can help your company or organization catch blind spots that you otherwise may miss. When launching a similar survey or tool, craft language for users to let them know how the data will be used and any other pertinent privacy information that gives them a chance to opt out.
---
CRISIS COMMUNICATIONS
Jesse Powell, CEO of the bitcoin exchange Kraken, warned the cryptocurrency community that governments across the globe may start cracking down on cryptocurrency exchanges very soon.
Kraken's chief thinks regulatory uncertainty around crypto isn't going away anytime soon. A recent anti-money laundering rule proposed by the U.S. government would require people who hold their crypto in a private digital wallet to undergo identity checks if they make transactions of $3,000 or more.

"Something like that could really hurt crypto and kind of kill the original use case, which was to just make financial services accessible to everyone," Powell said.

A number of officials—from U.S. Treasury Secretary Janet Yellen to European Central Bank President Christine Lagarde—have sounded the alarm about the use of bitcoin for money laundering, terrorist financing and other illegal activities.
Be sure to appeal to your engaged community and stakeholders to publicly speak out in defense of your business in advance of a crisis. Be sure to strategically share any such thought leadership content in the digital communities where your brand advocates are most active in order to insert your company into trending industry conversations.
---
CRISIS LEADERSHIP NETWORK
Looking for more insight on how to address the current global crisis and lead your organization into a strong recovery?
intelligence and research and start to strategize for the future of your organization.
Learn more about this exclusive membership here.
Lululemon pushes back on employee claims of 'toxic positivity'
Business Insider published an investigative report on April 12 in which several lululemon employees describe a culture of "toxic positivity" at the athleisure company's retail stores. Reported examples include a pre-shift exercise known as "clearing" in which a shift manager asks employees to share any personal issues that they do not want to bring to the sales floor that day.
In speaking with Insider, almost all [employees] used the term "cultlike" to describe their impressions of the retail environment. Many workers say they were, or still are, heavily encouraged to exercise daily and have at various times felt pressure to share personal problems with their managers.

"The claims you have shared are not consistent with the culture and values of lululemon today," the company said in a statement to Insider. "As we have previously shared, lululemon is committed to creating and maintaining an inclusive and positive work environment, and we welcome and encourage employee dialogue and feedback. If anyone at lululemon has a negative experience, we have several ways for employees to share their concerns and feedback, including through anonymous channels. We take feedback like this seriously, reviewing every claim and taking appropriate action."
The company had multiple spokespeople quoted in the article, providing a disjointed response to the criticism:
Susan Gelinas, a senior vice president of people and culture at Lululemon, told Insider by email that clearing is meant to be a voluntary opportunity for employees to share anything that might be distracting them from a meeting.

"They typically happen at the beginning of a meeting to enable each of us to be fully present and support one another," she said of how Lululemon uses clearing at its corporate offices.
Why It Matters:
Communicators, take note to streamline your crisis messaging through a single spokesperson to present your company as a united front. Remind external stakeholders that any companywide initiatives around workplace wellness are opt-in, optional and are not required of the employee to advance in the company. Assume that any negative internal feedback you collect will eventually leak externally if it reaches a certain threshold and prepare crisis holding statements that offer specific, actionable solutions to the feedback.
---
CONFERENCE ALERT
The business community is facing a workplace wellness revolution. No longer does "wellness" qualify as a nice-to-have employee benefit; it is now tightly integrated many facets of organizational strategy, especially communications.
Join us at Ragan's Workplace Wellness Conference on April 21, 2021 to glean the essential tools and context you need to advance your career and guide your organization through this time of rapid change.
Attendees will learn what it means to embrace the fact that employees who are mentally, physically, financially and socially healthy are more productive, engaged and resilient to potential crises.
Learn powerful insights and secrets from speakers at organizations including NVIDIA, Northwell Health, PwC, Microsoft, Cornell University, Facebook and more.
---
TACTICALY SPEAKING
Uber has announced that it now has more riders requesting trips than available drivers, with demand for food delivery on its Uber Eats app also outstripping availability.
Last week, Uber launched a $250 million "driver stimulus" to "boost" earnings for its current drivers and to bring back drivers and attract new ones. During the COVID-19 lockdowns, Uber said many of its drivers stopped driving because of the decrease in demand for trips.

"We want drivers to take advantage of higher earnings now because this is likely a temporary situation. As the recovery continues, we expect more drivers will be hitting the road, which means that over time earnings will come back to pre-Covid levels," the company said last week.
Communicators, take note that sharing messaging about an operational problem while simultaneously offering a solution can establish your company as leaders in industry innovation. Any such campaigns or initiatives should first and foremost be positioned around the best interests of your workforce.
---
WHAT YOU SAID
Yesterday, we asked if you made any travel plans for spring and summer since more people are being vaccinated. It was a close race, with 31% of you still waiting to book travel and 26% saying you haven't made travel plans yet, but will soon. Among those of you who do have travel plans, 23% are taking more than three days away and 20% of you are planning shorter trips.
Now that more people are getting vaccinated, have you made any travel plans for spring or summer, PR pros and communicators? #PRDaily

— PR Daily (@PRDaily) April 12, 2021
Is there a question you would like to see asked? Let us know by tagging it with #DailyScoop!
---
SOUNDING BOARD
Do you feel that leadership is substantively engaged with the purpose-driven campaigns you have launched, PR pros and communicators? #DailyScoop
Do you feel that leadership is substantively engaged with the purpose-driven campaigns you have launched, PR pros and communicators? #DailyScoop

— PR Daily (@PRDaily) April 13, 2021
A reminder that your answer is completely anonymous. We will share the results in tomorrow's roundup.
COMMENT
2 Responses to "Apple CEO Tim Cook defends privacy updates, U.S. adults use YouTube in record numbers, and Lululemon counters employee claims of 'toxic positivity' in workplace"
Ronald Levy

says:

The PR challenge and opportunity for Facebook, Google and others is to help the public see the REAL question.

If the question is "do you want more privacy," the public will almost certainly say yes. But suppose the public sees this question:

"Do you want to lose your benefits of better products at lower prices by not letting companies know what you prefer?"

Matt Gadd

says:

I believe that universities should make students get the COVID vaccine if they want to return to campus in the fall. Requiring vaccines for colleges is nothing new. Schools have required multiple vaccines to attend college for years. The vaccine has already been given to more than 35 percent of the United States population. There have been no problems with the vaccine. If everyone had the vaccine, teachers wouldn't have to worry about how many people their students have been in contact with. It would also allow for college kids to resume their traditions of a normal year. If students refuse to get vaccinated, online courses are always an option.