As autumn flavors make early appearances, what do customers really want?
The data shows that brands who can ignore a few outspoken naysayers on social media can reap the benefits.
Along with the annual rollout of pumpkin spice lattes comes the predictable social media backlash to earlier and earlier seasonal debuts.
To drive media attention, brands such as Dunkin' have launched their fall menu items earlier and earlier in the year. This year? Pumpkin season launched Aug. 18.
"It may still be warm outside, but Dunkin' is turning up the pumpkin heat earlier than ever before with an incredible fall menu," the coffee giant shared in a press release. "Pumpkin picking season is giving Dunkin' fans the chance to pick from the brand's latest lineup, with an iconic pumpkin pair, new Pumpkin Cream Cold Brew and Pumpkin Spice Signature Latte, as well as classic Pumpkin Flavored Coffees, Donut, Muffin and MUNCHKINS® Donut Hole Treats."
It's well-documented why brands are moving seasonal offerings up earlier and earlier every year. However, "pumpkin creep" has created a backlash for some.
The New York Times wrote in 2019:
But is it too soon? Local television and radio stations posed the question to Twitter users, with mixed results.

Some were in favor, like Allison Hopkins of Jacksonville, Fla., where temperatures were in the 90s on Tuesday. "I woke up with a distinct craving for a pumpkin spice latte and scarf season," she wrote.

But for others, it was too soon to be thinking about orange foliage, autumn walks and Halloween.
Disdain for the pumpkin spice latte was given a full investigation by Vox:
But contempt for the PSL and other items of the seasonal pumpkin spice variety is often not really about the flavor itself. After all, there are plenty of other flavors we should all be way more furious about. (There is a shop in Scotland that serves mayonnaise ice cream, people!) Too frequently, it's about sexism, class anxiety, and our collective skepticism of savvy marketing. After all, the PSL is doing something right: It's Starbucks' most popular seasonal beverage, with about 424 million sold worldwide. In 2019, the chain leaned in further with the introduction of the Pumpkin Cream Cold Brew, finally admitting to the world that late August is still iced coffee weather.
Yet the data supports brands that are launching fall flavors amid August heat waves around the country. Morning Consult has released polling that shows 1 in 4 Americans are ready to slurp pumpkin-flavored coffee drinks well in advance of September.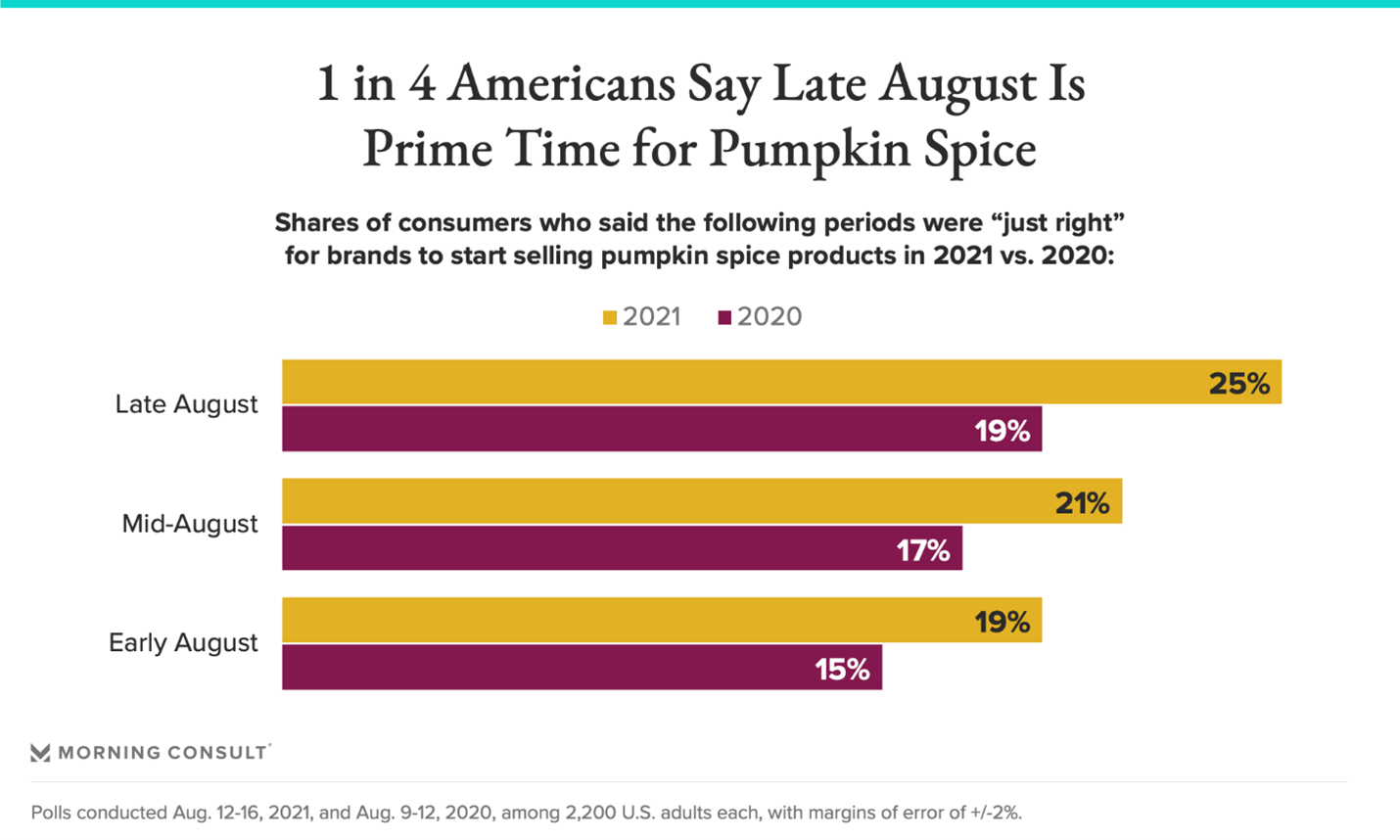 And the trend is growing, with more consumers looking for fall favorites in August 2021 than were ready for the season switch in 2020.
Some see the increased desire for a pumpkin hit as part of a larger economic trend for consumers eager to find joy after more than a year of pandemic hardship and loss.
"I don't think 'too soon' is a thing right now," said Nic Climer, managing partner and executive creative director at Omnicom Group Inc. marketing agency RAPP, who has previously worked on campaigns for seasonal products such as McDonald's Corp.'s Shamrock Shake. "People are still really craving something to look forward to these days, so brands have a huge opportunity to bring people joy. If pumpkin spice is your thing, and your audience loves it, people need that extra zing in their life right now."
However, most consumers still say the sweet spot for seasonal fall products is October, and some experts believe there is a risk in introducing fall products so soon.
But what if brands are conditioning consumers to a new purchase cycle? The data from Morning Consult shows that increased consumer demand for those fall flavors could outstrip the backlash, which spills onto Twitter every year when the pumpkin spice latte is announced.
Instead, brands can slowly increase the relevance of a once-seasonal product, thus expanding the market and its devoted following. As The New York Times wrote:
…we will remind readers what Liz Dunn, founder of Talmage Advisors, a brand strategy consulting firm, once told The New York Times: The makers of pumpkin spice products were trying to capitalize on consumers' urge to engage with and discuss limited-time offerings via social media. So it's only natural companies would try to introduce the flavor earlier each year.

"If companies can get people to do it for a longer period of time, it can only increase relevance," she said. "That's brand magic right there — unless, of course, it backfires." She said that in 2017, so we guess that it hasn't.
Perhaps then, in today's social media climate, a backlash isn't just the mark of a cultural pariah that no longer finds favor with the "in crowd." Rather, a backlash could be seen as a mark of accomplishment, that a product has achieved such cultural relevance that it is the fodder of late-night comedy and a signal of personal identity.
For marketers and PR pros, it's also a reminder to follow the data rather than to invest in online narratives. And it's point-proof of the need to tie PR results to business goals and bottom-line results.
After all, who cares if pumpkin spice is "basic?" It keeps bringing in the profit, so Dunkin', Starbucks and everyone else will continue to offer that early taste of fall.
COMMENT