Audi pulls 'insensitive' ad, Disney+ to release 'Mulan' and Instagram rolls out 'Reels'
Also: Publicis Groupe axes exec for controversial COVID-19 comments, Walmart debuts drive-in movie nights, how you can restart your marketing during the pandemic, and more.
Hello, communicators:
Publicis Groupe quickly distanced itself from its head of futures and insight, Tom Goodwin, after the former executive tweeted a controversial take on the COVID-19 pandemic.
A Publicis Groupe spokesperson said in light of Goodwin's tweets, the agency decided to part ways with the exec, who was appointed to the role at the start of the year.

"Since the beginning of this pandemic, Publicis Groupe has taken decisions and actions led by the principles of unity, empathy and humanity despite the collective hardships.

"These posts and exchanges by Tom Goodwin this week on social media do not meet the standard of conduct we expect of our company's employees and were not aligned with our values. Publicis and Tom have parted ways."
The incident is another reminder that as emotions and tensions run high, you should ensure that your leaders' voices online don't contradict your organization's values.
Here are today's top stories: 
Audi apologizes and pulls "insensitive" image
The car maker issued a mea culpa on Twitter after backlash over its recent ad, which showed a young girl eating a banana while she leaned on the front grill of the company's newest high-performance model, the Audi RS 4.
Critics said the child's pose was "provocative" and life-threatening.

Some pointed out that the driver would not be able to see the child in that pose, leaning on the grille.

Others said the image was sexually suggestive, as bananas and sports cars have often been seen as symbols of male lust.

Audi's slogan in English above the image reads: "Let your heart beat faster – in every aspect."
In its apology, Audi said it would investigate the campaign image and whether "control mechanisms failed in this case": 
We hear you and let's get this straight: We care for children. The Audi RS 4 is a family car with more than thirty driver assistance systems including an emergency break system. That's why we showcased it with various family members for the campaign. (1/3) pic.twitter.com/XAeIjszUWQ

— AudiOfficial (@AudiOfficial) August 3, 2020
We sincerely apologize for this insensitive image and ensure that it will not be used in future. We will also immediately examine internally, how this campaign has been created and if control mechanisms failed in this case. (3/3)

— AudiOfficial (@AudiOfficial) August 3, 2020
Why it's important: The more you can anticipate potential backlash over marketing messages, videos and images you want to use, the greater your chance of avoiding reputational damage.
An ounce of prevention is definitely worth more than a pound of apologies. If everyone in the room has a shared vision, consider whether you should invite other members of your organization into your meeting, so they can share their experiences and point out potential gaps and blind spots.
---
TACTICALLY SPEAKING
Walmart is releasing tickets for its drive-in movie nights, which will take place at 160 of its Walmart Supercenter parking lots across the United States. Though tickets are free, people must reserve them in advance through the retail chain's website.
There's never been a better time for a drive-in. 😄 Get ready for some family fun in the parking lot of 160 stores nationwide with ~free~ movies like Black Panther, Spider-Man: Into the Spider-Verse, Back to the Future, and more. #WalmartDriveIn

— Walmart (@Walmart) August 5, 2020
Along with the ticket announcement, Walmart also shared its event rules, which include having all attendees stay in their vehicles unless using the restroom—during which they must wear masks and socially distance from others.
The effort is a creative way to offer consumers a family-friendly activity while still adhering to COVID-19 guidelines, and can serve to boost the brand's reputation as well as earn it kudos and headlines.
---
MEASURED THOUGHTS
An infographic from Digital Marketing Philippines shared ways brand managers can restart their marketing campaigns as COVID-19 continues. The key is increasing your digital content footprint along with your social media presence, as consumers' time online remains high: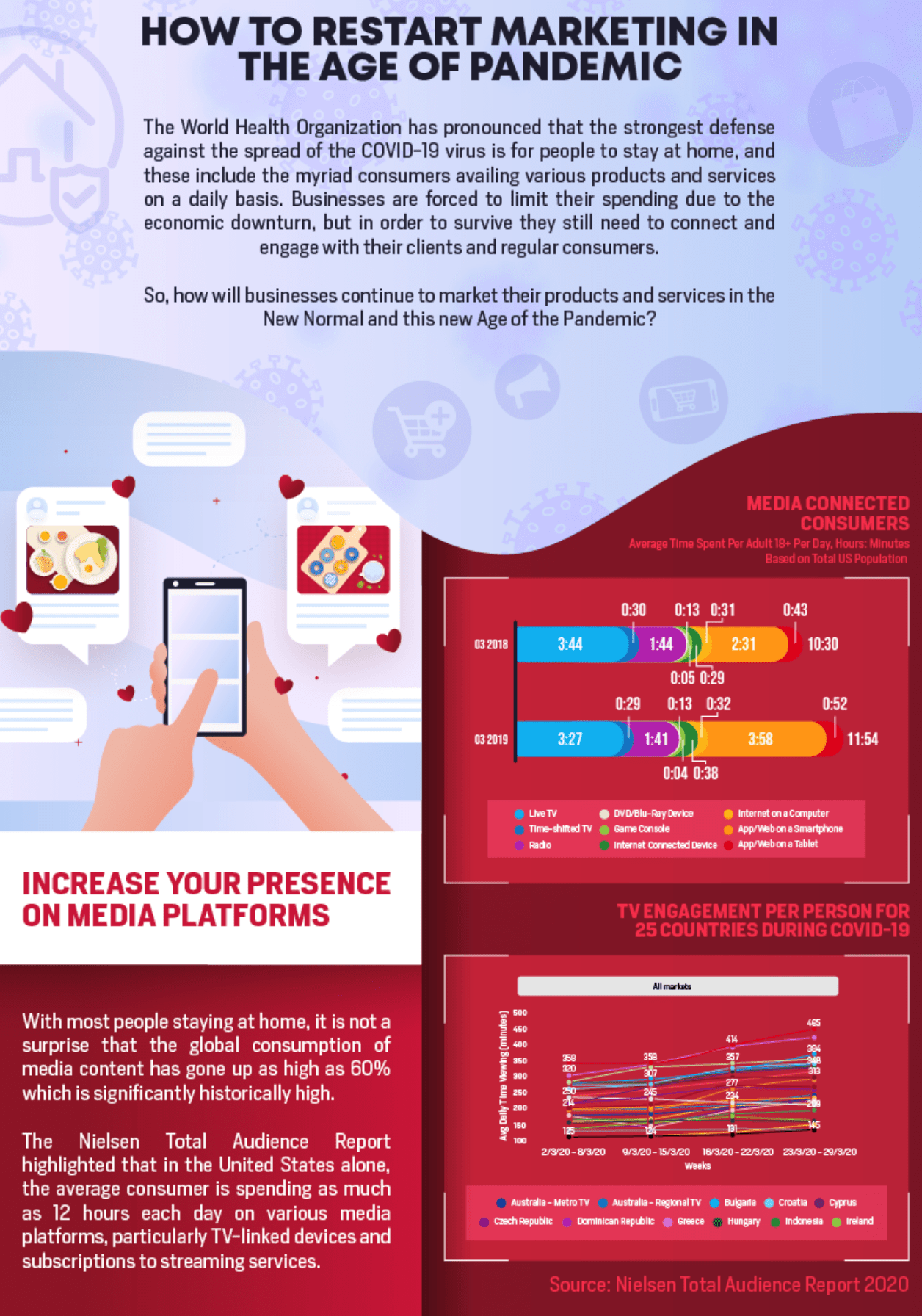 Image courtesy of Digital Marketing Philippines.
You can view the entire infographic here.
How are you adjusting your content and marketing campaigns? Tell us under the #DailyScoop hashtag.
---
CRISIS LEADERSHIP BOARD
Looking for more insight on how to address the current global crisis and lead your organization into a strong recovery?
Join Ragan's Crisis Leadership Board to network and brainstorm with peers, get the latest intelligence and research, and start to strategize for the future of your organization.
Learn more about this exclusive membership here.
Instagram unveils 'Reels' to compete with TikTok 
On Wednesday, the social media app rolled out its new tool that enables users to create 15-second videos with either original audio or a song from Instagram's music library, along with tools such as augmented reality effects, speed options and jump shots to create interesting transitions within their creations.
Hellooooo, Reels 🙌

Introducing a new way to create and discover short, entertaining videos on Instagram.

Reels is rolling out today to more than 50 countries around the world.

🤳🤩🎥✨😂👀💯https://t.co/RfXDhYawSF pic.twitter.com/FjSGSpSGpn

— Instagram (@instagram) August 5, 2020
Though anyone with a public account can share their Reels, content creators will be vying for front-page attention.
In a blog post, Instagram wrote:
You'll also see some reels with a "Featured" label. If your reel is featured in Explore, you'll receive a notification. Featured reels are a selection of public reels chosen by Instagram to help you discover original content we hope will entertain and inspire you.

Reels gives people new ways to express themselves, discover more of what they love on Instagram, and help anyone with the ambition of becoming a creator take center stage. 
Why it's important: Though Microsoft recently announced that it might acquire TikTok, the future of the social media app with its privacy and data concerns remains uncertain. As more brand managers are using Instagram, this announcement is especially relevant. Look out for content creators on the rise who you can to partner with as you seek to expand your reach—and consider ways you can make your content shorter and snappier than ever before. (You don't have to take up the entire 15 seconds, to start.)
---
DOWNLOAD OUR REPORT
Following the deaths of George Floyd, Ahmaud Arbery, Breonna Taylor and others, organizations were pushed more forcefully than ever before to take stands against systemic racism and move to support social justice initiatives. Which responses made an impact—and which responses fell flat?
Learn from 10 of the biggest brand messages in our special report, "Organizational responses to Black Lives Matter." The report offers communicators important takeaways to lead organizations and clients in the second half of 2020 and into the future.
---
TACTICALLY SPEAKING 
The Walt Disney Company is releasing the remake of it is 1998 animated film, "Mulan," to its streaming service. Starting Sept. 4, Disney+ users can purchase the film for $29.99. The accouncement was made after the studio pushed back the film's theatrical debut several times because of COVID-19.
Bob Chapek, Disney's CEO, said the pandemic has forced the company to think of "different approaches" to better serve consumers.

"We thought it was important to find alternative ways to bring this exceptional family friendly film to them in a timely manner," he said on the company's third quarter earnings call.

Chapek added that "Mulan" will be released simultaneously in theaters in markets where Disney+ is not available and, of course, where theaters are open.
Consider how your organization can tailor its offerings to consumers throughout COVID-19, because re-opening efforts for many are still well into the future.
---
WHAT YOU SAID
We asked how you're sharpening your skills as well as adding more, and half of you said you're adding to your tool belt with virtual events and webinars. Roughly 32% are turning to articles and lists, while 14% are completing certification and other training programs.
How are you honing your skills and adding more to your tool belt?

Share your preferences and goals with us under #DailyScoop.

— PR Daily (@PRDaily) August 4, 2020
Is there a question you'd like us to ask in an upcoming poll? Let us know!
---
SOUNDING BOARD
How are you ending your emails, especially during this time of uncertainty and change?
How are you currently ending your emails, PR and marketing pros?

Share with us below and under #DailyScoop.

— PR Daily (@PRDaily) August 5, 2020
Share your experiences and thoughts with us below and under the #DailyScoop hashtag.
COMMENT
One Response to "Audi pulls 'insensitive' ad, Disney+ to release 'Mulan' and Instagram rolls out 'Reels'"
Ronald N. Levy

says:

This is like getting rid of a spouse or partner for saying something stupid at a party or school board meeting. Except in this case is it stupid to say that ALL death is bad? Or that ALL lives matter?

Common sense is to look at (a) who benefits from this firing, and (b) who loses?

Look at who loses.

PUBLICIS CLIENTS LOSE. Goodwin must have been damn good to get such a top job, and Publicis clients LOSE the benefit of having Goodwin.

PUBLICIS HUMAN RESOURCES PEOPLE LOSE. The next time a superstar becomes available—the kind of brilliant executive everyone would love to hire—is he or she likely to join Publicis which has fired a top guy for saying all death is bad, not just death from Covid?

PUBLICIS NEW BUSINESS PEOPLE LOSE. If a client selection committee comes down to a short list of three superb PR firms which Publicis has, and if some things about the client have been controversial, may the committee understandably not pick the PR firm that fired a guy for expressing a controversial opinion that millions may share?

PUBLICIS EMPLOYEES LOSE because the constitution says congress shall make no law restricting freedom of speech but the law may say Publicis can restrict it. (If the law doesn't say that—if your boss can't fire you for stating a common but perhaps unpopular opinion—Goddard lawyers may win him millions for unlawful discrimination.)

ALL OF US LOSE because if a company can get away with firing an employee for expressing an opinion millions of other Americans may also have, that has a chilling effect on our freedom to say what we think.

Millions of people believe that discrimination in hiring and promotion is wrong. Millions of people including me believe that we don't have nearly enough women and people of color in the top management of major corporations. But can we get more women and people of color in those jobs WITHOUT some discrimination in their favor?

Before the coming elections, thousands of candidates and wannabes will promise to "fight" for what millions of people
believe. But at Publicis it may not be SAFE to say what millions of people believe including the idea on whch I agree with Goodwin: all lives matter.

Ronald N. Levy

says:

Publicis NOW says: "These posts and exchanges by Tom Goodwin this week on social media do not meet the standard of conduct we expect of our company's employees and were not aligned with our values. Publicis and Tom have parted ways."

BUT the Publicis website says: "We remain faithful to our 'Vive La Difference' motto, we are a diverse and inclusive workplace. We assess [employment] candidates on passion and talent rather than formal qualifications."

Goodwin clearly had the talent as we can see from the job he was given. So did Publicis part company with him because his passion for "all lives matter" falls outside of diversity that a claimed "Vive La Difference" policy seems to encourage? Did "Vive La Difference," which Goodwin made clear was a personal opinion not his employer's opinion, not include a difference so great as believing that all lives matter?

Or is Publicis shocked not by what Goodwin passionately believed but by his saying honestly what that is?

Many Publicis accounts have intense competition so should a policy of "Vive La Difference" allow Publicis creatives to propose fresh ideas even if not "conduct we expect"?

Can YOU figure out from this well written PR Daily story or from elsewhere online what Goodwin said that differs from what Publicis or most people believe? Looking at the website of Publicis, a commnications firm, can we find even ONE place where they communicate what conduct they expect or what personal opinions Publicis employees must not express?