Bank customers fume at delayed stimulus payments, Instagram honors women in STEM, and Uber partners with Lyft on banned driver database
Also: Chris Harrison won't return to host 'The Bachelorette,' PR pros focus on the wrong metrics for measurement, Bitcoin value reaches an all-time high, Netflix tests an end to shared passwords, and more.
Hello, communicators:
A socially-distant Grammys aired last night on CBS, with recent news that The Weeknd added his name to the list of artists boycotting the awards still fresh in our minds. Despite some tone deaf points, the evening brought several historic moments, including Beyoncé winning more Grammys than any female artist in history, Megan Thee Stallion being the first female rapper to win "Best New Artist" in 22 years, and more.
Notably absent from the broadcast was any sense of celebrity mingling or schmoozing, which traditionally makes for some great unscripted moments at an awards show.
It reminds communicators that, though socially-distant or virtual events will never fully replicate the reality of many people together in the same place, we can compensate by adding some level of interactivity between audience and those on-camera. Include some interplay between audience and on-camera talent, be it a Q&A or social activation, to make up for some of what's missing from a remote broadcast.
Banks defend stimulus check delivery on social media
Many Americans received their federal stimulus direct deposits this past Friday as provisional payments, several days ahead of the official disbursement date of March 17. While some users of digital banks like Chim and CashApp celebrated the arrival of their stimulus money, dubbed "stimmy" on Twitter, customers of most major banks were still waiting.
Chase… issued a statement that it will release the payments beginning March 17, apparently even if the money lands in accounts earlier.

Wells Fargo said the same: that it will treat all checks as arriving March 17, whether they arrive earlier or not. "Wells Fargo will process all of the direct deposits according to the effective date provided by the U.S. Treasury" March 17, the bank emphasized on its website.
Both Wells Fargo and Chase set up portals on their respective websites to explain the stimulus distribution process to customers:
As part of the American Rescue Plan Act of 2021, the federal government is providing stimulus payments to eligible recipients. Eligibility criteria differs from prior rounds of stimulus payments. Learn about eligibility and payment amounts: https://t.co/cigbLdamHq

— Wells Fargo (@WellsFargo) March 12, 2021
Wondering when you'll see the latest federal stimulus payment in your Chase account? Most electronic deposits will be in the account—and available to spend—as soon as Wednesday, March 17. In the meantime, visit https://t.co/7TFqr5GYme and stay up to date with our thread. 👇 pic.twitter.com/wf490yp2Gm

— Chase (@Chase) March 12, 2021
Wells Fargo also attempted to frame the deposit date in a positive light by including "as soon as" in its messaging:
Customers who are eligible to receive direct deposit of their stimulus payment may expect it as soon as March 17, 2021. https://t.co/ujd9oUUWmP

— Wells Fargo (@WellsFargo) March 12, 2021
In response, many Wells Fargo customers took to Twitter to vent their frustrations over receiving the funds later than others, going so far as to accuse the bank of holding onto funds to collect interest:
So basically you need to be honest and say that y'all are not releasing people funds because y'all are holding it to the 17th so y'all can gain interest off of other people money. But then again that's the whole definition of a bank

— Space Cowgirl on a bebop land 💞 (@Bremichele012) March 13, 2021
Some pointed out the irony in the fact that big banks aren't able to distribute stimulus payments as early as their smaller, startup competitors:
pretty hilarious that places like Chime, Cashapp or small credit unions can give people their stimulus right now but if you have a big bank like Wells Fargo, Chase, Citibank, BOA they act like they aren't financially capable of doing the same thing. Kinda shady how big banks are.

— Joseph Adame (@Josephangel_) March 13, 2021
What the banks are saying regarding Stimulus payment

– Chase: as soon as March 17
– Wells Fargo: as soon as March 17
– Navy Federal: as soon as March 17
– Chime: started depositing💰
– CashApp: started depositing💰

— Joel Franco (@OfficialJoelF) March 13, 2021
And others said they would close their account with the bank altogether:
@WellsFargo good job providing a link to the IRS status website that is offline "for a few days". You've got everyone's money & you're holding it to make interest off the backs of people desperately waiting for this. I can't wait to close my account with you. #wheresmyrefund

— Ellen Burke (@ellenbburke) March 13, 2021
"We know the importance of the stimulus funds to our customers, and we are providing the payments to our customers as soon as possible on the date the funds are available, based on IRS direction," Wells Fargo said in a statement provided to The Hill. "Wells Fargo is not holding the funds."
Why it's important:
Though Chase and Wells Fargo both crafted multiple assets in order to better explain how stimulus disbursement works, none of the landing pages, GIFs or prepared statements anticipated the fact that smaller institutions were able to make provisionary funds available ASAP. Neither bank offered full transparency around the process through which funds were sent over by the federal government, either, leading customers to voice their lingering distrust in these banking institutions and demand answers.
When your brand or organization exists in a crowded industry, it's always wise to research how your competitors are handling specific challenges and pain points so your brand doesn't come out looking unprepared. When those challenges involve a partnership, working with the partner to make sure the handoff of assets goes smoothly will ensure that stakeholder expectations are met.
---
TACTICALLY SPEAKING 
Ridesharing apps Uber and Lyft announced they are coming together to build a shared database of drivers who have been banned from their platforms due to accusations of physical and/or sexual assault.
HireRight, a company that specializes in conducting background checks, will oversee the Industry Sharing Safety Program database. Other transportation and delivery companies in the US will have the chance to contribute and access the database as long as they adhere to the same data accuracy and privacy policies that Uber and Lyft must follow.
"We want to share this information with each other and hopefully in the near future with other companies, so that our peers in this space can be informed and make decisions for their own platforms to keep those platforms safe," said Jennifer Brandenburger, head of policy development at Lyft.
This partnership should serve as a reminder that competitive brands in the same industry benefit greatly from coming together to mend crises and pain points that affect them both equally.
---
TECH TALK
Bitcoin, the world's largest cryptocurrency, hit an all-time high on Saturday morning when it surpassed $600,000 price per coin. (It has since dipped below the high water mark.)
Bitcoin's rally is driven partly by increased adoption by larger institutional investors and firms and speculative demand. Tesla has purchased $1.5 billion worth of bitcoin and plans to accept the digital coin as payment for its products, a decision that sparked more widespread interest.

Mastercard also said it will open up its network to some digital currencies. And PayPal and BNY Mellon have made some moves into the space.
Investors have been flocking to bitcoin because of the perception that it could be a good hedge against inflation and a weaker dollar if bond yields continue to rise.

Bitcoin bulls argue that the cryptocurrency is like "digital gold" and could even replace the yellow metal as the inflation antidote of choice. To that end, bitcoin has surged this year while gold has fallen.
As more organizations take a look at cryptocurrency for their portfolio, it is essential that communicators do their homework to understand what the technology does and why companies like Tesla are looking to buy in.
---
CRISIS LEADERSHIP NETWORK
Looking for more insight on how to address the current global crisis and lead your organization into a strong recovery?
Join Ragan's Crisis Leadership Network to connect and brainstorm with peers, get the latest intelligence and research and start to strategize for the future of your organization.
Learn more about this exclusive membership here.
---
MEASURED THOUGHTS
IBA International released a report on what PR and marketing agencies require in 2021, finding that 41% of those surveyed said that the PR agencies they hire focus too much on high levels of media engagement instead of the actual metrics around content placement.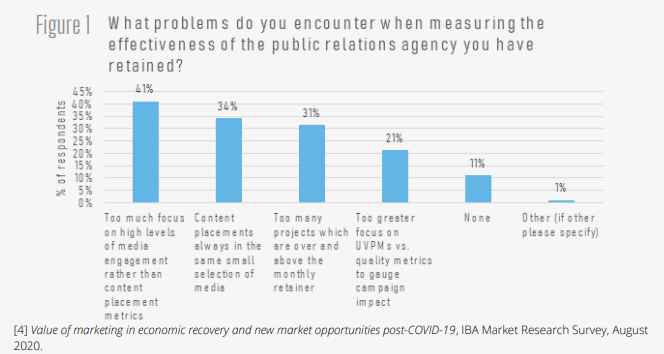 Image courtesy of IBA International.
You can read the entire report here.
---
CRISIS COMMUNICATIONS 
Chris Harrison won't return to host "The Bachelorette" for the show's 2021 season amid continued fallout from his recent defense of racist social media content that was discovered on a contestant's profile. Instead, his role will be filled by two former Bachelorette stars of color.
Former "Bachelorette" stars Tayshia Adams and Kaitlyn Bristowe will step in, Warner Horizon and ABC Entertainment said.

"As we continue the dialogue around achieving greater equity and inclusion with 'The Bachelor' franchise, we are dedicated to improving BIPOC representation of our crew, including among the executive producer ranks," the statement said.
Beyond next season of "The Bachelorette," no permanent decision regarding Harrison's future with the franchise has been determined, at this point, according to numerous sources close to the show. Two people familiar with production say that strategy conversations have been ongoing, constantly evolving and remain fluid.
When it comes to matters of DE&I, representation matters. Instead of simply pledging to be more inclusive with a well-worded statement, institutions that give diverse voices a platform and seat at the table show more demonstrable commitment to spotlighting people with diverse lived experiences.
Netflix says ending password sharing is about user security
Netflix is testing a new feature that ends password sharing for users who are not part of the same household, threatening to end a longstanding streaming tradition for families and friends who share one account with multiple user profiles. The new feature, which began testing last week, will prompt an on-screen message that requires a user to confirm they are the primary account holder using two-factor identification:
O no. Netflix doing the purge?!? pic.twitter.com/XXlHtfgfsy

— chante most (@DOP3Sweet) March 9, 2021
The Hollywood Reporter writes:
Netflix confirmed the new feature, which is getting a limited rollout at this time. "This test is designed to help ensure that people using Netflix accounts are authorized to do so," a Netflix spokesperson said.
The test contradicts Netflix's prior model where it tiered its pricing around the number of screens that an account holder is permitted to have streaming content simultaneously. Suffice to say, Netflix users weren't happy about it:
Sharing a Netflix password is the only joy we have left. pic.twitter.com/eg9bDeNkTY

— 🙋🏻‍♀️Ella Diaz🇵🇷 (@factspusher) March 12, 2021
Netflix thinking they'd make more money by removing password sharing : pic.twitter.com/m8YkOFCaxB

— Mohamed Enieb (@its_menieb) March 12, 2021
Some analysts forecast that a rollout of the new feature would greatly improve Netflix's subscriber count, which has been dwarfed in recent weeks by Disney's growing subscriber base for Disney+. Netflix says that limiting password sharing is ultimately a decision around user security.
A source familiar with Netflix's trial says that the company is still in the very early stages, and sees the effort as a way both to verify who's using what accounts and to minimize the security issues inherent in unauthorized sharing.
Why It Matters:
Netflix positioning this decision as a move to improve user security and promote privacy is a bit of of artful brand PR.
Over the next year, user security and privacy will become an increasingly hot topic that communicators will need to understand, and fold into their messaging. While Google is about to sunset the third-party cookies that publishers and brands use to collect data from consumers, newly passed regulations like the California Consumer Protection Act (CCPA) and the California Consumer Privacy Rights Act (CPRA) will require marketers and advertisers in all states to change how they solicit information from customers.
Once that happens, it will be on you to craft smart external communications around first-party data collection and user privacy. It behooves you to brush up on what these imminent regulations mean now, and start working with marketing/ad teams to come up with a communication strategy around the rollout of necessary new privacy and security changes within your brand or organization.
---
SOCIAL BUZZ
To celebrate Pi Day on 3/14, Instagram added a new set of stickers to its International Women's Day series that celebrate female trailblazers in science, technology, engineering and mathematics (STEM).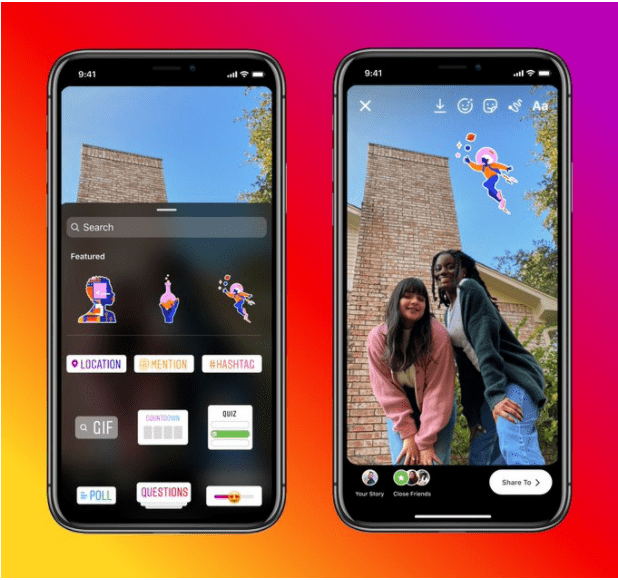 The stickers were designed by Amanda Phingbodhipakkiya, a multidisciplinary artist, educator, STEM advocate and TED speaker, who recently released public art series I Still Believe in Our City, displayed around New York, to help combat hate against Asian Americans.

Instagram also hosted an Instagram Live video on its @creators account featuring Instagram Reels engineer Samantha Wiener and Alexis Williams, an engineering student at New York University who is an Afro-Latina, queer woman using her platform for female in STEM activism and looking forward to a coding career centered around social good.
---
CONFERENCE ALERT
Social media and digital content are helping organizations across industries reach and engage with consumer and employee audiences looking to connect despite staying apart during COVID-19. The digital media landscape—and people's behaviors—are rapidly shifting, and yesterday's strategies won't stand out to those searching for brands to take a stand and promote DE&I initiatives, measure their efforts, produce valuable content, and more.
Learn how to break out online at Ragan's Social Media & Digital Commmunications Virtual Conference on Tuesday, March 16.
Learn powerful insights and secrets from speakers at Dropbox, Chip and Joanna Gaines' Magnolia, BET Networks, the Cleveland Cavaliers, AARP, Ketchum, LinkedIn, Oklahoma Aquarium, NAACP, Canon Europe, The Martin Agency and more.
Attendees will learn how to produce compelling social media posts and digital content across TikTok, Twitter, YouTube, Instagram, Facebook, Clubhouse and intranet channels—and glean inspiration on incorporating digital media strategies such as SEO, email marketing, paid ads and employee ambassadorship to make your efforts soar.
---
WHAT YOU SAID
We asked what your weekend relaxation ritual looks like:
What's your relaxation ritual after a long week, PR and communications pros?

Ease into the weekend and share a GIF that captures your state of ultimate chill. We'll share the top answers in Monday''s #DailyScoop! pic.twitter.com/XareRtAcY7

— PR Daily (@PRDaily) March 12, 2021
Some of you said that some quality time in nature did the trick:
Spending time outdoors is my go-to! pic.twitter.com/okEOthvmcY

— Allison Moraga (@allisonmoraga) March 12, 2021
— PRAfterHours (@HoursPr) March 12, 2021
In addition to hiking, many of you also like to unwind with a good glass of wine:
A scenic hike, a spa day, brunch, and finish it off with a good book and an even better glass of wine 🍷 😋

— Ruthie رُوثي (@RuthieRoseau) March 12, 2021
🍷 starting Friday evening pic.twitter.com/zdHTKTdxr5

— sugandhabhandari (@sugandhabhanda1) March 13, 2021
And speaking of reclining, sinking into your couch was also a popular ritual:
— Master Media Mind (@MasterMediaMind) March 12, 2021
Movies from the couch. pic.twitter.com/nld85XBNyV

— Chris Floore (@ChrisFloore) March 12, 2021
Is there a question you'd like to see asked? Please let us know under the #DailyScoop hashtag!
---
SOUNDING BOARD
What's your ideal strategy for planning out your work week, communicators and PR pros?
How do you plan out your responsibilities for the week ahead, communicators and PR pros? #DailyScoop

— PR Daily (@PRDaily) March 15, 2021
Weigh in below and share under the hashtag #DailyScoop. We'll share top responses in tomorrow's roundup.
COMMENT