Belk, Cici's and L'Occitane file for bankruptcy, Target offers employees $500 bonuses, and 72% of comms pros say social media helps other media efforts
Also: Samuel Adams' tongue-in-cheek Super Bowl ad, YouTube extends ban on Trump and cuts off Guliani's ad revenue, Air Asia updates cancelation policy, and more.
Hello, communicators:
Super Bowl LV viewers won't see Budweiser's iconic Clydesdales during the big game, after Anheuser Busch announced it's donating air time to COVID-19 vaccine awareness efforts. Yet, that doesn't mean they won't see any horses.
Samuel Adams published a cheeky Super Bowl commercial that begins with a familiar appearance, but has a surprise twist, thanks to "your cousin from Boston":
Here are today's top stories:
Belk, Cici's and L'Occitane file for bankruptcy
North-Carolina department store chain Belk filed for Chapter 11 bankruptcy production, looking to shed roughly $450 million in debt, according to USA Today.  
In announcing its filing, the company said it expected to use its new working capital to shore up its omnichannel efforts. With many multi-channel retailers getting as much as half of their sales online Belk will need a massive investment infusion to get up to speed. That will take time—12 to 24 months at a minimum—and the calendar has not been kind to under-performing retailers recently.
Restaurant chain Cici's—known for its pizza buffet that in recent years has expanded to include soup and salad offerings—filed for Chapter 11 bankruptcy protection as well.
In a court filing late Monday, Cici's blamed its Chapter 11 filing on the "unpredictable and unprecedented scale" of the pandemic, which decimated its bottom line and customer demand because it relies heavily on its dining rooms.

… Unlike other pizza chains, Cici's hasn't benefited from delivery. The company said that the at home dining trend "poses significant challenges" to its buffet model and admitted it "must work harder and more creatively" to differentiate itself from competitors.
French beauty brand L'Occitane's U.S. arm also filed for bankruptcy, seeking help as The Wall Street Journal reported that the company is "behind on $15 million in rent and seeking to shed lease obligations after the Covid-19 pandemic cut into sales."
Why it's important: The common thread in these bankruptcy announcements is the inability to thrive during the COVID-19 crisis, as consumer behaviors shift and organizations struggle to transform their business models and marketing strategies to digital-first efforts. Regardless of how well your organization is doing, you should accept that these changing behaviors, including online shopping, are here to stay. Adapt your strategies with both the short- and long-term future in mind.
---
CRISIS COMMUNICATIONS
Air Asia recently updated its cancelation and change policies to "provide flexibility" for consumers:
[UPDATED] In compliance with the implementation of MCO, we want you to know that we are doing our best to provide flexibility for our guests. Guests with flights booked to travel from 13 Jan – 4 Feb 2021 can now receive FREE flight date changes until 31 Mar 2021. pic.twitter.com/IKwFEgbVQu

— airasia (@airasia) January 26, 2021
The visual is a great example of distilling complex or detailed information in a skimmable and easy-to-understand format. Consider how you can do the same as you share updated safety procedures or business changes due to COVID-19.
---
MEASURED THOUGHTS
Hootsuite partnered with Altimeter on "The Social Transformation Report," which dug into the value of social media strategies across departments and communications efforts, including crisis communications, marketing and sales, and internal communications.
One of the biggest ways communicators are leaning into the power of social media is with COVID-19 crisis responses, with 51% of respondents saying they increased online engagement, 42% reporting that they created more video content for social media platforms (including livestreaming such as Facebook live), and 41% saying they sped up adopting more digital channels to reach target audiences: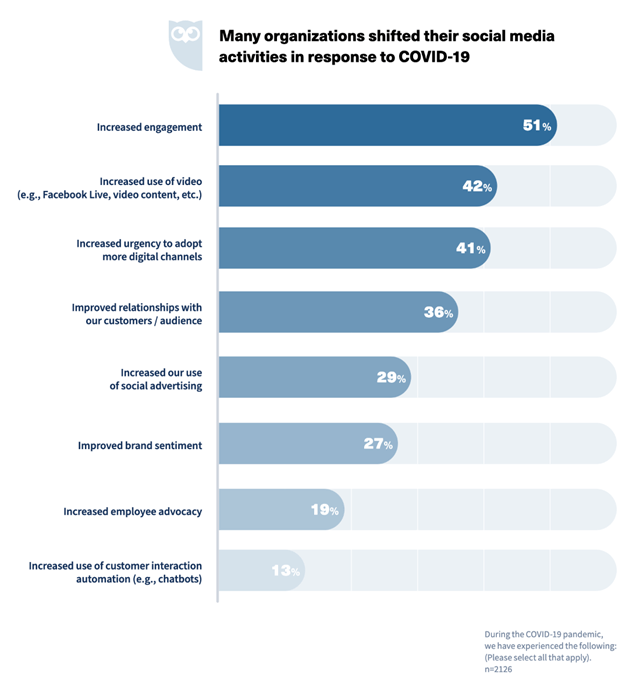 Hootsuite reported that 78% of respondents said social media empowered them to reach prospective customers more effectively than other media formats, and 72% said that social media strategies improve the effectiveness of other media efforts.
The benefits of social media extend to internal communications objectives, too, with 28% of respondents with employee advocacy programs reporting that social media helps expand their messages' reach, and 25% reporting that employee advocacy efforts improve brand health: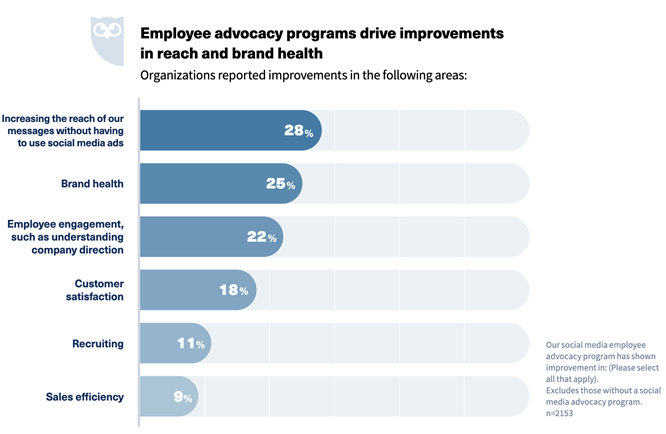 You can read the entire report here.
---
SOCIAL BUZZ
YouTube told reporters recently that its ban on former President Donald Trump will continue, blocking his access to the channel's nearly 3 million subscribers. The social media platform has also cut off advertising revenue for Rudy Giuliani. 
YouTube said Tuesday that it had suspended Rudy Giuliani, former President Donald Trump's attorney, from a program that allows partners to make money from ads on their videos after Giuliani broke YouTube's rules by repeatedly sharing election misinformation.

The suspension, which will last at least 30 days, has been in effect since last week, YouTube said in an email.
As social media and digital platforms fight against misinformation and move to distance themselves from high-profile accounts that violate their terms of service, brand managers would do well to watch both the news cycle and trending social media conversations, in case they must pause social media and online ads as well as digital content efforts.
---
CRISIS LEADERSHIP NETWORK
Looking for more insight on how to address the current global crisis and lead your organization into a strong recovery?
Join Ragan's Crisis Leadership Network to connect and brainstorm with peers, get the latest intelligence and research and start to strategize for the future of your organization.
Learn more about this exclusive membership here.
Target announces $500 employee bonus
The retail chain announced that it's giving a fifth round of bonuses to all of its hourly associates in Target stores, distribution centers, field-based offices and corporate headquarters. Target is also giving its distribution center and executive team leaders as well as its store directors bonuses ranging between $1,000 and $2,000.
Target's press release about the initiative opened with this paragraph:
We're so proud of our team. They're the heart and soul of Target, showing up for one another and our guests—and making Target a safe and easy place to shop and work. And never has their dedication, resiliency, care and compassion been more appreciated than during the pandemic.
Along with highlighting several employee stories and testimonials, the retailer shared a timeline of its employee bonuses: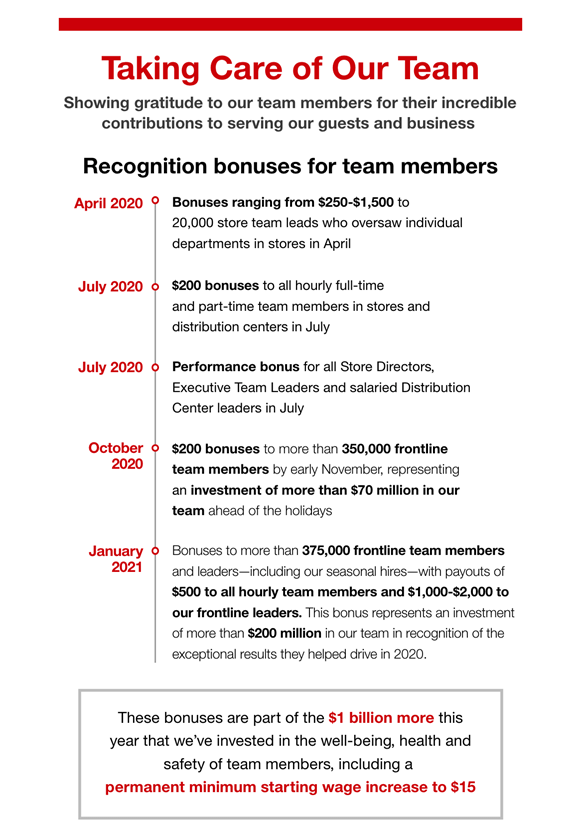 Why it matters: How your organization treats its employees can have a big affect on your brand's reputation and image, especially during the COVID-19 crisis and with unemployment in the United States at an all-time high. If you're not already invested in your organization's culture, reconsider—and take a page from Target's playbook on how to report your efforts in ways that appeal to consumers and journalists. The company's use of visuals to quickly relay information and its focus on storytelling, putting employees front and center, make for much more compelling headlines and increase media coverage.
---
TAKE OUR SURVEY
The start of a new year brings more opportunities for communicators across roles, organizations and industries to develop effective strategies and efforts that can strengthen their brands amid continuing crises, including the COVID-19 pandemic.
Ragan's Communications Leadership Council has created The 2021 Communications Benchmark Survey, and wants to know your challenges, successes and needs as you navigate the rapidly shifting communications landscape and respond to unprecedented crises as well as new opportunities.
Please share your insights with us. As a thank you for your time and insights, you'll receive an Executive Summary of the report, packed with proprietary research that can help you better shape communications strategies in 2021. You'll also be entered to win one of five $100 Visa gift cards.
---
WHAT YOU SAID
We asked for your most indispensable PR tool or resource, and for Zach Zagar, communications and PR manager for Byrider, it's glasses—smart-glasses or corrective:
Glasses!! Whether that's @Meltwater or other similar solutions… pic.twitter.com/5RCVje1IUZ

— Zach Zagar (@ZAZ49) January 26, 2021
The team at Brand's Media Group swears by an effective social media calendar, which helps them set strategies that are backed by data and insights:
A good social media calendar! A space where they can outline strategy, schedule and organize content as well as following up on what works and doesn't work through analytics ✨

— Brand's Media Group | Social Media Agency (@BMG_Social) January 26, 2021
For D. Plump Consulting's team, leaning on their sense of humor is key:
A sense of humor… pic.twitter.com/dHLD0Sr5wd

— D. Plump Consulting (@DPlumpConsultin) January 26, 2021
Is there question you'd like to see asked? Please let us know under the #DailyScoop hashtag!
---
SOUNDING BOARD
As you work from home, are you collaborating more or less with colleagues, clients and partners?
As you work from home, are you collaborating more or less with colleagues, clients and partners?

Weigh in below and comment with how you're collaborating virtually. We'll share in tomorrow's #DailyScoop!

— PR Daily (@PRDaily) January 27, 2021
Weigh in below and on Twitter under the hashtag #DailyScoop. We'll share in tomorrow's roundup.
COMMENT