Biden addresses the nation on Afghanistan collapse, companies fail to protect emails from cyberattacks, and Snopes responds to plagiarism scandal
Also: Farm Rich appoints chief cheese officer, Michigan utility companies address widespread outages and Twitter seeks to make its platform more accessible.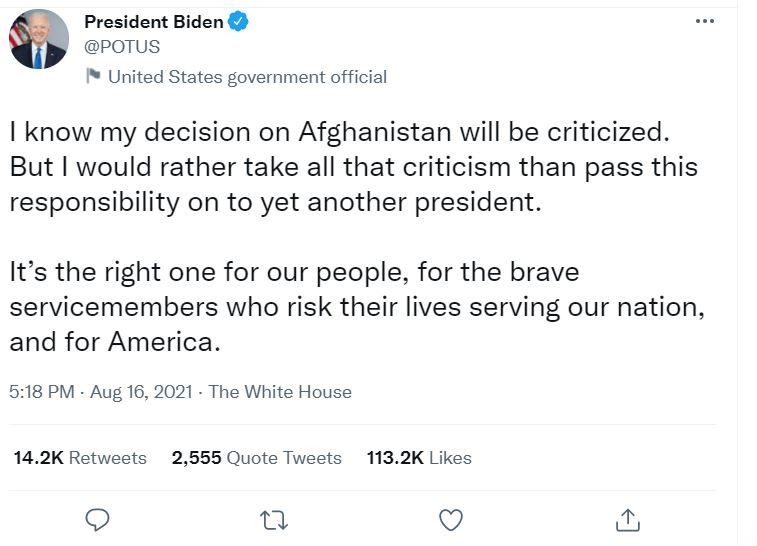 Hello, communicators:
Frozen food brand Farm Rich has concluded its search for a content-creating chief cheese officer or CCO, bestowing Phil Roberts of Kingsport, Tenn. with the title and co-opting the acronym most often attributed to executive communicators.
As part of his role, Roberts will receive a trip to the Farm Rich headquarters in St. Simons Island, Ga. where he will tour the Farm Rich manufacturing facility and meet with the brand team to brainstorm content ideas. The 45-day role will require Roberts to come up with snack ideas, create a cheese-centric holiday and create various pieces of cheesy social media content.
"Phil showed his true love for all things cheese with an impressive entry and video," Farm Rich director of marketing Ciera Womack said in a statement. "With his incredible creativity, passion and fun, he's our ideal CCO! We can't wait to see what he comes up with for content ideas as well as new product recommendations. Things are about to get even cheesier at Farm Rich!"
Following Nerf's Chief TikTok Officer contest and Triller's search for a resident DJ, Farm Rich's contest highlights the trend of brands gamifying their search for new influencers and content creators. In each case, these contests are a fun and lighthearted way to solicit user-generated content (from all the submissions) and engage in some cheesy fan service along the way.
Here are today's top stories:
Biden defends U.S. withdrawal of Afghanistan after Taliban takeover
President Biden addressed the nation yesterday to defend his decisions to withdraw U.S. troops and personnel from Afghanistan after a tumultuous week that culminated in the Taliban taking power of the country. As the U.S. embassy shut down, employees temporarily relocated toa Kabul airport where citizens, diplomats, journalists and foreign workers alike scrambled to leave the country. The crowds and disarray halted flights that were evacuating U.S. workers and Afghan refugees. By the time flights got off the ground again, seven people were killed.
In a statement Monday afternoon, Biden took responsibility for the decision.
The New York Times reported a transcript of his address:
I stand squarely behind my decision. After 20 years, I've learned the hard way that there was never a good time to withdraw U.S. forces. That's why we're still there. We were cleareyed about the risks. We planned for every contingency. But I always promised the American people that I will be straight with you.

When I hosted President Ghani and Chairman Abdullah at the White House in June, and again when I spoke by phone to Ghani in July, we had very frank conversations. We talked about how Afghanistan should prepare to fight their civil wars after the U.S. military departed. To clean up the corruption in government so the government could function for the Afghan people. We talked extensively about the need for Afghan leaders to unite politically. They failed to do any of that. I also urged them to engage in diplomacy, to seek a political settlement with the Taliban. This advice was flatly refused.
Biden also addressed the thousands of military and government service members who had been stationed in Afghanistan for years and may felt betrayed by the president's sudden withdrawal.
The Times continued:
I also want to acknowledge how painful this is to so many of us. The scenes that we're seeing in Afghanistan, they're gut-wrenching, particularly for our veterans, our diplomats, humanitarian workers — for anyone who has spent time on the ground working to support the Afghan people. For those who have lost loved ones in Afghanistan, and for Americans who have fought and served our country in Afghanistan, this is deeply, deeply personal. It is for me as well.
While some media observers like MSNBC's Brian Williams praised Biden taking responsibility for his decision, Afghanistan veteran Matt Zeller, founder of the veteran support nonprofit No One Left Behind, called Biden's speech appalling and said it had "at least one bold-faced lie":
MSNBC's Brian Williams on Biden's speech: "He didn't run from it, he owned it. He owned this decision. He owned the fact that, as he put it, the buck stops with him."

Afghan vet @mattczeller: "I feel like I watched a different speech than the rest of you guys. I was appalled!" pic.twitter.com/AMSulYnNrp

— Justin Baragona (@justinbaragona) August 16, 2021
"The idea that we planned for every contingency? I have been personally trying to tell this administration since it took office," Zeller said.  "I have been trying to tell our government for years that this was coming. We sent plan after plan on how to evacuate these people. Nobody listened to us."
Why it matters:
While President Biden took responsibility in his statement, his statement also highlights how a leader that frames themselves as the lone decision maker can invite criticism when they haven't listened to the advice of the advisors, colleagues, partners and other stakeholders.
Consider issuing a joint statement with other leaders and partners when the consequences of your decision will have vastly different impacts for different audiences and groups. This will allow your organization's leadership to take responsibility while allowing another leader to express support for your decision who might better reach an impacted group.
---
MEASURED THOUGHTS
A recent study by Hornet Security found that 1 in 4 companies have reported an email-related security breach. Of those breaches, 62% occurred due to user-compromised passwords and successful phishing attacks. The study also found that over half of the companies surveyed (55%) do not implement multi-factor authentication or conditional email access procedures.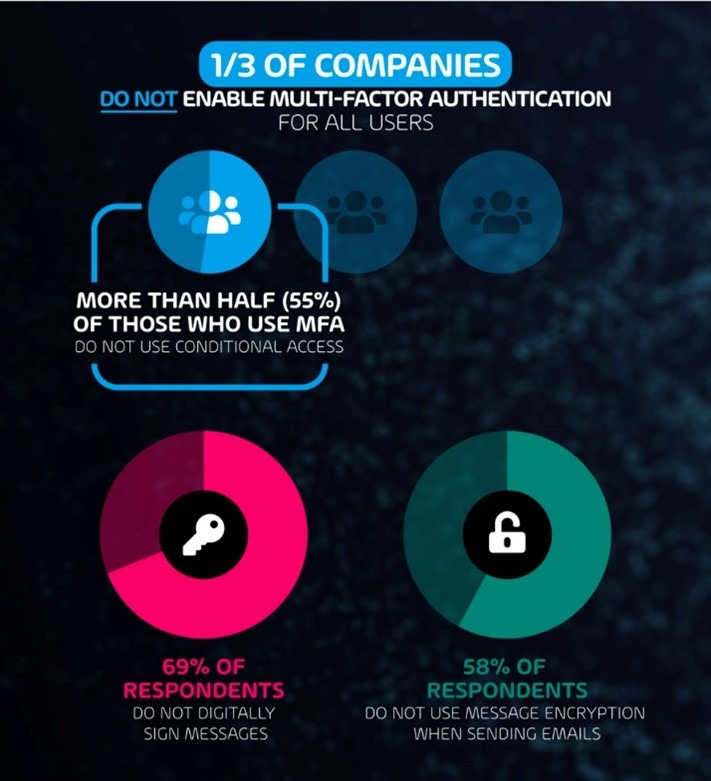 These numbers serve as a reminder that the vast majority of cybersecurity breaches at your organization are preventable when employees follow simple best practices. Work with your IT team and figure out a roadmap for communicating those best practices, be it through personal educational messaging or personalized training sessions, that best suits the needs and learning styles of your workforce.
Check out the full study here.
---
CRISIS COMMUNICATIONS
After a major storm flooded Michigan streets and left hundreds of thousands without power last Wednesday, utility company Consumers Energy issued a statement over the weekend to update those 98,000 customers still without power on restoration efforts.
The Detroit Free Press reports:
"All of us at Consumers Energy are grateful for the aid from out-of-state crews, dependable local contractors and our own dedicated field teams who have turned on the lights for 320,000 customers so far following a storm system that left that a trail of destruction across Michigan's landscape," said Guy Packard, Consumers Energy's vice president for electric operations, in a Sunday news release. "We understand how vital electric service is to our customers and are committed to remaining laser-focused on our goal to finish nearly all storm restoration work safely before the weekend is over."
Whatever your industry, Consumers Energy provides another example of exemplary crisis communications during an emergency. Pay attention to the trajectory that Consumers Energy's messaging follows: It starts with acknowledgement of the employees and partners doing the work along with the impact of the devastation.
---
TAKE OUR SURVEY
The Institute for Public Relations, Ragan Communications, and the University of Florida are conducting a follow-up survey to their 2020 report, "The Career Path of a Social Media Professional."
This year's survey investigates and illuminates the career path potential of social media professionals, shedding light on how social media is being managed, viewed and evaluated within organizations. Here are some highlights from our 2020 report.
We invite you to take this survey whether you're in charge of social media for your company or are involved in some aspect of social media for a client. The survey should take approximately 15-20 minutes to complete, and all responses will remain confidential.
As thanks for taking the survey, you'll get an opportunity to enter a drawing for three $50 gift cards and will receive a copy of the full report, which promises to be chock-full of valuable data for benchmarking and budgeting purposes. The report will be presented on Sept. 9, 2021 at Ragan's Social Media Conference in Orlando, Florida and published through IPR and PR Daily.
---
SOCIAL BUZZ
Twitter has readjusted the contrast of buttons on the platform in response to user feedback about last week's design changes:
We're making contrast changes on all buttons to make them easier on the eyes because you told us the new look is uncomfortable for people with sensory sensitivities. We're listening and iterating.

— Twitter Accessibility (@TwitterA11y) August 13, 2021
You could've just made the font changeable based on the user settings (and Android already did that! Not sure about iOS though) and made a lot of this under settings, instead of forcing it upon users that don't even want the change

— Naz (@BluSpringg) August 11, 2021
yo it sucks. this font looks unfinished. hope you didn't pay them for a job well done cuz this aint even satisfactory. Not even close. I feel like i'm playing a retro video game from late 80's era. this isn't "easier" to read. who was your test focus group for this anyways???

— Birdthulu (@Kaddiss_Telelia) August 11, 2021
Accessibility advocate Alex Haagaard pointed out the fact that Twitter's original changes were presented as accessibility solutions, but in fact presented more accessibility challenges:
This is a great example of how some access needs routinely get centered over others within "accessible" processes!

High contrast is notoriously NOT accessible for many photosensitive & chronically pained folks. https://t.co/c1AQNkMvC0

— Alex Haagaard (they/them) (@alexhaagaard) August 11, 2021
Haagard's response serves as a reminder that there is no "one size fits all" approach to accessible design or accessible communications. Provide your audiences with options on how to receive messages and engage with your brand that meets their needs by first listening to what those needs are and asking questions to determine who has been left out of the mix because of accessibility barriers.
---
RAGAN'S 2021 BENCHMARK REPORT
Ragan has released its annual Communications Benchmark Report, an exclusive study from Ragan's Communications Leadership Council that analyzes the major trends in the profession over the last year.
During that time, comms pros have been called on to develop and distribute messages on new policies that affect internal and external stakeholders alike. Their role has become more essential as they helped keep their organizations focused and moving forward. They've seen their access to the C-suite increase throughout 2020, and they forged important new alliances with peers in other departments, including HR, finance and workplace wellness.
Culled from more than 750 respondents, the 32-page report is available in its entirety exclusively to members of the Communications Leadership Council.
Download your copy of the exclusive Benchmark Survey Executive Summary today and get a crucial competitive advantage that will fuel your success for 2021 and beyond.
Snopes emphasizes editorial values amid co-founder plagiarism scandal
Fact-checking website Snopes is responding to a Buzzfeed News investigation, which found that Snopes co-founder David Mikkelson published 54 plagiarized articles on the site between 2015 and 2019. Mikkelson has been suspended from all editorial production pending an internal investigation.
In a statement to Buzzfeed, Snopes.com vice president of editorial/managing editor Doreen Marchionni and Snopes Media Group COO Vinny Green outlined the specific steps that the publication would be taking, including its own plagiarism content audit, an editor's note on each piece in question with the offending comment removed and credit being attributed to the proper publication, disabling monetization features on all offending posts, a new byline policy and more.
They also emphasized the fact-checking website's values and ethics.
"Let us be clear: Plagiarism undermines our mission and values, full stop. It has no place in any context within this organization. We invite readers to let us know here if they find any other examples of plagiarized content so that we can apply the same treatment as above."

"We talk often in the newsroom about the priceless value of reputation—that we are worth no more than the credibility we maintain with our community. Our reputation is dependent on our ability to get things right, and more importantly, to quickly correct the record when we are wrong. We are committed to a lifetime of atonement through the rigorous pursuit of the facts, especially in scenarios such as this."

"To the staff, past, present, and future, who are undoubtedly impacted by these findings, we are deeply sorry. While an individual's actions have caused this breach of our ethics, we hope the extraordinary writers and editors who work at Snopes do not see their efforts and reputation undermined by these missteps. We can say without hesitation they are among the most gifted, dedicated, and brightest employees we have ever had the honor to work with, and we learn from them daily."
What it means:
Snopes' thorough response to Buzzfeed takes a "form follows function" approach that channels a fact-checker's diligence to demonstrate the organization's commitment to not let this reputational crisis undermine its core mission. The statement also succeeds at highlighting Snopes' sincerity in understanding why the crisis is a problem with language that pulls no punches ("committed to a lifetime of atonement") and goes out of its way to shout out staff whose work and commitments are threatened by Mikkelson's misconduct.
While the statement largely succeeds in being transparent about the processes that it will enact to preserve editorial integrity moving forward, though, there is little to explain how Mikkelson's plagiarism went undetected for so long in the first place.
COMMENT