Boeing responds to latest production woes, the financial well-being of U.S. adults suffers, and LinkedIn closes platform in China
Also: Heinz invests in a Halloween store, White House partners with FedEx, UPS and Walmart to improve supply chain, Instagram launches live broadcast scheduler, and more.
Hello, communicators:
Heinz is releasing a Halloween-themed version of its signature ketchup product called "Tomato Blood Ketchup," offering customers a tomato blood costume kit and even opening the first-ever Heinz Halloween store in Los Angeles. The store will offer Heinz Halloween merch, makeup tutorials and interactive costume decorating stations.
"There are few nights more magical than Halloween and for years Heinz has helped people make memories by helping them transform into the spookiest versions of themselves," Heinz Brand director Ashleigh Gibson said in a press release shared with PR Daily. "We believe that if you have Heinz, you have a costume! This Halloween is no different and we're looking forward to seeing the deliciously spooky looks people come up with using Heinz Tomato Blood Ketchup."
Beyond an acknowledgment that ketchup has doubled as fake blood for decades, this promotion highlights a clever example of how a brand can insert itself into a holiday tradition. It also highlights a return of in-person marketing stunts after 18 months of purely virtual contests and appearances.
Boeing stresses employee engagement and communication amid latest production problems
Boeing has acknowledged a production defect affecting its 787 Dreamliner aircraft, as the titanium parts used on aircrafts constructed over the past three years are weaker than they need to be. Upon identifying the problem, Boeing citied improved standards for communication between manufacturers, supply chain workers and other team members. This is the latest in a long saga of production problems for Boeing which has struggled to fully repair its reputation after two fatal crashes of the 737 Max aircraft revealed a lack of regulatory transparency and oversight in its manufacturing process.
The Wall Street Journal reports:
A Boeing spokesman said the company is making progress on improving production and is raising its own standards, despite operational interruptions. "We have strengthened our focus on quality and constantly encourage all members of our team and supply chain to raise any issues that need attention," the spokesman said. "When issues are raised, that is an indication that these efforts are working."

Boeing's 787 woes come as the FAA examines a series of alleged quality-control lapses across Boeing's commercial-airplane unit, according to an Aug. 18 agency letter and people familiar with the probe. The agency has claimed that Boeing allowed unqualified personnel to sign off on quality checks or otherwise failed to follow company or FAA guidelines. The company acknowledged it hasn't solved the problem of junk left over from the production process, such as two empty tequila mini-bottles found in September on a new Air Force One jet under construction. The Boeing spokesman said the company reduced overall foreign-object debris by 60% in 2020 compared with the previous year. Boeing is on track to further reduce debris per plane by half this year, he said.

The Dreamliner's new problem and FAA investigation haven't been reported before. The Boeing spokesman said the titanium issue was discovered by the company as part of a continuing audit, as the company hones its quality-management system.
 What it means:
The same day the news of the production flaw broke, a former top pilot for Boeing was indicted for allegedly providing the FAA with "materially false, inaccurate and incomplete information" around the 737 Max jets and "scheming to defraud Boeing's U.S.‑based airline customers to obtain tens of millions of dollars for Boeing." This latest chapter in the saga over Boeing's reputational repair highlights how little progress it has made in the eyes of regulators, even as the company reports improved transparency in its production process.
This serves as a reminder that communicating your efforts in the abstract amounts to little more than a holding statement without tangible, specific steps to back those efforts up.
---
MEASURED THOUGHTS
A new report by Morning Consult revealed that the financial well-being of U.S. adults declined in September to a score 50.27, compared with 51.24 in August. Baby Boomers maintained a much higher financial well-being score of 55.89 in September compared to and millennials (46.05) and Gen-X (46.09).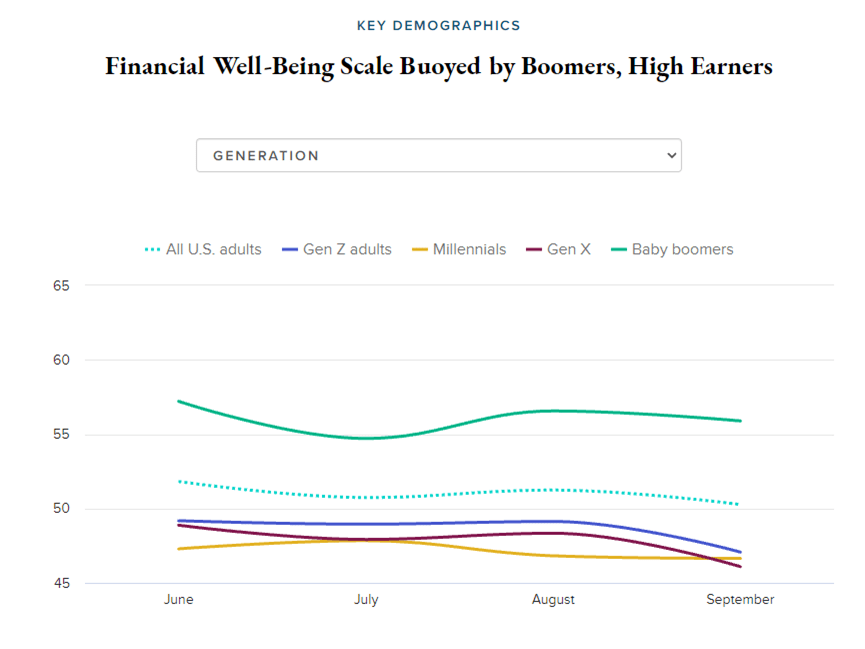 These numbers highlight the generational discrepancies between perceived financial well-being, which can amount to blind spots if leadership of an older generation assumes their employees at the bottom of the pay scale are financially secure.
Check out the full report here.
---
TACTICALLY SPEAKING
White House officials announced a partnership with Wal Mart, FedEx and UPS to improve supply chain issues ahead of the holiday season by keeping key ports in California open 24/7.
Senior administration officials said on a call Tuesday evening that the carriers "will make commitments towards moving to 24/7 working during off-peak hours" at key ports in Southern California.

Biden met Wednesday with leaders of the Port of Los Angeles, the Port of Long Beach, California and the International Longshore and Warehouse Union to discuss congestion at the ports and the extended hours. The White House also met with executives from Walmart, UPS and Home Depot about supply chain issues.

"The federal government will be a strong and willing partner in this effort in the near term but also in rebuilding a better system for the 21st century," the officials said. "We'll be working with stakeholders across the supply chain for a 90-day sprint to the end of the year to troubleshoot and alleviate many of the bottlenecks we can quickly address."
While these companies have previously published supply chain updates of their own, they have yet to comment on the commitments that Biden's White House has made to address the issue. In any statement where increased workload is promised, be sure to acknowledge the employees and contractors who make the work happen by sharing how an accelerated timeline will be achieved while ensuring the health and safety of your workforce.
---
SOCIAL BUZZ
Instagram added a scheduling tool to its live stream feature, along with a practice mode for creators to test their lighting and sound before a broadcast begins. Creators can now schedule a stream up to 90 days in advance, and viewers can opt-in to receive reminders before the broadcast begins. In a post about the feature, Instagram said that it believes the tool will help with discovery and distribution of live broadcasts:
View this post on Instagram
These new features emphasize the importance of offering your audiences options around when and how they view your content. They also highlight the fact that providing this flexibility is more crucial in an age when everyone is online all the time, as your communications must find ways to stand out amid a vast sea of content.
---
TAKE OUR SURVEY
If you're looking for benchmark data to show your bosses the next time you ask for a raise, lend us a hand—and help yourself and your peers while you're at it. Participate in Ragan's Salary & Workplace Culture Survey, a comprehensive look at salaries, benefits, culture, bonuses and other aspects of the job in a fast-moving industry.
Both internal and external communicators are encouraged to participate.
By taking part, you will receive a $150 discount to a Ragan virtual conference of your choice and be entered to win one of five $50 gift cards. All who complete the survey will receive a full report on the findings. Responses are anonymous.
LinkedIn explains decision to shut down in China
LinkedIn has announced that it will shut down its localized social media network in China, citing "a significantly more challenging operating environment and greater compliance requirements" as the country continues to roll out new censorship rules. to replace its current offering, LinkedIn will launch a standalone job search platform.
Our decision to launch a localized version of LinkedIn in China in February 2014 was driven by our mission to connect the world's professionals to make them more productive and successful. We recognized that operating a localized version of LinkedIn in China would mean adherence to requirements of the Chinese government on Internet platforms. While we strongly support freedom of expression, we took this approach in order to create value for our members in China and around the world. We also established a clear set of guidelines to follow should we ever need to re-evaluate our localized version of LinkedIn in China.

While we've found success in helping Chinese members find jobs and economic opportunity, we have not found that same level of success in the more social aspects of sharing and staying informed. We're also facing a significantly more challenging operating environment and greater compliance requirements in China. Given this, we've made the decision to sunset the current localized version of LinkedIn, which is how people in China access LinkedIn's global social media platform, later this year.

Our new strategy for China is to put our focus on helping China-based professionals find jobs in China and Chinese companies find quality candidates.
Why it matters:
Though LinkedIn's decision only affects China, the message it sends reverberates domestically amid larger conversations around how social media platforms are protecting user privacy and data. The decision contributes to the pro-privacy efforts of LinkedIn's parent company Microsoft, which recently committed to a third-party review of its surveillance technology to ensure its tech aligns with the company's privacy values.
By explaining its values and its decision to create a dedicated jobs site for Chinese users, LinkedIn frames its move by putting the people of China first. The language used in LinkedIn's announcement provides a shining example of true diplomatic communication that demonstrates how your organization can stand up for its values without escalating a potential conflict.
COMMENT
2 Responses to "Boeing responds to latest production woes, the financial well-being of U.S. adults suffers, and LinkedIn closes platform in China"
Ronald N Levy

says:

Magnificent. All companies sometimes have bad news but Boeing communicates GOOD news of progress in making planes that are safer and safer.

For the same reason that we don't see planes falling out of the sky, we don't see Boeing's good name falling off a cliff. It's because Boeing communicators make not just a holding statement but an important report: Boeing is doing things to
make its planes better and better. Any parts and people with possible flaws are replaced to maximize Boeing quality that protects the public.

Bad news is never easy for anyone but Boeing communications show how great PR is done.

Ronald N Levy

says:

Happily, there is even more great PR that can be done for Boeing, opportunity
to emphasize not less peril from waste but huge public benefit from preference-earning Boeing safety–MILLIONS of Boeing passenger miles per month, HUNDREDS OF BILLIONS of passenger miles per year, and maybe 85% (or whatever) more this year than last plus next year looking even better.

A safety-minded goal public attitude justified by the numbers: "If it's not Boeing, I'm not going!"