BP divests from Russian-held interests, shoppers weigh returning to stores and Estée Lauder fires executive over racist Instagram post
Also: Alo Yoga gets "mindful in the metaverse" with Roblox partnership.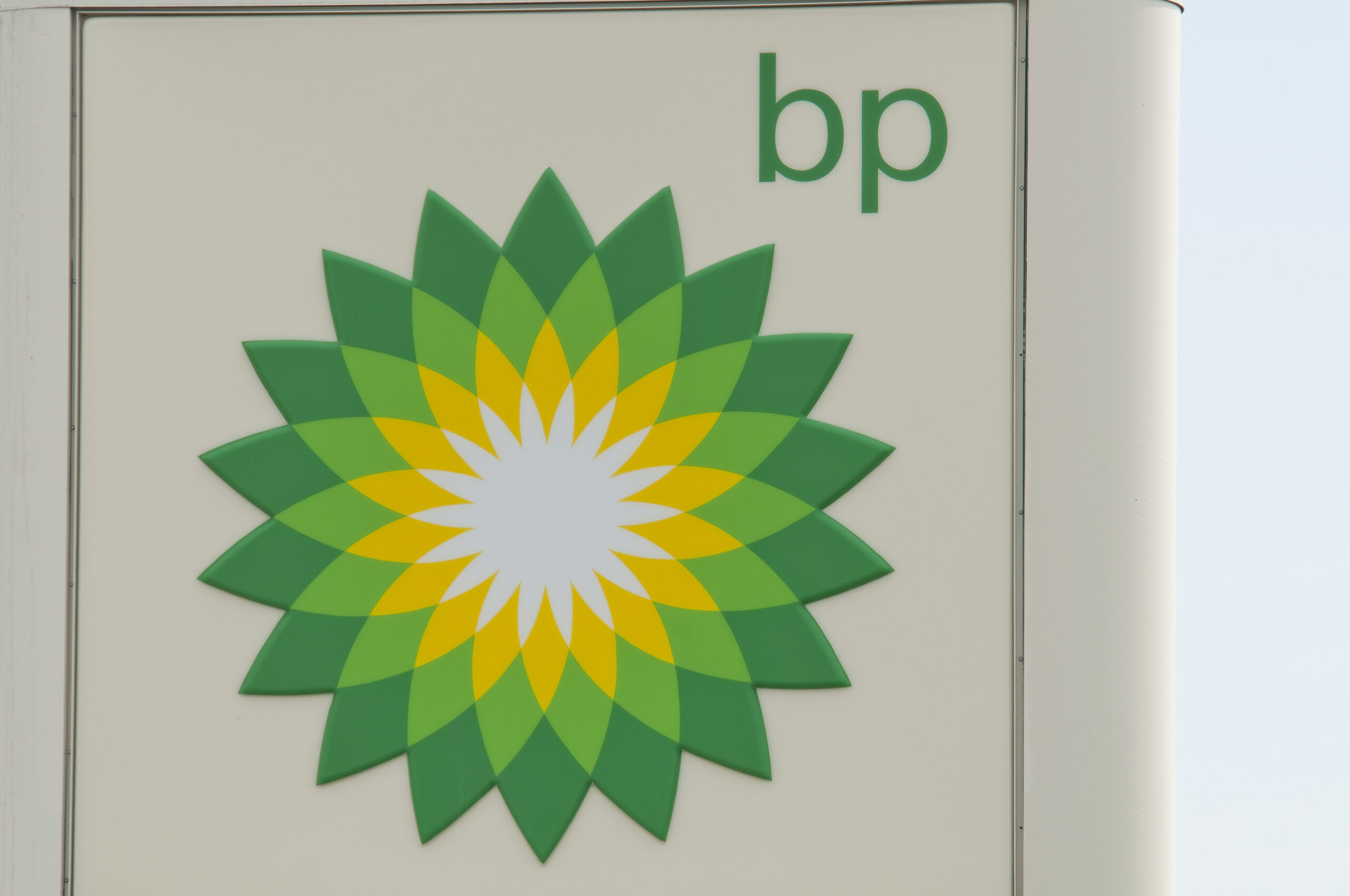 Hello, communicators:
If your kids have been noticeably more zen the past few weeks, you can thank Alo Yoga.
Earlier this month, Alo dipped its toes into the metaverse with the debut of the "Alo Sanctuary" in online video game Roblox.
The Alo Sanctuary experience takes place on an island, with a landscape that encompasses three earthly elements of the brand name Alo, an acronym for 'Air Land Ocean,' all set to a meditative and soothing sound bath-style audio track. Upon arrival, visitors will receive a digital Warrior Yoga Mat to carry along on their wellness journey into the metaverse as they explore guided meditation retreats led by contemplative guide Kirat Randhawa and new daily on-demand yoga content from the Alo Moves fitness platform.
Alo's attempt to "get mindful in the metaverse" is indicative of what the future holds for metaverse brand partnerships, especially for existing virtual platforms like Roblox, Fortnite and even Minecraft.
Here are today's other top stories:
Oil giants set to divest from Russian interests amid invasion of Ukraine
According to reporting from the BBC, BP will offload its nearly 20% stake in Russian oil conglomerate Roseneft, citing "unprecedented political pressure."
BP CEO Bernard Looney and BP-nominated director Bob Dudley have both resigned from the Roseneft board.
Mr Looney said that he had been "deeply shocked and saddened" by the situation in Ukraine and it had caused BP to fundamentally rethink its position with Rosneft.

"I am convinced that the decisions we have taken as a board are not only the right thing to do, but are also in the long-term interests of BP," he said.
BP isn't the only major company taking a step back from investments and business in Russia.
Norwegian energy group Equinor announced it would also "stop new investments into Russia" and "start the process of exiting Equinor's Russian Joint Ventures."
Anders Opedal, president and CEO of Equinor, wrote in a statement that the company is "deeply troubled" by Russia's unprovoked aggression and promised a commitment from Equinor to contribute humanitarian funding in Ukraine.
"In the current situation, we regard our position as untenable. We will now stop new investments into our Russian business, and we will start the process of exiting our joint ventures in a manner that is consistent with our values. Our top priority in this difficult situation is the safety and security of our people," says Opedal.
Why it matters: As doing business in Russia becomes riskier with sanctions and banking restrictions hitting the Russian economy, companies with strong ties to the nation and its oligarchs are looking for an exit. BP and Equinor both emphasized a moral imperative to stop doing business with the nation that has invaded Ukraine, but PR pros should take care not to oversell it. The latest invasion of Ukraine—while horrific—is not the first time Vladimir Putin and the Kremlin have trampled on human decency in pursuit of their ambitions. Putin annexed Crimea in 2014 and many of these same companies did not take action at the time.
Crisis and CSR comms principles will be useful to PR pros looking to explain their organizations' stance on the Russia-Ukraine crisis, and amid the disinformation and fear coming out of Russia, it will be more important than ever to tell the truth.
---
MEASURED THOUGHTS
A new report from Morning Consult shows U.S. shoppers are now feeling comfortable with making purchases in person. According to the poll, consumer comfort with brick-and-mortar shopping hasn't been this high since before the Delta variant of the coronavirus emerged in the U.S.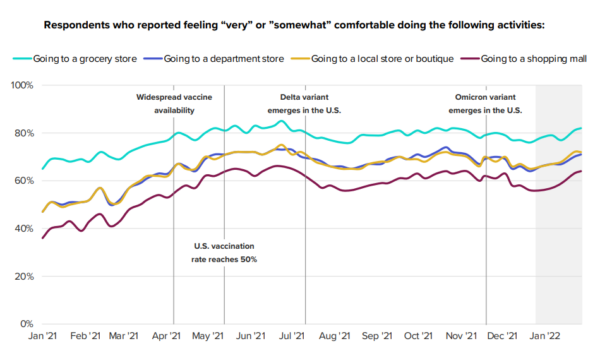 More than 80% of respondents said they would feel "very" or "somewhat" comfortable going to a grocery store, while about 70% said the same of visiting a department store, local store or boutique.
"Regional variability of COVID-19 infection rates and mask mandates means retailers' communications plans should continue to prioritize health and safety," the report says.
It's important for comms pros to remember that comfortability will vary among customers. Consider how to communicate a store's COVID-19 policies while leaving room for different needs and desires when it comes to masking, vaccination proof and more.
Download the full report from Morning Consult here.
---
TAKE OUR SURVEY
We want to know about your career as a social media professional.
How big is your team? Are you valued at your organization?
If you're interested in helping benchmark the career path potential of social media professionals and shedding light on how social media is internally managed, viewed and evaluated, take our survey. The Social Media Career Survey is a follow-up to a 2020 report by the Institute for Public Relations, Ragan Communications and the University of Florida.
Whether you're in charge of company social media or involved in social media for a client, we welcome your participation.
Respondents will receive a full report on the findings, which will also be shared on PR Daily.   Responses will remain confidential.
Estée Lauder fires exec following racist Instagram post
Cosmetics giant Estée Lauder announced today it will part ways with John Demsey, executive group president, following a short suspension brought on by Demsey sharing a racist meme on Instagram.
The post depicted Sesame Street characters sick with COVID-19, as well as a comment about the virus and a censored version of the n-word.
Demsey apologized on Instagram just two days ago, writing, "I am so sorry that I let down the Company that I have dedicated my life's work to as well as its employees, artists, friends and colleagues."
From the Estée Lauder letter to employees:
This decision is the result of his recent Instagram posts, which do not reflect the values of The Estée Lauder Companies, have caused widespread offense, are damaging to our efforts to drive inclusivity both inside and outside our walls, and do not reflect the judgment we expect of our leaders.

Inclusion, diversity and equity are core to our company's values and priorities globally. Furthermore, over the past two years, we have worked together as an organization to advance our approach to racial equity and have taken a hard look at where we can and should do better. Together we are making progress against our commitments to our employees, our partners, and consumers.
What it means: Demsey's firing is a strong statement, suggesting that the company will not tolerate any expression of racism. The letter to employees briefly mentions the company's corporate social responsibility (CSR) commitments over the past two years, but doesn't elaborate on the "progress" it has made, which would have reinforced its message further.
It's yet another reminder to review that social media policy with all employees, but especially with top executives who face fewer barriers to sharing underdeveloped ideas with a very large audience online.
---
EVENT ALERT
How is your organization sharing its brand purpose for 2022?
To outline the best practices, pitfalls to avoid and measurement must-haves, we've got a special virtual event featuring industry experts with tips and tactics you can implement right away. Join us for PR Daily's Purpose and Corporate Social Responsibility Summit on March 1, 1-4 p.m. Eastern to learn essential strategies for the year ahead.
Top sessions from the afternoon include:
The essential ingredients for ESG in 2022
How to tap employee advocates and brand ambassadors
Measurement strategies to demonstrate impact
How purpose has changed—and what it means for communicators
Sign up now for this important virtual event and join the conversation.
COMMENT