Brand managers celebrate Inauguration Day, Unilever launches sweeping DE&I commitments, and Netflix tests a 'shuffle' feature
Also: Data-backed digital marketing trends for 2021, TikTok previews a Q&A tool, Pillsbury and Oreo team up on a new product line, and more.
Hello, communicators:
Pillsbury partnered with Oreo on a line of new cake mixes and frostings that feature the iconic cookies, which will be available in stores across the United States in February.
To promote buzz for the product line's launch, Pillsbury is enticing enterprising home bakers to flex their skills in a contest featuring celebrity judges:

Ambitious home bakers can visit PillsburyBaking.com from Jan. 19-26 to enter the contest. Contestants will be asked to create their most unique baked goods using the new Funfetti Oreo collection, and the winner will receive a one-year supply of Funfetti products or $500 in cash, have their winning recipe featured on PillsburyBaking.com and be invited to host an Instagram Live baking demo on @pillsburybaking.
 Here are today's top stories:
Brand managers celebrate Inauguration Day
Many organizations turned to social media platforms on Wednesday to share content and messages about President Joe Biden's swearing in ceremony and what's to come.
Brands such as Ben & Jerry's and Dictionary.com included educational content as part of their virtual celebrations:
The Biden presidency starts today. We're digging into why the first 100 days of a new administration are so important, especially this year: https://t.co/vFa4SfhHVm pic.twitter.com/5958QG2P3S

— Ben & Jerry's (@benandjerrys) January 20, 2021
Did the lame duck session between November and #InaugurationDay feel too long?

At least we're not waiting until March, thanks to the Twentieth Amendment. https://t.co/HjuYzGGV7i

— Dictionary.com (@Dictionarycom) January 20, 2021
The #InaugurationDay ceremony has been observed on January 20 since 1937; prior to that, the presidential inauguration took place on March 4.

Glad you don't have to wait 6 more weeks until Inauguration Day? https://t.co/wdgSvbtrYp

— Dictionary.com (@Dictionarycom) January 20, 2021
The Alaska Wilderness League, Patagonia and Audi focused on climate change and sustainability efforts:
Thank you, President Joe Biden. https://t.co/mbYLAR0UPq

— Patagonia (@patagonia) January 20, 2021
Here's to the art of moving forward.

The all-new e-tron GT, inspired by the #ParisClimateAgreement, and setting the standard for all that is to come. #FutureIsAnAttitude #etronGTConcept

Learn more: https://t.co/sCoBzihgKM pic.twitter.com/EPPfQy5M9g

— Audi USA (@Audi) January 20, 2021
Several organizations, including Bumble and Thread, focused on congratulating Vice President Kamala Harris on her historic appointment:
View this post on Instagram
View this post on Instagram
Others, including Adult Swim and Vulture, leaned into the quickly growing meme featuring Senator Bernie Sanders:
— adultswim (@adultswim) January 21, 2021
The pose. The mittens. The social distance. pic.twitter.com/kwHH7AzZY8

— Vulture (@vulture) January 20, 2021
Why it's important: Biden's Inauguration Day speech focused on unity and coming together, but brand managers must still carefully consider content related to political and social issues, recognizing that Americans are still deply divinded on politics, especially on social media platforms, where comments can quickly become heated. Focusing on individual issues or initiatives can help your brand walk the fine line between standing for values and inviting controversy. Educational and informative content can go a long way in helping you accomplish this.
---
SOCIAL BUZZ
TikTok is testing a new Q&A feature that would give users an opportunity to more easily respond to viewers' questions with text or video answers. The tool is currently only available to creators with more than 10,000 followers who have opted in, but the social media app said it's aiming to roll out the tool to more creators in the next several weeks.
Social media consultant and industry commentator Matt Navarra tweeted screenshots of the feature:
New! TikTok's got a Q&A feature!

Creators can add Q&A button to profile allowing followers to leave questions which they can answer via video replies or in a livestream

h/t @Sphinx pic.twitter.com/aMHt4WGhyC

— Matt Navarra (@MattNavarra) January 19, 2021
Here's what TikTok's Q&A feature looks like when asking a new question

And

What the TikTok creator sees when a new question is asked: pic.twitter.com/8JivUfxsfg

— Matt Navarra (@MattNavarra) January 19, 2021
The upcoming feature can be another reason for brands to jump on the TikTok bandwagon, but PR and marketing pros should also take this as a reminder to engage with audiences across social media platforms. That includes asking questions, listening to consumers' and employees' thoughts, and sharing others' content, as well as stories.
---
MEASURED THOUGHTS
Fractl recently partnered with SEMrush to reveal the top digital communciations services and strategies to focus on in 2021 based on data gathered throughout 2019 and 2020. Top topics include content marketing, social media marketing, digital PR and email marketing: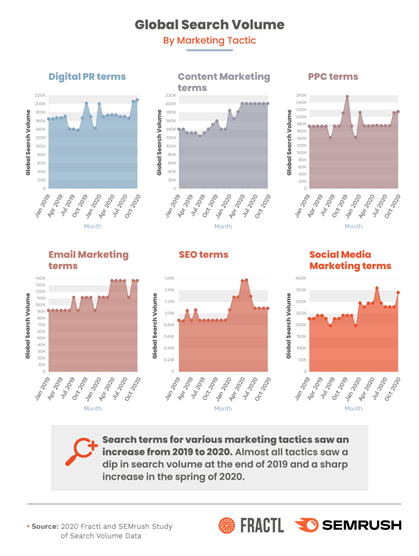 Communicators were also interested in driving brand awareness, especially in late 2020, along with building their brands' authority and improving SEO. All should continue to be a top focus this year: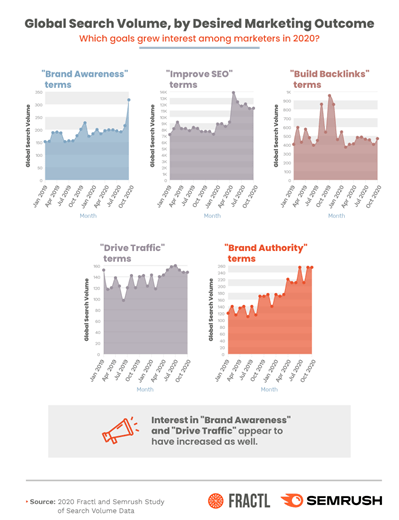 You can view the entire report here.
---
TACTICALLY SPEAKING
Netflix is currently testing a "shuffle" feature, which it confirmed in a recent investor interview will soon roll out for all users:
Congrats to Netflix's recommendations algo team on all of the new data https://t.co/UAPXXdaZZ6

— Caitlin Hudon 👩‍💻 (@beeonaposy) January 20, 2021
"Our members can basically indicate to us that they just want to skip browsing entirely, click one button, and we'll pick a title for them just to instantly play," said COO and chief product officer Greg Peters.

Peters didn't specify a launch date for the feature, but Variety reports that it will arrive in the first half of this year.
The announcement comes as streaming services including HBO Max, Hulu, Disney+, Peacock and the newly rebranded Paramount+, among others, seek to capture consumers' attention and money. It also underlines an important consideration for content marketers. Curating the massive amount of content available online, whether purely your own or recommending others', will become more important as consumers look for suggestions and cutting down on time spent browsing the catalog.
---
CRISIS LEADERSHIP NETWORK
Looking for more insight on how to address the current global crisis and lead your organization into a strong recovery?
Join Ragan's Crisis Leadership Network to connect and brainstorm with peers, get the latest intelligence and research and start to strategize for the future of your organization.
Learn more about this exclusive membership here.
Unilever unveils expansive DE&I commitments for 'the future of work'
 In a news release titled, "How we'll help build a more equitable and inclusive society," the company announced "a set of ambitious commitments and actions" that include ensuring a living wage for all its employees and vendors, spending $2.4 billion annually with suppliers owned and managed by underrepresented groups, giving 5 million small and medium-sized businesses access to skills, finance and technology necessary for growth, increasing representation within advertisement efforts (both on- and off-camera), providing employees skill training and flexible employment options and giving 10 million young people the essential job skills required for new and upcoming career opportunities.
Unilever promised to meet these six commitments by 2025 or 2030.
Too many people are undervalued or excluded. Too many people don't earn a living wage. Too many people are held back through lack of skills.

We aspire for a more equitable and inclusive world. And we have a plan to help create one.#HealthySocietyForAllhttps://t.co/YdhoODRrX5 pic.twitter.com/Lbl5y4Sr6L

— Unilever #StaySafe (@Unilever) January 21, 2021
We have a plan to help build a more equitable and inclusive society by:

➡️ Raising living standards across our value chain

➡️ Creating opportunities through inclusivity

➡️ Preparing people for the future of work #HealthySocietyForAllhttps://t.co/YdhoODRrX5

— Unilever #StaySafe (@Unilever) January 21, 2021
In its news release, Unilever's chief executive, Alan Jope, said:
The two biggest threats that the world currently faces are climate change and social inequality. The past year has undoubtedly widened the social divide, and decisive and collective action is needed to build a society that helps to improve livelihoods, embraces diversity, nurtures talent and offers opportunities for everyone.
Why it matters: Regardless of your organization's size or its access to resources for social and racial justice initiatives, you can follow Unilever's lead to make a difference and strengthen your brand image in the process.
Start by asking how your organization can make a difference in ways that already fit with your current processes and systems—for Unilever, that's improving diversity within the supply and manufacturing chain as well as helping employees find and preprare for the future workplace. Look within your own organization to ensure that you're walking the walk as well as talking the talk—and if you're not, those should be the first commitments you make.
---
TAKE OUR SURVEY
The start of a new year brings more opportunities for communicators across roles, organizations and industries to develop effective strategies and efforts that can strengthen their brands amid continuing crises, including the COVID-19 pandemic.
Ragan's Communications Leadership Council has created The 2021 Communications Benchmark Survey, and wants to know your challenges, successes and needs as you navigate the rapidly shifting communications landscape and respond to unprecedented crises as well as new opportunities.
Please share your insights with us. As a thank you for your time and insights, you'll receive an Executive Summary of the report, packed with proprietary research that can help you better shape communications strategies in 2021. You'll also be entered to win one of five $100 Visa gift cards.
---
WHAT YOU SAID
We asked what social media platform you're focusing on this year to increase engagement, and more than half of you (51%) are turning to Facebook and Instagram, while almost 28% of you are focusing on Twitter and 14% are embracing LinkedIn as your channel of choice. Only 7% of you are making TikTok a priority:
What social media platform are you focusing on this year for engagement?

Weigh in below and share your thoughts, and we'll share in tommorrow's #DailyScoop.

— PR Daily (@PRDaily) January 20, 2021
Is there question you'd like to see asked? Please let us know under the #DailyScoop hashtag!
---
SOUNDING BOARD
What's your WFH setup look like, communications pros?
What's your WFH setup look like, communications pros?

Weigh in below and comment with a picture of your remote office, and we'll share in tomorrow's #DailyScoop.

— PR Daily (@PRDaily) January 21, 2021
Weigh in below and on Twitter, sharing your remote office setups under the hashtag #DailyScoop on Twitter, and we'll dish in tomorrow's roundup.
COMMENT