Brands highlight transgender rights for Pride Month, how personalization improves email open rates, and Microsoft catches Russian cyberattack
Also: Costco resumes free samples, Facebook explains ad review process, and airlines ban alcohol sales on flights.
Hello, communicators:
As Memorial Day weekend marked the first time in over a year that many Americans were able to gather with family and friends, many brands are transitioning their promotional and communication strategies back to pre-pandemic processes.
Bulk shopping chain Costco made headlines after announcing on an earnings call that it would bring back its food samples to the aisles of its store. Generously sized free samples have long been a staple for the chain, with many shoppers joking that a well-strategized Costco trip can result in enough samples to function as a full meal.
"Costco said safety protocols will be added, 'including all samples prepared behind plexiglass, prepared in smaller batches for better safety control, and [distributed] to members one at a time,'" reports Axios. "It'll happen in phases, with 170 of Costco's 550 locations bringing back 'full sampling' next week, and the rest likely to join by month's end."
In a testament to the loyalty of its shoppers, many on Twitter said the return of samples at Costco felt "healing":
For the first time in over a year there was free samples out at Costco – the world is healing

— Jack© (@12jackcarlson) May 29, 2021
I just got the good news Costco is bringing samples back in June. Nature is healing.

— mom (@UncleRichardJr_) May 29, 2021
Beyond an example of true brand affinity, Costco's celebrated move to bring back free samples also serves as a reminder for communicators to craft messaging for earnings calls that goes beyond financial performance and hard numbers to celebrate company culture with examples of how your company provides value to its stakeholders.
Brands celebrate Pride Month with donations to transgender rights groups
The beginning of June marks the start of Pride Month, when brands show solidarity with the LGBTQI+ community by launching colorful marketing and promotional campaigns, rainbow-themed products and efforts to raise awareness around the many issues affecting queer communities.
Many feel that brands focus more on gestural marketing efforts or new products, and less on donations or meaningful activism, giving rise to terms like "rainbow-washing" and "pinkwashing." A recent Saturday Night Live sketch highlighted the increasingly superficial appropriation of queer culture by big brands and companies during Pride Month:
This year, more brands are using Pride Month as an opportunity to spotlight the work transgender rights groups, spotlighting the 250 anti-LGBTQ bills that have been introduced in state legislatures this year according to the Human Rights Campaign, including at least 35 blocking transgender youth from accessing gender-affirming care.
This year, Bath & Body Works is donating $1 million to support the Human Rights Campaign Foundation, which is doing work to help the LGBTQ community through a variety of initiatives, aimed at improve transgender rights, promoting workplace equality, and helping children and families. You can shop the brand's Love Always Wins collection for an assortment of rainbow-centric candles, soaps, mists, and more.

[F]or every pair you purchase, Bombas will donate a pair to those in need through Casa Ruby, a Washington DC-based multicultural and bilingual organization offering social services and LGBTQ safe spaces, as well as the Transgender Resource Center of New Mexico and Mozaic, which offers community health resources to transgender, gender non-conforming, and non-binary BIPOC humans between the ages of 13 to 29.

[Disney] has also pledged to support a variety of domestic and international LGBTQ organizations, including ARELAS, a Spanish association offering resources to trans youth, as well as Nijiiro Diversity, a nonprofit organization in Japan focused on reducing LGBTQ discrimination in the workplace, and others.
Why it matters:
A recent study from Gallup found that 5.6% of Americans identify as LGBTQI+, up from 4.5% in 2017, while 9.1% of millennials and 16% of gen Z do as well. This means that consumer behaviors are changing and younger people are identifying as queer in larger numbers.
Companies searching for an authentic way to engage with their queer stakeholders can take a cue from some of the companies above by partnering with local community leaders to give them a microphone on the brand's larger platform. Brands like Lego that launched their Pride efforts before June also serve as a reminder that your outreach to LGBTQI+ community should not be siloed in one month alone, but instead offer support and solidarity at a steady cadence that reinforces your values when issues like transgender rights legislation become topics of national conversation.
---
MEASURED THOUGHTS
An infographic by CleverTap offers 10 personalization tips to help you better connect with users in your content marketing efforts, like adding first names to subject lines (which CleverTap says will increase the likelihood of your emails being opened by 20%) and sending behavior-triggered emails (which CleverTap says will give your emails a 71% higher open rate).

These tips serve as a reminder that many content marketing efforts are enhanced by your core skills as communicators. Partner with your marketing team to refine copy when data from A/B tests reveals an opportunity for increased engagement and establish a workflow for periodic audits of the messaging in your marketing outreach.
Check out the full infographic here.
---
CRISIS COMMUNICATIONS
American Airlines has suspended alcohol services on its flights following Southwest Airlines decision to stop selling alcohol after a recent assault of a Southwest flight attendant resulted in a serious injury. The ban is to remain in effect until Sept. 13, when federal mask mandates for airlines end.
"Flight attendants are on the front lines every day not only ensuring our customers' safety, but are also calming fears, answering questions, and enforcing policies like federally-required face masks," said Brady Byrnes, managing director of flight service at American, in a memo to flight attendants obtained by CNN.

"Over the past week we've seen some of these stressors create deeply disturbing situations on board aircraft," the memo said. "Let me be clear: American Airlines will not tolerate assault or mistreatment of our crews."
You don't have to be the first your industry to take action to get kudos for proactive measures. Changing policies to mirror the operational changes or your competitors can be positioned as a show of solidarity and a reputational win by emphasizing shared goals that affect the industry at large.
---
RAGAN'S 2021 BENCHMARK REPORT
Ragan has released its annual Communications Benchmark Report, an exclusive study from Ragan's Communications Leadership Council that analyzes the major trends in the profession over the last year.
During that time, comms pros have been called on to develop and distribute messages on new policies that affect internal and external stakeholders alike. Their role has become more essential as they helped keep their organizations focused and moving forward. They've seen their access to the C-suite increase throughout 2020, and they forged important new alliances with peers in other departments, including HR, finance and workplace wellness.
Culled from more than 750 respondents, the 32-page report is available in its entirety exclusively to members of the Communications Leadership Council.
Download your copy of the exclusive Benchmark Survey Executive Summary today and get a crucial competitive advantage that will fuel your success for 2021 and beyond.
---
SOCIAL BUZZ
Facebook has outlined its ad review process to provide more transparency around how it assesses ads before they go live.
"Our ad review system is designed to review all ads before they go live. This system relies primarily on automated technology to apply our Advertising Policies to the millions of ads that run across our apps. While our review is largely automated, we rely on our teams to build and train these systems, and in some cases, to manually review ads."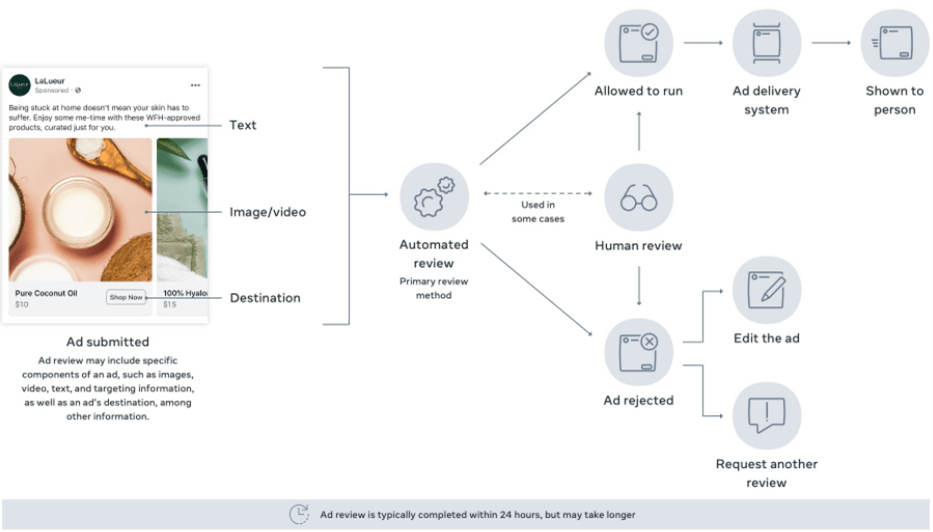 Don't wait until your company's practices are called into question to provide transparency on how your external-facing procedures and processes actually work. Sometimes a small infographic can go a long way.
---
COMMUNICATIONS WEEK
Ragan is delighted to add industry event and thought leadership brand Communications Week to our portfolio. You can read the full press release here.
"We are reimagining Communications Week as a year-round endeavor," says Ragan Communications CEO Diane Schwartz. "The rollout will begin next month with thought-provoking content on the future of communications on Commsweek.com, Ragan.com and PRDaily.com, culminating with a weeklong series in November that will feature conferences, networking events, workshops, webinars and more."
The flagship event for 2021 will take place Nov. 15-19. Stay tuned for updates on the many opportunities and offerings that will help communicators connect, learn and celebrate their achievements later this year.
Microsoft's security team responds to Russian hacker discovery
Microsoft discovered a supply chain breach linked to hackers working for a Russian intelligence service that breached the network of several human rights groups and think tanks. Microsoft reported the breach to the government, which the company believes began with a hack of email marketing company Constant Contact which provides services to the United States Agency for International Development (USAID).
Tom Burt, vice president of customer security and trust at Microsoft, told NPR in an interview that the hackers appeared to be learning as they went along, customizing their malware packages depending on the target. "Even before the malware gets installed," he said, "they're doing some things to help them understand the environment that they are going to try to install the malware into, so they can pick the right malware package."
Microsoft said about 150 organizations may have fallen prey to the hack, with some 3,000 possible compromised accounts, though they think the number will probably end up much lower than that.
Why it matters:
Microsoft's proactive cybersecurity response stands in stark contrast to the Colonial Pipeline hacking saga, which resulted in the TSA imposing regulations on the pipeline industry. Remember that proactive thought leadership can sometimes involve using your team's skills and resources to call attention to issues that affect those outside of your immediate industry.
You can be humble when crafting messaging that reveals the vulnerabilities of other organizations by treating the revelation as an educational opportunity and not pointing fingers.
---
CONFERENCE ALERT
Communicators face a crossroads this year as they anticipate markets recovering and workplaces reopening. Their work crafting a flexible crisis plan and mindful messaging that ensures your brand or organization is ready to handle any future unforeseen situation smoothly will be essential.
Join us at Ragan's Crisis Communications Conference on June 10  to learn timely strategies to help you reimagine your approach to crisis communications, mobilize internal and external stakeholders to be your megaphone and foster goodwill—and make fresh plans for unforeseen obstacles that may arise.
Learn powerful insights and approaches from speakers at organizations including Carnival Cruise Line, KFC, IBM, Amtrak, Mastercard and more.
---
SOUNDING BOARD
At the start of Pride Month, is your company or organization using its platform to bring awareness to LGBTQI+ issues and organizations, PR pros and communicators?
At the start of Pride Month, how is your company or organization using its platform to bring awareness to LGBTQI+ issues and organizations, PR pros and communicators? #DailyScoop

— PR Daily (@PRDaily) June 1, 2021
Share your work below and let us know what causes and organizations mean the most to you by tagging #DailyScoop.
COMMENT
One Response to "Brands highlight transgender rights for Pride Month, how personalization improves email open rates, and Microsoft catches Russian cyberattack"
Jim Oconner

says:

Today I was called a f—-t in costco, by a guy trying to start a fist fight (he literally said he wanted to punch my face).

Maybe that wouldn't have happened if costco wasn't the only major retailer who still refuses to celebrate or aknowlege pride.
Rainbow washing, or not, it still tells the literal violent gay bashers to take their hate somewhere else.