British energy supplier OVO Energy apologizes for 'unhelpful' advice, the rise of 'scrollytelling', and Fed vice chair resigns following stock scandal
Also: Uber and Visa launch small business grant program, Meta offers optimistic March return-to-office date, and more.
Hello, communicators:
Uber and Visa have partnered to launch the Grants for Growth program, which will provide $1 million in grants to small businesses in the 10 U.S. cities where Uber Eats currently operates. The companies said that the program was created to provide support for restaurant recovery at a time when many merchants are in need.
Uber and Visa said that 100 merchants will each receive grants of $10,000 to make payroll, pay down debt, update their payment technology infrastructure and more.
In addition to financial support, selected merchants will receive placement in the Uber Eats app and disaster recovery guides published by Uber and the Local Initiatives Support Corporation, which will administer the grant program and independently select grant recipients with preference to veteran, minority, women and LGBTQIA+ business owners.
"We know that this year has been trying for many, and that independently-owned businesses continue to face significant business challenges. From natural disasters to the impact of the COVID-19 pandemic, Uber and Visa are committed to supporting SMBs, especially through unexpected events, when they may need us most,"  said Sarfraz Maredia, Uber's VP of US and Canada Delivery.
The effort comes as delivery apps like Uber Eats, Doordash and others have been criticized for cutting into razor thin margins for many restaurants as dine-in business evaporated during the COVID-19 pandemic. The effort from Uber and Visa hopes to show care and support for struggling key partners, and is a reminder for many that the effects of the pandemic continue to be felt by many parts of the economy. While you might be ready to turn the page in 2022, organizations should be looking for ways to give back to communities that are continuing to struggle.
Here are today's top stories:
British supplier OVO Energy apologizes for 'poorly judged' content
For brands looking to share helpful tips and suggestions to customers, it's essential to have an editor.  SSE, owned by OVO Energy, discovered this the hard way after sharing with consumers an article that suggested they snuggle up with pets and exercise, among other tricks, to warm up and save energy on their heating bills. The web page has since been deleted.
In a statement sent to CNN Tuesday, a spokesperson for OVO Energy said: "Recently a link to a blog containing energy saving tips was sent to customers. We understand how difficult the situation will be for many of our customers this year."

"We are working hard to find meaningful solutions as we approach this energy crisis, and we recognise that the content of this blog was poorly judged and unhelpful. We are embarrassed and sincerely apologize," the spokesperson added.
The gaffe comes as the U.K. faces an energy crisis and British citizens are paying on average more than $1,000 extra to heat their homes this year.
What you should know: It's powerful for your organization to be an essential information hub and resource4 for consumers, but some messages sound different when they come from a corporation. Content programs must take into account how internet content that might work in an0other context will anger readers faced with rising bills and few alternatives.
When you do misstep, a heartfelt, concise apology can have real meaning for audiences—but its always better to avoid making the mistake in the first place.
---
MEASURED THOUGHTS
A new report from Depositphotos found that digital marketing experts forecasted a dramatic rise in 'scrollytelling' over the next year, which refers to the art of visual storytelling with strategic graphical elements in website design. Those surveyed predicted a 383% increase in website design and development, along with a 325% increase in asymmetrical design and a 150% increase in data storytelling.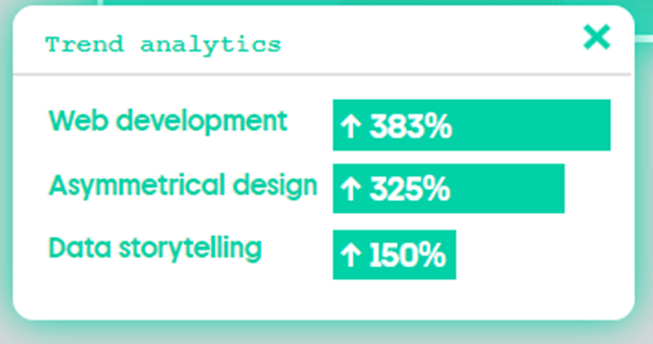 As you seek new and creative ways to engage audiences exhausted with content fatigue, these numbers emphasize how graphic design can play a crucial component in your brand storytelling.
"Versatile elements—from asymmetrical layouts and parallax scrolling, to oversized typography and 3D motion graphics—will come in handy for content creators in the months to come," the report says. "However, the main conditions for a successful scrollytelling project are a short loading time and a unique story readers can relate to.
Check out the full report here.
---
TAKE OUR SURVEY
If you're looking to further your understanding of your industry to navigate what's ahead in 2022, lend us a hand—and help yourself and your peers identify shared benchmarks in areas such as budgets, team structure, ESG and DE&I efforts, and more. Participate in Ragan Communications Leadership Council's 2022 Benchmark Survey, a comprehensive look at how to negotiate budgets with your executives, how to best reach deskless workers and foster culture among a hybrid workforce, and more.
Both internal and external communicators are encouraged to participate.
By taking part, you'll be entered to win one of three $100 gift cards. All who complete the survey will receive a full report on the findings. Responses are anonymous.
Survey takers will receive an executive summary of the findings.
---
THE WORKPLACE
Meta, formerly known as Facebook, is pushing back its date for bringing workers back to the office amid the surge in omicron cases in the U.S. The company now says it will target March 28 for U.S. workers to come back to its offices.
The company had been pushing for a return date of Jan. 31.
"We're focused on making sure our employees continue to have choices about where they work given the current Covid-19 landscape," Janelle Gale, Meta's vice president of human resources, said in a statement. "We understand that the continued uncertainty makes this a difficult time to make decisions about where to work, so we're giving more time to choose what works best for them."

When workers do come back to the office, they will have to show proof they received a booster shot, making Meta one of the first big Silicon Valley companies to make the rule for workers. It also differs in offering a new return date as companies like Google have opted for an "indefinite" date when the company says it can promise a safe and secure work environment.
The news from Meta is a reminder that audiences are closely watching how the future of the workplace develops and it remains essential that companies of all sizes show due care for employees and partners. As internal stakeholders continue to grow in importance for defining a company's external reputation, response to the ongoing pandemic remains a minefield for communicators and top executives.
---
Announcing the PR Daily Leadership Network
PR Daily is launching the PR Daily Leadership Network, a unique membership group from Ragan Communications offering peer-to-peer advisory and team training along with a unique slate of resources and events to help public relations professionals break through the noise, increase their visibility and forge meaningful connections.
The Network provides daily insights and coverage on a range of topics including media relations, social media, measurement, Diversity, Equity & Inclusion, branding, thought leadership and crisis communications.
"The fast pace of change coupled with the demand on public relations professionals to protect and sometimes defend their company's reputation make it imperative for leaders to tap into the wisdom of other communicators and continue to learn and grow," says Diane Schwartz, CEO of Ragan Communications. "The PR Daily Leadership Network provides the answers but also encourages members to question the status quo and push for positive change."
Visit leadership.prdaily.com to learn more.
Federal Reserve Vice Chairman resigns over pandemic-era stock trades
Federal Reserve Vice Chairman Richard Clarida said he will resign from his post before the end of his term amid reports that he pre-planned stock trades in February 2020, just as the Fed rolled out a slew of aggressive policies to protect the economy during the early months of the pandemic. His resignation follows those of regional Fed presidents Eric Rosengren and Robert Kaplan who also faced criticism for the timing of their stock trading.
"Rich's contributions to our monetary policy deliberations, and his leadership of the Fed's first-ever public review of our monetary policy framework, will leave a lasting impact in the field of central banking," Fed Chairman Jerome H. Powell said in a statement. "I will miss his wise counsel and vital insights."

Clarida called serving on the Fed "a distinct honor and immense privilege" and noted the measures it took during the pandemic.

"I am proud to have served with my Federal Reserve colleagues as we, in a matter of weeks, put in place historic policy measures that, in conjunction with fiscal policy, steered the economy away from depression and that have supported a robust recovery in economic activity and employment since," he said in a resignation letter to President Joe Biden. "There is still road left to walk and damage to be repaired."
What it means:
While Fed Chairman Powell makes an effort to frame Clarida's exit in a positive light by focusing on his accomplishments, those words fail to address the wider the trend of Fed officials resigning for allegedly making calculated pandemic-era stock trades.
This avoidance not only lessens the impact of these crisis statements, but fails to communicate anything about how the Fed is addressing the threat of unethical trading and misses the opportunity to frame the resignation as a chance to regain public trust.
COMMENT