Build trust: 3 ways to beat change fatigue
Ragan Training experts deliver tactics to help you succeed. Here are three tips to help staff adjust to change and embrace a brighter future, shared during a Ragan change management workshop.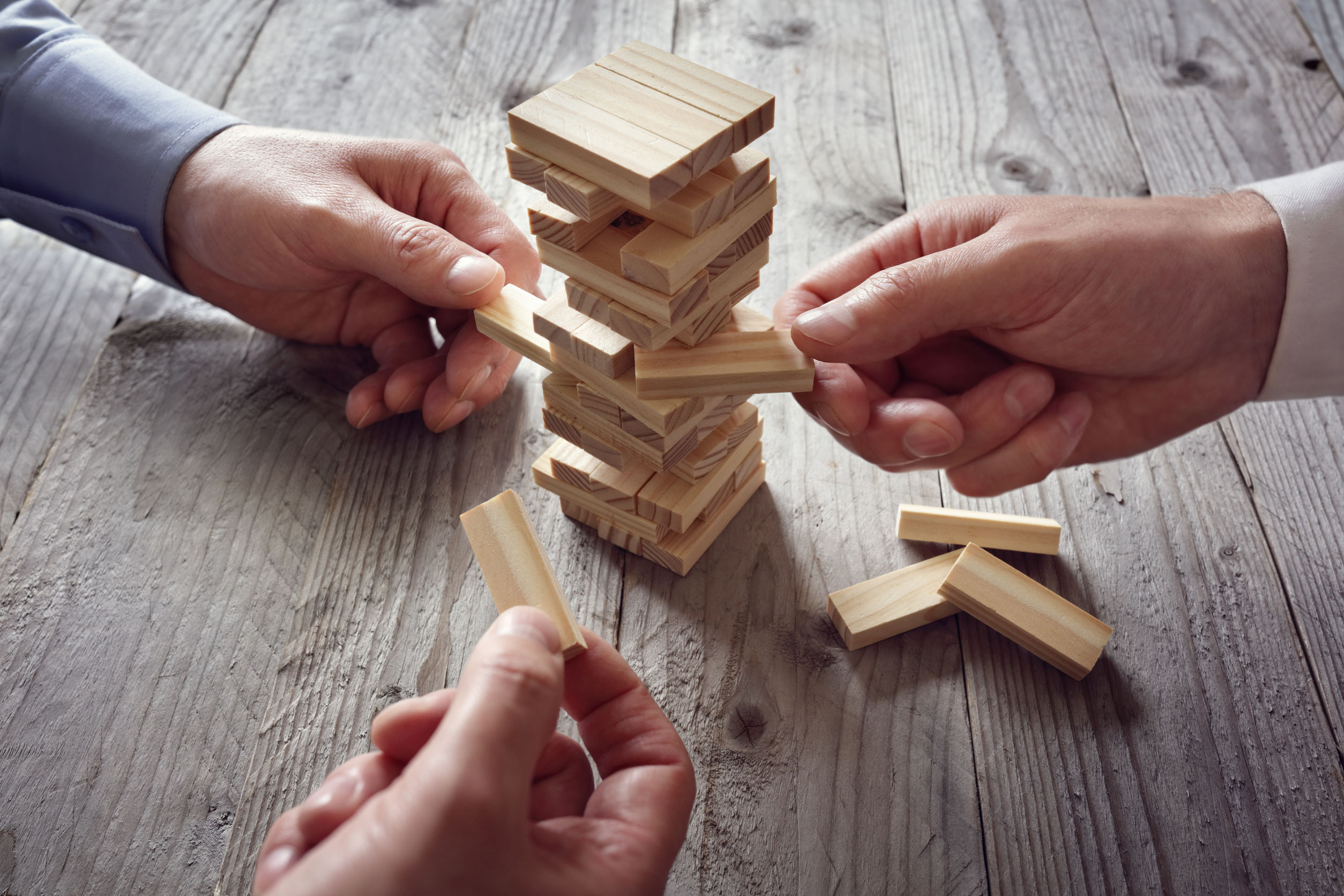 It's no surprise employees are suffering from change burnout. Here's how to provide the clarity, comfort and confidence they need as organizations navigate the return to work:
1. Recognize work is now a safe haven. "Traditional change models just aren't effective anymore—not after what we've all faced this year," said Julia Christenson, group head of the employee experience practice at Edelman, in a recent Ragan change management workshop.
 "That's because they fail to nail the people component," she said. "They completely miss the 'head-plus-heart' element and how people are feeling."
Chirstensen shared these HR Executive stats to illustrate:
 Seventy-five percent of employees are feeling burnout.
Twenty percent of employees feel increased stress levels due to cognitive overload.
 Part of the solution is to embrace the reality that employers are now the most trusted institution, said Christensen, citing Edelman's latest Trust Barometer.
"It's a new role," she said. "Providing health and wellness resources is part of that."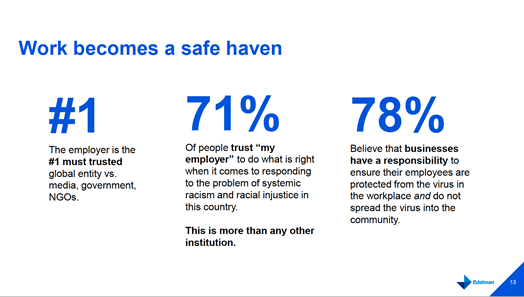 2. Lead with purpose and empathy. "We're advising companies to treat 2021 as a reset to reconnect with your purpose," said Christensen.
"A lot of companies are returning to their roots and talking about what they do in a more inspiring way," she explained. "It's now fundamental table stakes to talk about your purpose and align it with upcoming initiatives if you expect employees to embrace change."
It's equally important to "exercise your empathy muscle," she said. "Employers are moving from being captains to stewards. That means showing more vulnerability and empathy."
It also means creating more inclusive workplaces and speaking out on issues like racism.
"Not doing so causes those employees to feel more isolated and unheard," said Christensen. "So be consistent and thoughtful across all employee groups."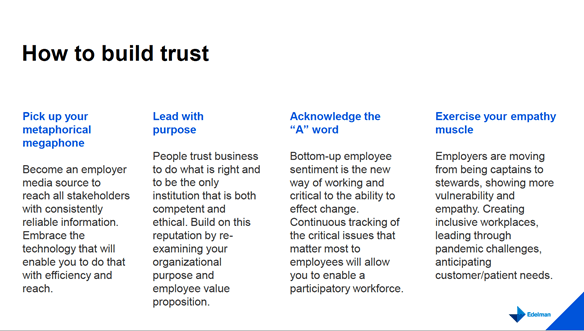 3. Revisit channels and frequency for your message. "Today's hybrid WFH work environment has resulted in over-dependence on digital channels," said Edelman's Ashini Parikh in the same session. "It gets the job done but contributes to serious fatigue, overload and burnout."
 Parikh oversees digital employee experience at the agency and advised measured moderation.
"Regularly measure message efficacy and employee sentiment," she said. "That ensures you're not overcommunicating around change—and lets you create more agile comms strategies."
She shared this slide as a guide to help assess your change communications channels: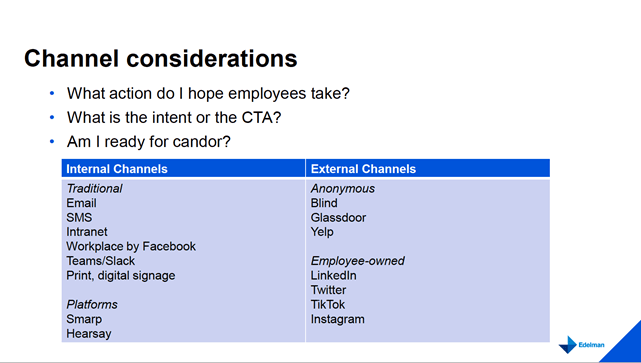 Brian Pittman is the Dean of Ragan Training and a Ragan Communications event producer.
COMMENT