CDC ponders partnership with Dollar General for COVID-19 vaccines, BuzzFeed slammed for recent layoffs, and TikTok introduces anti-harassment features
Also: Target and CVS partner on vaccine distribution, Twitter aims to launch 'Spaces' in April, 58% of creative teams have larger workloads, and more.
Hello, communicators:
Target is partnering with CVS to offer COVID-19 vaccines at 600 of its locations.
"Our top priority since the onset of the pandemic: the health and safety of our team members, guests and the communities we serve," Target said in a news release.
Here are today's top stories: 
CDC weighs partnership with Dollar General to offer COVID-19 vaccines
The Centers for Disease Control and Prevention is in talks with Dollar General about a partnership to offer COVID-19 vaccines in many of the discount chain's locations across the United States. With over 16,000 locations, this partnership would effectively create thousands of new vaccination sites, many in rural areas of the country.
The COVID-19 vaccine is currently available in over 600 CVS in-store pharmacies and at several Target store pharmacies across 17 states. Dollar General stores do not contain in-store pharmacies.
Rochelle Walensky, director of the CDC, confirmed the potential partnership in a speech on Tuesday.
"In rural areas, residents often don't have access to big-box stores," Walensky said at the Health Action Alliance's virtual National Business Summit. "We're exploring a promising collaboration with Dollar General stores, which have locations that include refrigeration capacity within 10 or 15 miles of our rural communities in all but four states."
Representatives from the CDC and Dollar General were not immediately available to provide additional details Tuesday.
Many people agreed that the partnership was a solid idea given the store's strategic locations and resources.
Brilliant. Dollar General and Family Dollar have fridge and freezer cases, a stock room, a large parking lot, and are undoubtedly closer to country folk than the doctor's office, urgent care or pharmacy. With spring whether coming, set up outside or drive-thru

— Clarence (The mask goes OVER your nose, people!) (@HoosLaughingNow) March 9, 2021
YES!!! Dollar General is literally the ~only~ convenience/grocery store (let that sink in) in so many Alabama towns. Vaccines should be accessible to EVERYONE and this "unconventional" effort would be a monumental step towards achieving equitable vaccine distribution. https://t.co/DWpaczsUZ7

— Courtney Marie Rentas (@CourtneyRentas) March 10, 2021
The CDC is exploring a partnership with Dollar General to distribute the COVID vaccine.

Y'all know I don't believe in Dollar Generals as grocery stores, but you better believe I'm behind this one. This would reach a lot of WV-ians without transportation.https://t.co/2whstYB4u7

— Amelia Knisely (@ameliaknisely) March 10, 2021
The Dollar General chain is exploring giving the Covid vaccine.

If that's the case, the entire southern fleet of states will be vaccinated in 30-minutes.

— Brad Logan (@BradLoganCOTE) March 10, 2021
Others said that Dollar General's reputation as a discount store (without pharmacies) didn't instill confidence in the chain's ability to distribute vaccines.
The CDC is in talks with Dollar General—which has no pharmacies, or, apparently, cleaning materials for employee use—to expedite vaccine rollout to rural communities. Has anyone from the CDC ever been inside a Dollar General?

— Rayne Millaray 🏳️‍🌈 (@RayneMillaray) March 10, 2021
Hmm. I have never been in a clean or sanitary Dollar General. I'll pass. https://t.co/nrm4ra5VfV

— Sharon from the block (@SharonF456) March 10, 2021
Dollar General was one of the first major companies to give workers paid time off to get vaccinated, saying in a January statement it doesn't want "employees to have to choose between getting the vaccine and coming to work." Other companies that have followed suit include Amtrak, Chobani, Marriott McDonald's, Target and Trader Joes.
Why it's important: When a crisis affects your brand or industry, taking care of your internal stakeholders first creates reputational goodwill that can be leveraged externally. In this instance, Dollar General took initiative by offering employees incentives to get vaccines early on, setting the precedent that the company takes COVID-19 vaccinations seriously. Furthermore, leveraging your positive reputation among external stakeholders, including customers and brand ambassadors, can often drown out criticism lobbed at your company.
---
CRISIS COMMUNICATIONS
BuzzFeed has laid off 45 reporters, editors and producers at HuffPost after acquiring the publication three weeks ago from Verizon Media. Hillary Frey, HuffPost's executive editor, and Louise Roug, the international executive editor, resigned in response to the layoffs.
[BuzzFeed CEO Jonah] Peretti told staffers that the decision, which will affect 47 U.S. employees, including eight in management, was made in order to "fast-track the path to profitability" for HuffPost, enabling the company to break even this year and eventually turn a profit. HuffPost's losses totaled around $20 million in 2020, he said.

"Though BuzzFeed is a profitable company, we don't have the resources to support another two years of losses," Peretti said.

"We want to ensure the homepage remains a top destination on the internet," he added. "We also want to maintain high traffic, preserve your most powerful journalism, lean more deeply into politics and breaking news, and build a stronger business for affiliate revenue and shopping content."
Variety wrote:
The WGA East-affiliated HuffPost Union, which reps editorial employees of the site, said that 33 of its members, or nearly 30%, are among those being laid off. "We are devastated and infuriated, particularly after an exhausting year of covering a pandemic and working from home," the HuffPost Union said in a statement.
Consider the timing of your sensitive company announcements, particularly when it affects stakeholders who have their own strong voice and platform. Then, work strategically to prepare an announcement that gets out in front of the expected criticisms from those who will be negatively impacted by the news. Craft holding statements to deploy should the negative sentiment around your announcement cross a pre-determined threshold to merit a response.
---
CRISIS LEADERSHIP NETWORK
Looking for more insight on how to address the current global crisis and lead your organization into a strong recovery?
Join Ragan's Crisis Leadership Network to connect and brainstorm with peers, get the latest intelligence and research and start to strategize for the future of your organization.
Learn more about this exclusive membership here.
---
SOCIAL BUZZ
Twitter is testing a feature that will better display your images when you tweet them, instead of cropping your photo—which potentially can distort the tweet's meaning to scrolling social media users:
Today we're launching a test to a small group on iOS and Android to give people an accurate preview of how their images will appear when they Tweet a photo. pic.twitter.com/cxu7wv3Khs

— Dantley Davis (@dantley) March 10, 2021
The news can serve as a reminder to ensure that your photos are representing your brand and your content, even when cropped.
---
MEASURED THOUGHTS
InMotionNow and InSource released a report on the management needs of creative teams in 2021, revealing that 73% of those surveyed said that their main challenge is the speed at which they are expected to work.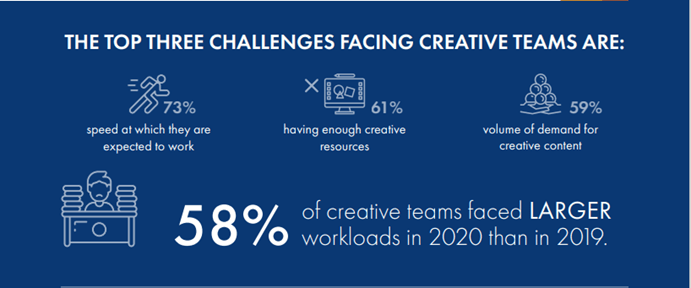 Image courtesy of InMotionNow and InSource.
You can read the entire report here.
TikTok announces anti-harassment features
 The social media app recently announced "new tools to promote kindness," which include a feature that asks users to reconsider posting their comments when they include certain words or phrases that the app's interface recognizes as potentially going against their Community Guidelines: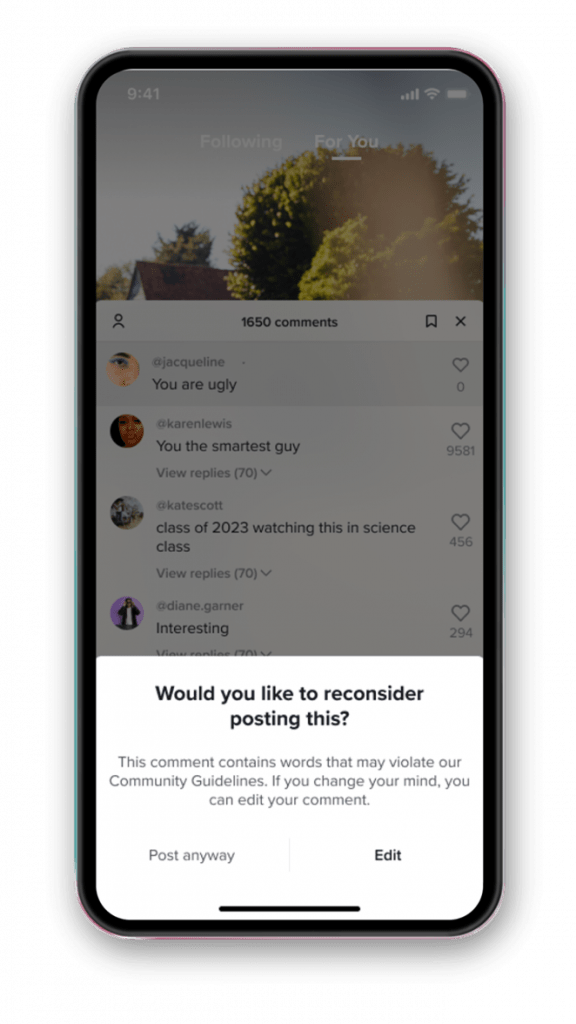 TikTok is also giving content creators the option to delete comments and additional tools to filter spam, comments and keywords: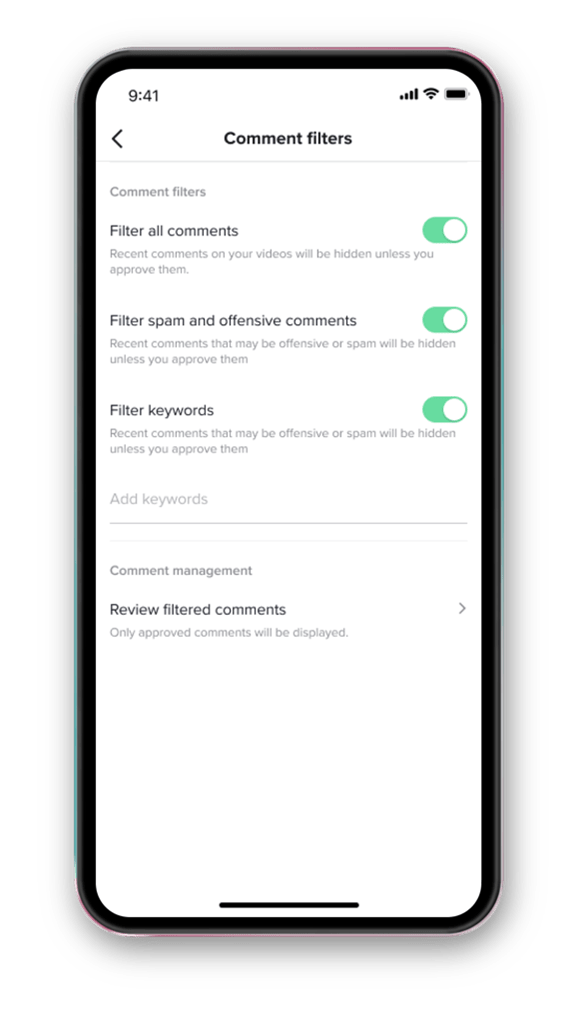 In a blog post, Tara Wadhwa, TikTok U.S.' director of policy, wrote: 
At TikTok, we continually work to maintain a supportive environment that enables our community to focus on what matters to them: being creative, finding community, and having fun. Part of this fun is engaging with content, sharing ideas, and connecting through comments. Our goal is to promote a positive environment where people support and lift each other up.
Why it matters: TikTok is trying to avoid Twitter's problems with harassment, bullying and other toxic comments and behaviors. However, social media pros and other communicators should include how they'll handle potentially problematic reactions and comments to their social media content long before they publish.
Simply limiting your tweet's comments or turning off replies to your YouTube video won't solve the problem, either. Instead, establish strategies and procedures to help your social media team handle spam and inappropriate engagement, while still inviting interactions and listening to your community members.
---
SOCIAL BUZZ
Twitter is continuing to test its Clubhouse competitor, "Spaces," revealing in a recent audio chat that the company is working on rolling out the feature to all users next month.
Amusingly, we overheard the news in a Twitter Space itself, hosted by the company. Twitter's plans aren't set in stone, but the gist is that they're trying to get the product into a state where anyone can host a Twitter Space starting in April. April is the goal. In the meanwhile, users on both iOS and Android can both join and talk in existing Spaces.
The company has been beta testing this function with some users for a few months now. In its current form, anyone can join a Space, but only members of the beta testers can create a Space. It became a trend on the platform, with many users writing in their bio that they're "beta testers" from the feature. The team behind Spaces is constantly in touch with Twitter users to share experiences, feedback, and what they're implementing to its platform. 
Whether you're on Clubhouse or waiting for Twitter Spaces, consider how to integrate audio content into your digital content strategies. Especially as employees and consumers are feeling "Zoom fatigue," audio content including podcasts and audio-only apps are picking up in popularity. Becoming an early adopter can help you establish credibility and influence for your brand.
---
CONFERENCE ALERT
Social media and digital content are helping organizations across industries reach and engage with consumer and employee audiences looking to connect despite staying apart during COVID-19. The digital media landscape—and people's behaviors—are rapidly shifting, and yesterday's strategies won't stand out to those searching for brands to take a stand and promote DE&I initiatives, measure their efforts, produce valuable content, and more.
Learn how to break out online at Ragan's Social Media & Digital Commmunications Virtual Conference on Tuesday, March 16.
Learn powerful insights and secrets from speakers at Dropbox, Chip and Joanna Gain's Magnolia, BET Networks, the Cleveland Cavaliers, AARP, Ketchum, LinkedIn, Oklahoma Aquarium, NAACP, Canon Europe, The Martin Agency and more.
Attendees will learn how to produce compelling social media posts and digital content across TikTok, Twitter, YouTube, Instagram, Facebook, Clubhouse and intranet channels—and glean inspiration on incorporating digital media strategies such as SEO, email marketing, paid ads and employee ambassadorship to make your efforts soar.
---
WHAT YOU SAID
We asked what drives you nuts as PR and communications professionals:
What drives you nuts, PR and communications pros?

Vent away with a GIF that captures the challenge you wish to permanently banish. We'll share the top answers in tomorrow's #DailyScoop! pic.twitter.com/lmaRL65yTB

— PR Daily (@PRDaily) March 10, 2021
Last-minute editing and copy reviews can quickly increase stress, as the team at National Association of Government Communicators pointed out:
Co-worker to PR or PA rep: "Hey, can you give this document a quick review? It's due to leadership in an hour. It'll just take a second." pic.twitter.com/1A7I7hN8Wu

— National Association of Government Communicators (@NAGC) March 10, 2021
PR pro Meagan Fox highlighted the frustration of people not knowing what you do:
When everyone asks, so you just do social media stuff? pic.twitter.com/BNzET3nPWf

— Meagan Fox (Labrie) (@__MeaganLaBrie) March 10, 2021
Corporate comms and PR executive Shawna Rossi said asking for those budget dollars to stretch can also be stressful:
When clients want a champagne and caviar event on a beer and wings (or crows in a box) budget pic.twitter.com/5zLWOg3ymu

— Shawna Rossi 🧘🏻‍♀️🎾🏌🏻‍♀️⛵️🇨🇦 (@MyRetailTherapy) March 10, 2021
Communicator Amanda pointed out a common frustration, when clients and executives ask to go viral:
When a client says "I want to go viral." pic.twitter.com/w0CSPwDEE7

— amanda ♓︎ (@_mandsramirez) March 10, 2021
Is there question you'd like to see asked? Please let us know under the #DailyScoop hashtag!
---
SOUNDING BOARD
What's your WFH schedule look like as you balance crisis communications and other strategic plans, PR Daily readers?
What's your WFH schedule look like as you balance crisis communications and other strategic plans, PR Daily readers?

Weigh in below, and we'll share the results in tomorrow's #DailyScoop.

— PR Daily (@PRDaily) March 11, 2021
Weigh in below and share  under the hashtag #DailyScoop. We'll share top responses in tomorrow's roundup.
COMMENT