Clorox names first female CEO, Lifetime announces inclusive holiday film lineup, and Chipotle merchandise highlights sustainabiliity
Also: Consumers' satisfaction with social media platforms drops, Twitter under investigation by the FTC, the Red Cross helps TikTok fans prepare for Hurricaine Isaiah, and more.
Hello, communicators:
Following in the footsteps of several brands, Chipotle announced a new line of apparel and accessories, including clothing and tote bags dyed with "upcycled avocado pits from its restaurants."
The merchandise line isn't just a way for the restaurant chain to boost profits and brand awareness. It's also a way to highlight its sustainability and inclusivity efforts.
In its press release, Chipotle wrote:
Many items in the collection have been created by Loomstate, Chipotle's uniform partner, using materials that reduced waste and water. The collection features subtly branded details like avocado lined jean jackets or more bold options such as customizable graphic tees, which allows fans to select their ingredients as they do in the restaurant. The line is focused on size inclusivity, gender neutral pieces and features unisex sizing on most products. By purchasing apparel made with organic cotton from Loomstate for its Goods collection Chipotle expects to prevent the use of a significant amount of synthetic pesticides. Loomstate estimates that in 2019 alone, Chipotle's purchase of employee uniforms made with organic cotton prevented approximately 1.7 million pounds of synthetic pesticides from being used.
You can purchase the gear at chipotlegoods.com.   
What do you think of the offering? Share your reactions with us under the #DailyScoop hashtag.
Here are today's top stories: 
Clorox announces first female CEO
The cleaning company said its former president, Linda Rendle, has been promoted to chief executive and elected to the company's board of directors. She is one of only a few women leading an S&P 500 company, Forbes reported.
The announcement also comes with additional good news for Clorox: Sales have been booming, despite COVID-19.
The consumer goods company, whose brand name is virtually synonymous with bleach, saw organic sales growth of 24% in the fourth quarter and fiscal year organic sales increase by 10%. All four of the company's segments, which include cleaning, household, lifestyle and international, were up double digits, Dorer told Jim Cramer.
Forbes reported:
Just last week, an Axios Harris Poll 100 found that Clorox is among the top five high-profile U.S. companies with the best reputations, alongside The Hershey Company, Amazon, Publix Supermarkets and General Mills. As companies hope to make potential customers feel comfortable during the pandemic, Uber and United Airlines have both launched partnerships with Clorox.
Why it's important: As the company seeks to retain its good standing with stakeholders and continue to bolster consumer trust, increasing executive diversity can do as much for the company's reputation as announcing positive sales numbers can do for its investor relations.
---
SOCIAL BUZZ
Twitter is under investigation by the Federal Trade Commission, facing fines up to $250 million for misusing users' information to target ads.
Twitter encourages people to provide their phone numbers so that it can add a second step to the login process, called two-factor authentication, which ensures that users receive a text message before gaining access to their own account. But the phone numbers also ended up in a system that allowed advertisers to tailor their ads to specific audiences, the company said. It was unclear how many people were affected, Twitter said.

"When an advertiser uploaded their marketing list, we may have matched people on Twitter to their list based on the email or phone number the Twitter account holder provided for safety and security purposes," the company said in an October blog post that disclosed the incident. "This was an error and we apologize."
The investigation is another in a list of moves that have social media users growing more concerned over how their data is being used and how private their information truly is.
---
MEASURED THOUGHTS
The American Customer Satisfaction Index released its E-Business Report 2019-2020, which revealed that social media platforms are continuing a "persistent downward satisfaction trend" from a peak score in 2015 of 74. Survey respondents rated their happiness with digital platforms as nearly 3% less this year than in 2019, with Pinterest and YouTube dropping 4% each. ACSI also reported that consumers' satisfaction in Instagram was its lowest since 2015.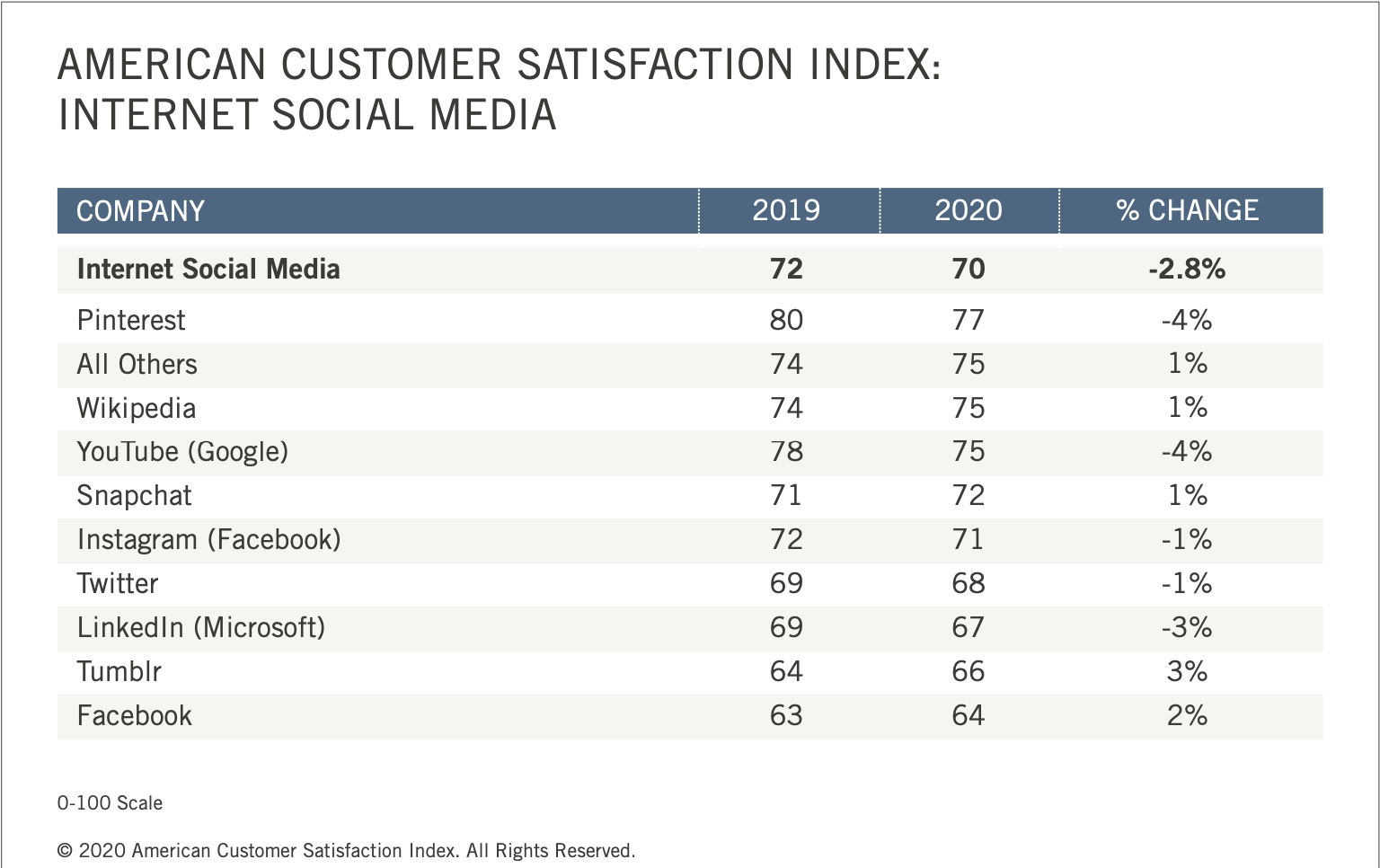 Image courtesy of American Customer Satisfaction Index.
Some of the reasons for consumers' dissatisfaction with social media platforms include privacy concerns and content being shared. Consumers said content's relevance and freshness have declined compared to last year, as have the variety of information and services offered.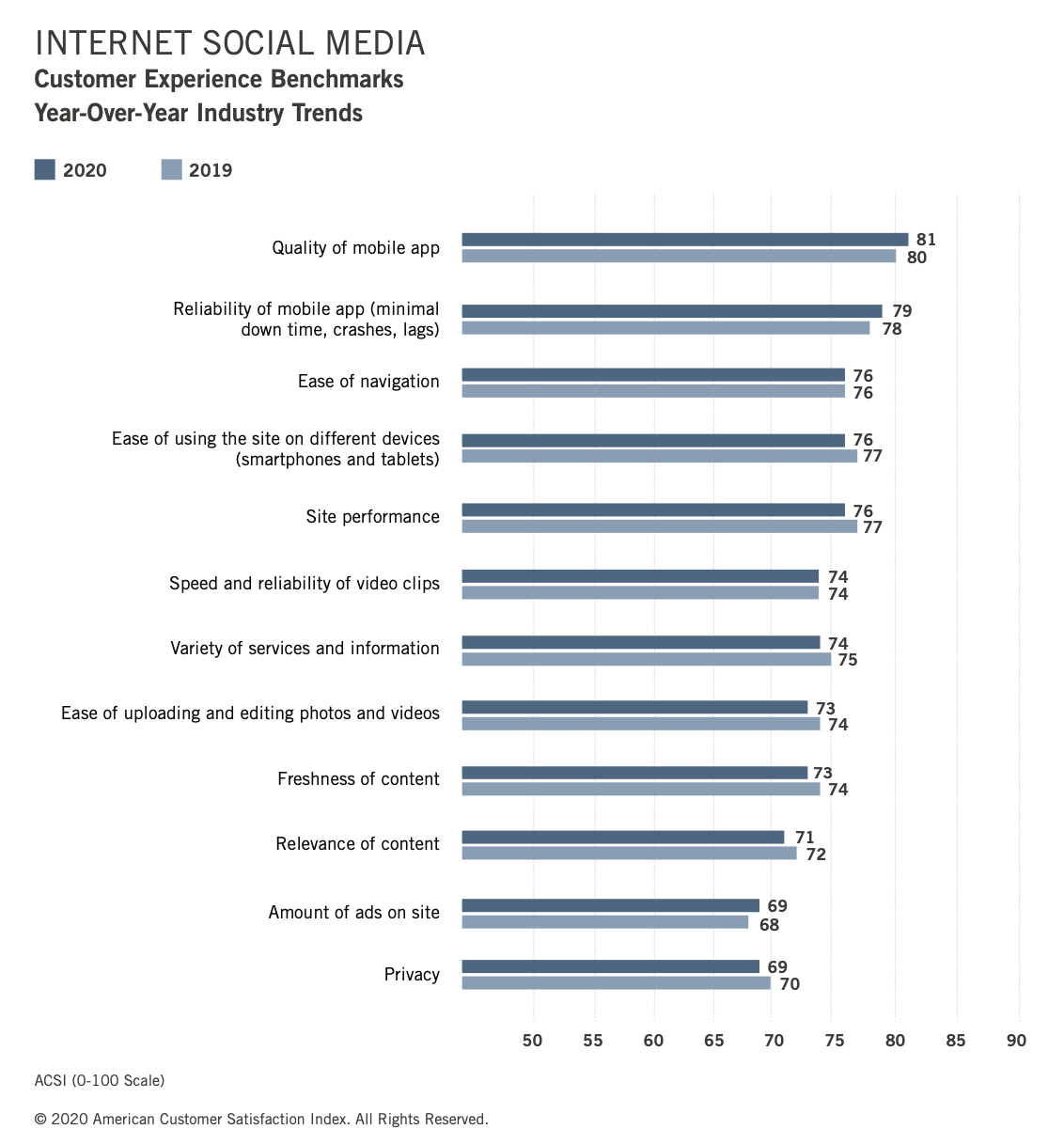 Image courtesy of American Customer Satisfaction Index.
You can read the entire report here.
---
CRISIS LEADERSHIP BOARD
Looking for more insight on how to address the current global crisis and lead your organization into a strong recovery?
Join Ragan's Crisis Leadership Board to network and brainstorm with peers, get the latest intelligence and research, and start to strategize for the future of your organization.
Learn more about this exclusive membership here.
Lifetime announces inclusive holiday movies
The network announced its 30-film holiday lineup, which includes its first feature centered on a Chinese-American family. The lineup also includes a film featuring an LGBTQ romance, which is another first for Lifetime:
We will feature 30 new movies including new titles #SugarandSpiceHoliday, which is Lifetime's first holiday movie centered around a Chinese-American family and #AChristmasSetUp, the network's first movie with a LGBTQ romance as the lead story! pic.twitter.com/FRfLFi8Nbe

— Lifetime (@lifetimetv) August 3, 2020
"We are thrilled to continue our legacy of creating a holiday destination that is welcoming to all at Lifetime," said Amy Winter, EVP and Head of Programming, Lifetime and LMN. "With more new movies than any one cable network for streamer, I couldn't be prouder of the incredible talent joining us in front of, and behind the camera, on these new holiday movies."
Why it's important: Lifetime's announcement is already racking up kudos with fans excited to see more diversity within its holiday storylines. Consider ways you can make your content more diverse and inclusive, whether or not it's slated for holiday campaigns. Not sure where to solicit ideas? Ask your employees for their feedback.
---
DOWNLOAD OUR REPORT
Following the deaths of George Floyd, Ahmaud Arbery, Breonna Taylor and others, organizations were pushed more forcefully than ever before to take stands against systemic racism and move to support social justice initiatives. Which responses made an impact—and which responses fell flat?
Learn from 10 of the biggest brand messages in our special report, "Organizational responses to Black Lives Matter." The report offers communicators important takeaways to lead organizations and clients in the second half of 2020 and into the future.
---
SOCIAL BUZZ
The American Red Cross' social media team is helping people prepare for Hurricane Isaias with its recent TikTok video:
The brief-yet-informative content shows how you can quickly relay important details while tailoring your messages to short attention spans.
---
WHAT YOU SAID 
We asked if your communications budget is bouncing back now that we're several months into the COVID-19 crisis, and more than 44% of you said money is increasing—and going toward digital-first efforts. Nearly 28% said budgets are rising again overall, while almost 17% said your resources are being cut even more.
While many organizations continue to struggle as the COVID-19 crisis continues, others are successfully focusing on new revenue models and digital formats.

Is your comms budget bouncing back? Weigh in below and under #DailyScoop.

— PR Daily (@PRDaily) August 3, 2020
Is there a question you'd like us to ask in an upcoming poll? Let us know!
---
SOUNDING BOARD
How are you honing your skills as well as adding more to your tool belt?
How are you honing your skills and adding more to your tool belt?

Share your preferences and goals with us under #DailyScoop.

— PR Daily (@PRDaily) August 4, 2020
Share your experiences and goals with us below and under the #DailyScoop hashtag.
COMMENT