Companies weigh in on wearing masks
As the political debate on wearing masks becomes more inflamed, businesses such as Walmart, Starbucks and Kroger are pushing their own policies.
In some ways, the debate over masks is emblematic of our tortured attempts to respond to the global pandemic.
Mixed messages from political leaders and government officials, hesitant corporate responses and video after video of confrontations between mask policy enforcers and anti-mask belligerents have gone viral on social media. Some employees have been celebrated for refusing to serve customers who won't wear masks. Others have lost their job for refusing to wear a mask in stores.
Businesses can be excused for not wanting to wade into the debate on masks.
After all, businesses are ill-equipped to be enforcers of mask-wearing rules. Asking employees to confront and remove patrons who refuse to wear masks is bound to cause a fuss—especially when government officials aren't consistently backing up specific safety guidelines.
For example, Georgia's Gov. Brian Kemp just suspended local ordinances that required mask use, sparking fierce criticism from local authorities who have passed such measures.
However, health officials say that wearing a face covering in public is one of the most effective tools we have to combat the spread of the coronavirus. Here's what the top official for the Centers for Disease Control and Prevention had to say about it:
"We are not defenseless against COVID-19," said CDC Director Dr. Robert R. Redfield. "Cloth face coverings are one of the most powerful weapons we have to slow and stop the spread of the virus – particularly when used universally within a community setting. All Americans have a responsibility to protect themselves, their families, and their communities."
Taking a stand
We've also seen many calls for corporations and brands to take a stand on important issues facing the country, from racial injustice and equality to the environment. Wouldn't leading with purpose and values also require a company to take the lead on adopting mask use?
Many organizations have been ready and willing to ask employees to use masks. Since the beginning of the pandemic, there has been a focus on worker safety and precautions to protect employees. But what about customers?
When Edelman introduced its Trust Barometer for 2020, businesses claimed a unique position, for the first time polling as more trusted than government, news media entities or NGOs. From that position, however, audiences say they want businesses to lead.
"It's a stakeholder world, ladies and gentlemen," Edelman says in explaining the actions that businesses must undertake to develop trust with their key publics.

One way he sees for businesses to show their ethical bona fides is for CEOs to take a vocal stand on social concerns. He emphasizes: "92% of people said they want CEOs to speak up on issues of the day."
So what is a global, or even national organization to do on mask use? What does leadership look like?
What the data reveals
In reality, Americans are not as split over the use of masks as they might seem. According to recent polling, 89% of Americans say they wore a face mask or face covering when leaving their homes in the last week.
And many Americans are resigned to the fact that mask use will be a part of their lives for some time to come, according to research from McKinsey & Co.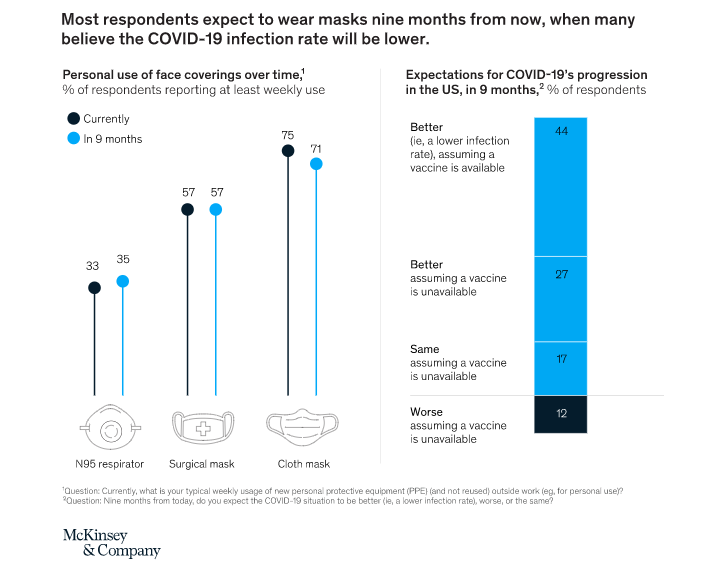 (Image courtesy of McKinsey & Co.)
And those who are refusing to wear masks? Well, those numbers are dropping according to polling from Gallup.
Retailers take action
Some organizations have decided to take a stand. Starbucks, Walmart, Kohls and Kroger have all announced that customers will be required to wear masks in their stores.
Starbucks set a deadline of July 15 for when customers in stores must be wearing masks.
The mandate is part of Starbucks' "continued effort in prioritizing the health and well-being" of its employees and customers during the pandemic, the company said in a statement Thursday.

Requiring a facial covering or mask supersedes local laws in some states or cities that might not require wearing one. Starbucks (SBUX) said customers who refuse to wear a mask inside can order from the drive-thru, curbside pickup or delivery.
Walmart is giving customers until July 20 before instituting mask rules, it says, to give customers time to adapt.
"To help bring consistency across stores and clubs, we will require all shoppers to wear a face covering starting Monday, July 20," Walmart US chief operating officer Dacona Smith and Sam's Club chief operating officer Lance De La Rosa said in a blog post Wednesday. "This will give us time to inform customers and members of the changes, post signage and train associates on the new protocols."
The problem with enforcement
How are these businesses that are demanding mask adoption going to police their rules? Can they avoid the nasty scenes that have become viral sensations on social media?
Can they keep employees safe?
Still, retailers have struggled to enforce mask requirements, which has sparked confrontations between customers and employees. A security guard at a Family Dollar store in Michigan was shot and killed in May after he told a customer to wear a mask, and in recent weeks, videos of confrontations between angry customers and clerks over these rules have gone viral.
Walmart is going to station "health ambassadors" near the entrance to stores.
"Our ambassadors will receive special training to help make the process as smooth as possible for customers," the company said. "The ambassadors, identifiable by their black polo shirt, will work with customers who show up at a store without a face covering to try and find a solution."
Businesses that do decide to require masks should be prepared to engage with customers, provide educational materials and go the extra mile to help customers who might have more going on than just a desire to avoid covering their face.
COMMENT
One Response to "Companies weigh in on wearing masks"
Ronald N. Levy

says:

Our Declaration of Independence recognizes the importance of public opinion by saying: ". . .a decent respect for the opinions of mankind" requires declaring the causes for declaring independence.

Then our Declaration refers to "unalienable rights" including "Life," liberty and the pursuit of happiness. "Whenever any form of government becomes destructive of these ends," says our Declaration, it is the right of the people to change that government in a way that "as to them shall seem most likely to effect their safety."

"Thou shalt not kill," says our Ten Commandments, the transmission of Covid-19 certainly kills, so our religious and political leaders seem to agree in favoring measures to prevent killing and protect life. Admirably, Walmart and other companies favor such protection of our lives rather than doing corporate masking that would conceal respect for life.