Starbucks walks back vaccine mandate, a size guide for social media images and ExxonMobil shares sustainability goals
Also: Marriott seeks travel correspondents on TikTok, Better.com CEO returns after firing 900 workers over Zoom, and more.
Hello, communicators:
Marriott announced that it is launching a contest to appoint three travelers as TikTok correspondents as part of its "30 Stays in 300 Days" contest. This promotion is the latest phase of Marriott Bonvoy's Power of Travel Campaign, which the hospitality brand launched last year to promote travel as lockdown restrictions eased.
Hopeful travelers can submit a TikTok video using the hashtags #30stays300days and #contest as they answer the question: "How has travel shaped you?" Winners will receive round trip airfare, a $10,000 Marriott gift card, another $15,000 to spend as they choose, and transportation vouchers for Uber rides, Uber Eats orders and more.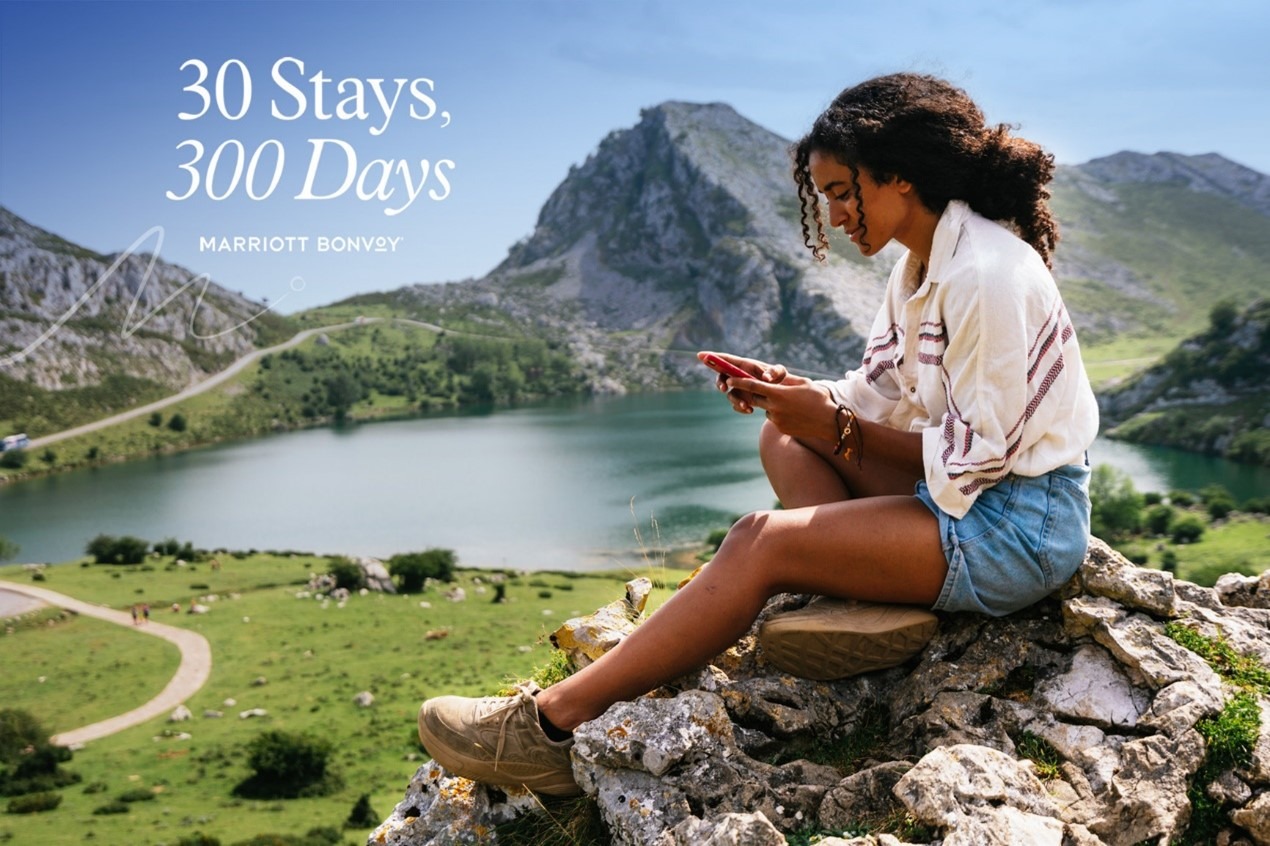 "Our goal with this initiative is to reignite passion for travel," Marriott SVP of brand, loyalty and portfolio marketing Brian Povinelli said in a press release. "We're excited for our TikTok correspondents to embrace the transformative power of travel and showcase Marriott Bonvoy as the vehicle to explore the world through this once-in-a-lifetime experience."
Marriott's campaign provides another example of TikTok's power to not only identify established influencers and creators active around your industry, but cultivate new ones through contests and challenges.
Here are today's top stories:
Starbucks walks back vaccine mandate in employee memo
Starbucks COO and North American Group President John Culver announced in a staff memo that the company would no longer require employees to get COVID-19 vaccines or submit to weekly testing. Culver added that the company will also extend its self-isolation pay and vaccine pay benefits. Starbucks' announcement follows last week's Supreme Court ruling that rolled back Biden's vaccine and testing mandates for private companies.
"We respect the court's ruling," John Culver, Starbucks' chief operating officer, wrote in the memo, seen by Axios. "Thank you to the more than 90 percent of partners who have already disclosed their vaccination status, and to the vast majority who are now fully vaccinated," Culver added.
"While the [Emergency Temporary Standard] is now paused, I want to emphasize that we continue to believe strongly in the spirit and intent of the mandate," wrote John Culver, chief operating officer and North American group president at Starbucks, in a letter Tuesday to baristas that was viewed by CNBC.
What it means:
Starbucks bundled this announcement with news around guaranteed isolation leave to position its message around the best interests of employees at a time when employees are considering unionization. Union partners expressed their frustrations that Starbucks reversed the mandate without discussing the decision with them, a reminder that communicating internally around a looming decision is crucial for building internal consensus.
While several social media users expressed frustration that Starbuck's decision to roll back its vaccine mandate,  the company's approach offers contrast to outdoor workwear brand Carhartt's recent contrary decision to enforce employee its vaccine mandate despite the Supreme Court ruling.
---
MEASURED THOUGHTS
A new guide from Hootsuite breaks down the optimal social media image dimensions to use when posting on Instagram, TikTok, Facebook, Twitter, LinkedIn, Pinterest, Snapchat, YouTube and Tumbr. The guide also offers tips for avoiding pixelation, reducing unintended image cropping and other best practices to ensure your social media posts display as intended.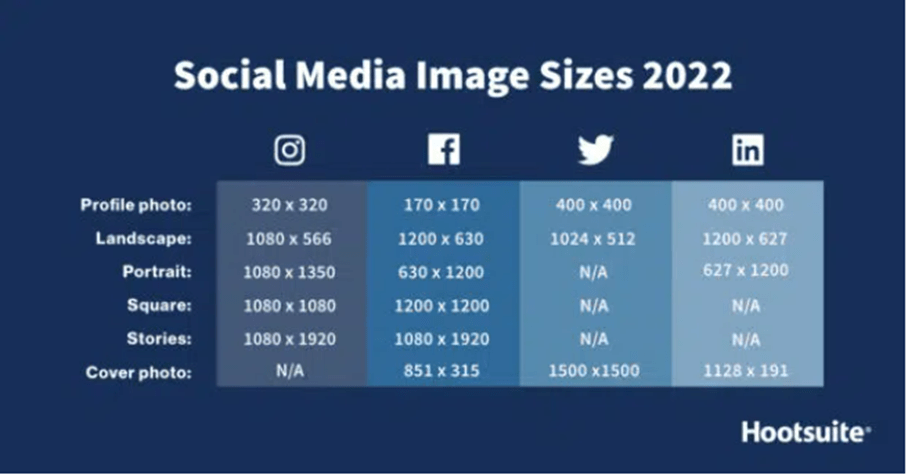 Hootsuite's image sizing guide is the latest reminder that social media best practices are ever-changing, often so fast that it's the prerogative of any strategic communicator to ensure marketing, design and social media teams are aware of the latest changes. Using image sizing software like Canva to create templates for each type of social media image your brand publishes can also ensure your visual storytelling is presented in a consistent brand style.
Check out the full guide here.
---
TAKE OUR SURVEY
If you're looking to further your understanding of your industry to navigate what's ahead in 2022, lend us a hand—and help yourself and your peers identify shared benchmarks in areas such as budgets, team structure, ESG and DE&I efforts, and more. Participate in Ragan Communications Leadership Council's 2022 Benchmark Survey, a comprehensive look at how to negotiate budgets with your executives, how to best reach deskless workers and foster culture among a hybrid workforce, and more.
Both internal and external communicators are encouraged to participate.
By taking part, you'll be entered to win one of three $100 gift cards. All who complete the survey will receive a full report on the findings. Responses are anonymous.
Survey takers will receive an executive summary of the findings.
---
CRISIS COMMUNICATIONS 
Better.com CEO Vishal Garg, who took time off from the online mortgage company after being widely criticized for mass firing 900 employees over Zoom, returned to his leadership position at the company. Garg's return was announced to employees in a memo sent by the Better.com board, which promised leadership changes including a chief human resources officer, a new training program on building "a respectful workplace," and an ethics and compliance committee reporting directly to the board. The commitments follow an independent culture review led by law firm Jenner & Block.
"As you know, Better's C.E.O. Vishal Garg has been taking a break from his full-time duties to reflect on his leadership, reconnect with the values that make Better great and work closely with an executive coach," Better.com's board said on Tuesday in an email to the staff, which was reviewed by The New York Times. "We are confident in Vishal and in the changes he is committed to making to provide the type of leadership, focus and vision that Better needs at this pivotal time."
In his own letter to employees Tuesday, Garg wrote: "I understand how hard these past few weeks have been. I am deeply sorry for the angst, distraction and embarrassment my actions have caused. I've spent a lot of time thinking about where we are as a company and the type of leadership Better needs … and the leader I want to be."
The ongoing saga for Better.com is a reminder of how internal communications and the employee experience have become crucial issues for brand reputation management. CEOs are expected to be the face of their organization and embody core values that consumers look for in the brands they wish to patronize.
For leaders that fail to demonstrate the adequate care and empathy for their teams and broader stakeholder groups, the road back can be arduous. And some are unlikely to take Garg at his word that he has truly changed.
---
Announcing the PR Daily Leadership Network
PR Daily is launching the PR Daily Leadership Network, a unique membership group from Ragan Communications offering peer-to-peer advisory and team training along with a unique slate of resources and events to help public relations professionals break through the noise, increase their visibility and forge meaningful connections.
The Network provides daily insights and coverage on a range of topics including media relations, social media, measurement, Diversity, Equity & Inclusion, branding, thought leadership and crisis communications.
"The fast pace of change coupled with the demand on public relations professionals to protect and sometimes defend their company's reputation make it imperative for leaders to tap into the wisdom of other communicators and continue to learn and grow," says Diane Schwartz, CEO of Ragan Communications. "The PR Daily Leadership Network provides the answers but also encourages members to question the status quo and push for positive change."
Visit leadership.prdaily.com to learn more. 
ExxonMobil announces new sustainability commitments
Energy company ExxonMobil has committed to achieve net zero greenhouse gas emissions by 2050 as part of a detailed sustainability report that shares 150 steps and modifications to the company's current practices that will help it reach the goal. Those steps, which include investing in better processes for detecting methane leaks and exploring alternative hydrogen-based fuels, are part of the company's pledge to spend $15 billion on business initiatives that reduce emissions by 2027.
The company says it plans to roll out more detailed plans in 2022 and 2023.
"ExxonMobil is committed to playing a leading role in the energy transition, and Advancing Climate Solutions articulates our deliberate approach to helping society reach a lower-emissions future," said Darren Woods, chairman and chief executive officer. "We are developing comprehensive roadmaps to reduce greenhouse gas emissions from our operated assets around the world, and where we are not the operator, we are working with our partners to achieve similar emission-reduction results."

"As we invest in these important technologies, we will advocate for well-designed, high-impact policies that can accelerate the deployment of market-based, cost-effective solutions," said Woods. "We believe our strategy is unique among industry and enables us to succeed across multiple scenarios. We will create shareholder value by adjusting investments between our existing low-cost portfolio and new lower-emission business opportunities to match the pace of the energy transition."
Why it matters:
ExxonMobil's detailed report signals a massive shift in sustainability policy for the company, which testified before Congress this past October that "we currently do not have the adequate alternative energy sources." That hearing was held in response to accusations that the compnay, along with Chevron, BP and Shell, spread misinformation about fossil fuels to downplay its role in climate change.
The promise comes as PR agencies are also reviewing their portfolios. Edelman, for example, has promised to enforce rules for clients who do not meet ESG standards. However, Exxon's promise falls short of the change activists say is necessary to combat climate change, as it fails to address emissions from consumers of its products or its wider ecosystem of suppliers and stakeholders.
COMMENT
One Response to "Starbucks walks back vaccine mandate, a size guide for social media images and ExxonMobil shares sustainability goals"
Ronald N Levy

says:

Exxon is a marvelous corporate citizen that once gave $135 million to Stanford University to study using seaweed for the public benefit. Now $15 BILLION to reduce emissions. But even with this massive protection of the public, PR Daily correctly points out that the company "falls short of the change activists say is necessary."

No matter how much this corporate hero and others do for the public, there may always be activists who sometimes use filthy language and even violence to emphasize that even the very best companies—and Exxon is certainly one of these—should do more and more and more. "Enough is enough" sounds true but may not to activists.

Companies like Exxon can defend the public and themselves in two ways.

.1. MAKE KNOWN ALL THE WAYS Exxon is serving the public interest. What it does to hold down gasoline prices. . .create new products that protect our lives and give us happiness. . .contribute billions every year in taxes our government uses for safety, education, hospitals, jobs, the poor, our environment and more. . . provide employment and health benefits for a huge number of Americans. . .and much more.

Although most of the public doesn't give a damn about Exxon's good deeds, the public cares immensely about our health, safety, standard of living, environment and the rest, so PR can create vastly more coverage than we're seeing now on how Exxon is a blessing to the public. It's not so much tooting a company's horn as it is being a pied piper for public service that everyone can assist.

.2. MAKE KNOWN ONE BIG WAY that Exxon is a blessing to every one of us. My favorite for this is public health but others may favor art, religion, child care, beauty, the elderly or something else.

The Wall Street Journal of 1/13/22 has a full page on "A PILL TO TURN BACK THE CLOCK." It begins: "Scientists are studying whether drugs that prolong life in animals can prevent the aging process in humans." American Cancer Society reports online, citing cancer vaccines that already work, that "cancer vaccines cause the immune system to attack [cancer] cells." One in five of us today dies of cancer but Dr. Andrew Zelenetz and a world-class medical team at Memorial
Sloan Kettering Cancer Center hope to find a cancer vaccine that is even more successful than the Covid vaccines.

Look at the effect if PR shows the public: "Exxon-sponsored research aims to
prevent the aging process, to prolong life, and to find a cancer vaccine to protect the one in five of us now likely to die of cancer." Will over 200 million Americans cheer for Exxon and see it correctly as a hero of health? Will Washington's top political leaders strongly oppose new legislation that could impair Exxon's ability to keep doing this for the public?

The $15 billion may do more for the public and more for Exxon if some of that money goes for medical research that makes millions think "Thank God for Exxon."