Cruise industry responds CDC's sailing ban, H&M retracts statement on Chinese labor following boycotts, and Twitter takes responsibility for Capitol riot
Also: Microsoft reports large increases in email over the past year, Snapchat shares user data on holiday celebrations, readers weigh in on their feelings about flying, and more.
Hello, Communicators:
Twitter CEO Jack Dorsey took responsibility for his platform's role in the Capitol Riot on Jan. 6 during yesterday's Congressional hearing on social media's role in spreading misinformation and extremism, though added that the responsibility was not Twitter's alone. The other big tech CEOs present at the hearing, however, did not.
"[Representative Mike] Doyle noted that he agreed with Dorsey in that the responsibility isn't just on technology platforms and was frustrated that Mark Zuckerberg, the CEO of Facebook, and Sundar Pichai, the CEO of Google wouldn't answer 'yes' or 'no.'," reported Newsweek.
Yesterday's hearings on Capitol Hill remind us that the quickest way to deescalate a crisis lobbed at your brand or organization is still to take responsibility, apologize and enact next steps to ensure it will never happen again.
Cruise industry responds CDC's sailing ban with frustration
The commercial cruise industry is speaking out against a Centers for Disease Control and Prevention ban that prevents ships leaving from U.S. ports.
A trade group representing most of the world's cruise lines is pressing the Centers for Disease Control and Prevention to allow ships to start sailing again from American ports by early July, calling the U.S. cruise ban "outdated."

"The lack of any action by the CDC has effectively banned all sailings in the largest cruise market in the world," the Cruise Lines International Association said in a statement Wednesday. The group said a July restart would bring the industry in line with President Biden's goal of "getting the nation closer to normal" by Fourth of July.
After the CDC held firm on enforcing its ban, Royal Caribbean, Celebrity Cruises and Crystal Cruises found a loophole. Instead of leaving from the U.S., these cruise lines will embark from foreign ports in the Bahamas, Bermuda and other Caribbean islands, thus skirting the CDC's jurisdiction.
Other major cruise companies including Carnival, Norwegian and MSC have not said if they will take a similar approach to cruising in North America this summer. Most have canceled sailings from the United States through the end of May or June, while the industry is pressuring the CDC to let U.S. cruises start again by early July. The CDC, which is working on detailed instructions for cruise lines to return to service, has rebuffed that request.
To show their commitment to safety, several cruise lines have also implemented strict policies requiring all passengers provide proof of a COVID-19 vaccination before going aboard.
Requiring cruise passengers to be vaccinated against COVID-19 aligns with a plan that Federal Maritime Commission Commissioner Luis Sola announced last week. The plan, dubbed "Cruising Forward," would allow only vaccinated passengers and crews to sail on large cruise ships.
Why it Matters:
As more people have access to COVID-19 vaccines, companies in industries that are eager to reopen will likely enact similar vaccination requirements for their customers. Communicators in these industries should start preparing messages now that clearly states the rights of their company should any potential customers object to the new vaccination requirements.
Create a crisis plan that anticipates every problematic scenario that may arise should your vaccination screening go awry. You should also consider partnering with an app developer to offer a user-friendly solution that makes the bar for providing proof of vaccination a little easier for customers to clear.
---
TAKE OUR SURVEY
The start of spring brings new opportunities for agency communicators across roles, organizations and industries to develop stronger relationships with their clients.
Ragan Communications and the Institute for Public Relations are conducting a brief survey on the relationship between PR agencies and their clients, which will be presented at the Ragan's April 7 Media Relations & Measurement Conference and published in a report that will be launched in May 2021.
Please share your insights with us before the deadline on April 2, 2021. The survey should take less than 10 minutes to complete and your responses will remain confidential. As a thank you for your time and insights, you will be entered into a drawing for one of two $50 gift cards.
---
SOCIAL BUZZ
Snapchat has shared new data on how its users are celebrating the upcoming holidays of Passover, Easter, Holi and Ramadan.
Indeed, with pandemic restrictions still limiting what people can do, Snapchat users have been forced to re-assess their regular holiday routines once again. But the pandemic may also have strengthened their resolve to uphold their traditions, with most looking to stay focused on the positive elements as a means of maintaining some level of normalcy and connection.

Many Snapchatters will also still be looking to catch up with friends and family, in whatever capacity they can. That's reflected in Snapchat's word association trends from 2020, which show that 'Zoom' and 'Virtual' were two key terms used in connection to the various events.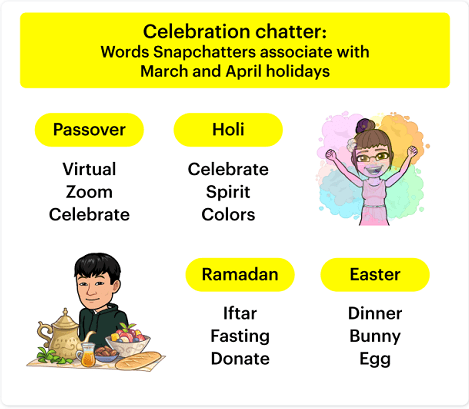 Communicators should take note that that sharing audience insights around holidays or cultural events is a fun, clever way to portray your brand or organization as an expert source without playing strictly to the "white paper crowd" on LinkedIn.
---
CRISIS LEADERSHIP NETWORK
Looking for more insight on how to address the current global crisis and lead your organization into a strong recovery?
Join Ragan's Crisis Leadership Network to connect and brainstorm with peers, get the latest intelligence and research and start to strategize for the future of your organization.
Learn more about this exclusive membership here.
---
MEASURED THOUGHTS
Microsoft released its Workplace Trend Index earlier this week, revealing that weekly meeting time on its Teams app increased by 148% between Feb. 2020 and Feb. 2021. Meanwhile, users sent 40.6 billion more emails and nearly doubled their time chatting in Teams.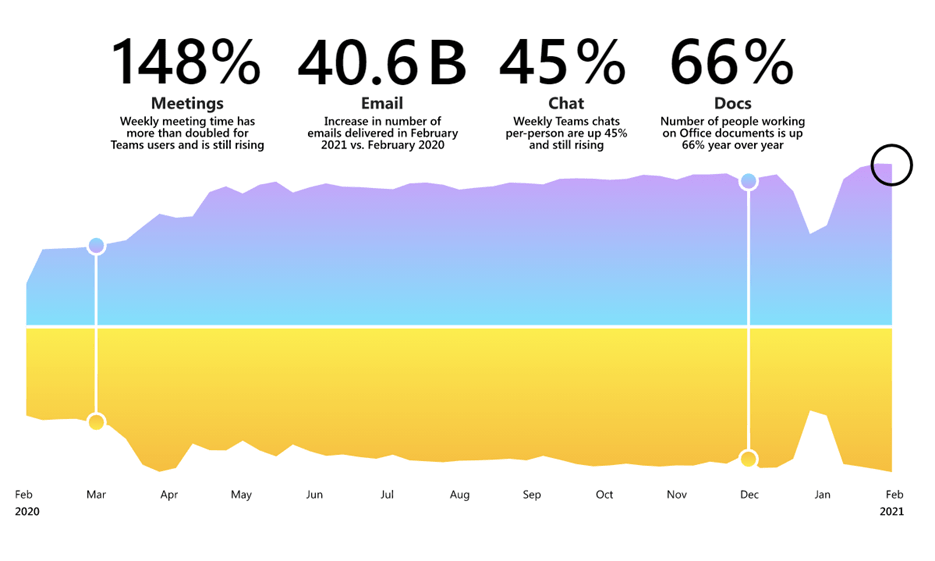 These numbers show how much additional digital communication is taking place to sustain current business needs in the absence of real-life, in-office interactions.
---
CRISIS COMMUNICATIONS
Amazon denied multiple stories which reported that workers without time for breaks urinate in bottles while on the job, going so far as to respond to one lawmaker on social media.
When replying to a tweet from Rep. Mark Pocan (D-WI) complaining about the company's union-busting tactics and the fact that some of its workers are forced to "urinate in water bottles," Amazon's official Twitter account responded: "You don't really believe the peeing in bottles thing, do you? If that were true, nobody would work for us."

But people do believe these stories and for a very simple reason: there are numerous accounts of it happening, documented by employees and journalists around the world.

Indeed, after Amazon sent out its ill-judged tweet, reporters who cover the company's labor practices practically lined up to soak the firm with evidence. These included English journalist James Bloodworth, whose 2018 book Hired: Six Months Undercover in Low-Wage Britain documented his experience of low-paid work for companies including Amazon:
I was the person who found the pee in the bottle. Trust me, it happened. https://t.co/U76UlDRWSO

— James Bloodworth (@J_Bloodworth) March 25, 2021
As we learned when General Mills pushed back on a Cinnamon Toast Crunch customer's claims about finding shrimp tails in his cereal earlier this week, dismissing a potential crisis with messaging on your public channels can make matters worse. Social media communicators should think twice before responding publicly to a detractor through their brand accounts, as it creates a digital record of conjecture that invites more criticism and exacerbates the crisis.
H&M retracts year-old statement against forced labor following Chinese boycott
Several Western clothing brands, including Nike, New Balance and Burberry, are being called out by Chinese state media outlets for their refusal to use cotton from the country's Xinjiang region. Xinjaing has been the focus of human rights concerns over treatment of the Uighur minority that lives there and reports of "forced labor."
H&M, meanwhile, saw its products pulled from the sites and apps of major Chinese online retailers due to a year-old statement that it made distancing itself from cotton sourced from the Xinjiang region.
"Pure and flawless Xinjiang cotton cannot allow any forces to smear or blacken it," a Chinese commerce ministry spokesperson said Thursday.

The calls for boycott come only days after the European Union, United Kingdom, U.S. and Canada jointly sanctioned four Chinese individuals and entities for alleged human rights abuses in Xinjiang.

H&M's woes stem from a statement the group posted last September in which it expressed concern over allegations of forced labor in Xinjiang and said it would not tolerate forced labor in any of its supply chains.
"A lot of Western countries and China are pretty black-and-white on this issue. There's not a lot of gray," said Trey McArver, a co-founder of Trivium China, a consultancy that helps foreign businesses sell in China, referring to the opposing stances over Beijing's policies in Xinjiang. "You can't agree with both of them, so I don't think it's an easy answer."
Why It Matters:
In a digital world where e-commerce reigns, communicators are reminded that all global messaging should be fine-tuned to not upset the nuances and sensitivities unique to each market that you serve. Before releasing any statement critical of a specific country or region, research the political and cultural dynamics in that region to give you context on the issue at hand and consider the implications your statement will have on the company's bottom line.
---
CONFERENCE ALERT
As the news cycle continues to rapidly shift and communicators grapple to create strategies that overcome content exhaustion and misinformation, it's crucial to embrace new best practices grounded in measurement, data and insights that can both build engagement and boost brand awareness.
Learn how to build stronger relationships with journalists to tell your story, and measure the results at Ragan's Media Relations & Measurement Virtual Conference on Wednesday, April 7.
Attendees will discover new and smart opportunities to overcome crisis challenges, pitch stories that reporters crave, better understand and deliver to target audiences through analytics and insights, enhance media relations efforts through the PESO model and brand journalism, prove the ROI of your efforts, and more.
Learn powerful insights and secrets from speakers at organizations including NAACP, PepsiCo, Goodwill, Pfizer, Hilton and Britannica Group.
---
WHAT YOU SAID
In light of news that domestic air travel numbers recently returned to pre-pandemic levels, we asked when you will feel comfortable flying again. It was a close race, with 30% of you admitting you won't feel great about hopping on a plane until 2021. Meanwhile, 26% each said they would feel comfortable flying this spring/fall or once they were vaccinated. Finally, 19% will be waiting to book those flights for winter.
Last weekend, U.S. airlines saw the most travelers since March 2020. When will you feel fully comfortable flying again, PR pros and communicators?

Let us know how you're feeling about flying under the hashtag #DailyScoop. We'll share top responses in tomorrow's roundup.

— PR Daily (@PRDaily) March 25, 2021
Is there a question you'd like to see asked? Let us know by tagging it with #DailyScoop.
---
SOUNDING BOARD
Weather permitting, what's one thing you can't wait to do outside this weekend, PR pros and communicators?
Weather permitting, what's one thing you can't wait to do outside this weekend, PR pros and communicators?

Reply with a GIF showing us your ideal outdoor activity, and we'll share the top responses in Monday's #DailyScoop pic.twitter.com/EQPSfRHDmr

— PR Daily (@PRDaily) March 26, 2021
Reply with a GIF showing us your ideal outdoor activity, and we'll share the top responses in Monday's #DailyScoop.
COMMENT
One Response to "Cruise industry responds CDC's sailing ban, H&M retracts statement on Chinese labor following boycotts, and Twitter takes responsibility for Capitol riot"
Ronald Levy

says:

In nearly all cases Joffe is right but it's NOT good to accept responsibility when NOT responsible.

The phone company isn't really responsible when a caller says something horrible by telephone, nor is the post office guilty for hateful communications sent my mail. So is a tech company to blame when someone communicates electronically instead of by phone or mail?

Are Zuckerber and Pichai supposed to censor what people say? Do we WANT their people to censor what we say?

The pilot and bus driver are obviously not guilty when a passenger is a criminal so are Zuckerberg and Pichai guilty when a communicator via their technology is a criminal or crazy?

The U.S. Supreme Court and state courts have repeatedly ruled against what lawyers call "prior restraint," legal action to prevent a newspaper for example from printing something. So should Zuck and Pichai be REQUIRED to do prior restraint that even the New York Times and Washington Post are not ALLOWED to do?

Our tech companies are useful to the public good and we are fortunate to have them. They should be sponsoring some billion dollar health research project so millions of Americans say "thank God" for these people but maybe the tech companies will eventually realize this before unduly restrictive regulation costs each company tens of billions in lost earnings.