Discord and Reddit grapple with 'WallStreetBets' communities, Activision Blizzard defends DE&I hiring initiatives, and Twitter rebrands to embrace 'real' conversations
Also: Communciators' most hated corporate jargon, the future of streaming services, Target and other retailers cut ties with coconut milk supplier, and more.
Hello, communicators:
Joe Martin, general manager and vice president of marketing and strategy for CloudApp, recently asked Twitter users for their most-hated corporate terms:
What corporate word or phrase do you hate the most?

Mine is let's take this offline

— Joe Martin 🧤 (@joeDmarti) January 28, 2021
Content strategist and copywriter Jessica Malnik shared a few words that shouldn't be applied to your next product launch or corporate landing page:
Using the words – Revolutionary or Game-changer on your website

Women's suffrage was revolutionary. The Civil Rights Act was revolutionary. Your new SaaS product is most likely not. 😉

— Jessica Malnik (@jessicamalnik) January 28, 2021
Communications pro Zala Bricelj said she'd be happy to permanently ban the phrase, "Let's circle back to that":
Let's touch base on that
Let's circle back to that

Two of the most cringy phrases I was happy to never ever hear again after exiting the corpo world.

— Zala Bricelj – 🇸🇮 😊 #edutech is my jam (@ZalkaB) January 28, 2021
Financial adviser George Papadopoulos shared several in this fitting image:
These pic.twitter.com/rDSjcCylEI

— George Papadopoulos (@feeonlyplanner) January 28, 2021
What would you add to the list? Share your thoughts with us under the hashtag #DailyScoop.
Here are today's top stories:
Discord and Reddit address 'WallStreetBets' community
On Thursday morning, shares for GameStop were trading at more than $450—"more than double its close of $147 on Tuesday," USA Today reported. The surge is thanks to individual investors putting a "short squeeze" on the stock in a concentrated campaign organized through the r/WallStreetBets community on Reddit and the group's Discord server.
The move has sent hedge fund managers scrambling, and stocks for other struggling companies rose, including shares for AMC Entertainment and Macy's. Outside of Wall Street, however, Discord and Reddit have been grappling with the group that is currently dominating headlines and social media conversations.
The group's Discord server was banned, sparking backlash from the community as well as other Reddit users, and the r/WallStreetBets subreddit was made private after Discord's move. Reddit only kept the community private for a short time, however, whereas Discord is doubling down on its decision.
The Verge published Discord's full statement, which read:
The server has been on our Trust & Safety team's radar for some time due to occasional content that violates our Community Guidelines, including hate speech, glorifying violence, and spreading misinformation. Over the past few months, we have issued multiple warnings to the server admin.

Today, we decided to remove the server and its owner from Discord for continuing to allow hateful and discriminatory content after repeated warnings.

To be clear, we did not ban this server due to financial fraud related to GameStop or other stocks. Discord welcomes a broad variety of personal finance discussions, from investment clubs and day traders to college students and professional financial advisors. We are monitoring this situation and in the event there are allegations of illegal activities, we will cooperate with authorities as appropriate.
Why it's important: The move presents several obstacles and opportunities for brand managers. For those at social media and digital platforms, the focus is currently on whether restricting or ignoring community campaigns is the best move. As many tech companies and social platforms continue to struggle with fighting misinformation and harassment with their users, these organizations are also looking to distance themselves from other legal and PR issues.
For communicators at other organizations, the move can serve to highlight the importance of understanding consumer shifts and trends, especially on digital channels and in social media communities in which you might not be familiar. USA Today shared a Reddit post that described GameStop's stock surge as "a tug of war between tradition and the future." This sentiment affects many organizations, and you would be wise to listen to what consumers are saying online.
---
SOCIAL BUZZ
Twitter's marketing team unveiled a brand refresh, which includes a new typography called "Chirp" that is "flexible and expressive, bold, agile and fun."
In a lengthy Twitter thread, the social media platform's chief marketing officer, Leslie Berland, wrote:
We do this because Twitter and the conversations that happen here are living, breathing, and always evolving. They're defined by the people talking, shaped by their voices, imprinted by the images and words that fill our timelines every day.

The brand isn't us, it's all of you. pic.twitter.com/p8hWI1DnBc

— Leslie Berland (@leslieberland) January 27, 2021
We felt the brand expression we launched 5 years ago didn't fully reflect the complexity, fluidity and power of the conversations today.

So the team embarked on a unique challenge: to build a creative system for an iconic brand that's complex and imperfect, by design. pic.twitter.com/CZ6KY3cNqw

— Leslie Berland (@leslieberland) January 27, 2021
We also created a new typography that's flexible and expressive, bold, agile and fun, reflecting the voices that make Twitter, Twitter. We named it Chirp 😉 pic.twitter.com/0d7TROyh0y

— Leslie Berland (@leslieberland) January 27, 2021
There's a ton of work happening across Twitter to better serve you, to make the product better, safer, smarter. Our marketing team sees its role as amplifying the best of Twitter and the voices that make it so, creating work that's honest and open, authentic and true.

— Leslie Berland (@leslieberland) January 27, 2021
Here are more examples of the work👇

We're excited to hear your thoughts and share more as this evolves over time reflecting the beautiful, bold, complex conversations that shape Twitter, our lives and the world. pic.twitter.com/AOEMZU6jkT

— Leslie Berland (@leslieberland) January 27, 2021
Berland said that Twitter conversations "are messy and complex, intense and inspiring, hilarious and ridiculous, weird and ugly, shocking and beautiful, disturbing and moving" and the existing branding didn't "fully reflect the complexity, fluidity and power of the conversations today."
Though Twitter's iconic bird logo remains, the images, videos and text on which it's placed will change in the rebranding that seeks to embrace the "raw" and "real" conversations happening on the platform.
Regardless of whether it's time for a brand refresh within your organization, look for ways to make your content and campaigns more relevant to the current landscape and to your target audiences' behaviors.
---
MEASURED THOUGHTS
Comcast announced that NBCUniversal's streaming service, Peacock, has amassed 33 million signups across the U.S. The news was shared as part of an investor meeting revealing Comcast's fourth quarter and end of 2020 results:
Comcast Reports 4th Quarter and Year-End 2020 Results https://t.co/kLL8aKDtG9 pic.twitter.com/rqFfHPJ89P

— Comcast (@comcast) January 28, 2021
An infographic from Juniper Research shows that the streaming wars are still heating up, with a predicted 65% subscriber growth by 2025. That presents several challenges and opportunities for media and entertainment companies offering streaming services, as well as brands looking to serve their content to cord-cutting consumers: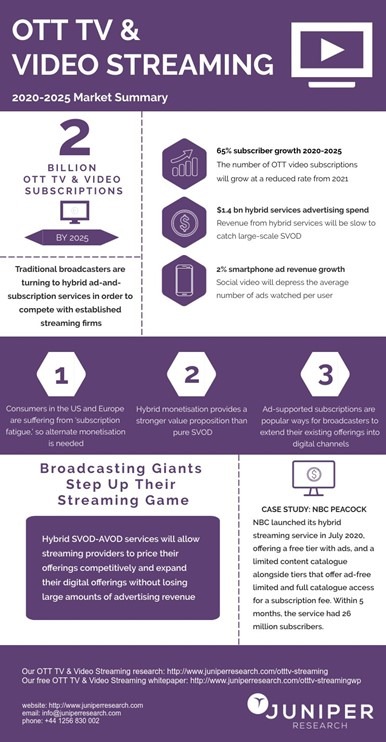 Image courtesy of Juniper Research.
---
CRISIS COMMUNICATIONS
Headlines declaring that Target has stopped selling Chaokoh coconut milk are racking up, despite the retail chain cutting ties with the Thailand-based company in November.
Target, Costco, Wegmans, Stop & Shop and Wegmans have all stopped selling Theppadungporn Coconut Co.'s products after PETA revealed that the company was using monkeys to perform labor. 
PETA's investigation found that monkeys are forced to pick coconuts and perform for tourists, and that they are "tethered, chained to old tires, or confined to cages barely larger than their bodies." Multiple investigations by PETA Asia found widespread use of monkey labor throughout Thailand's coconut farming industry. Some companies have changed their practices, PETA said, but others simply hide the monkeys when auditors come to check on the animals.

Target (TGT) told CNN Business that it takes "seriously the claims made against Chaokoh, and given they were unable to sufficiently address the concerns raised, we made the decision to remove their product from our assortment in November 2020."
 PETA is now putting pressure on Kroger, Publix and Albertsons to stop selling the products, though Publix told CNN Business that Thailand's ambassador to the U.S. promised that monkeys are not being used to harvest consumer products.
 The situation underlines the importance of a long-term and holistic crisis communications strategy, so you can quickly make decisions and distance your brand from potentially volatile situations or partners, but also maintain a statement and stance on the issue as you focus on other crisis responses and communications efforts. It also serves as a reminder of the importance of scanning the horizon for potential crises that could affect your reputation and brand sentiment.
---
CRISIS LEADERSHIP NETWORK
Looking for more insight on how to address the current global crisis and lead your organization into a strong recovery?
Join Ragan's Crisis Leadership Network to connect and brainstorm with peers, get the latest intelligence and research and start to strategize for the future of your organization.
Learn more about this exclusive membership here.
Activision Blizzard strikes back at 'unworkable' diverse hiring comments
 Headlines are circulating that the videogame maker was asked by one of the largest union federations, AFL-CIO, to institute the Rooney Rule, which requires employers to interview a minimum amount of diverse candidates for each open position. Activision Blizzard's lawyers responded to the Securities and Exchange Commission proposal that the policy would be "an unworkable encroachment on the Company's ability to run its business."
It didn't take long for journalists to focus on the company's wording, with headlines such as Kotaku's reading, "Report: Activision Blizzard Calls Policy To Make Hiring More Diverse 'Unworkable.'
However, the company says the reports "mischaracterized" the objection to the policies, which "failed to adequately consider how to apply these practices in all of the countries we operate in."
Here's part of the company's statement, which was given to IGN:
Activision Blizzard is committed to inclusive hiring practices and to creating a diverse workforce; it is essential to our mission. Vice completely mischaracterized the SEC filing made by our outside attorneys.

… In order to ensure that our games stay true to our mission–to connect and engage the world through epic entertainment–we require that all candidates of all backgrounds, ethnicities, genders, races and sexual orientations are considered for each and every open role. We aggressively recruit diverse candidates so the workforce provides the inspired creativity required to meet the expectations of our diverse 400 million players across 190 countries. We remain committed to increasing diversity at all levels throughout Activision Blizzard worldwide.
Why it matters: Diversity, equity and inclusion initiatives are crucial elements to your organization's culture as well as your brand's reputuation. As more consumers purchase from brands which tout values with which they align, communicators should help executives and other colleagues across departments craft consistent and authentic statements that outline brand values and what your organization is doing to realize the commitments made. Share these messages often and include them in your internal and external campaigns, so there is no question about your brand's stance when news such as this circulates.
---
TAKE OUR SURVEY
The start of a new year brings more opportunities for communicators across roles, organizations and industries to develop effective strategies and efforts that can strengthen their brands amid continuing crises, including the COVID-19 pandemic.
Ragan's Communications Leadership Council has created The 2021 Communications Benchmark Survey, and wants to know your challenges, successes and needs as you navigate the rapidly shifting communications landscape and respond to unprecedented crises as well as new opportunities.
Please share your insights with us. As a thank you for your time and insights, you'll receive an Executive Summary of the report, packed with proprietary research that can help you better shape communications strategies in 2021. You'll also be entered to win one of five $100 Visa gift cards.
---
WHAT YOU SAID
We asked how much you're collaborating with colleagues as you work remotely, and nearly 38% of you are working with your co-workers more, despite being remote, while almost 33% are teaming up on projects and campaigns at the same level as they were while in the office:
As you work from home, are you collaborating more or less with colleagues, clients and partners?

Weigh in below and comment with how you're collaborating virtually. We'll share in tomorrow's #DailyScoop!

— PR Daily (@PRDaily) January 27, 2021
Is there question you'd like to see asked? Please let us know under the #DailyScoop hashtag!
---
SOUNDING BOARD
Are you actively using consumer insights or making it a focus for the year?
Are you actively using consumer insights or making it a focus for the year?

Comment below and tell us how you're gathering and applying consumer insights to your communications efforts, and we'll share in tomorrow's #DailyScoop.

— PR Daily (@PRDaily) January 28, 2021
Weigh in below and on Twitter under the hashtag #DailyScoop. We'll share in tomorrow's roundup.
COMMENT