Disney lays off 28,000 employees, Shell to cut 9,000 jobs and Merriam-Webster tweets popular searches during presidential debate
Also: Pantone releases "period" color to eliminate menstruation stigma, Walmart to roll out redesign, Nordstrom to stop selling fur and exotic animal skins, and more.
Hello, communicators:
Swedish feminine care company Intimina recently partnered with Pantone, which created a new color called "period" to eliminate the stigma around menstruation:
What better way to eliminate the stigma surrounding menstruation than painting it on your walls! In partnership with Intimina, the Pantone Colour Institute just released an original shade of "Period".https://t.co/F8es5c8vNa

— INTIMINA (@Intimina) September 30, 2020
Vice president of the Pantone Color Institute, Laurie Pressman, described the color as a "confident red" that can help encourage positive conversations about menstruation.

"An active and adventurous red hue, courageous Period emboldens those who menstruate to feel proud of who they are—to own their period with self-assurance; to stand up and passionately celebrate the exciting and powerful life force they are born with; to urge everyone, regardless of gender, to feel comfortable to talk spontaneously and openly about this pure and natural bodily function," Pressman said via email.
Here are today's top stories: 
Disney to lay off 28,000 employees
The company's job cuts will affect teams in its consumer products division, as well as its parks and experiences. Roughly 67% of the layoffs will affect part-time employees.
In a memo sent to employees on Tuesday, Josh D'Amaro, head of parks at Disney, detailed several "difficult decisions" the company has had to make in the wake of the coronavirus pandemic, including ending its furlough of thousands of employees.

… "As you can imagine, a decision of this magnitude is not easy," D'Amaro wrote in the memo to employees obtained by CNBC. "For the last several months, our management team has worked tirelessly to avoid having to separate anyone from the company. We've cut expenses, suspended capital projects, furloughed our cast members while still paying benefits, and modified our operations to run as efficiently as possible, however, we simply cannot responsibly stay fully staffed while operating at such limited capacity."
The news comes as the company's California theme parks, Disneyland and California, remain closed during COVID-19. The remainder of its theme parks in Florida, France, Japan, Hong Kong and China are open, but all have limited capacity.
Shares for Disney fell less than 2% on Tuesday.
Why it's important: If you haven't addressed the long-term picture for workers, you might want to reconsider your stance and messaging. As the pandemic continues, many organizations are planning for the next six to 12 months, remaining flexible while also looking to prepare for the future. Changing consumer behaviors—such as more shopping online—are likely permanent.
---
TACTICALLY SPEAKING
 Walmart is rolling out a new store design that's meant to connect online shopping through its app with its in-store experience.
The design, which includes more self-checkout stands offering contactless payment options, will be integrated into 200 locations by early 2021 and in another 1,000 stores by the early 2022. Walmart used customer and employee feedback to create the setup.
"We're working hard to make it easy for customers to be able to toggle between their physical experiences that are in the store and their digital journeys," Whiteside said in an interview with USA TODAY. "We think customers are going to really enjoy and find this a much easier shopping experience."
The move fits with the retail chain's Walmart+ offering as well as its efforts to focus on e-commerce offerings for the holidays. They're smart and caculated responses that show Walmart is adopting to changing consumer behavior, which is already setting the company up for success even during COVID-19.
---
MEASURED THOUGHTS
Merriam-Webster emerged as a winner from Tuesday night's first 2020 presidential debate between President Donald Trump and Democratic challenger Joe Biden—on Twitter, anyway.
The organization tweeted a list of pre-debate lookup rankings, which included "pander" and "socialism." Merriam-Webster reported that "gaffe" was one of its highest-trending words before the debate started:
📈 Pre-debate lookup rankings:

racism
fascism
socialism
pander
trumpery
gaffe
democracy
comity
debate

— Merriam-Webster (@MerriamWebster) September 30, 2020
The organization continued to share popular searches on its website throughout the broadcast, such as when searches for the term "moderator" spiked 3,500%:
📈 Everyone's looking up 'moderator.' #Debates2020 https://t.co/qpVtJ66qxr

— Merriam-Webster (@MerriamWebster) September 30, 2020
📈 'Petulant' making a late-debate surge. #Debates2020 https://t.co/4OFizTjkat

— Merriam-Webster (@MerriamWebster) September 30, 2020
📈 Trending now: 'poll watcher' #Debates2020 https://t.co/1ZrvpgJwIm

— Merriam-Webster (@MerriamWebster) September 30, 2020
The most popular search terms from the debate included "fascism," "petulant" and "standby":
📈 Post-debate rankings:

white supremacist
antifa
petulant
fascism
debate
racism
systemic
poll watcher
moderator
equity
bully
standby

— Merriam-Webster (@MerriamWebster) September 30, 2020
It was "logorrhea" that topped viewers' searches, however, with lookups rising 56,000% on Tuesday:
📈 'Logorrhea': excessive and often incoherent talkativeness or wordiness https://t.co/CbP9C6M0Hq

— Merriam-Webster (@MerriamWebster) September 30, 2020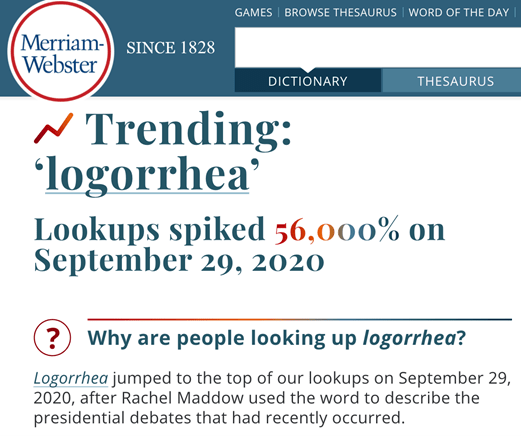 Image courtesy of Merriam-Webster.
 The move was a clever way to tie in Merriam-Webster's brand with a current event, but in an informative, interesting and engaging way. Some of its most popular tweets received more than 50,000 retweets and more than 100,000 "likes."
You can view all of Merriam-Webster's tweets here.
---
CRISIS LEADERSHIP NETWORK
Looking for more insight on how to address the current global crisis and lead your organization into a strong recovery?
Join Ragan's Crisis Leadership Network to network and brainstorm with peers, get the latest intelligence and research and start to strategize for the future of your organization.
Learn more about this exclusive membership here.
---
EDITOR'S PICKS
The humble press release has been a staple of PR campaigns and strategies, and though the tactic has changed throughout the years, many organizations still write and publish them. Whether you craft an SEO-friendly version devoid of jargon or turn to a social media-friendly or video release, new skills and formats should be considered.
Check out these tips:
 Shell to cut up to 9,000 jobs
The layoffs represent more than 10% of the oil and gas company's workforce and is estimated to save Royal Dutch Shell up to $2.5 billion each year as it shifts to low-carbon energy.
"We have to be a simpler, more streamlined, more competitive organization that is more nimble and able to respond to customers," CEO Ben van Beurden said in a statement. "Make no mistake: this is an extremely tough process. It is very painful to know that you will end up saying goodbye to quite a few good people," he added.
Shell isn't the only oil company to cut jobs as it transitions to a new business model focusing on renewable energy options.
Rival BP this year announced plans to cut around 10,000 jobs as part of CEO Bernard Looney's plans to rapidly expand its renewables business and reduce oil and gas production.
Why it's important: If you're tasked with communicating reorganizations and new business or workforce models, do so early and often, soliciting employee feedback and encouraging two-way conversations as you highlight your organization's values and the crucial role your employees play.
---
DOWNLOAD OUR REPORT 
Though 70% of communicators are not looking beyond 2020 in terms of strategic planning, they also don't expect our current state of crisis to ease up by the end of the year. Operating in a constant state of crisis and rapidly responding to events throughout the world are top challenges for communicators, our recent report, Ragan Survey of Internal Communicators, revealed.
The survey sheds light on top challenges, with insights including top issues, what the "return to the office" looks like, which departments internal communicators will collaborate with the most and more.
To learn more about how to rise to the challenges facing organizations across industries, join us at Ragan's Internal Communications & Employee Experience Virtual Conference on Oct. 14. You'll learn from internal and employee communications experts from National DCP, Deloitte, Charles Schwab, American Psychological Association and more.
---
TACTICALLY SPEAKING  
Nordstrom will no longer sell fur and exotic animal skins by the end of 2021. The ban already exists with the retailer's own merchandise, but the announcement expands to all brands Nordstrom carries.
WE'RE GOING FUR-FREE. By the end of 2021, you'll no longer find products made using animal fur or exotic animal skin at Nordstrom. Learn more about our decision to go fur-free and our partnership with the @HumaneSociety: https://t.co/M7TVI4z8MB pic.twitter.com/VxfQRC3jUo

— Nordstrom (@Nordstrom) September 29, 2020
Under Nordstrom's new exotic animal skin policy, it will continue to carry products that are derived from cows and calves, sheep and lambs, pigs, goats and water buffalo. Nordstrom will not carry exotic animal skin products that are derived from — but not limited to — lizards, snakes, pythons, alligators, crocodiles, ostriches, sharks, kangaroos and stingrays.
In a press release, the retailer said:
"As a leading fashion retailer, we're committed to delivering the best possible service and merchandise for our customers. Delivering on that commitment means continually listening to customer feedback and evolving our product offering to ensure we're meeting their needs," said Teri Bariquit, chief merchandising officer at Nordstrom.
---
WHAT YOU SAID 
We asked if your desk is clean or messy, and 35% of you said it's spotless, while nearly 38% of you swear you have an organizational system. Almost 18% of you have embraced the clutter, while almost 10% of you aren't even working at a desk:
Communicators, is your desk messy or clean?

Share your experiences with us below and we'll share in tomorrow's #DailyScoop.

— PR Daily (@PRDaily) September 29, 2020
Is there a question you'd like us to ask in an upcoming poll? Let us know!
---
SOUNDING BOARD
 Are you still wearing business or casual business wear for work?
Are you still wearing business or casual business wear for work?

Share your WFH wardrobe changes and choices with us below, and we'll share in tomorrow's #DailyScoop.

— PR Daily (@PRDaily) September 30, 2020
Share your thoughts with us below and under the hashtag #DailyScoop.
Editor's note: Ragan Communications may earn a commission through our affiliate partnerships when purchasing items in our content.
COMMENT