Dollar Tree explains new pricing, short-form video tips for YouTube, and Gannett responds to employees claims of unpaid labor
Also: Southwest and Disney World launch shared anniversary promotions, podcasts use International Podcast Day to highlight their programming, and more.
Hello, communicators:
Walt Disney World and Southwest Airlines have partnered to celebrate both company's respective 50th anniversaries by unveiling a co-branded aircraft decorated with Disney World anniversary insignia inside and out, including overhead bins and window shades featuring Disney characters. Southwest customers will have access to exclusive Walt Disney World anniversary video content on flights, and the airline also launched a sweepstakes that will fly a winner and up to three guests to Disney World this fall.
Both brands encouraged fans to track the aircraft and share photos using the hashtags #Southwest50 and #DisneyWorld50.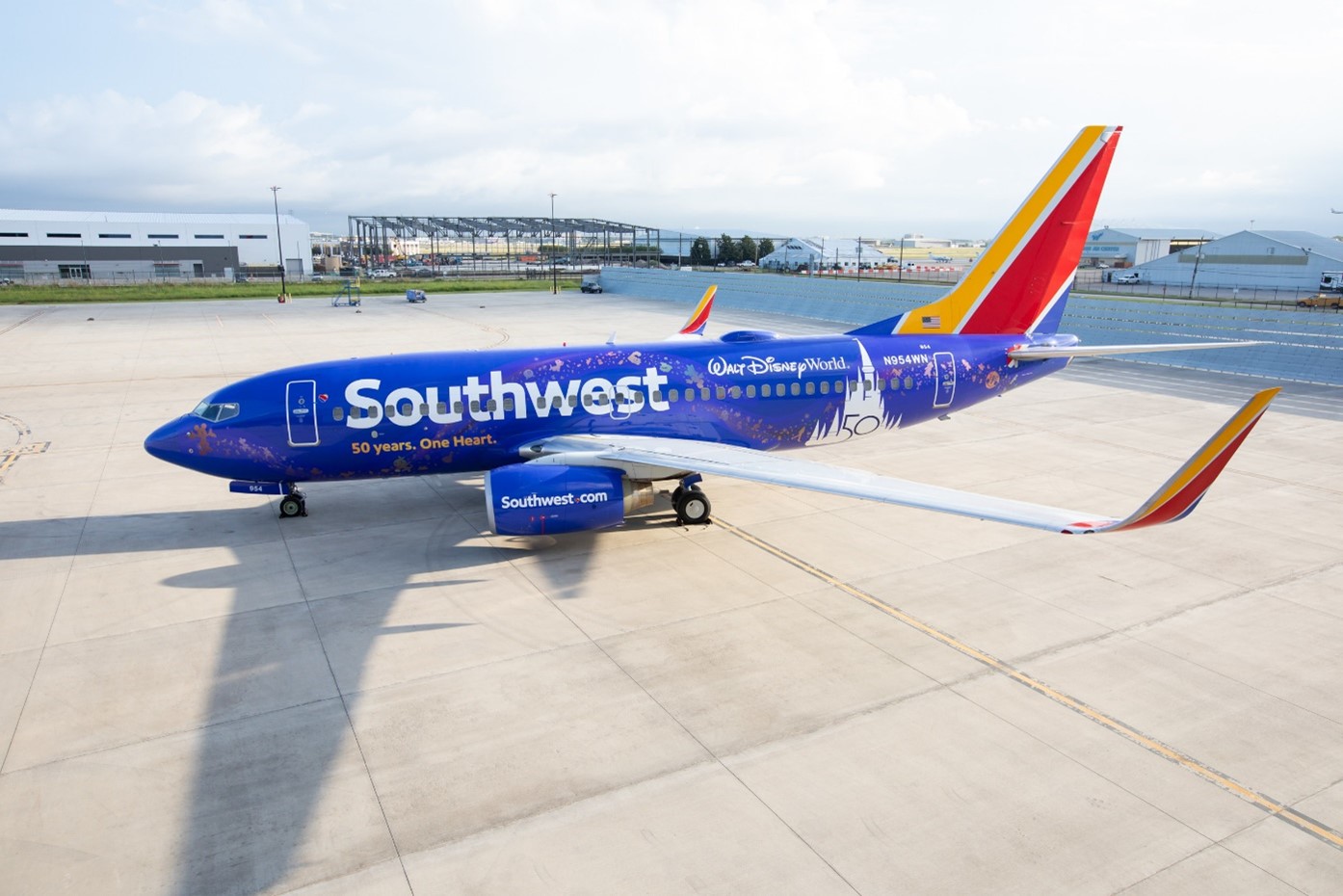 Courtesy of Southwest Airlines
"For 50 years, Southwest has connected our customers to the people and places that matter most. Whether a customer is flying to visit relatives in another state, close a business deal with a client, or experience a family vacation, we are honored to be a part of those moments," Brandy King, director of public relations for Southwest, said in a press release.
As both brands struggle to win back travelers in a post-pandemic landscape, this partnership takes a shared anniversary and connects it to a shared goal. The partnership is a great example of how to create a newsworthy campaign to celebrate your anniversary, which might not be enough on its own to get coverage from media outlets.
Here are today's top stories:
Dollar Tree explains price increases to more than $1 on select items
Dollar Tree, the discount store which takes its name from its ubiquitous low pricing, is raising prices amid labor and supply shortages.
According to its press release:
Michael Witynski, President and Chief Executive Officer, stated, "For decades, our customers have enjoyed the 'thrill-of-the-hunt' for value at one dollar—and we remain committed to that core proposition—but many are telling us that they also want a broader product assortment when they come to shop. We believe testing additional price points above $1 for Dollar Tree product will enable us over time to expand our assortments, introduce new products and meet more of our customers' everyday needs."

"We are a 'test-and-learn' organization which is what we are doing with this new initiative. We listen to our customers and believe it will make shopping with us an even better experience," Witynski added.
The New York Times reported that these changes are also affecting the hours and wages of workers fore both dollar Dollar Tree and its rival, Dollar General:
"We provide our associates with flexible schedules and market-competitive pay, and in all cases, we are at or above minimum wage in the markets we operate in," Dollar Tree said in a statement.

In a statement, Dollar General said, "We pay competitive wages, which are determined based on several factors including the relevant labor market." The company added that "our operating standards are designed to provide stores with sufficient labor hours, and it is not our expectation that store managers should work 70 to 80 hours per week."
Why it matters:   
Dollar Tree's attempts to frame its restructuring around customer needs by citing its intentions to "test and learn" come off as insincere jargon when pitted against the context of larger pandemic-related trends that are affecting all retail businesses, and discount stores in particular. Remember that your executive communications will not be effective if they ignore larger trends in the news cycle.
It's also worth noting that highlighting customers' needs only works when you've taken care of your workforce first and foremost, otherwise the disconnect between the sentiment of your external messaging and reports of internal practices will eventually undermine your message.
---
MEASURED THOUGHTS
YouTube has shared a new infographic intended to offer easily digestible tips for creators who use its short-form video feature, "Shorts".
The first section offers an example of what makes a strong story: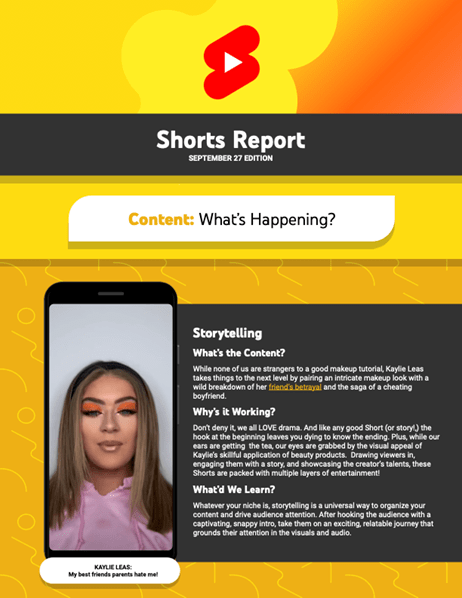 The second section explains the concept of gamification, which can include engaging your audience with a contest, challenge or interactive feature: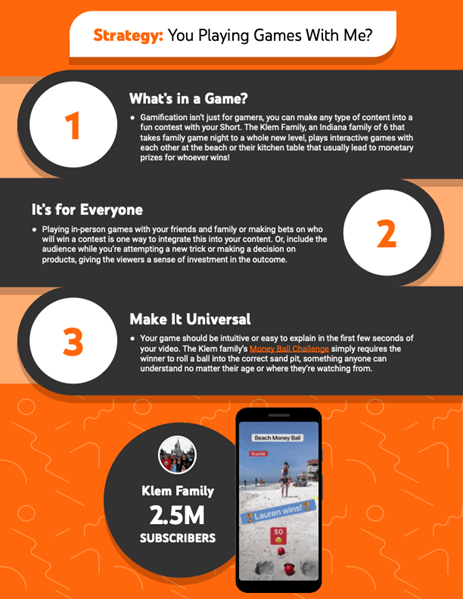 The final section plugs YouTube's Shorts Fund and explains how creators can monetize their presence on the platform: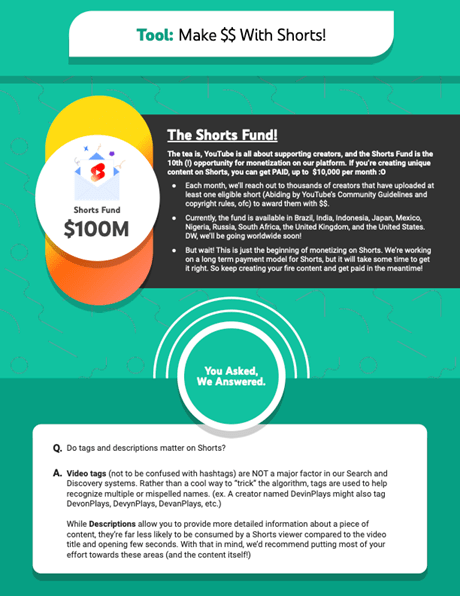 The report is a reminder on how to use short video to engage new audiences and the need for communications on social media to go two ways. Make sure your campaigns are listening and responding to trends and offer plenty of opportunities for viewers to offer feedback and take ownership of the content they are consuming.
Check out the full infographic here.
---
SOCIAL BUZZ
Sept. 30 was International Podcast Day, and many organizations marked the occasion by highlighting their work on social media:
https://twitter.com/NASA/status/1443602903009214469
https://twitter.com/NatGeo/status/1443580117788205057
https://twitter.com/Spotify/status/1443606566368776194
Some also took the opportunity to highlight the work of independent podcasters:
https://twitter.com/GoodpodsHQ/status/1443626581360996353
On this #InternationalPodcastDay if you can, please thank a Indie Podcaster. Most do everything themselves. They don't have teams of people putting their content together. It's themselves and maybe some friends…if they're lucky. Thank you #PodFamily for doing all you do. pic.twitter.com/4LYg7EHI1G

— 🎙Zack 🎧 (@ZackDeuce) September 30, 2021
It's great to be on people's lists of favourite #podcasts but it's even better when that list is made up of smaller, more independent pods that create great content off their own backs. That's the good stuff.#InternationalPodcastDay

— CheapShow (@TheCheapShowPod) September 30, 2021
The tremendous amount of conversation around the visibility of independent podcasters brings attention to the extent of work and effort that go into making each production happen. Consider all the work that must go into a podcast production before your brand or organization decides to invest in order to assure that your team has the resources and support it needs to deliver episodes at the desired cadence with the desired quality.
---
TAKE OUR SURVEY
If you're looking for benchmark data to show your bosses the next time you ask for a raise, lend us a hand—and help yourself and your peers while you're at it. Participate in Ragan's Salary & Workplace Culture Survey, a comprehensive look at salaries, benefits, culture, bonuses and other aspects of the job in a fast-moving industry.
Both internal and external communicators are encouraged to participate.
By taking part, you will receive a $150 discount to a Ragan virtual conference of your choice and be entered to win one of five $50 gift cards. All who complete the survey will receive a full report on the findings. Responses are anonymous.
Gannett responds to NewsGuild investigation around unpaid work
Gannett, the largest newspaper publisher in the U.S., has responded to allegations from employees at several of its publications alleging the company pressures reporters to consistently work extra hours without being paid for overtime. The issue was first raised when the Arizona Republic's consumer protection reporter Rebekah Sanders tweeted that she worked hundreds of extra hours at the paper in her '20s and '30s, prompting a defense of the practice by Arizona Republic investigations editor Michael Braga:
Every business exploits the young – it's called gaining experience, and I don't regret it one bit. If I hadn't worked hard when I was younger, I wouldn't have been given more responsibility and more money when I was older.

— Michael Braga (@MichaelBraga2) September 11, 2021
After the debate escalated, the NewsGuild union which represents over 40 Gannett newsrooms launched an investigation to determine the scope of the issue at the media company.
Gannett spokesperson Lark-Marie Anton wrote in an emailed statement that the company takes formal allegations made by current and former employees seriously and investigates each thoroughly. "Gannett values all our employees. We strive to provide meaningful opportunities and fair compensation in a very challenging time for our industry and we strongly disagree that there is a culture of exploitation," Anton wrote. "Quite the contrary, we respect the law and have extensive policies, procedures, and training to ensure compliance with the FLSA (Fair Labor Standards Act) and other workplace laws and regulations."

She added that the NewsGuild's campaign to bring attention to the issue is an example of its "agenda to share misinformation as it attempts to organize and expand its membership ranks."
What it means:
Beyond the obvious takeaway to avoid defensiveness when responding to accusations about your company culture, Gannett's response that alleges union leaders are sharing misinformation shows how unscrupulous crisis response can undermine brand positioning on other important t issues. The news media industry is working broadly to combat the scourge of misinformation and Gannett's mention of the term in a labor dispute is perhaps misguided.
COMMENT
One Response to "Dollar Tree explains new pricing, short-form video tips for YouTube, and Gannett responds to employees claims of unpaid labor"
Ronald N Levy

says:

Gannett is faulted for so-called "misinformation" and a so-called "whistleblower" has faulted Facebook for facilitating misinformation by providing a bulletin board where it can be posted, but:

.1. Freedom of speech is a benefit not only to those who speak and write but also to those who hear and read.

.2. What some people consider as information is considered by others to be
misinformation.

.3. It's a service to the public to publish information as Gannett does and to provide a bulletin board as Facebook does where free people can speak freely.

.4. Nearly ALL of us have voluntarily worked overtime for employers and good causes but this doesn't make guilty those companies and causes for whom we worked overtime.

.5. Nearly ALL of us can post on Facebook information for or against ideas about top companies under attack by activists—firms like Walmart, Amazon, Apple, Google and Microsoft in addition to Facebook. The freedom of these companies to keep serving us may depend partly on their freedom to communicate information that some people call misinformation.