How edited tweets will look, Amazon's worker testimonials and more
Plus: Tons of new features on LinkedIn brand pages.
Amazon recently announced pay increases for U.S. front-line workers to more than $19 an hour and a benefit called Anytime Pay that allows workers to collect their pay at any point during the month.
"Continuing to invest in pay, providing easy access to earned wages at any time during the month, and offering great benefits and career advancement opportunities are all part of our long-term efforts to be the best employer in the world." said John Felton, Amazon's Senior Vice President of Worldwide Operations.
Amazon shared stories from workers about its new Anytime Pay benefit, as well as its existing College Choice program, which pays for associates' tuition.
[RELATED: Submit your nominations for our Top Women in Comms Awards by Oct. 21!]
"I used Anytime Pay recently to pay for an unexpected vet bill when my cat got sick. It's easy to use, super quick and gives me extra flexibility and freedom with my finances," said Brittany Midgley, an employee at Amazon's fulfillment center in Bondurant, Iowa. "Programs like these demonstrate that we're valued and that Amazon is committed to our success."
"I'm proud to be the first person to get a degree in my family thanks to the Career Choice program," said Julio Martinez, an employee at Amazon's data center in Hermiston, Oregon. "Career Choice allowed me to attend school without the additional stress of the cost because Amazon covered everything."
What it means: Amazon's use of employee testimonials helps share the message to its employees and the public of how its benefits programs help workers. There is an increased demand for workers with Amazon's sales, and it appears that the wage increase is designed to help keep its existing workers and attract new ones. This move could lead other similar employers to raise their wages as well.
Twitter testing its edited tweets feature
Like it or not, the world of editable tweets is getting closer.
Twitter publicly shared its first edited tweet last week.
"Hello this is a test to make sure the edit button works, we'll let you know how it goes, " the tweet said.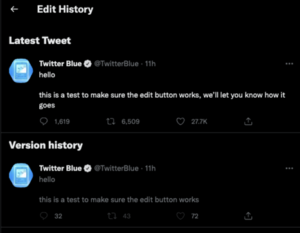 Below it, you can see the time when the tweet was last edited, and if you click on that portion of the tweet, you'll see the original tweet which, in this instance, was just a shorter version of the sentence edited version.
Twitter has said users will only be able to edit tweets for 30 minutes after its first posting and can only edit the tweet "a few times."
What it means: It's a lesson for communicators on how to do product rollout. By doing public tests, Twitter is building anticipation for the product, while getting feedback on what works and what doesn't during tests. It also offers a sense of transparency on how the process is working.
LinkedIn offers new features for brand pages
LinkedIn is offering several new features on its brand pages to help increase engagement.
First, the company is offering several colorful post templates.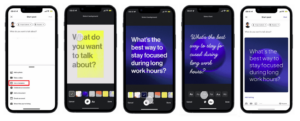 Second, LinkedIn is offering stickers to give links a more visual look.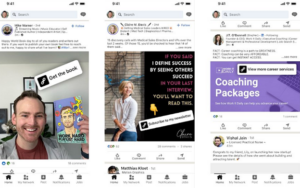 Finally, LinkedIn will give page administrators the ability to pin comments underneath posts.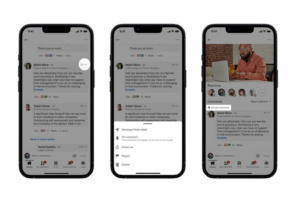 What it means: LinkedIn is following other social networks in offering additional opportunities for brands. The templates and link stickers will enhance the look of the posts and drive clickthrough, always a huge goal. The pinned comments are designed to spark more focused engagement and to highlight top fans and comments with the most engagement to the top of the reply chain. These are all helpful tools for communicators.
Study: Reviews, recommendations drive customer buying choices
A new report says reviews and recommendations drove 73% of responders to make purchases.
The report is from study of 1,001 British customers is from IMRG, the UK's eCommerce association, and StoryStream.
"This research shows us that, for brands looking to grow the share of revenue generated through eCommerce, authentic content is an indispensable ingredient to successful online sales growth," said StoryStream Head of Marketing Matthew Sykes.
The study also spotlighted the growth of live video shopping.
In the study, 57% of respondents said that Live Video Shopping would increase their likelihood of purchasing a product and 62% of respondents said that they would like to see more Live Video Shopping streams from brands they follow online.
The report also reiterated brands' understanding that the perceived authenticity and trustworthiness of a brand are major factors to consumers when choosing what to buy online.
What it means: Brand content is important, but original content from your audience talking about your brand's product or service is best. User reviews and recommendations are powerful tools to share your brand's story.
Chris Pugh is a staff writer for PR Daily. Follow him on Twitter and LinkedIn. Send story ideas to ChrisP@Ragan.com.
COMMENT