ERCOT and Texas officials respond to blackout, Spotify announces 'Work from Anywhere' policy, and Nestlé announces Vegan KitKat
Also: P&G ponders break with 'Bachelor' host Chris Harrison, Ford announces zero-emission goals for Europe, most small businesses don't use link-building strategies, and more.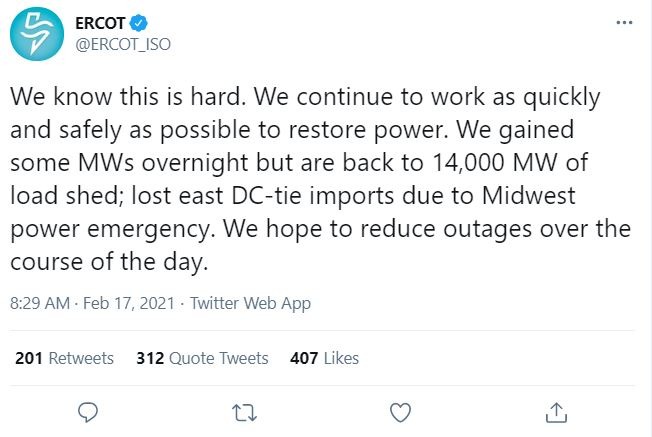 Hello, communicators:
Chris Harrison, host of ABC's "The Bachelor" and "The Bachelorette," is stepping back after backlash over his comments that he later said "excus[ed] historical racism." Now, Proctor & Gamble's toothpaste brand Crest is reconsidering its partnership with the embattled host. 
We are aware of the developments around Chris Harrison and his role as host of 'The Bachelor,'" a spokeswoman for P&G said in a statement. "We are in the process of gathering more information about these circumstances to determine our next steps. We are deeply disappointed in his comments, which do not reflect our values."
Here are today's top stories:
 ERCOT, government and public health officials respond to Texas blackout
A deadly winter storm has left more than 4.4 million people without power in Texas, NBC News reported. The record drop in temperature led to a power demand that overloaded the state's electric grid.
 The Electric Reliability Council of Texas, which operates the electric grid for 75% of the state and supplying 90% of Texas' electric load, is scrambling to restore power as well as combat criticism racking up on social media as both politicians and consumers lash out at the way this historical crisis is being handled.
ERCOT has been regularly tweeting updates and news: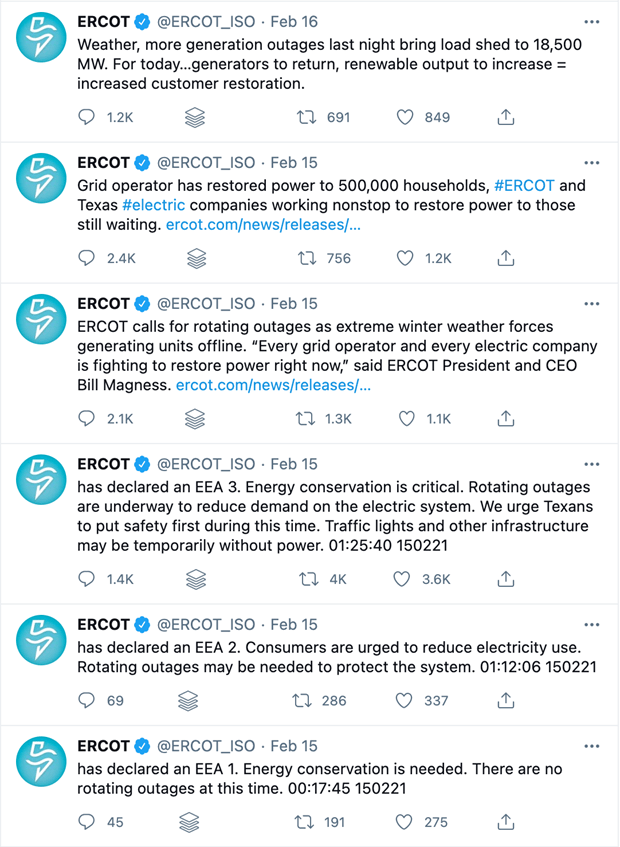 Along with updates, ERCOT is also tweeting warnings against scams and other misinformation that can delay consumers getting the help and services they need:
There is a scam circulating on social media asking customers to text their private account numbers. Don't do it! We don't need any of your info to get your power back on – we are working as fast as we possibly can.

— ERCOT (@ERCOT_ISO) February 16, 2021
Public officials and organizations including the Cy-Fair Fire Department, Harris Country Sherrif's Office Community Engagement Division and Harris County Public Health Department have been tweeting updates and warnings for residents in Harris County, Texas. Some of those warnings include PSAs, as the Houston Chronicle recently reported that the county has "seen more than 300 carbon monoxide poisoning cases."
Never use a grill, oven, or stove to heat your home. Carbon monoxide is an odorless and colorless gas that can kill you.

Signs of carbon monoxide poisoning include dizziness, headaches, disorientation, nausea, and vomiting. If you experience these symptoms, call 911.#hounews pic.twitter.com/wDniNH0HpO

— Cy-Fair Fire Department (@cyfairfd) February 17, 2021
As freezing temperatures are forecasted, we remind pet owners to prepare for the cold weather and keep their furry loved ones indoors. Check local weather reports for updates and make sure you have extra food, water and supplies for your family and pets. pic.twitter.com/xcPKAIRjID

— HCSO Community Engagement Division (@HCSOCommEngage) February 12, 2021
Check with your city or utility district for info on service restoration. DO NOT CALL 9⃣1⃣1⃣. They have no info on utilities – life threatening emergencies only!

— Office of Homeland Security & Emergency Management (@ReadyHarris) February 17, 2021
This is a public health disaster and a public health emergency," Dr. Samuel Prater, an emergency room physician at Memorial Hermann Texas Medical Center, said in a news briefing Tuesday evening, referring to dozens of cases of carbon monoxide poisoning in the wake of power outages during Winter Storm Uri.
Why it's important: Social media platforms including Twitter are crucial channels as government and nonprofit organizations struggle to get residents news, updates and warnings that could prevent injuries and save lives. Combating misinformation and disinformation has become an all-important task when delivering this information.
---
TACTICALLY SPEAKING
Ford announced that it's going "all-in" on electric vehicles in Europe, promising that, by 2026, all passenger vehicles will be zero emissions capable, with either all-electric or hybrid with plug-in options. The automaker pledged that its commercial vehicles will offer the same options by 2024, and Ford aims to have two-thirds of its commercial sales be all electric or hybrid by 2030.
Announced today, #Ford goes "all-in" on electric vehicles in Europe; invests $1bn in transforming Cologne facility into an electrification centre. #GoElectric

Read more: https://t.co/WS5vZMcHV8 pic.twitter.com/q8fWBprtyF

— Ford Europe (@FordEu) February 17, 2021
We're all-in on electric vehicles in Europe.
👉 https://t.co/WS5vZMcHV8 pic.twitter.com/aSCEOCTb84

— Ford Europe (@FordEu) February 17, 2021
In a press release, Ford said:
Our announcement today to transform our Cologne facility, the home of our operations in Germany for 90 years, is one of the most significant Ford has made in over a generation. It underlines our commitment to Europe and a modern future with electric vehicles at the heart of our strategy for growth.
---
CRISIS LEADERSHIP NETWORK
Looking for more insight on how to address the current global crisis and lead your organization into a strong recovery?
Join Ragan's Crisis Leadership Network to connect and brainstorm with peers, get the latest intelligence and research and start to strategize for the future of your organization.
Learn more about this exclusive membership here.
---
MEASURED THOUGHTS
BuzzStream and Fractl recently released a report on small businesses and link building practices within their digital marketing strategies, revealing that though nearly 63% of business owners understood the importance of link building, less than 23% had a current strategy in place.
If you're like the nearly 53% of business owners who don't know what link building is, BuzzStream explains that it "refers to the process of acquiring links from other websites to your own."
BuzzStream wrote:
These links can provide a variety of advantages beyond simply directing traffic from another website. For instance, a link on another website could improve your SEO, or where you pop up on a search engine. While it does get even more complicated (most SEO specialists agree that link building is one of the hardest parts of their job), the difficulty can be a major advantage: If you can master it, you'll be way ahead of the competition.
With roughly 54% of small businesses using social media strategies and more than 31% employing SEO best practices, link building should be on your radar for strengthening your brand's online presence and increasing traffic.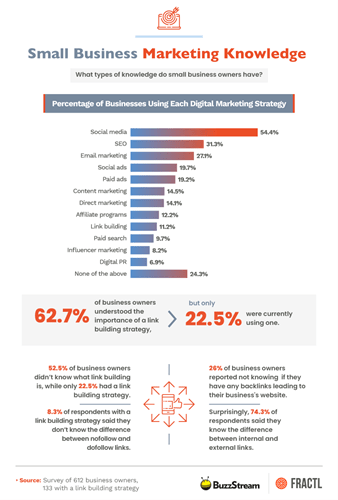 You can view the entire report here.
Spotify announces 'Work from Anywhere' policy
The company recently announced to employees that its offering more workplace flexibility, introducing "My Work Mode," which enables employees to work from home full time, come into the office, or adopt a hybrid plan. Spotify is also allowing employees to work in different cities and countries, promising co-working space membership if they want to work in an office setting away from the company's buildings.
Spotify wrote in a post within its HR blog:
We have been discussing the future of work and what it will look like for a couple of years, and have always concluded that globalisation and digitalisation are drivers for a more flexible workplace, that is better for both the company and our people.

Then 2020 came. Overnight, we were forced to work from home, which was in and of itself a litmus test of our culture and values, and even though we are not yet on the other side of this pandemic, or the racial and social challenges that the last year has shed light on, we are proud to say that Spotify's culture stands strong. The events of the past year have accelerated my and the Executive Team's thinking about the future and we believe that the time to start transitioning into becoming a flexible/distributed-first company is NOW.
Why it matters: Spotify listed several company beliefs in its blog post, including: "Work isn't something you come to the office for, it's something you do." It also said its flexible approach is "a great advantage and jewel in our Talent Attraction crown." If you haven't yet considered the future of your organization's workplace, now is the time. By offering flexibility, you can strengthen your organization's culture, increase productivity and retention, and better attract top talent—all while reducing unnecessary overhead costs.
---
DOWNLOAD EXCLUSIVE RESEARCH
Where communications fits in an organization is a crucial element of positioning communicators to champion important campaigns, protect reputation and branding, drive key messages and influence top-level strategies.
Are your PR and internal communications teams in sync, or do you place communications and marketing together? How does your organization view its communications function—and are you working on breaking down silos for collaborated, concentrated efforts?
Take a look at how several communicators fit within their organizational workflows with our exclusive case study.
Especially as organizations adjust to remote, dispersed and hybrid workplaces during COVID-19 and prepare for the future of work, considering where your communications team sits within your organization's flow charts can affect leadership efforts and help you successfully execute campaigns and inititiaves.
---
TACTICALLY SPEAKING
Nestlé announced its first-ever vegan KitKat:
The 'KitKat' is out of the bag… 🍫 🌱

It's almost time for plant-based fans around the world to take a break. Our Vegan @KitKat is coming in 2021… watch this space…

➡️ https://t.co/4WuaTO0utG #PlantBased #Innovation #KitKat #Nestlé pic.twitter.com/5VXfKYvt5I

— Nestlé (@Nestle) February 15, 2021
The product, dubbled "KitKat V," will launch later this year in countries worldwide through the KitKat Chocolatory and selected retailers as Nestlé tests consumers' appetite for the plant-based treat.
In a press release, Alexander von Maillot, Nestlé's head of confectionery, said:
There is a quiet food revolution underway that is changing how people eat. We want to be at the forefront of that, championing the discovery of plant-based food and beverages. What better way to do that than offering a vegan version of one of our most famous and much-loved brands? The new KitKat V means chocolate lovers now have a great plant-based option when they have a break.
---
WHAT YOU SAID
We asked what word and GIF best describes your work in communications.
PR pro Kait Solomon struck out against ineffective PR and media relations analytics, while many of you, including PR and social media pro Amy Higa, said PR is all about rapid multi-tasking:
— Kait Solomon (@KTSolomon) February 16, 2021
— Amy Higa (@amy_higa) February 16, 2021
Laura Bedrossian, head of communications and marketing for Terentia, highlighted storytelling as an essential trait, while PR consultant Rachel Evans underlined the common truth of little to no budget for communicators:
Storytelling (and community building) pic.twitter.com/oJwUz5VsXx

— Laura Bedrossian (@LauraBedrossian) February 17, 2021
— Rachel Evans (@rachel_evans22) February 17, 2021
Is there question you'd like to see asked? Please let us know under the #DailyScoop hashtag!
---
SOUNDING BOARD
What's the worst thing you can say to a PR pro?
What's the worst thing you can say to a PR pro?

Share your most-loathed sentences (or GIFs) below, and we'll share in tomorrow's #DailyScoop. pic.twitter.com/JlW3WyyN3k

— PR Daily (@PRDaily) February 17, 2021
Weigh in below or on Twitter, and we'll share your insights in tomorrow's roundup.
COMMENT