Etsy and Facebook remove 'QAnon' content, Ruby Tuesday files for bankruptcy, and Hotels.com offers the chance to 'live under a rock'
Also: McDonald's offers new breakfast items and another menu collab to entice younger consumers, report reveals COVID-19 fears, Best Buy highlights DE&I efforts, and more.
Hello, communicators:       
Starting Oct. 28, McDonald's is adding new breakfast items to its menu, including an apple fritter, cinnamon roll and blueberry muffin.
The menu changes are coming alongside another celebrity collaboration with the fast food chain—this time with Latin pop star J Balvin:
can I have a fry @JBALVIN? pic.twitter.com/oLDRpSfE9M

— McDonald's (@McDonalds) October 5, 2020
⚡️⚡️⚡️ ¡lego! ⚡️⚡️⚡️ #ad https://t.co/mZZ9iYVMlP pic.twitter.com/oVCjJHb2KL

— J BALVIN (@JBALVIN) October 5, 2020
The moves are meant to stand out from the crowd and entice consumers—especially millennial and Gen Z consumers—to McDonald's drive-thrus.
Here are today's top stories:
Etsy and Facebook ban QAnon
The online marketplace and social media platform have both announced they're removing content from "QAnon," an unsubstantiated far-right conspiracy theory that President Donald Trump is secretly fighting pedophiles that exist in the government, media and other organizations.
For Etsy, that includes all QAnon-related merchandise, while Facebook has been taking down groups, pages and accounts on its platform as well as on Instagram.
… "Etsy is firmly committed to the safety of our marketplace and fostering an inclusive environment. Our seller policies prohibit items that promote hate, incite violence, or promote or endorse harmful misinformation. In accordance with these policies, we are removing items related to 'QAnon' from our marketplace," the Etsy spokesperson told Insider in an email.
In a blog post, Facebook wrote:
We will remove any Facebook Pages, Groups and Instagram accounts representing QAnon, even if they contain no violent content. This is an update from the initial policy in August that removed Pages, Groups and Instagram accounts associated with QAnon when they discussed potential violence while imposing a series of restrictions to limit the reach of other Pages, Groups and Instagram accounts associated with the movement. Pages, Groups and Instagram accounts that represent an identified Militarized Social Movement are already prohibited. And we will continue to disable the profiles of admins who manage Pages and Groups removed for violating this policy, as we began doing in August.
Why it's important: Social media platforms and online marketplaces are struggling to remove content and offerings that spread misinformation as well as unfounded and inflammatory messages. However, the responsibility doesn't stop with them. Organizations across industries should watch for content and activity from groups including QAnon, so you can quickly distance yourself from them.
---
TACTICALLY SPEAKING
 Hotels.com is offering United States consumers exhausted by the 2020 presidential elections the opportunity to literally live under a rock for five nights:
Election burnout making you 🤬🤯😫? We can help you swerve** the election week convos and live under a rock … literally. 👀👀 https://t.co/imELTehbX6

**just make sure you vote first, cool ppl vote. pic.twitter.com/uy2whffN8E

— Hotels.com (@hotelsdotcom) October 6, 2020
The company is offering a man-made cave built 50 feet below ground to the person who books it first. The property's bookings open on Oct. 9 at 9 a.m. Eastern time, and the winner will only pay $5 per night for a five-night stay on Nov. 2-7, 2020.
It's a clever marketing stunt that plays on growing frustration and exhaustion with crises including COVID-19, protests fighting systemic racism and a highly polarized presidential election.
---
MEASURED THOUGHTS
 Stannah recently surveyed 1,000 individuals about their social distancing behaviors and opinions about others' actions, revealing that 65% don't feel that their friends are doing enough to keep distance from one another to stop the spread of COVID-19. Nearly half (45%) feel their co-workers aren't doing enough: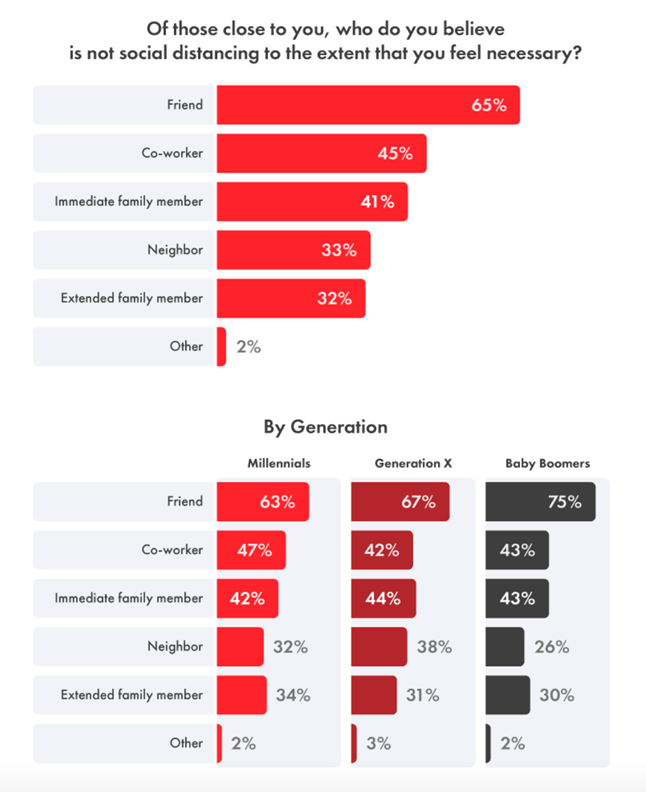 Twenty percent of survey respondents reported experiencing an uncomfortable scenario related to COVID-19, such as confronting someone about not social distancing or asking someone to wear a mask around them.
The sentiments can shed light on potential employee concerns as your organization plans for a return to work. They can also provide insight into consumers' fears and behaviors that are driving them to shop more online while they stay at home.
You can read the entire report here.
---
CRISIS LEADERSHIP NETWORK
Looking for more insight on how to address the current global crisis and lead your organization into a strong recovery?
Join Ragan's Crisis Leadership Network to network and brainstorm with peers, get the latest intelligence and research and start to strategize for the future of your organization.
Learn more about this exclusive membership here.
Ruby Tuesday files for bankruptcy
The restaurant chain announced it has permanently closed 185 of its locations as it filed for Chapter 11 bankruptcy protection due to COVID-19. However, it's hoping to avoid permanently closing the remaining 236 restaurants. USA Today reported that 7,000 of its 7,300 employees have been temporarily furloughed.
"This announcement does not mean 'Goodbye, Ruby Tuesday,'" CEO Shawn Lederman said in a statement. "Today's actions will allow us an opportunity to reposition the company for long-term stability as we recover from the unprecedented impact of COVID-19."
 Why it's important: It's not only COVID-19 that caused Ruby Tuesday's decreased traffic and struggles to compete. Instead, changing consumer preferences and an increase of fast-casual restaurants as well as healthier options at fast food chains have been an obstacle for long-standing restaurant chains. Let the trend serve as a warning to update your business models accordingly, before the shifting consumer landscape leaves you in the dust.
---
DOWNLOAD OUR REPORT
Though 70% of communicators are not looking beyond 2020 in terms of strategic planning, they also don't expect our current state of crisis to ease up by the end of the year. Operating in a constant state of crisis and rapidly responding to events throughout the world are top challenges for communicators, our recent report, Ragan Survey of Internal Communicators, revealed.
The survey sheds light on top challenges, with insights including top issues, what the "return to the office" looks like, which departments internal communicators will collaborate with the most and more.
To learn more about how to rise to the challenges facing organizations across industries, join us at Ragan's Internal Communications & Employee Experience Virtual Conference on Oct. 14. You'll learn from internal and employee communications experts from National DCP, Deloitte, Charles Schwab, American Psychological Association and more.
---
SOCIAL BUZZ
Best Buy is highlighting its Latinx employees and leaders during Hispanic Heritage Month with a series of profiles and stories:
Join us as we celebrate Latinx innovators who have changed our world in extraordinary ways. https://t.co/sXz1ZX1wjY pic.twitter.com/2t30Mkk2i4

— Best Buy (@BestBuy) September 21, 2020
Celebrating Hispanic heritage and all the members of its community. #HispanicHeritageMonth pic.twitter.com/kXG8UvNx2z

— Best Buy (@BestBuy) October 7, 2020
The retailer also announced a "Day of Unity," held Oct. 7:
Today is our Day of Unity. We are coming together as a company to show that we are one and support social justice. https://t.co/2Mp0JxFOmO pic.twitter.com/6XrpFZZ6m2

— Best Buy News (@BBYNews) October 7, 2020
In a blog post, Best Buy wrote:
Employees are encouraged to express their support for this important work by wearing specially designed "Together We Are One" t-shirts. In addition to being a part of our official dress code in stores, thousands of store Best Buy leaders will also wear the t-shirt during our virtual Holiday Leadership Meeting this week to show solidarity and unity as we kick off the holiday season.

The t-shirts were created exclusively for Best Buy by RighteouSouls, a Black-owned apparel company in Minneapolis. Customers can purchase one for themselves here.

We are also encouraging all employees — from the corporate office to all our stores across the country — to engage with educational resources to better understand social injustice and systemic racism. We've provided resources to employees, including thought-provoking books, videos and documentaries.
What do you think of the retailer's recent diversity, equity and inclusion efforts? Share your thoughts under the hashtag #DailyScoop.
---
EDITOR'S PICKS
As the COVID-19 crisis continues, many organizations have extended their remote working directives through 2021—and some, such as Twitter, have offered their employees the opportunity to permanently work from home. Whether you're planning to go back to the office or will stay a remote employee, consider how you can perfect your setup for success.
These items can help:
---
WHAT YOU SAID
We asked for your largest obstacle to productivity as you work from home, and 38% of you said interruptions in your home are to blame, while 35% of you said meetings are the biggest culprit and nearly 21% of you said emails and notifications take you out of the productivity zone.
What's your biggest productivity buster as you work from home?

Share with us what snaps you out of your groove–and how you overcome it–below. We'll dish the results in tomorrow's #DailyScoop!

— PR Daily (@PRDaily) October 7, 2020
Is there a question you'd like us to ask in an upcoming poll? Let us know!
---
SOUNDING BOARD
Do use a productivity or time-tracking app as you work from home, PR pros?
Do use a productivity or time-tracking app as you work from home, PR pros?

Share your insights with us below and we'll share in tomorrow's #DailyScoop.

— PR Daily (@PRDaily) October 8, 2020
Share your insights below and under the hashtag #DailyScoop. We'll share in tomorrow's roundup.
Editor's note: Ragan Communications may earn a commission through our affiliate partnerships when purchasing items in our content.
COMMENT