Facebook bets on video with new tools, Twitter to shut down Periscope, and Ally Bank offers New Year's babies $250
Also: Eventbrite reports virtual events are helping people thrive during uncertainty, Wisconsin sports teams partner for social good, Innocent Drinks' holiday contest, and more.
Hello, communicators:
The Green Bay Packers, Milwaukee Brewers and Milwaukee Bucks have joined forces with Microsoft to create the Equity League, which the organizations call "a new impact investment division of venture capital fund TitletownTech":
View this post on Instagram
We're proud to partner with @Bucks, @Packers, and @Microsoft to create positive social change.

Find out more about the Equity League: https://t.co/HCyTMnXc7s pic.twitter.com/UVCLJ51wdv

— Milwaukee Brewers (@Brewers) December 15, 2020
In a press release, the Packers wrote:
A founding principle of the Equity League is that while genius is equally distributed regardless of race, gender, or zip code, opportunity is not. When looking at Venture Capital-backed startups, only 1% of founders are Black and less than 2% are LatinX. On the investment side, just 3% of the employees at Venture Capital investment funds are Black or LatinX professionals.
The effort highlights the power of partnerships to create meaningful change within communities and drive purpose-led communications.
Here are today's top stories:
Facebook launches 'Collab' app while testing another video tool
 The social media platform has gone live with a social media video app that it announced was in testing in May, called "Collab"—and is preparing another video offering that connects audiences with celebrities and content creators during live broadcasts.
The [Collab] app allows users to create short-form music videos by combining up to three independent videos. So, for example, three musicians could each play a different part of a song and combine them into one video. But each video that's created is also posted to a public "Collab" feed, where people can view and play along with it if they choose.
When you first open Collab, you're presented with an endless scrolling feed of these "collabs," which you can swipe through to find one you want to join or mix. As you discover musicians you like to play along with, you can favorite them in the app to be notified when they post new clips. This also personalizes the main feed.
Bloomberg's Kurt Wagner also reported that Facebook is testing another tool for interactive video opportunities:
The tool, called Super, will let creators, entrepreneurs or celebrities to host live, interactive video events. Viewers can tip creators by buying them digital gifts, or pay to "appear" alongside a creator during the livestream to ask a question or take a selfie, according to a person familiar with the new feature, who spoke on the condition of anonymity because the product hasn't been announced publicly. Creators will also be able to sell merchandise or other products alongside the livestream.
Why it's important: With the success and growth of TikTok, many social media platforms are beefing up their short-form and live video content offerings to appeal to both content creators and brand managers. Twitter, Pinterest and Instagram have all launched Snapchat-esque video tools for its users, and Facebook's offerings seem to focus on the same trend.
Communicators should keep their eyes open for additional features and how their target audiences are responding to them, especially when considering adding it to your social media strategies.
---
SOCIAL BUZZ
 Innocent Drinks created a holiday story adapted to the uncertainty of 2020, in which it offers "The Santa Safety Suit," so Kris Kringle can safely visit homes and deliver gifts:
We've heard people are worried that Santa might not be able to visit this year, so we've come up with a cunning, hygienic, and – most importantly – stylish solution… pic.twitter.com/dPFIxMD412

— innocent drinks (@innocent) December 15, 2020
It's also running a contest, offering 90 consumers the opportunity to win one of the copies, and issued a humorous take on the competition's terms and conditions:
We've always wanted to be authors so we've printed a few copies of the book. Head here if you fancy winning one: https://t.co/p36osoXtHx pic.twitter.com/MJuPCriLlL

— innocent drinks (@innocent) December 15, 2020
Later, the team followed up with actual terms and conditions (along with a self-depreciating and honest announcement):
For today's public demonstration of our incompetence, we were so busy posting silly terms and conditions to annoy our legal department that we forgot to post the actual terms and conditions. Please don't read these whilst operating heavy machinery. https://t.co/fIEn5DsC8Q

— innocent drinks (@innocent) December 15, 2020
The United Kingdom-based brand's content and contest are laced with the sassy tone that its social media team has been using to boost interaction on Twitter and endear consumers, but even if a similar voice doesn't fit your brand's image, you can take advantage of humor and transparency across social media, integrating them in ways that best fit with your audience and key messages.
---
MEASURED THOUGHTS
Eventbrite released its first-ever global study, called "Inside Look Report," which revealed that 75 million attendees took part in more than one million virtual events on its platform this year, racking up more than 100 million hours of virtual content and learning.
Julia Hartz, the company's co-founder and chief executive, tweeted:
Virtual events took off in a big way in 2020, and our data suggest this way of connecting is here to stay. Check out @Eventbrite's Inside Look Report that shares a deep dive into our 2020 data and findings: https://t.co/xfAvgpqEcx

— Julia Hartz (@juliahartz) December 14, 2020
Of its 2020 events, Eventbrite reported that half of all tickets issued were for either seminar talks or workshops and classes aimed at honing skill sets and learning new strategies—and more than 36% who have attended virtual events during COVID-19 say they're thriving in this uncertain landscape—whereas, only 27% of those who haven't attended virtual events report the same.
Along with learning new skills and best practices to help them weather the storms of the year, 48% of survey respondents said they became more informed on social justice issues–and three of Eventbrite's most-attended virtual events focused on this topic: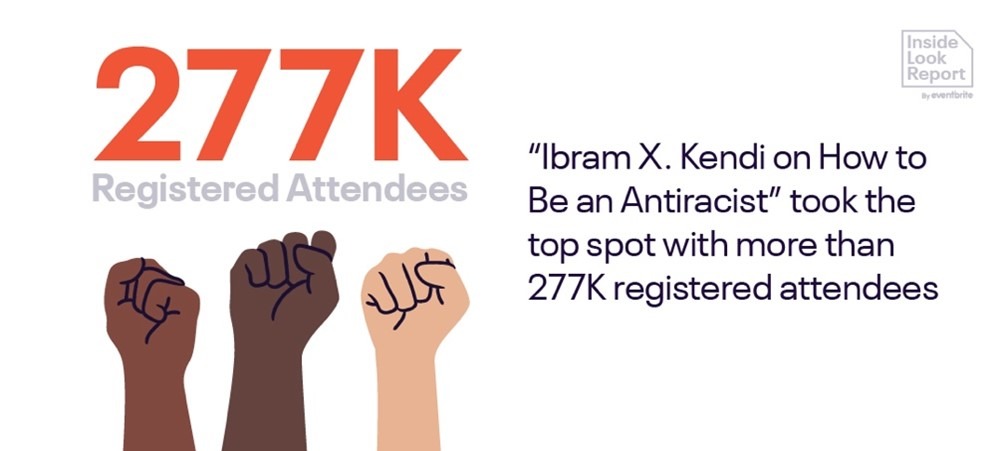 Hartz said:
Perhaps the silver lining of this pandemic is that online events have the power to globally engage communities in new ways, helping creators bring people together from small town America to far reaching corners of the world. That's something to celebrate as we continue to work toward the safe return of in-person events.
You can use the report's data in your proposals for virtual and in-person training opportunities as you plan your 2021 budget. Don't forget to include Ragan's slate of upcoming events, including our Best Practices in Internal Communications and Culture Virtual Conference on Feb. 24-25, Speechwritiers and Public Affairs on March 4, and our Social Media & Digital Communiciations Summit on March 16. You can learn more here.
---
CRISIS LEADERSHIP NETWORK
Looking for more insight on how to address the current global crisis and lead your organization into a strong recovery?
Join Ragan's Crisis Leadership Network to connect and brainstorm with peers, get the latest intelligence and research, and start to strategize for the future of your organization.
Learn more about this exclusive membership here.
Twitter to shut down Periscope
 The social media platform announced its shutting down its livestreaming app and platform, Periscope, in March 2021.
In a blog post, the company wrote:
The truth is that the Periscope app is in an unsustainable maintenance-mode state, and has been for a while. Over the past couple of years, we've seen declining usage and know that the cost to support the app will only continue to go up over time. Leaving it in its current state isn't doing right by the current and former Periscope community or by Twitter. We still believe in the power of live video to solve impactful problems, which is why we've brought most of the core capabilities of Periscope into Twitter. We probably would have made this decision sooner if it weren't for all of the projects we reprioritized due to the events of 2020. We're sharing our decision with you now because we want to be transparent and honest about where we're at and what's next.
You'll still be able to view existing Periscope broadcasts that were shared to Twitter, and all Periscope users can download an archive of their livestreams and data before the app is permanently removed.
Why it matters: The announcement, combined with Twitter's launch of Fleets, its short-form video feature, and additional features that enable tweets to be shared on Snapchat and Instagram, showcase the way Twitter is changing course to meet shifting behaviors of social media users:
There's more! We'll also be testing sharing Tweets to IG Stories to a small % so keep an eye out

— Twitter (@Twitter) December 10, 2020
Livestreaming is far from passé, but communicators must be more creative and brief than ever before in order to capture and keep shortened attention spans as well as increase engagement and reach.
---
TACTICALLY SPEAKING
In an uplifting PR and marketing stunt, Ally Bank is offering $250 in a custodial online savings account to those born on Dec. 31.
We're ending 2020 on a hopeful note by offering $250 in a custodial Online Savings Account to all eligible babies born on the last day of the year. Learn more: https://t.co/Lus0LrdfdK pic.twitter.com/D0ylPFeS5T

— Ally (@Ally) December 15, 2020
In a press release, the financial institution addressed New Years babies-to-come with a letter that read, in part:
You're almost here, and we can't wait to meet you.

You should know that a lot will be said about your birth year, and much of it will be pretty tough to hear. There have been extraordinary challenges, tragedies and troubling events — that is true. But through it all, there also have been unprecedented awakenings, acknowledgements and opportunities for our human family to come together with a purpose to be better.

Best of all, it's you—and everyone born each day—who provide us with a reason to be hopeful.

In many ways, 2020 marks a new era. You've been born on the other side of the great digital migration where, as a society, we've learned to do just about everything online, from staying close with family to going to work and school. As the original digital-only bank, we have a natural affinity for you — we, too, were born for this new digital era.
If you're looking for a way to break through both the noise of a crowded digital media landscape and the fatigue of a year filled with crisis communications and uncertainty, consider ways you can share inspirational content or feel-good stories. This should be applied to employee communications as much as to consumers and other stakeholders.
---
TAKE OUR SURVEY
We want to know about how PR agencies are building lasting, sustainable relationships with clients, what is working and what is rubbing both parties the wrong way. That's why we're partnering with The Institute for Public Relations on a new survey to learn more about the state of the agency/client relationship.
Please take this 10-minute survey here.
---
EDITOR'S PICKS
As you're altering your holiday campaigns and searching for ways to engage consumers and employees during COVID-19, don't forget the power of gifts. These can come in the form of interactive content and holiday sweepstakes for your social media followers or thoughtful gifts given by you or your entire organization to members of your workforce, partners, influencers and more.
Check out these gift ideas:
---
WHAT YOU SAID
We asked if you've launched contests or sweepstakes to boost social media engagement over the holiday season, and though the majority of you (nearly 67%) are not, a quarter of you are running competitions and more than 8% are asking followers to share content:
Are you running any contests or sweepstakes for holiday social media engagement?

Weigh in below and share your thoughts, and we'll dish in tomorrow's #DailyScoop.

— PR Daily (@PRDaily) December 15, 2020
Is there a question you'd like us to ask in an upcoming poll? Let us know!
---
SOUNDING BOARD
What's the biggest piece of advice you'd give to someone graduating in communications and/or entering the PR industry?
What's the biggest piece of advice you'd give to someone graduating in communications and/or entering the PR industry?

Share your insights with us below and under the #DailyScoop hashtag, and we'll share the top replies in tomorrow's roundup. pic.twitter.com/k8JmcJlcch

— PR Daily (@PRDaily) December 16, 2020
Share your thoughts below or on Twitter using the #DailyScoop hashtag.
Editor's note: Ragan Communications may earn a commission through our affiliate partnerships when purchasing items in our content.
COMMENT