Facebook explains service interruption, 52% of Americans don't trust social media, and Jamie Dimon irks with MLK comparison
Also: Brach's shares top candy corn purchases by state, AMC Theatres brags about record weekend revenue, WaPo journalist apologizes for errant tweet, and more.
Hello, communicators:
The beginning of October marks the start of "Spooky Season," when the scent of pumpkin spice lingers in the air and brands begin to roll out Halloween promotions in earnest.
Ferrara, the parent company of Brach's candy, is celebrating the occasion by unveiling several new variants of Brach's candy corn. One will resemble the iconic taste of Nerds candy and one is stylized after the popular kid's film "Minions."
The company announced the new flavors along with an infographic showing the states where most candy corn is purchased and acknowledged how the Halloween staple is very much a "love it or hate it" confection:
"Candy corn has been a Halloween staple for more than half a century," Mariah Havens, director of seasonal marketing at Ferrara said in a press release. "But we also know that candy corn is one of the most divisive seasonal treats and there are some people who don't enjoy it (I'm looking at you, Nebraskans and Wisconsinites)."
Elsewhere in the press release, Ferrara introduces a digital Halloween advent calendar, "Ferrara's Sweet & Scary Neighborhood," that families can visit to pick a different candy-themed door every day in October with the chance to win candy and other prizes.
Here are today's top stories:
Facebook's delay in response to outages fuels jokes and misinformation
Facebook, Instagram and its entire network of services, including internal communication tools, went down yesterday for almost six hours. The outage began the day after an interview with Facebook whistleblower Frances Haugen aired on "60 Minutes" that accused the company of being complicit in exacerbating toxic behavior on its platforms for profit.
Through the duration of the outage, holding statements from Facebook and its executives on Twitter contained the only official information shared:
https://twitter.com/Facebook/status/1445061804636479493
https://twitter.com/andymstone/status/1445058088436908045
*Sincere* apologies to everyone impacted by outages of Facebook powered services right now. We are experiencing networking issues and teams are working as fast as possible to debug and restore as fast as possible

— Mike Schroepfer (@schrep) October 4, 2021
Following the restoration of Facebook's services that evening, Facebook's engineering team published a blog post explaining what happened in greater detail.
To all the people and businesses around the world who depend on us, we are sorry for the inconvenience caused by today's outage across our platforms. We've been working as hard as we can to restore access, and our systems are now back up and running. The underlying cause of this outage also impacted many of the internal tools and systems we use in our day-to-day operations, complicating our attempts to quickly diagnose and resolve the problem.

Our engineering teams have learned that configuration changes on the backbone routers that coordinate network traffic between our data centers caused issues that interrupted this communication. This disruption to network traffic had a cascading effect on the way our data centers communicate, bringing our services to a halt.

Our services are now back online and we're actively working to fully return them to regular operations. We want to make clear at this time we believe the root cause of this outage was a faulty configuration change. We also have no evidence that user data was compromised as a result of this downtime.
The several hours between the outage occurring and Facebook's explanation brought most social media users, frustrated at their inability to post on Facebook and Instagram, to Twitter. Many jokes were made:
Instagram and Facebook down? Twitter having problems? Gmail now? I think I know who's behind all this…. pic.twitter.com/1pkvPI1EnL

— Lauren▽Staeger (@ROTFLauren) October 4, 2021
facebook moms trying to create a twitter account right now 😭😭😭😭#InternetShutDown pic.twitter.com/VICN0Qko2m

— Exotic (@googoogagaratio) October 4, 2021
When Instagram & Facebook are down. pic.twitter.com/mVFlVOOCOC

— Netflix (@netflix) October 4, 2021
Twitter, Reddit, Clubhouse and other platforms got in on the fun:
Hi and happy Monday 😵‍💫

— Instagram (@instagram) October 4, 2021
How are you doing, Instagram social media manager?

— Reddit (@Reddit) October 4, 2021
using the new search function to scroll through A LOT of rooms around the world discussing #instagramdown pic.twitter.com/EoL1ztNmT3

— Clubhouse (@Clubhouse) October 4, 2021
Twitter after adding a little emoji next to the #InternetShutDown tag pic.twitter.com/Nj2MHds2xT

— chun swae. (@girl_kaybee) October 4, 2021
Misinformation and disinformation came into play when some blamed hackers and others blamed Facebook itself for the outage:
So, someone deleted large sections of the routing….that doesn't mean Facebook is just down, from the looks of it….that means Facebook is GONE. pic.twitter.com/OCZWPD2okw

— The Academy (@BenjaminEnfield) October 4, 2021
Zuckerberg shut it all down to scrub any incriminating info after last night's whistle blower came forward.

— Beth Ann 🇺🇲🇺🇲🇺🇲 (@FrickerBeth) October 4, 2021
The day after Facebook got double roasted, stuffed in a turkey, and roasted again for its lax handling of harassment and conspiracy theories, their entire social media suite is down.

I'm not saying they're related, but I'm also not saying they're not related.

— Mike Rothschild (@rothschildmd) October 4, 2021
What it means:   
The disruption to communications tools that hampered Facebook's ability to respond to the crisis is a reminder that crisis communications plans should detail secondary communications systems and infrastructure. If your organization is the subject of a cyberattack and loses access to email, how will you be able to contact the right stakeholders?
The Twitter jokes are a reminder that the short-form social platform remains the domain of the quick witted.
---
MEASURED THOUGHTS
In a new study by Morning Consult, 52% of U.S. adults said that they don't trust social media platforms such as Facebook or Twitter, while 56% said that they automatically trust tech companies such as Apple or Google.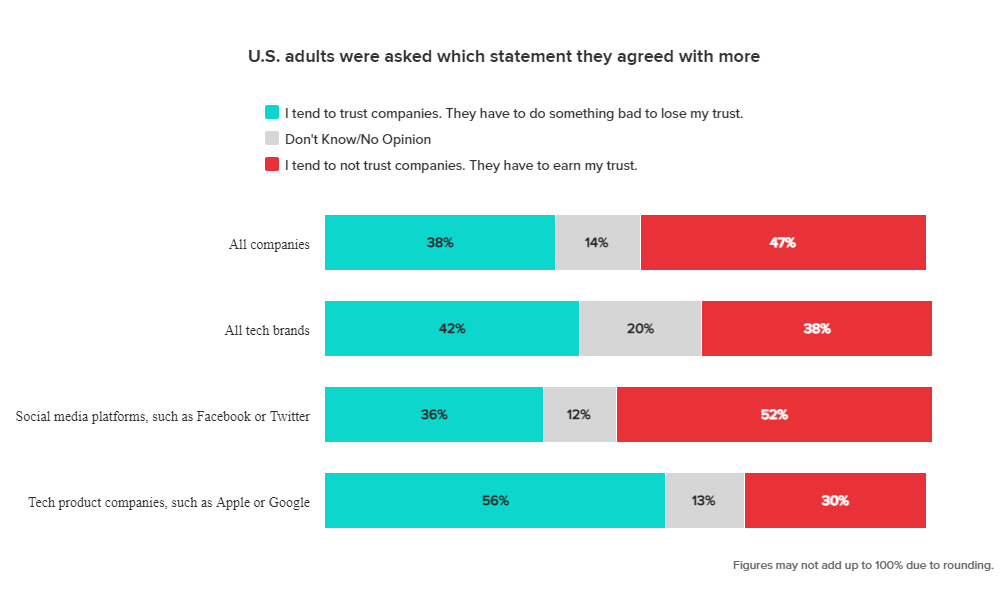 Check out the full study here.
---
CRISIS COMMUNICATIONS
AMC theatres announced that it set new post-COVID records this past weekend for global attendance, as well as beverage sales.
According to its press release:
Adam Aron, Chairman and CEO of AMC Entertainment, said, "Yet again, AMC is celebrating an important milestone as we continue striving to generate a full recovery for our movie theatre business both at home and abroad. A new post-reopening global weekend attendance record of approximately 3.9 million moviegoers is important, as is the fact that this weekend's success is due to two different blockbuster movies, each driving terrific business for AMC Entertainment on different continents. In the United States in particular, the movie-going response to VENOM: LET THERE BE CARNAGE brought moviegoers to AMCs in droves, and on Saturday helped AMC to enjoy its best single-day revenue level since the pandemic forced us to close our U.S. theatres more than 18 months ago. On the other side of the Atlantic, James Bond is as effective and popular as ever, as NO TIME TO DIE set records of its own, driving huge business at our ODEON Cinemas."

Aron added, "The success of these two new blockbuster movies, and of our theatres both at home and abroad, demonstrates the huge pent-up demand we see in moviegoers who are ever so eager to return to movie theatres. To the self-proclaimed sages who routinely and mindlessly predict the demise of cinemas, it is my view that it is simply wrong to underestimate the enormous consumer appeal and resilience of movie theatres."
Sharing the press release on Twitter, Aron was a bit more candid with his thoughts on those "self-proclaimed sages":
New press release from @AMCTheatres. Venom & Bond let us set records for our highest grossing weekend since the pandemic hit in 2020. Some 3.9 million visited our theatres globally. You know my thoughts on "sages" predicting demise of cinemas: Choke on that, baby, #CHOKEonTHAT pic.twitter.com/MuolpwCUYp

— Adam Aron (@CEOAdam) October 4, 2021
While Aron's message is understandably accusatory after a hard couple of years for the movie theater business, the accusatory tone displayed in his comments about "self-proclaimed sages" undercuts a positive message about the economic recovery of his organization.
---
SOCIAL BUZZ
Washington Post White House correspondent Annie Linskey wrote a tweet that seemed to criticize President Biden for visiting his son's grave while his landmark infrastructure legislation struggled to pass in Congress. While she deleted it after about 90 minutes, others were quick to share a screenshot:
What lol. (This is a WaPo reporter) pic.twitter.com/hGtnWevcSU

— Ken Klippenstein (@kenklippenstein) October 3, 2021
Though Linksey apologized after removing the tweet, the replies to her apology offered a  cautionary tale about tweeting impulsively:
It was a badly conceived and insensitive tweet. I'm sorry.

— Annie Linskey (@AnnieLinskey) October 3, 2021
I am a former reporter. This is just malicious. My advice is to stop before you tweet anything and ask, is this okay? If you did this and still tweeted, your judgment is questionable. And that is putting it kindly. pic.twitter.com/xPvv3b5WGd

— Funky Cold Moderna x3 (@snichols11) October 3, 2021
When explaining active vs. passive voice to my students, I often say the passive voice is essentially the "avoiding blame" voice. This is a good example of that.

— Jeremy ⚾ 💂 (@GuardTheCLE) October 3, 2021
The feedback that Linksey received following her apology serves as a reminder that a bad tweet can submarine your reputation as a communicators, and attempts to apologize should always contain active language that accepts responsibility.
---
TAKE OUR SURVEY
If you're looking for benchmark data to show your bosses the next time you ask for a raise, lend us a hand—and help yourself and your peers while you're at it. Participate in Ragan's Salary & Workplace Culture Survey, a comprehensive look at salaries, benefits, culture, bonuses and other aspects of the job in a fast-moving industry.
Both internal and external communicators are encouraged to participate.
By taking part, you will receive a $150 discount to a Ragan virtual conference of your choice and be entered to win one of five $50 gift cards. All who complete the survey will receive a full report on the findings. Responses are anonymous.
JPMorgan CEO attempts to explain Trump admin work with MLK comparison
Jamie Dimon, top executive for JPMorgan, admitted in a recent interview with Axios that at least one family member was disappointed in his willingness to work with President Trump's business council.
The business council disbanded after the white supremacist rally in Charlottesville left one woman dead and President Trump infamously said their were "good people on both sides."
In the interview with Axios, Dimon appears to try and explain his work with the Trump administration as following in the legacy of civil rights icon Martin Luther King, Jr.
The CEO and chairman told "Axios on HBO" in an interview that he replied to her by saying Martin Luther King would have kept going to the meetings with Donald Trump to fight.

"You know I love my daughters, but after I went into Trump's business council, one wrote me a long, elegant, nasty letter you know about 'How could you, Dad?'" he said. "And I wrote her back saying you got everything right except for the conclusion, but Martin Luther King would be going seeing President Trump every time to fight, fight for his people."
The comparison was derided on Twitter:
'You got everything right except the conclusion. Martin Luther King would be going, seeing President Trump every time to fight for his people.'"

Imagine being Jamie Dimon and comparing yourself to MLK. And using the phrase "his people."https://t.co/YBgpIUVagy #axiosam

— Stephen Guerriero 🏳️‍🌈 (@guerrist) October 4, 2021
🙄Jamie Dimon said his daughter wrote him a 'long, elegant, nasty letter' after he joined Trump's business council. He referenced MLK to explain why he did it. https://t.co/kRVfTD0ma1 #SmartNews

— Steve Crandall (@JayandSteve) October 4, 2021
What it means: Leaders should take care in comparing themselves to civic icons. While allowing that you might be influenced or inspired by activists and civic leaders who pushed to make society and the country a better place, there is a danger in trying to place business leaders on an even footing with issues advocates.
While environmental, social and governance issues are starting to have a bigger place in the business conversation, most business leaders still prioritize profits over all other considerations. Any attempt to frame business executives as moral voices will have to come with some profound examples of where they will put the social good ahead of profits.
COMMENT