Facebook moderates content ahead of Chauvin trial verdict, 1 in 3 workers will pursue a new job if forced to return to the office, and Parler returns to the App Store
Also: A federal Judge protects journalists covering Minnesota protests, brands share weed-friendly campaigns around 4/20, aviation industry responds to increased travel warnings, and more.
Hello, communicators:
A federal judge has ordered Minnesota state troopers to not arrest journalists who are covering protests around the police shooting of Duante Wright and the trial of Derek Chauvin. The temporary restraining order, which also bars state troopers from using force against journalists or ordering them to disperse during protests, does not apply to local law enforcement or the national guard.
"In a 22-page order, Judge Wilhelmina M. Wright cited examples of police treatment of the press over the past week, including police orders specifically directed to members of the press to vacate protest areas, and incidents of journalists being pepper sprayed, physically grabbed, or hit by projectiles," reports Minnesota Reformer.
"Wright said the evidence showed law enforcement's 'repeated conduct in contravention of Plaintiffs' constitutional rights,' further suggesting that police actions 'were motivated at least in part by the press's engagement in constitutionally protected activity.'"
The ruling is an example of how journalists have come under attack when following the top stories of recent months and PR pros can show solidarity by speaking up for press freedoms and using their platforms to call for the free and open sharing of information.
Facebook announces increased content moderation efforts ahead of Chauvin trial verdict
Facebook says it plans to limit posts that contain hate speech and misinformation related to the Derek Chauvin trial to keep such content from leading to real-world violence. Content flagged for removal will include any posts urging people to take arms, posts that harass George Floyd's family and posts that celebrate or mock his death.
"We know this trial has been painful for many people," Monika Bickert, Facebook's vice president of content policy, wrote in a blog post. "We want to strike the right balance between allowing people to speak about the trial and what the verdict means, while still doing our part to protect everyone's safety."

Facebook, which has long positioned itself as a site for free speech, has become increasingly proactive in policing content that might lead to real-world violence. The Silicon Valley company has been under fire for years over the way it has handled sensitive news events. That includes last year's presidential election, when online misinformation about voter fraud galvanized supporters of former President Donald J. Trump. Believing the election to have been stolen from Mr. Trump, some supporters stormed the Capitol building on Jan. 6.
Why it matters:
Communicators, take note to craft proactive, preventive messaging whenever a potential crisis looms to demonstrate that your company has command over the issue at hand and is committed to de-escalation. When your preventative response echoes a past brand crisis, be sure to address your specific lessons from the past as part of the future solution. Vet the language in your statement with legal teams and other internal stakeholders to ensure that all parties involved have the training and resources to act on the promised commitments.
---
MEASURED THOUGHTS
In a new study by Robert Half, one in three workers surveyed said that they would look for a new job if required to return to the office. Though a quarter of workers each said they prefer to work fully remote or fully in office, almost half prefer a hybrid work model moving forward.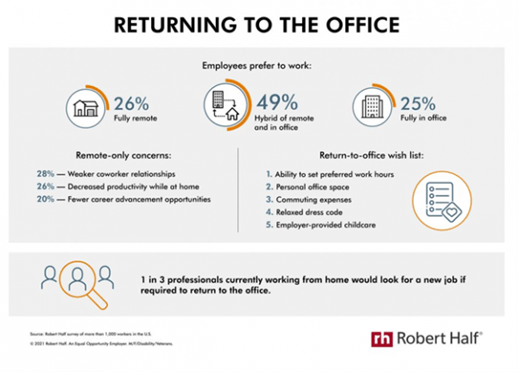 Remember to partner with your HR and operations teams when positioning a hybrid work model to employees. Be prepared to explain why certain roles are best positioned in office and others are remote. Whenever possible, give employees the option to work where they feel most comfortable and create a feedback loop for those who are not onboard with the new policies.
---
TACTICALLY SPEAKING
As more states like New York and New Jersey have legalized recreational cannabis use, brands are capitalizing on the national stoner holiday known as 4/20 by running campaigns that are both fun and aimed at larger social purpose initiatives.
In the days leading up to the holiday, Hotels.com ran a "Munchie Money" contest that offered to pick up the room service tab for select winners in what the brand called "special munchie mania."

Courtesy of Hotels.com
"20 lucky travelers who submit their reservation confirmation will receive $200 towards room service, a free night in their Hotels.com account for their next getaway and VIP gold status for late check out to help them sleep off that food coma," said the release with PR Daily. "Treat yourself to a 4/20 getaway and Hotels.com will help you toast to this high-liday properly by ensuring all your munchie cravings are satisfied."
Meanwhile, ice cream brand Ben & Jerry's took the holiday as an opportunity to reinforce its commitment to social justice and bringing awareness to a social equity cannabis bill:
Have you ever noticed that most people making money from legal cannabis are white, while most of those still locked up for possession charges are Black? We think that's wrong. Take action to support the MORE Act now: https://t.co/yH1t5PKkzB #420 #MOREAct pic.twitter.com/m69u50kNvl

— Ben & Jerry's (@benandjerrys) April 19, 2021
Consider that the widespread legalization of cannabis opens many new avenues for PR campaigns, from fun and frivolous promotions to purpose-led work. Research your audience and external stakeholders before inserting your company in any trending holiday, dominant social conversation or hot-button issue to be certain that your messaging approach match the prevailing sentiment of your stakeholders.
---
CRISIS COMMUNICATIONS
The U.S. State Department has added more countries to its Tier 4 "Do Not Travel" guidance, expanding the warning to approximately 80% of countries worldwide.
The State Department said the move does not imply a reassessment of current health situations in some countries, but rather "reflects an adjustment in the State Department's Travel Advisory system to rely more on (Centers for Disease Control and Prevention's) existing epidemiological assessments."

Asked for comment on the State Department announcement, Airlines for America, a trade group representing major U.S. carriers, said "the U.S. airline industry has been a strong advocate for the development of a risk-based, data-driven roadmap for restoring international travel."

The group added it continues "to urge the federal government to transparently establish the criteria – including clear metrics, benchmarks, and a timeline – for reopening international markets."
Always highlight the data and research that you and your partners produce when defending, or contesting, a partner's decision. Emphasize the data as a transparency tool to foster a sense of accountability that stakeholders can observe and feel confident around.
---
CRISIS LEADERSHIP NETWORK
Looking for more insight on how to address the current global crisis and lead your organization into a strong recovery?
Join Ragan's Crisis Leadership Network to connect and brainstorm with peers, get the latest intelligence and research and start to strategize for the future of your organization.
Learn more about this exclusive membership here.
Apple allows Parler to return to the App Store
Apple has announced that it will permit the chat app Parler to return to its App store after Parler has agreed to make changes that align with App Store policies.
In the letter addressed to Sen. Mike Lee (R-UT) and Rep. Ken Buck (R-CO), Apple said "Parler has proposed updates to its app and the app's content moderation practices" that would bring the app into compliance with the App Store's rules. Now, Parler is allowed to return once it reintroduces the app to the store.

In January, Apple and Google removed Parler, a conservative-favored social media app, following accusations that users of the app promoted violence ahead of and after a pro-Trump mob attacked the US Capitol. Before its ban, Apple demanded that Parler remove hateful and violent content from the app within 24 hours in order to remain on the App Store. Parler did not propose any changes, and so it was removed on January 9th.

Apple's decision to bring back Parler comes just days before the company is set to testify before Congress regarding its App Store practices.
On March 31, @SenMikeLee and I sent a letter demanding answers about why Apple removed Parler from the App Store.

🚨Today, we received a response: Parler will be reinstated on the App Store. Huge win for free speech. pic.twitter.com/FQBDSSSFGk

— Congressman Ken Buck (@RepKenBuck) April 19, 2021
Why it matters:
Communicators, take note to compose partner policies and guidelines that clearly detail and explain your expectations and standards for the partnership. Work with your legal team to make the language transparent and thorough, explaining termination and appeal processes whenever possible. When issuing policies in response to a specific incident, include a summary of key moments in the dispute that outline the incident and provide context around your decisions moving forward.
---
CONFERENCE ALERT
The business community is facing a workplace wellness revolution. No longer does "wellness" qualify as a nice-to-have employee benefit; it is now tightly integrated many facets of organizational strategy, especially communications.
Join us at Ragan's Workplace Wellness Conference on April 21, 2021 to glean the essential tools and context you need to advance your career and guide your organization through this time of rapid change.
Attendees will learn what it means to embrace the fact that employees who are mentally, physically, financially and socially healthy are more productive, engaged and resilient to potential crises.
Learn powerful insights and secrets from speakers at organizations including NVIDIA, Northwell Health, PwC, Microsoft, Cornell University, Facebook and more.
---
WHAT YOU SAID
Yesterday, we asked about your top work priority for the week. Though many in the comments answered, "All of the above," a majority (35%) said that sending deliverables out was top of mind on Monday morning. A solid 29% of you, meanwhile, were most focused on solidifying plans for an upcoming campaign, and 24% started the week of with a focus on securing coverage. Just 12% of you were most focused on writing press releases.
What is your top work priority this week, PR pros and communicators? #DailyScoop

— PR Daily (@PRDaily) April 19, 2021
Is there a question you'd like to see asked? Let us know with the hashtag #DailyScoop!
---
SOUNDING BOARD
How is your brand or organization adjusting its messaging strategy this week in anticipation of a verdict in the Derek Chauvin trial?
How is your brand or organization adjusting its messaging strategy this week in anticipation of a verdict in the Derek Chauvin trial? #DailyScoop

— PR Daily (@PRDaily) April 20, 2021
As a reminder, your responses are completely anonymous. We will share the results in Friday's roundup.
COMMENT