FedEx defends phone policy after deadly shooting, more than 1 in 3 Americans are ready for domestic work trips, and film producer Scott Rudin responds to abuse allegations
Also: Japan ignores experts calling for Olympics postponement, Peloton pushes back on demands for treadmill recall, CBS restructures following racial bias allegations, and more.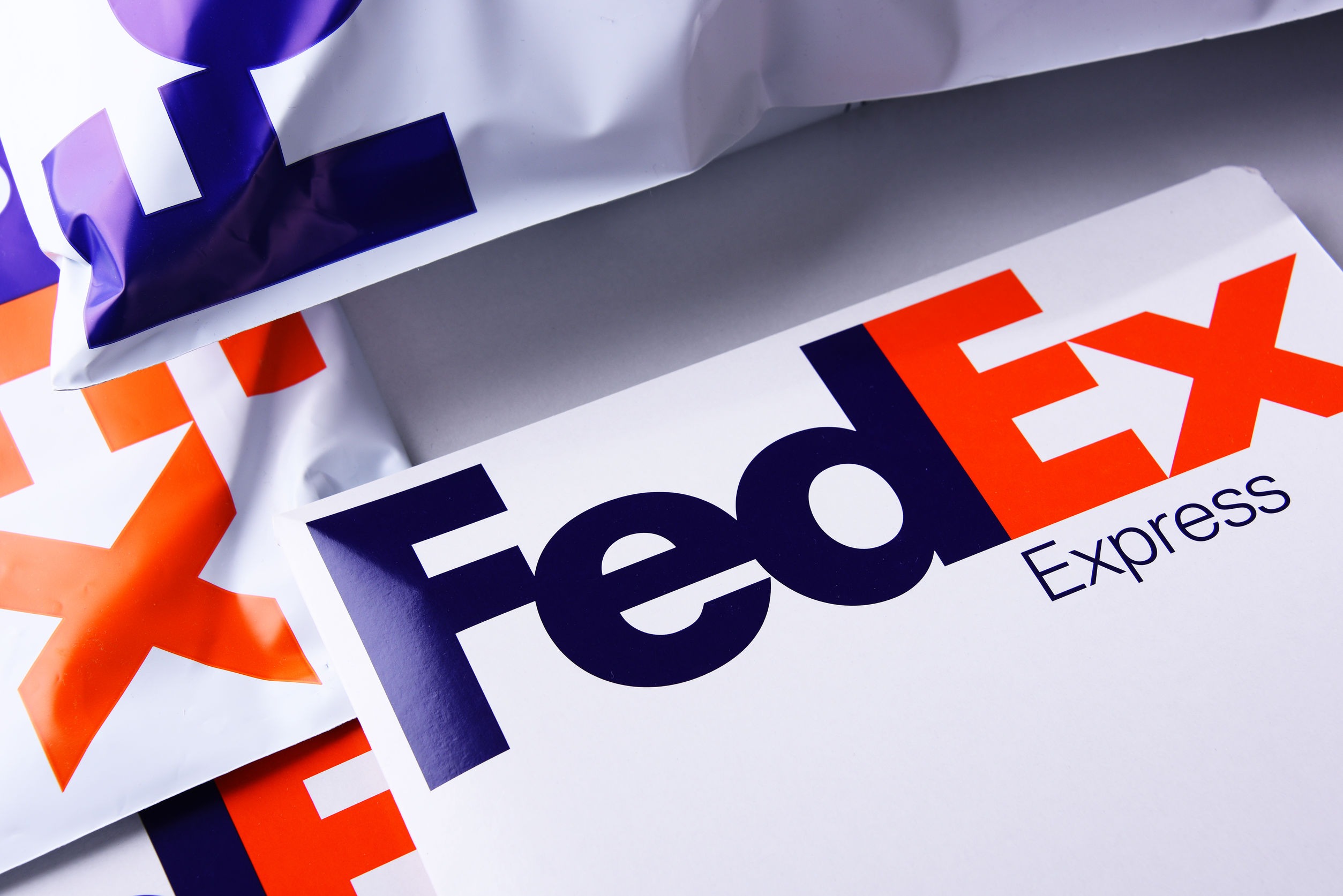 Hello, communicators:
Japanese health experts are calling for the Tokyo Olympics to be postponed, citing the country's inability to contain COVID-19 cases. The 2020 games, which were already delayed from last year, are set to begin this July even while Japanese institutes a "quasi-state of emergency" to beat back a fourth wave of infections.
"Holding Tokyo 2020 for domestic political and economic purposes—ignoring scientific and moral imperatives—is contradictory to Japan's commitment to global health and human security," wrote Kazuki Shimizu in the British Medical Journal last week, reports Reuters. "Kyoto University professor Hiroshi Nishiura, an advisor to the government's pandemic response, urged in a magazine commentary this week that authorities postpone the Olympics one year to allow for more time to vaccinate the public."
"There's no change to the government's stance, to do everything possible to prevent the spread of infections as we head towards the Olympics," Japanese Prime Minister Yoshihide Suga said last Thursday following the outcry, sidestepping a reporter's questions about postponing the Olympics.
Communicators, take note to balance your company or organization's economic and financial needs with health and safety measures by crafting messaging that demonstrates your reliance on expert guidance. The potential consequences from ignoring recommendations from top health officials can trigger a reputational fallout that will be more damaging to your bottom line in the long run.
FedEx rejects calls to change cell phone ban in shipping centers after Indianapolis shooting
FedEx has announced that it will not change its policy banning cell phones from its packaging and shipping centers following Thursday night's deadly shooting at a FedEx center in Indianapolis. Critics say the inability for employees to use a cell phone hampered safety and kept worried family members uninformed after news of the incident was widely reported.
The Indianapolis Star reports:
"Our cell phone policy is based on workplace safety considerations and we believe continues to be in the best interests of our team members while they are on duty," FedEx spokesman Chris Allen said in a written statement Saturday to IndyStar, declining to elaborate or say whether other security precautions are being reviewed.

The company doesn't allow workers, except for "authorized team members," Allen said, to bring phones in the FedEx ground facility near the Indianapolis International Airport, where eight people were killed by a former employee.

After the shooting, employees were bused to a nearby hotel while police sealed off their workspace, which was considered a crime scene. The workers weren't allowed to retrieve their phones from their cars in the parking lot before they left.

That meant their loved ones who saw news of the mass shooting couldn't reach them to learn if they were safe.
Why it matters:
Respond to any tragedy with empathy and concern for the crisis at hand before communicating a defense around adequate safety measures. Make sure that the language you use in crisis holding statements remains consistent in your response to each media outlet to minimize additional accusations of inconsistency. When rejecting calls for change, bolster your defense of any current policies or procedures by offering alternative solutions and/or sharing what steps will be taken to arrive at solutions in the future.
---
MEASURED THOUGHTS
In a new study by Morning Consult, over 1 in 3 Americans said that they are now comfortable traveling domestically for work. Meanwhile, 36% are also comfortable going to a work conference. Only 28% said that they are comfortable going to an office party or large staff event, however, while just 19% are comfortable traveling internationally for work.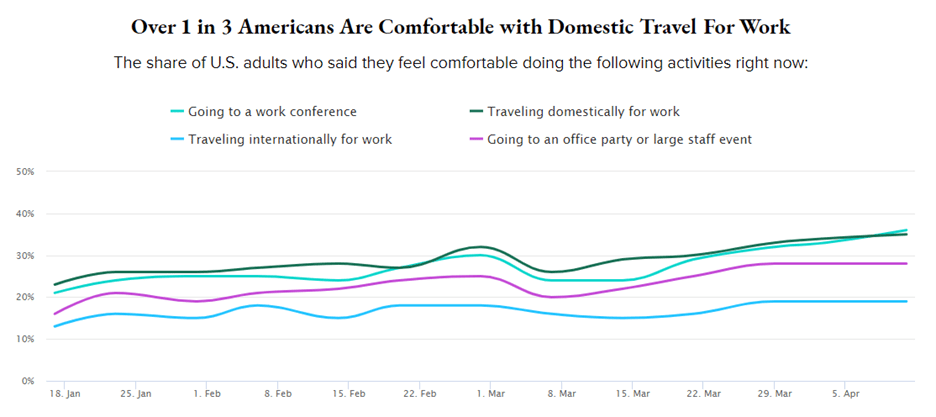 Communicators, take note to survey employees before insisting that they travel or attend events for work. When asking colleagues to attend or host any industry events, communicate the size, scale and location of the event with them so they are able to make a more informed decision about their comfort levels.
---
TACTICALLY SPEAKING
CBS announced last week that it is restructuring its news division, television stations and streaming platform under one group. The decision comes one day after former CBS News executive Kim Godwin left the company to join ABC News.
The Los Angeles Times reports:
"This is an opportunity to create a news and information structure that positions CBS for the future," [CBS Chief Executive George] Cheeks said in a statement. "It speaks to our ability to scale newsgathering, production, technical and operational resources to serve both national and local, linear and digital, with the agility to deliver trusted information to every platform."

Cheeks retooled his organization after the 2,800-employee CBS TV Stations group was rocked by allegations that Dunn and his lieutenant, David Friend, had cultivated an environment that included bullying female managers and blocking efforts to hire and retain Black journalists. The men have denied wrongdoing.
Remember that communicating a company restructuring plan provides you with an opportunity to address any recent criticisms or accusations about your company's operations by demonstrating a commitment to change how things are done. Use specific language that gets at the root of the problem and avoid sidestepping the issue by explaining not just the "why" and "what" behind the restructuring, but the "how" as well.
---
CRISIS COMMUNICATIONS
Luxury exercise bike company Peloton is pushing back on an advisory from the U.S. Consumer Product Safety Commission that called on consumers to stop using the Peloton Tread+ , alleging that the product is unsafe after reports of 38 injuries and one death linked to the machine.
The agency said those with small children at home should stop using the machine, warning that the Tread+ posed risks to children, including abrasions, fractures and even death.

Peloton pushed back on Saturday, saying that the commission's warning was "inaccurate and misleading." The company said in the statement that there was no reason for consumers to refrain from using the machine, adding that safety instructions should always be followed.

Senator Richard Blumenthal, a Democrat of Connecticut, called on Peloton to cooperate with the agency.

"It's clear that the Peloton Tread+ must be recalled," Mr. Blumenthal said. "The company's attempts to dismiss reports of injury as consumer misuse are irresponsible and inexcusable, as multiple incidents happened with adults using the treadmill according to company instructions."

Peloton said it had invited the commission to make a joint announcement about the risks of not following safety instructions and that John Foley, the company's chief executive, asked to meet with the agency.
The incident is an example of how failing to coordinate your crisis response with relevant government agencies can expose your brand to reputational damage. Making your case to the public, in contradiction of a warning from a public safety authority, might not be fully persuasive for consumers.
---
CRISIS LEADERSHIP NETWORK
Looking for more insight on how to address the current global crisis and lead your organization into a strong recovery?
Join Ragan's Crisis Leadership Network to connect and brainstorm with peers, get the latest intelligence and research and start to strategize for the future of your organization.
Learn more about this exclusive membership here.
Film and theater producer Scott Rudin to step back after resurfaced harassment allegations
The successful producer behind Broadway's 'The Book of Mormon" and films like "The Social Network" says that he will step away from his current slate of Broadway theater productions after a Hollywood Reporter article resurfaced allegations of abuse and harassment toward his employees that go back decades, including smashing a computer monitor on an assistant's hand, throwing multiple objects at workers (including a stapler and baked potato), and more.
The Hollywood Reporter writes:
For some four decades, Rudin's abusive behavior has been chronicled—even celebrated—by the press. In a 2010 profile, this publication dubbed him "The Most Feared Man in Town" and called him "dazzlingly charming" one paragraph after describing acts of cruelty and intimidation. In a 2005 Wall Street Journal profile with the headline "Boss-zilla!," Rudin himself pegged the number of assistants he burned through in the previous five years at 119.
In his first public statement about the controversy, Rudin acknowledged the seriousness of the allegations against him, while not addressing their specifics.

"Much has been written about my history of troubling interactions with colleagues, and I am profoundly sorry for the pain my behavior caused to individuals, ­directly and indirectly," he wrote in a three-paragraph statement emailed to The Post.

"After a period of reflection, I've made the decision to step back from active participation on our Broadway productions, effective immediately. My roles will be filled by others from the Broadway community and in a number of cases, from the roster of participants already in place on those shows."
Despite Rudin stepping away from these shows, several people have pointed out that he still profits from them even though he is not involved in the day-to-day production:
sooo is Scott Rudin still collecting MM checks or…??? bc "stepping away" is a step in the right direction, but if he still financially benefits from the show then what's the point? I'm confused.

— celia r. gooding (@celiargooding) April 17, 2021
"others will directly run his shows" SO HE STILL IS A LEAD PRODUCER MAKING MONEY AND CAN STILL ABUSE HIS STAFF REGARDLESS. wow this is a nothing burger of a news break. Rudin's gonna Rudin until we oust him from the industry for good, like Weinstein. https://t.co/TvTt5pTeG0

— hayley "the coldplaywright" st. james 🌙☀️ (@hayleystjames) April 17, 2021
"Moulin Rouge" star Karen Olivio has stepped away from the Broadway musical citing the community's silence on Scott Rudin's behavior. Meanwhile, stars of his "Music Man" revival are being called out on social media:
3x Tony nominee Brandon Uranowitz, with a message for MUSIC MAN stars Hugh Jackman and Sutton Foster in the wake of the recent Scott Rudin allegations: pic.twitter.com/czpzuX0DZi

— Dave Quinn (@NineDaves) April 16, 2021
Why it matters:
Remember that when a high-profile partner or colleague is embroiled in a crisis, it touches all facets of your organization and business plan. Craft messaging that goes into detail, and specifies the degree to which the partnership will be severed. Partner with fellow communicators who are working for the other prominent figures embroiled in the crisis to craft messaging that is consistent and presents a unified, action-oriented response.
---
CONFERENCE ALERT
The business community is facing a workplace wellness revolution. No longer does "wellness" qualify as a nice-to-have employee benefit; it is now tightly integrated many facets of organizational strategy, especially communications.
Join us at Ragan's Workplace Wellness Conference on April 21, 2021 to glean the essential tools and context you need to advance your career and guide your organization through this time of rapid change.
Attendees will learn what it means to embrace the fact that employees who are mentally, physically, financially and socially healthy are more productive, engaged and resilient to potential crises.
Learn powerful insights and secrets from speakers at organizations including NVIDIA, Northwell Health, PwC, Microsoft, Cornell University, Facebook and more.
---
WHAT YOU SAID
On Friday, we asked if you planned on checking your work email over the weekend. A comforting 34% of you said that you don't check email at all, and 24% of you said you only check it once or twice. Close by are the 23% who say you actively check email over the weekend, followed by 19% who don't check it unless there's an emergency they are monitoring.
Now that you've made it to the end of another week, do you plan on checking your work email this weekend, PR pros and communicators? #DailyScoop

— PR Daily (@PRDaily) April 16, 2021
Is there a question you'd like to see asked? Let us know with the hashtag #DailyScoop!
---
SOUNDING BOARD
What is your top work priority this week, PR pros and communicators?
What is your top work priority this week, PR pros and communicators? #DailyScoop

— PR Daily (@PRDaily) April 19, 2021
Let us know what's hanging over your head this week with the hashtag #DailyScoop. We will share the results in tomorrow's roundup.
COMMENT
One Response to "FedEx defends phone policy after deadly shooting, more than 1 in 3 Americans are ready for domestic work trips, and film producer Scott Rudin responds to abuse allegations"
Carleigh Ridddle

says:

Recently the United Consumer Product Safety Commission has released an advisory for the Peloton treadmill. Peloton has pushed back against the allegations that the product is unsafe for children, and said these statements were 'inaccurate and misleading'. This was an interesting response from the Peloton brand, my first instinct would be to protect the brand image and come forward and agree with the safety recall and offer guidelines and precautions for owners that have children. Especially with the subject of child safety it is vital to understand how your news release will reach our audience. In this instance, not well. Peloton came back and invited the commission to make a joint announcement about the risks of not following safety instructions. This action is a lot more effective for their brand, not only does it shift the blame from them but also works with the organization that is trying to keep children safe.