ABC hires the first Black exec to run broadcast news bureau, most Americans see decline in unions as bad for the country, and Amazon's CEO opines on lost employee trust
Also: Pfizer CEO speculates on need for third vaccine shot, Twitter promotes transparency around its algorithm, Instagram gives users options to hide likes, and more.
Hello, communicators:
Pfizer CEO Albert Bouria said that people will "likely" need a third shot of the Pfizer vaccine within 12 months after their second shot—and potentially an annual booster dose.
"A likely scenario is that there will be likely a need for a third dose, somewhere between six and 12 months and then from there, there will be an annual revaccination, but all of that needs to be confirmed. And again, the variants will play a key role," Bouria told CNBC.
Social media users have been vocal about the statement since it was first published yesterday, with many anti-vaxxers questioning the overall scientific methods of Pfizer and other vaccine manufacturers.
Communicators, take a cue from hard news reporters and only report the facts when speaking to the press. While it is OK to admit when you don't know all the answers, offering speculation sets expectations that may well come back to haunt you should a rapidly evolving crisis suddenly take another turn.
ABC News President Kimberley Godwin becomes first Black executive to run a broadcast news org
ABC has announced that its new president, Kimberly Godwin, will join the media brand in May. Godwin will be the first Black executive to lead a broadcast media company.
[ABC] on Wednesday confirmed that Godwin, who has been with CBS News since 2007, will take over the role most recently held by James Goldston. She will now be charged with maintaining the status of two of ABC News' mainstays, "Good Morning America" and "World News Tonight," both of which are the most-watched programs in their category, along with shows like "The View," "20/20 and "This Week." And she will have ultimate say over the news unit's increasingly frequent steps into live-streaming, audio and special programming.

At CBS, Godwin has held positions of increasing responsibility, and people familiar with the matter suggest she had indicated to ViacomCBS executives she was looking for a role that would give her oversight of the news division. CBS CEO George Cheeks, who has been looking for a new executive to run CBS News, made plain she was not being considered for a job that would make her the sole executive in charge of the operation, and in recent days, when it became apparent Godwin's talks with ABC and Walt Disney had gained traction, let her out of her current contract with the company.
Why it matters:
Partner with your HR and talent teams ahead of any leadership hires to make sure that diverse talent is being considered not just for positions that oversee DE&I and purpose-driven work, but also roles that oversee core company operations. Your communications skills can ensure that diversification is embedded in every strand of your company's DNA by partnering with leadership and new talent alike to ensure that anyone joining the team has the room, resources and support to fulfill the expectations of the role.
---
MEASURED THOUGHTS
In a new study by Pew Research Center, 56% of respondents said the large reduction in union workers over the past several decades has been "somewhat" or "very" bad for the country, while 60% say this has been bad for working people. "The survey was largely fielded before the vote by workers in an Amazon warehouse in Alabama against forming a union was tabulated and reported," the authors said.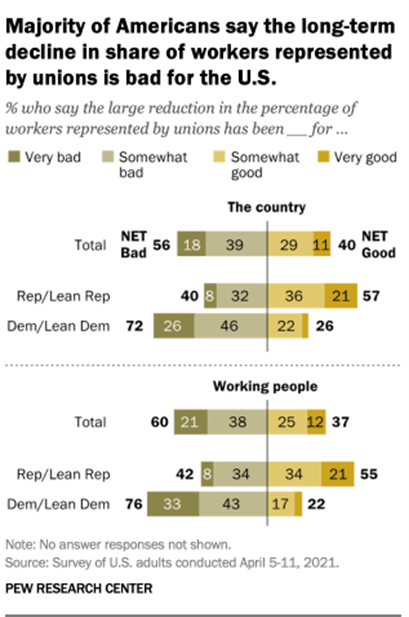 Courtesy of Pew Research Center
Remember that internal communications can become external very quickly when they touch on an issue that people feel passionately about. Assume that any internal messaging to employees will eventually leak out and craft employee guidelines with sensitivity and foresight for the optics of how that messaging will likely be received. Partner with leadership and legal teams to make sure that any of their thoughts being shared about unionization are in line with labor regulations and prevailing cultural sentiment.
---
SOCIAL BUZZ
Instagram is resuming tests to remove the ability to see the number of Likes on user posts, modifying a tweak to its user experience that began before COVID-19.
This time, however, Instagram is not enabling or disabling the feature for more users. Instead, it will begin to explore a new option where users get to decide what works best for them—either choosing to see the Like counts on others' posts, or not. Users will also be able to turn off Like counts on their own posts, if they choose. Facebook additionally confirmed it will begin to test a similar experience on its own social network.
Communicators, take note that periodically surveying external stakeholders on their experience with your company or brand can provide you with valuable qualitative data and sentiment, including insights into their feelings, that you can then bring to other internal partners to improve brand reputation.
---
TECH TALK
Twitter announced that it is launching a "responsible machine learning initiative" intended to give users more transparency around how its algorithms function.
The journey to responsible, responsive and community-driven machine learning (ML) systems is a collaborative one. Today, we want to share more about the work we've been doing to improve our ML algorithms within Twitter, and our path forward through a company-wide initiative called Responsible ML.
Responsible ML consists of the following pillars:
Taking responsibility for our algorithmic decisions
Equity and fairness of outcomes
Transparency about our decisions and how we arrived at them
Enabling agency and algorithmic choice
Communicators, take note to be partner with marketing and audience development teams in conversations around how your company's information is distributed and collected from users. Work with internal stakeholders to develop a stronger understanding around the potential applications of future technologies like machine learning and artificial intelligence at your company to ensure that the implications of their use are being openly discussed and transparently communicated.
---
CRISIS LEADERSHIP NETWORK
Looking for more insight on how to address the current global crisis and lead your organization into a strong recovery?
Join Ragan's Crisis Leadership Network to connect and brainstorm with peers, get the latest intelligence and research and start to strategize for the future of your organization.
Learn more about this exclusive membership here.
Amazon CEO Jeff Bezos shares strategy for improved employee experience
In his final letter to shareholders, Amazon CEO Jeff Bezos acknowledged that the company must improve its employee experience and previewed an upcoming strategy for doing so.
The letter comes amid ongoing reports of untenable conditions for Amazon workers. And it outlines a strategy that seems odd for a company that has been accused of treating workers like robots: a robotic scheme that will develop new staffing schedules using an algorithm.

To address concerns about working conditions, Bezos said the company will develop new staffing schedules "that use sophisticated algorithms to rotate employees among jobs that use different muscle-tendon groups to decrease repetitive motion and help protect employees from MSD risks." The technology will roll out throughout 2021, he said.

Bezos pushed back on the idea that, according to news reports, Amazon doesn't care for its employees. "In those reports, our employees are sometimes accused of being desperate souls and treated as robots. That's not accurate," he wrote.
Bezos also specifically addressed the recent unionization drive at an Alabama warehouse that received national media attention:
 "Does your Chair take comfort in the outcome of the recent union vote in Bessemer? No, he doesn't," Bezos wrote. "I think we need to do a better job for our employees. While the voting results were lopsided and our direct relationship with employees is strong, it's clear to me that we need a better vision for how we create value for employees – a vision for their success."
Why it matters:
Communicators, take note to edit and vet all executive messaging, especially when it addresses a crisis, to ensure that the language and specific solutions do not undermine or contradict the initial problem. Make sure that every reported piece of criticism is specifically addressed in the messaging to ensure that your proposed solutions don't ring hollow. Back up any external promises by sharing benchmark goals with dates and a timeline for instituting the change that will hold your internal stakeholders accountable.
---
CONFERENCE ALERT
The business community is facing a workplace wellness revolution. No longer does "wellness" qualify as a nice-to-have employee benefit; it is now tightly integrated many facets of organizational strategy, especially communications.
Join us at Ragan's Workplace Wellness Conference on April 21, 2021 to glean the essential tools and context you need to advance your career and guide your organization through this time of rapid change.
Attendees will learn what it means to embrace the fact that employees who are mentally, physically, financially and socially healthy are more productive, engaged and resilient to potential crises.
Learn powerful insights and secrets from speakers at organizations including NVIDIA, Northwell Health, PwC, Microsoft, Cornell University, Facebook and more.
---
WHAT YOU SAID
Yesterday, we asked what GIF perfectly captured your current state of mind with the weekend finally on the horizon,
One reader reported fervently typing away:
— Timothy Munden (@TimothyMundenPR) April 15, 2021
Most of you performed some version of a happy dance:
#DailyScoop pic.twitter.com/YzIzP20Nh2

— Tressa Robbins, MPRCA ✨ (@tressalynne) April 15, 2021
— Janel Forsythe (@JLF_comms) April 15, 2021
#DailyScoop pic.twitter.com/pC6YdDoKZV

— Delores Communications (@DeloresComms) April 15, 2021
Is there a question you would like to see asked? Let us know by tagging it with #DailyScoop!
SOUNDING BOARD
Now that you've made it to the end of another week, do you plan on checking your work email this weekend, PR pros and communicators?
Now that you've made it to the end of another week, do you plan on checking your work email this weekend, PR pros and communicators? #DailyScoop

— PR Daily (@PRDaily) April 16, 2021
Let us know why you do or don't plan to check your work email the hashtag #DailyScoop. We will share the results in Monday's roundup.
COMMENT
One Response to "ABC hires the first Black exec to run broadcast news bureau, most Americans see decline in unions as bad for the country, and Amazon's CEO opines on lost employee trust"
Ronald Levy

says:

What these companies try for may help determine what they get.

One of the great PR firms might counsel ABC, Amazon, Pfizer, Twitter or J&J to shoot for not just a public feeling that "they may be innocent." A better goal: 100 million Americans should think: "thank GOD" for ABC or Amazon!

You may achieve this by getting people to focus not on "which company is right or wrong" but on "what's best for me and my family?"

Amazon or another company could announce:

.1. Cancer is killing even more of us than Covid.

.2. To try find a CANCER VACCINE, Amazon will donate $100 million a year each of the next ten years to the Amazon Anti-Cancer Vaccine Laboratory at Memorial Sloan Kettering Cancer Center. ABC couldn't afford this but other companies can.

.3. The cancer vaccine for children team will be headed by Dr. Anthony Faucci, and the cancer vaccine for adults team by Dr. Andrew Zelenetz who already works with MSKCC and Stanford University doctors who are researching for a cancer vaccine.

Would 100 million Americans be eager for America to help Amazon and protect Amazon? Would many Americans BUY more from Amazon?

A BIG determinant of PR success is not just how big we succeed in going for a PR objective but how big a PR objective we go for.