Ford to cut 1,000 jobs, Verizon to hire nearly 1,000 WFH employees, and Twitter rolls out 'Quote Tweet' feature
Also: HBO Max reunites the cast of 'The Fresh Prince of Bel-Air,' MTV's Video Music Awards show nabs 6.4M viewers, Facebook might block news sharing in Australia, and more.
Hello, communicators:
"The Fresh Prince of Bel-Air" is returning for a special episode:
Now this is a story all about how… the cast of The Fresh Prince of Bel-Air reunites for a one-time special! Coming around Thanksgiving only on HBO Max! pic.twitter.com/ZSlktr731e

— HBO Max (@hbomax) August 31, 2020
Directed by Marcus Raboy, the unscripted special will reportedly tape on September 10, the day the series debuted on NBC in 1990, and premiere "around Thanksgiving." As is also the case with the perpetually postponed Friends reunion, The Fresh Prince of Bel-Air is currently available to stream on HBO Max.
The announcement follows other networks' moves to release special reunion episodes or table-reads of shows including "Community," "Parks and Recreation" and more.
Here are today's top stories: 
Ford to cut 1,000 jobs as Verizon hires nearly 1,000 employees
Ford Motor Company will announce additional layoffs as it grapples with its restructuring plan during COVID-19.
"The job cuts are aimed at improving the automaker's efficiency and are not related to rising costs from the coronavirus pandemic," the report posted online Monday quoted people familiar with the action "who asked not to be identified revealing internal plans." "An announcement could come as early as this week," the people said.
As Ford is seeking to cut its overhead further, Verizon Wireless announced that it's hiring 950 customer service positions that are permanent work-from-home jobs.
Why it's important: As organizations continue to struggle with restructuring plans, do your best to communicate often and transparently with your employees. Also set up resources in advance to help them in their future job searches wherever possible.
---
SOCIAL BUZZ
Twitter has officially rolled out its "Quote Tweets" feature, which are tweets with additional commentary on top. The feature is placed between the "Retweets" and "Likes" counters below each tweet.
Tweets about a Tweet add more to the conversation, so we've made them even easier to find.

Retweets with comments are now called Quote Tweets and they've joined the Tweet detail view. Tap into a Tweet, then tap "Quote Tweets" to see them all in one place. pic.twitter.com/kMqea6AC80

— Twitter Support (@TwitterSupport) August 31, 2020
Three things—

1. "Retweets with comments" is changing to "Quote Tweets"

2. Quote Tweets will appear right next to Retweets

3. The mask goes over your nose pic.twitter.com/x00YTZSAFs

— Twitter (@Twitter) August 31, 2020
If you're still confused as to what "Quote Tweets" are, Engadget reported they "arrived about five years ago, and has served as a way to highlight other posters you either really agree with or really disagree with."
It's always been possible to search for quote tweets by entering a tweet's URL into Twitter's search box, but a dedicated button makes the process much more convenient. It's a handy feature considering so many people use the quote tweet function in place of replying to a tweet, and should make it easier to follow these conversations.
Social media and digital marketing pros, the move should prompt you to evaluate your social media KPIs—and not just on Twitter. As consumer behavior has changed, so too has interactions across social media platforms. Make sure your measurement choices reflect that, so you can get an accurate picture of your success.
---
MEASURED THOUGHTS 
MTV's recent Video Music Awards garnered a total of 6.4 million total linear viewers on Aug. 30, which The Wrap reported includes the awards' pre- and post-shows, along with the main event and encores. That's a 5% decrease from 2019's show, which saw 6.8 million viewers.
Missed the #VMAs last night? We got you covered. Please enjoy the @vmas in :60s, presented by @GEICO! ✨ pic.twitter.com/qW7Be0OF3U

— MTV (@MTV) August 31, 2020
In an effort to attract cord-cutters to the annual special, ViacomCBS made the 2020 VMAs, hosted by Keke Palmer, available on The CW (a broadcast network co-owned by ViacomCBS and WarnerMedia), marking the first time the VMAs have been free to watch via antennas.
As awards shows have reported continually declining numbers over the past few years, the modest drop that MTV saw indicates that its efforts to virtually cater to viewers at home and across platforms has worked. The show has also given MTV several headlines, as reporters covered performances as well as winners.
---
CRISIS LEADERSHIP BOARD
Looking for more insight on how to address the current global crisis and lead your organization into a strong recovery?
Join Ragan's Crisis Leadership Board to network and brainstorm with peers, get the latest intelligence and research, and start to strategize for the future of your organization.
Learn more about this exclusive membership here. 
Facebook threatens to block Australian users from sharing news
The social media platform announced that the action would be done out of necessity, if legislation is enforced that requires Facebook, Google and other tech companies to pay news media outlets for using their content.
"This is not our first choice—it is our last," Will Easton, managing director of Facebook Australia and New Zealand, wrote in a blog post Monday. "But it is the only way to protect against an outcome that defies logic and will hurt, not help, the long-term vibrancy of Australia's news and media sector."

The move marks another dramatic escalation of tension in Australia over the proposed law, which was announced in July.

… The proposal would allow certain media outlets to bargain either individually or collectively with Facebook and Google — and to enter arbitration if the parties can't reach an agreement within three months, according to regulators. That process would involve an independent arbitrator looking at offers from both sides and settling the matter within 45 business days. 
Why it's important: The digital and social media landscapes are rapidly changing because of shifting consumer behaviors as well as legislation and the battle against misinformation. Though you should use social media platforms to your advantage as much as you can, don't make it the only place within your communications strategy where you content lives. Use your own channels, including your website, digital newsroom or blog, to host your articles, news and more.
---
DOWNLOAD OUR REPORT
Following the deaths of George Floyd, Ahmaud Arbery, Breonna Taylor and others, organizations were pushed more forcefully than ever before to take stands against systemic racism and move to support social justice initiatives. Which responses made an impact—and which responses fell flat?
Learn from 10 of the biggest brand messages in our special report, "Organizational responses to Black Lives Matter." The report offers communicators important takeaways to lead organizations and clients in the second half of 2020 and into the future.
---
TACTICALLY SPEAKING
Google is making it easier to use images found through its Image search—without breaking copyright laws.
In a company blog post, Francois Spies, product manager for Google Images, wrote:
We're making it easier to find licensable images. For results where the publisher or image creator provided licensing information, we will display a "licensable" badge over the image. When you select a badged image to view, we will show a link to the license details of the image, and if provided by the publisher, you'll also find a link to where you can purchase or license the image.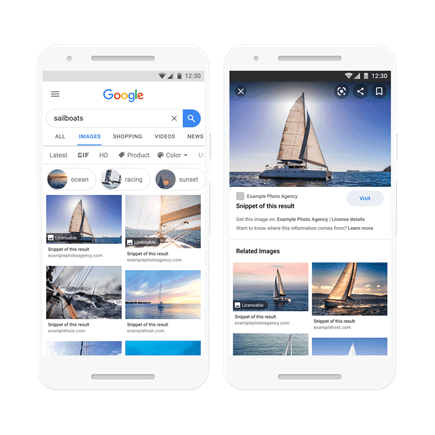 Along with providing licensing information, Google added the ability to filter results, showing only images that carry those details.
Spies wrote:
You can now select either images that have Creative Commons licenses, or those that have commercial or other licenses, in the Usage Rights dropdown menu on Google Images. For any of the license types, you can learn how to acquire a license for the image by clicking on the license details link provided.

The new feature can help communicators avoid legal issues when crafting content that uses visuals, including social media and blog posts. When it comes to copyright law, don't assume you know the ins and outs, either.
---
WHAT YOU SAID
We asked what brand managers can do to entice you to follow on social media, more than half of you (54%) said a clever tweet or humor brings you to join the organization's online community. Providing helpful news and resources will persuade more than 43% to follow a brand online, and roughly 3% will follow because of outstanding customer service.
No one is interested in contests or competitions:
What brand move makes you want to follow on social media?

Share with us what you look for before hitting "Follow," and we'll share in tomorrow's #DailyScoop.

— PR Daily (@PRDaily) August 31, 2020
Is there a question you'd like us to ask in an upcoming poll? Let us know!
---
SOUNDING BOARD
Where do you source images for your content?
Where do you source images for your content?

Share with us how you navigate good visual content without violating copyright below, and we'll share in tomorrow's #DailyScoop.

— PR Daily (@PRDaily) September 1, 2020
Share your insights below and under the #DailyScoop hashtag.
COMMENT