Frito-Lay settles new union contract, SEO tips for communicators, and big tobacco supports phased cigarette ban
Also: Olympic skateboard sponsors educate audiences, Pinterest explains DE&I strategy and Tesla Energy's social listening approach relies on customer complaints.
Hello, communicators:
Among the unprecedented circumstances surrounding this year's summer Olympics in Tokyo, it might be easy to ignore that this is the first year for skateboarding as an Olympic sport. And with the introduction of this new category comes an inevitable onslaught of skater-centric sponsors and marketing campaigns.
Monster Energy, a beverage brand known for its association with "extreme" sports and gaming industries, has partnered with Nyjah Huston, the world's top-ranked street skateboarder who will represent the U.S. at the Olympics, for a mini-documentary chronicling Huston's work and career in skateboarding:
"What people remember you for is the video parts you put out. The way you push the limits in skateboarding. What you did on what spots," Huston says about his sponsored appearances in a Monster energy blogpost.
Tech Deck, the brand known for producing tiny toy skateboards known as "fingerboards" popular in the early aughts, has signed on as an Olympics sponsor. "Tech Deck and USA Skateboarding share a passion for and commitment to growing and celebrating the sport and culture of skateboarding," Spin Master's president of toys and chief commercial officer Chris Beardall said in a press release. "We are thrilled to be starting our sponsorship during such an exciting year as skateboarding debuts at the Olympics and reaches a whole new generation of fans."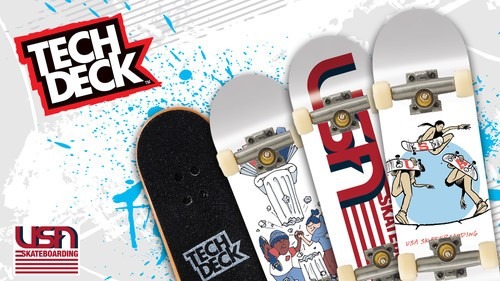 Courtesy of Spin Masters/ Tech Deck
Both Monster and Tech Deck's campaigns highlight how the evolution of The Olympics also introduces new elements and opportunities for brands or organizations or insert themselves into new cultural conversations by educating audiences about the cultural impact of their work.
Huston's words about the impact of his sponsored video appearances, meanwhile, serve as a reminder that the influencers and partners who you collaborate with can benefit from your partnership beyond monetary compensation, namely through association and credibility.
Frito-Lay stresses employee listening in union contract resolution
Hundreds of Frito-Lay employees in Topeka, Kansas have successfully revised a contract with the company following a nearly three-week strike. The new contract guarantees workers a day off each work week and includes protections against back-to-back marathon shifts, mental health resources, renewed OSHA-based emergency protocols and a clause stating employees are not required to keep working if an associate needs medical attention.
According to its press release:
Frito-Lay is and always has been committed to providing a safe and fair workplace for all of our employees. We listen to our employees, and when concerns are raised, they are treated seriously and appropriate measures are taken to address them.

We have a longstanding partnership with unions, including BCTGM Local 218, and this is the first strike at any Frito-Lay facility in three decades—a fact that we believe speaks to the value we place in our associates and all they do. A strike hurts everyone involved—not just the company, but also our associates, their families and our community. It unnecessarily puts our employees at risk of economic hardship, and we remain focused on resolving this matter as fairly and expeditiously as possible based on trust and mutual respect.
What it means: Frito-Lay hopes to turn the page after an ugly labor dispute with workers and news headlines about harsh work conditions and unhealthy expectations for employees. The new union contract comes as many organizations are struggling to retain new employees in a hot labor market, and renewed corporate interest in workplace wellness initiatives. However, Frito-Lay fails to truly reset relations with employees by declining to acknowledge the complaints workers made, instead touting an historic commitment to workplace safety and wellness, despite two workplace deaths in the past five years.
The crisis response reveal the perilous path companies must follow when trying to contradict the claims of workers, and how failing to establish employees as brand ambassadors can have dire consequences for your reputation.
---
MEASURED THOUGHTS
A new infographic by SEMRush highlights several best practices for search engine optimization (SEO) that can boost your content's visibility in search engines, including how to find the right topic and keyword, structure your content, add visuals, link between your pages and more.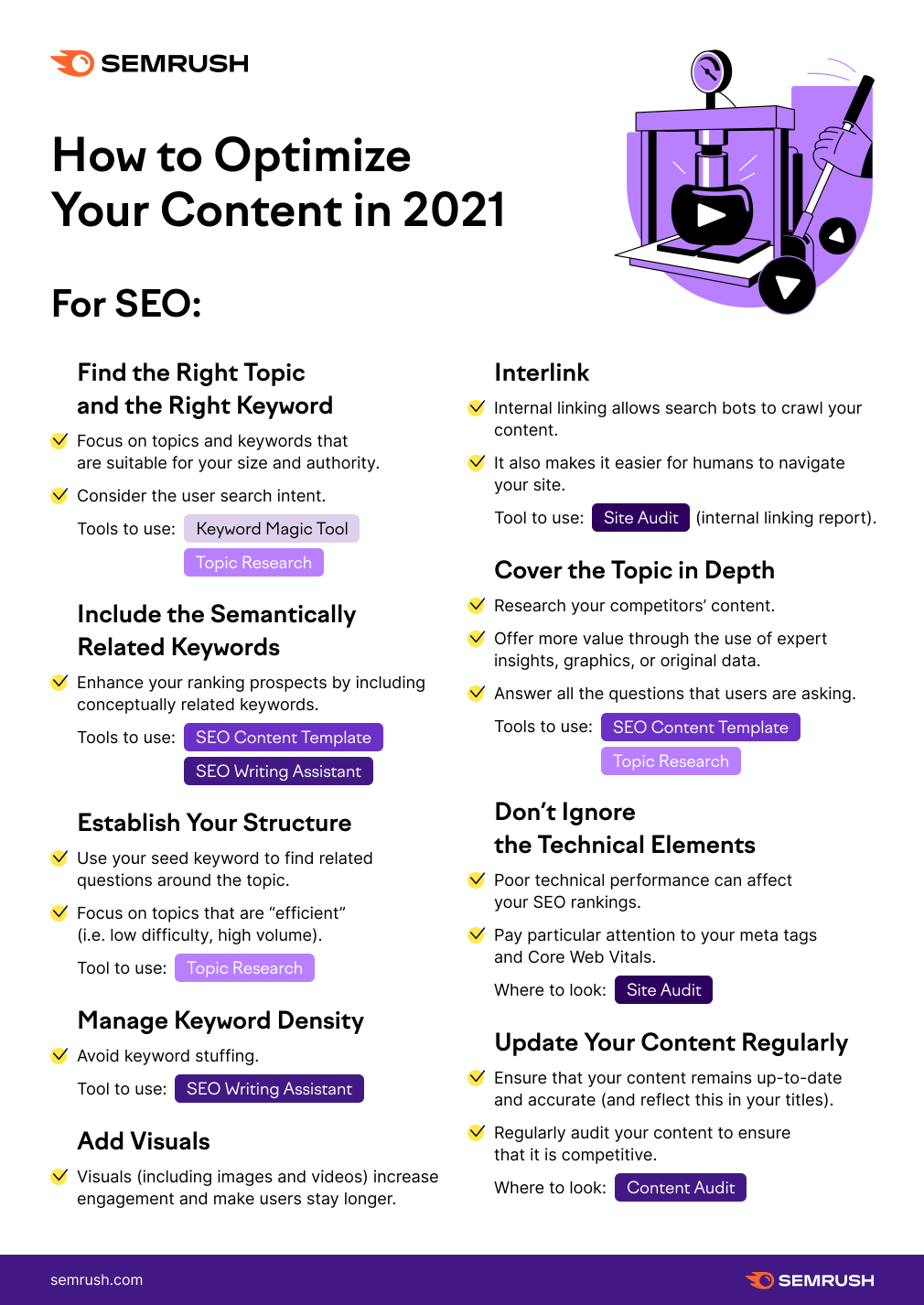 These tips highlight the extent to which SEO best practices are an extension of good writing, especially the focus on research. They also serve as a reminder that the words used in your messaging don't just have cultural connotations for your audience, but also a quantifiable relevance score that should guide the terms you use and don't use in press releases, emails and other external messaging for maximum impact.
Check out the full infographic here.
---
TACTICALLY SPEAKING
In an interview with Social Media Today, Jeremy King, SVP of technology for Pinterest, has explained how the social media company focused on diversity and representation on its platform amid the rising trend of e-commerce and other developments.
"One of the biggest accomplishments in our diversification work over the past few years has been in diversifying the data, and training the models with diverse content, [King said]. "Through this work, we can serve more diverse recommendations, which has led to increases in engagement and searches."

"For platforms and those handling data, it's vital to diversify that data. You might be in a position where your dataset is biased because of your customer base, and you might need to source new data you might not have. This can get expensive, and there might be a moment where you're balancing cost vs. benefit, but diversifying the data and mitigating bias in the AI now will pay off in the long run. This goes for anyone in the AI space."
King's words highlight the extent to which the scope and integrity of the data that organizations collect is seldom considered as part of a DE&I strategy. Diversifying your data not only pays off by giving your company a more accurate perspective on the changing needs of audiences, but also offers an immediate benefit to the bottom line by including a cost-benefit analysis as part of the process.
---
TAKE OUR SURVEY
The Institute for Public Relations, Ragan Communications, and the University of Florida are conducting a follow-up survey to their 2020 report, "The Career Path of a Social Media Professional."
This year's survey investigates and illuminates the career path potential of social media professionals, shedding light on how social media is being managed, viewed and evaluated within organizations. Here are some highlights from our 2020 report.
We invite you to take this survey whether you're in charge of social media for your company or are involved in some aspect of social media for a client. The survey should take approximately 15-20 minutes to complete, and all responses will remain confidential.
As thanks for taking the survey, you'll get an opportunity to enter a drawing for three $50 gift cards and will receive a copy of the full report, which promises to be chock-full of valuable data for benchmarking and budgeting purposes. The report will be presented on Sept. 9, 2021 at Ragan's Social Media Conference in Orlando, Florida and published through IPR and PR Daily.
---
SOCIAL BUZZ
A former Tesla employee has revealed that the company's solar power division, Tesla Energy, includes a team of over 20 employees who scour social media platforms looking for customer complaints that they both respond to and ask the customers to delete. According to the ex-employee, Tesla Energy also has a separate team that looks specifically for posts targeting CEO Elon Musk.
The former manager said that posting on social media was sometimes a faster way for customers to get the company to address complaints than going through customer service.

A Tesla Energy customer, who asked not to be named, told Insider they received this exact advice from their dedicated project manager when they had problems with their solar roof contract.

"She told me to go online and complain … on Twitter or Facebook, because she said the only thing this company listens to is social media sentiment," the customer said. The customer posted on Twitter, but said they didn't know if it made a difference as they were never specifically contacted by Tesla about it.
@Tesla @Teslarati @elonmusk
The Tesla solar roof team and overall customer service and been completely subpar and I am wholeheartedly discouraged.
Multiple requests for a design review have gone unanswered.
21% energy offset for a $41,000 system is a joke pic.twitter.com/nOzi3JiF2v

— Phillip Anderson (@Phillip820) April 15, 2021
The story highlights the need for flexibility in your social listening and crisis communications protocols. Empowering your social media team to act autonomously means establishing a framework that allows them to respond to customer service needs ahead of a complaint being shared externally and confining such conversations to private messages before they are voiced externally, not after.
---
RAGAN'S 2021 BENCHMARK REPORT
Ragan has released its annual Communications Benchmark Report, an exclusive study from Ragan's Communications Leadership Council that analyzes the major trends in the profession over the last year.
During that time, comms pros have been called on to develop and distribute messages on new policies that affect internal and external stakeholders alike. Their role has become more essential as they helped keep their organizations focused and moving forward. They've seen their access to the C-suite increase throughout 2020, and they forged important new alliances with peers in other departments, including HR, finance and workplace wellness.
Culled from more than 750 respondents, the 32-page report is available in its entirety exclusively to members of the Communications Leadership Council.
Download your copy of the exclusive Benchmark Survey Executive Summary today and get a crucial competitive advantage that will fuel your success for 2021 and beyond.
Big Tobacco CEO shares benchmark goals for banning cigarette sales
The CEO of tobacco company Philip Morris International (PMI), Jack Olczak, has claimed that the company's Marlboro cigarettes brand will be removed from shelves in the U.K. within the next decade amid a larger industry push to ban cigarettes and promote other smoking alternatives like e-cigarettes instead.
Jacek Olczak said the company could "see the world without cigarettes … and actually, the sooner it happens, the better it is for everyone." Cigarettes should be treated like petrol cars, the sale of which is due to be banned from 2030, he said.

Government action would end the confusion felt by smokers, some of whom still thought the "alternatives are worse than cigarettes," Olczak told the Sunday Telegraph. "Give them a choice of smoke-free alternatives … with the right regulation and information it can happen 10 years from now in some countries. You can solve the problem once and forever."
Why it matters:
While Olczak's words about phasing out cigarette sales in favor of alternatives likely won't sway any public health advocates who are concerned about the rampant spread of e-cigarette use among minors, his statement artfully frames big tobacco's evolving stance on cigarettes as a sustainability issue with his metaphor about setting benchmarks.
The best way to position your brand's purpose push is not just to offer a benchmark timeline, but actionable data as well.
---
WHAT YOU SAID
On Friday, we asked if you would be comfortable with your brand sponsoring or partnering with The Tokyo Olympics, given all the controversy around this year's Olympic Games. A slight majority of 54% said no, while 46% said yes. No survey respondents said that they were already partnering with the Olympics.
Given the controversy around this year's Olympic Games, would you be comfortable with your brand sponsoring or partnering with The Tokyo Olympics, PR pros and communicators? #DailyScoop

— PR Daily (@PRDaily) July 23, 2021
Is there a question you'd like to see asked? Let us know using the hashtag #DailyScoop!
---
SOUNDING BOARD
Have you ever challenged the way that your company collects and reports its data as part of its purpose and values campaigns, PR pros and communicators?
Have you ever challenged the way that your company collects and reports its data as part of its purpose and values campaigns, PR pros and communicators? #DailyScoop

— PR Daily (@PRDaily) July 26, 2021
COMMENT
One Response to "Frito-Lay settles new union contract, SEO tips for communicators, and big tobacco supports phased cigarette ban"
Ronald N Levy

says:

If you read the New York Times and Wall Street Journal, you may see a lot of reason to judge that Frito-Lay did NOT fail to reset relations with employees. A majority of them would agree with this judging from the fact that employees, free to vote yes or no, voted to ratify the agreement.

Most of us in PR Have sometimes worked nights and weekends because a client needed it, and employees sometimes work more than they'd like. But we do what clients need and the employees chose to do what the company and public needed.

There was no physical force. Instead, the force of faith motivated the work—faith that the customers should be served and faith that the extra money
compensated for the extra work. Frito-Lay customers and our clients are better off thanks to the extra work. In PR as in chip-making, many of us sometimes work more than we'd like but perhaps the good we do outweighs our burdens in doing it.