GM reverses on climate, Snapchat copies TikTok, and when to expect the COVID-19 crisis to end
Also: A Detroit brewer takes hit from Lions' Barry Sanders, Dick's Sporting Goods makes leadership change, Apple defends employee over bribery charges, and PR pros giving thanks.
Hello, communicators:
The COVID-19 surge is escalating across the U.S. as millions of Americans are traveling for their annual Thanksgiving celebrations and family gatherings. The epicenter of the virus had been in the Midwest, where states like Wisconsin, Illinois and Ohio were seeing surging case numbers. However, nine states across the country are now reporting twice as many cases per day as they were a week ago—and none of them are in the Midwest.
"Let me be very clear: A Thanksgiving gathering this year may very well lead to a funeral," said Gov. Michelle Lujan Grisham of New Mexico, whose state is home to five of the 10 metropolitan areas in the country where new case reports are rising the fastest. "The virus is at large," the governor said. "Know the risks and respect them."
How are you working to encourage your audiences to stay safe this holiday season? Share your thoughts with our hashtag #DailyScoop.
Here are today's top stories:
GM withdraws from legal action on California emissions laws
The automaker is changing its tune, pulling out of legal cases that challenged the stiff laws limiting carbon emissions in California. The move comes as corporate America adjusts to embrace the new administration and the likely increased regulatory scrutiny under President-Elect Joe Biden.
The announcement reflects Corporate America's move to engage quickly with the incoming Democratic administration.

Barra said she believes "the ambitious electrification goals of the president-elect, California, and General Motors are aligned, to address climate change by drastically reducing automobile emissions."
Why it matters: Companies that switch their viewpoint to match the current political climate are missing out on an opportunity to lead and be seen as a purpose-driven organization. Particularly for companies with a poor record on climate and emissions, stronger actions than those mandated by the government could go a long way toward winning new customer loyalty.
---
TACTICALLY SPEAKING
A Detroit beer company is pulling its new beverage after failing to get the rights to use a likeness of former Detroit Lions' running back Barry Sanders. The beer was intended to play off of the Detroit Lions' ongoing woes in their NFL campaign this season.
The 4.5 percent alcohol beer was described as "exactly what you'd expect" and plays off Detroit's struggles after false hope each season. The beer was announced Sunday following the team's 20-0 loss to the Carolina Panthers, their third loss in their past four games.

"Light, crisp, and always leaves you wanting more," the description read, via the Detroit Free Press. "Just keep telling yourself, 'the Next Beer, will be The Beer.'"
Sanders tweeted his displeasure to his followers—a reminder to always get approval and input from those you wish to lionize with your marketing efforts.
Some of you may have seen this in the @freep today – I have no affiliation with this company, and they are using my image without any permission. My legal team is working through the process to shut this down ASAP. Apologies to any fans that were duped. pic.twitter.com/STCnX2fuGS

— Barry Sanders (@BarrySanders) November 23, 2020
---
MEASURED THOUGHTS
When will the COVID-19 crisis finally come to an end? McKinsey says that the main change brought on by recent vaccine announcements for business leaders is an increase in confidence for a rebound in Q3 and Q4 of 2021: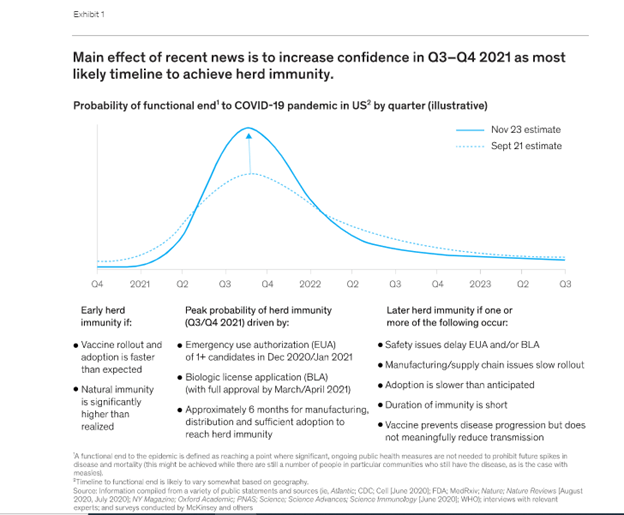 Dick's Sporting Goods brings in new woman CEO
The company says that this is the perfect time for a transition, highlighting the successes it has seen as customers purchased more outdoors and sporting equipment during the COVID-19 crisis. The move is a reminder to PR pros to tie leadership changes to positive visions of the future as organizations struggle to forecast the future amid an ongoing pandemic.
"This is the perfect time for this transition," the outgoing CEO said in a statement. "We have the best management team in the company's history, and the investments we have made in our people, our stores, and our communities are paying off."

The announcement comes as Dick's Sporting Goods continues to reap the benefits of consumers buying more workout gear, sporting goods and outdoor equipment during the coronavirus pandemic.
Why it matters: When approaching a leadership change in the pandemic, offer transparency and clear explanations for the change, or audiences will create their own narrative. By timing the succession with announcements about the current sales success of the company, Dick's was able to position its news in a favorable light.
---
SOCIAL BUZZ
Snapchat has joined Instagram in looking to copy features from TikTok, the increasingly popular short-form video platform that has gained traction with younger users.
On Monday, Snapchat unveiled a new section of its app called "Spotlight," which could be seen as a twist on features from the popular short-form video app TikTok. Snapchat describes Spotlight as "a new entertainment platform for user-generated content within Snapchat." The hub will surface the "most entertaining" Snaps from its user community and it will be personalized to people's individual interests over time.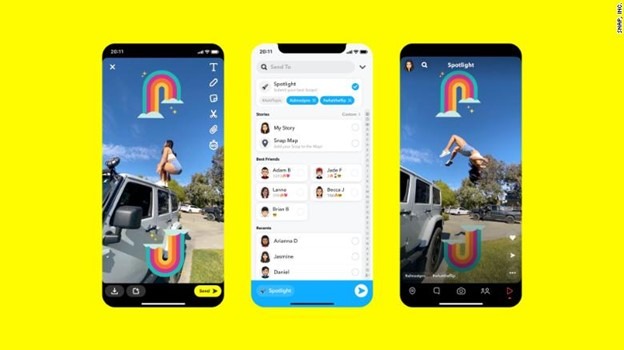 (Image courtesy of Snap, Inc.)
The feature is Snapchat's version of TikTok's "For You Page"—but Snapchat is hardly the first social media company to indulge in intellectual theft. Instagram and Facebook copied Snapchat's "Stories" feature years ago—a move recently replicated by Twitter with its "Fleets" feature. Instagram has also looked to copy TikTok by releasing "Reels" as a short video format.
All this to say, the future of social media is increasingly visual, and content creators and brand managers should be looking for new ways to create enticing video content.
---
TAKE OUR SURVEY
We want to know about how PR agencies are building lasting, sustainable relationships with clients, what is working and what is rubbing both parties the wrong way. That's why we are partnering with The Institute for Public Relations on a new survey to learn more about the state of the agency/client relationship.
Take this 10-minute survey here: https://www.surveymonkey.com/r/PRagencyclient
Apple defends employee against bribery allegations
The tech company's global head of security has been swept up in a case over whether he and two members Santa Clara County sheriff's office engaged in a bribery scheme to push through concealed carry permits for some Apple employees. Prosecutors say that Thomas Moyer offered 200 iPads worth $70,000 to the sheriff's office in exchange for the permits in a deal that was later scuttled.
Apple says it investigated the incident and believes there was no foul play.
"We expect all of our employees to conduct themselves with integrity," Apple spokesperson Josh Rosenstock said in a statement. "After learning of the allegations, we conducted a thorough internal investigation and found no wrongdoing."
---
SOUNDING BOARD
What are you thankful for this year, PR pros? Share your thoughts in the comments or tweet us @PRDaily with our hashtag #DailyScoop and we will share your answers in a future Scoop.
What are you thankful for this holiday season? Share a GIF or message about what you've got gratitude for and we'll share your answers on @PRDaily for our #DailyScoop.

— PR Daily (@PRDaily) November 23, 2020
COMMENT
One Response to "GM reverses on climate, Snapchat copies TikTok, and when to expect the COVID-19 crisis to end"
Ronald N. Levy

says:

Apple may have been challenged by an F-word that could be a problem for any of us in PR, Fraud.

Look at possibilities of what may really have happened.

.1. An inside job. An employee is told by a lawyer friend that faking a bribery scenario could bring a corporate payoff (called a "settlement" rather than "payoff") because most companies might much rather pay thousands instead of bearing the legal cost and reputational damage of litigation.

.2. A former employee getting even. It could be worse because some discharged employees come back and SHOOT the boss.

.3. Copy-cat fraud, a variant of the phony harassment or "he called me the n-word" allegation. Comic Jimmy Durante once said "I deny the allegation and I defy the allegator" but a fraudulent claim for damages is never something to laugh about.

One tipoff that Apple was a victim in this case, not a perpetrator, is the number of free laptops demanded. Government permits for a valid purpose are not so hard to obtain (at least in the U.S. although not always overseas) that a company would willingly give away $70,000 in merchandise to smooth the way.

An even bigger tipoff is recognizing that nearly all prosecutors would love to get "higher office" and winning a case against a "big and powerful" company could create publicity that makes higher office more attainable. So when as in this case prosecutors elect not to prosecute, that suggests the "allegator" may smell like a skunk.

Can PR actually DO anything to reduce the peril of fraudulent allegations? Yes, among many career-advancing ideas learned by students of PR crisis courses and members of the PR crisis managers network, it may pay to review the annual donation budget to see which good causes you are helping.

Even without donating a nickel more, your review may show you (a) there are some additional potential beneficiaries you should help by reallocating some of the budget, and (b) there may be university and religious leaders you can keep in mind and stay in touch with regularly so if ever you face spurious accusations, you have credible witnesses that can tell how much goodness your generosity has created.

Give and ye may receive. Then ask and it may be given unto thee.