Goldman Sachs chief calls WFH an 'aberration,' Zoom adds closed captioning, and McKinsey ousts global managing partner
Also: Twitter interactions for biopharmaceutical companies rose 255% last year, The Ad Council releases COVID-19 vaccine campaign, organizational leadership insights, and more.
Hello, communicators:
Zoom is introducing automatic closed captioning to all customers—including those with free accounts—starting in the fall, and has opened requests for users who need the service sooner.
Today we announced that we're working to make automatic closed captioning available to all our free customers in fall 2021. Until then, anyone who needs accommodation can get early access by request via the form in our blog. https://t.co/4iFARt2RfJ

— Zoom (@zoom_us) February 25, 2021
As part of our commitment to connecting users across the world, we are focused on continually enhancing our features to provide a platform that is accessible to all of the diverse communities we serve.
Here are today's top stories:
 Goldman Sachs chief calls WFH an 'aberration'
David Solomon, chief executive for Goldman Sachs, said at a Credit Suisse event this week that the organization is aiming to return to the office, eschewing the "new normal" of working from home and a future of a hybrid and digital workplaces. Goldman Sachs had roughly 10% of its 34,000 employees in the office throughout 2020.
"I do think for a business like ours, which is an innovative, collaborative apprenticeship culture, this is not ideal for us. And it's not a new normal. It's an aberration that we're going to correct as soon as possible," he told [the] conference.
Solomon isn't the only executive to decry remote working arrangements, with a popular argument leaning on the crucial nature of in-person mentoring and apprenticeships.
Barclays BARC, 0.77% Chief Executive Jes Staley said on Feb 18.—in a call with journalists accompanying the bank's annual results—that working from home was "getting old" and that the bank would look to repopulate its offices this year.
Both Solomon and Staley cited collaboration as a key reason to get deal makers back to offices, which play a role in helping shape corporate culture, especially for new recruits who learn the ropes by working closely with senior colleagues.
"I am very focused on the fact that I don't want another class of young people arriving at Goldman Sachs in the summer remotely," Solomon said.
Why it's important: Though Solomon and Barclays' Staley both strongly believe in-office workforces are key to organizations' success, take care to consider your employees needs and desires as you map out what your future workplace will look like. Remote and hybrid teams have several benefits, including attracting top talent who want greater flexibility. It also can cut overhead costs. "U.K. lender HSBC is cutting its head office footprint by up to 40% as the bank reshapes its workforce and expects a larger proportion of employees to work remotely," Financial News reported.
Start by eliciting employee feedback, and remaining open to listen to what your workforce has to say. Don't assume your experience to be the only valid way forward, but rather, explore additional options and what that could bring to your organization. No matter what your workplace will look like, start creating long-term strategies now for success.
---
TACTICALLY SPEAKING
The Ad Council released details of its COVID-19 vaccination awareness campaign, which includes more than $500 million in media and talent donations. Upcoming PSAs will feature celebrities and influencers underlining the safety of the vaccines and playing to emotions with displays of hand-holding, groups dining out and more.
Actress Rosie Perez, CNN medical correspondent Sanjay Gupta and actor and rapper Daveed Diggs will star in ads produced by AT&T's WarnerMedia. Actress Angela Bassett will appear in an ad produced by Fox, the Ad Council said.

The campaign will direct people to the website getvaccineanswers.org, which will answer questions such as how the vaccine was approved for use and why there is more than one type of vaccine.
In partnership with @theCOVIDCollab, today we are proud to announce the creative platform for our COVID-19 vaccine education initiative, "It's Up To You," the largest and most critical communications effort in our nation's history. pic.twitter.com/KfSZAYufUY

— adcouncil (@AdCouncil) February 25, 2021
With many distinct campaigns under one umbrella & a special focus on reaching communities of color, "It's Up To You" takes an empathetic approach that reaffirms it's understandable to have questions…

— adcouncil (@AdCouncil) February 25, 2021
…and that getting educated about the vaccines is a key step toward getting back to the moments and people we miss. To get the latest information about COVID-19 vaccines, visit https://t.co/t2SrUQgYKQ.

— adcouncil (@AdCouncil) February 25, 2021
The campaign's tagline, "It's up to you," highlights viewers' responsibility and ability to help end the pandemic.
"We're dealing with the biggest issues of our lifetime," said the Ad Council's president and CEO Lisa Sherman. "We recognized pretty quickly that unless people could learn more about the vaccine and get educated, they may not take them. And then we wouldn't be any better off next year than we are this year."

The ads are aimed at the 40% of Americans who haven't yet made up their minds about getting vaccinated, Sherman said. The Ad Council focused on in-depth focus groups and surveys to understand what questions people had and what their worries were.
---
CRISIS LEADERSHIP NETWORK
Looking for more insight on how to address the current global crisis and lead your organization into a strong recovery?
Join Ragan's Crisis Leadership Network to connect and brainstorm with peers, get the latest intelligence and research and start to strategize for the future of your organization.
Learn more about this exclusive membership here.
---
MEASURED THOUGHTS
Socialbakers published a recent report, Healthcare and Social Media: The 2020 Overview and Beyond. In it, the company revealed that negative sentiment decreased more than 10% last year for biopharma brands, but had increased more than 3% for health-tech brands.
Twitter interactions for biopharmaceutical companies rose by 255% in 2020, spurred by consumers looking for information regarding COVID-19 vaccines and treatment: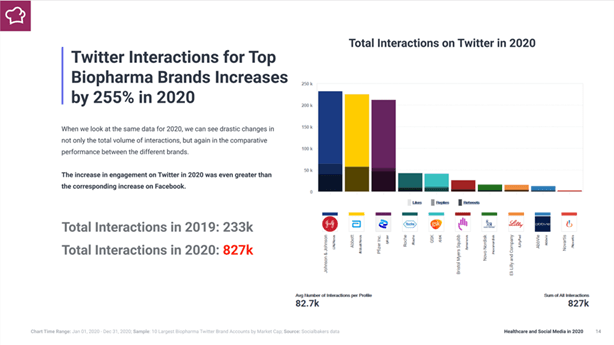 Image courtesy of Socialbakers.
You can read the entire report here.
---
DOWNLOAD EXCLUSIVE RESEARCH
Where communications fits in an organization is a crucial element of positioning communicators to champion important campaigns, protect reputation and branding, drive key messages and influence top-level strategies.
Are your PR and internal communications teams in sync, or do you place communications and marketing together? How does your organization view its communications function—and are you working on breaking down silos for collaborated, concentrated efforts?
Take a look at how several communicators fit within their organizational workflows with our exclusive case study.
Especially as organizations adjust to remote, dispersed and hybrid workplaces during COVID-19 and prepare for the future of work, considering where your communications team sits within your organization's flow charts can affect leadership efforts and help you successfully execute campaigns and inititiaves.
---
EXECUTIVE COMMUNICATIONS
McKinsey & Company is ousting Kevin Sneader, its global managing partner, following continued crises that have tarnished the organization's image and reputation.
The firm's 650 senior partners voted Sneader out before the final round of a leadership election that was seen as a referendum on his three years in the role, according to the Financial Times.

The 54-year-old Scot would be one of the first McKinsey leaders in recent memory to serve only one term – all five of Sneader's predecessors as global managing partner have served a two terms or more.

… [T]he firm, which has a fondness for mottos such as "Leadership through integrity", has been stung by a string of crises during Sneader's leadership.
The news comes as McKinsey looks to repair its reputation and gain back trust. However, unless the organization can show action that backs up its crisis responses, the trust will not be easily earned back—if at all.
---
WHAT YOU SAID
We asked how your productivity is doing amid COVID-19, other unprecedented crises and working from home. For nearly 46% of you, it depends on the day, while 39% report feeling overwhelmed and 15% say they're motivated to seize the day:
Are you feeling more motivated or overwhelmed with the historical crises and opportunities affecting communicators?

Weigh in below and share how you're maintaining balance, and we'll report in tomorrow's #DailyScoop

— PR Daily (@PRDaily) February 24, 2021
Is there question you'd like to see asked? Please let us know under the #DailyScoop hashtag!
---
SOUNDING BOARD
How much does your communications role involve marketing strategies, PR Daily readers?
How much does your communications role involve marketing strategies, PR Daily readers?

Weigh in below, and we'll share in tomorrow's #DailyScoop.

— PR Daily (@PRDaily) February 25, 2021
Weigh in below or on Twitter, under the hashtag #DailyScoop, and we'll share your insights in tomorrow's roundup.
COMMENT
No Responses to "Goldman Sachs chief calls WFH an 'aberration,' Zoom adds closed captioning, and McKinsey ousts global managing partner"
Ronald N. Levy

says:

It's alarming! When I read that David Solomon calls Goldman Sachs a "collaborative apprenticeship culture"—and we read of a former aide to Gov. Cuomo claiming the governor once KISSED her—I realize what proposed osculation I could be accused of truthfully.

When an account ignorantly complained to a former apprentice about something we had written, I suggested to the apprentice that the client—a male no less—should kiss a part of my anatomy that I won't mention here.