Health officials announce booster shot program, data reveals the most popular emoji on Twitter, and Old Navy introduces inclusive clothing sizes
Also: Triller hosts Black Creator Conference, NPR launches diversity newsroom tool and Disney Parks introduces planning app.
Hello, communicators:
Short-form video and content discovery platform Triller has announced plans to hold its first-ever Black Creator Conference on Sept. 23 in Atlanta.
Held during Black Business Month, the inaugural event aims "to deepen the pipeline of Black-owned content across entertainment, lifestyle, fashion, sports and other genres of short- and long-form content available to consumer brands for integration and advertising opportunities," according to the press release.
Triller plans to showcase its new content creator platform at the conference, a suite of AI-driven social insights, conversational ads and e-commerce tools by giving attendees free access to the technology during the event.
"The Black Creator Conference is designed to help Black creators gain a more substantial foothold in the ever-evolving digital marketing space and to foster greater racial equity across the overall media economy," said Triller's chief growth officer Bonin Bough, who spearheaded the conference initiative. "We're excited to bring together creators and advertisers in a dynamic and supportive environment that will enhance opportunities for everyone."
Triller's new conference highlights power that live events have, beyond networking opportunities, as a forum for sharing thought leadership and setting new industry benchmarks.
Here are today's top stories:
Federal health officials detail plan for COVID-19 vaccine booster shots
The country's leading government health officials have announced that COVID-19 booster shots of the Pfizer and Moderna vaccines will become available to all U.S. adults beginning in September. Those who received the Johnson & Johnson vaccine will also need booster shots, but the government is not releasing plans for the distribution of those extra jabs just yet.
"We know that even highly effective vaccines become less effective over time," Dr. Vivek Murthy, the surgeon general, said at a White House briefing. "It is now our clinical judgment that the time to lay out a plan for COVID boosters is now."

The surgeon general said that health officials were concerned about "waning immunity and the strength of the delta variant"—a "pattern of decline" that could "continue in the coming months."

Dr. Anthony Fauci, the chief medical adviser to President Biden, said the plan for a booster is happening now because "if you wait for something bad to happen, you're considerably behind in your response." When it comes to the virus, he said, it's better to stay ahead of it than chase after it.
Why it matters:
Dr. Murthy offers insight into the decision-making process, with a focus on preventative planning which exemplifies proactive crisis messaging that identifies trends and patterns to forecast the appropriate next steps. Fauci's words, meanwhile, are pulled straight out of every crisis management textbook from the beginning of time.
Of course, there is such a thing as coming out with a preventive announcement too soon: These statements come after Pfizer CEO's Albert Boula said in April that vaccine boosters may be needed, prompting him to apologize to Fauci for speaking publicly ahead of the formal federal announcement.
---
MEASURED THOUGHTS
A recent infographic by Talkwalker shares several 2021 Twitter stats that are helpful for social media strategists, such as how 26% of users are more likely to share a URL if it is in the middle of your tweet, or that tweets with quotes are 53% more likely to be retweeted. Tweets with one hashtag are 69% more likely to be retweeted than those with two and more.

Beyond the fun facts about the popularity of South Korean boy band BTS and "Big Brother Brazil," these stats highlight how easily the performance your social media posts can improve when you follow the structural and stylistic best practices that are informed by platform-specific data.
Check out the full infographic here.
---
TECH TALK
NPR has built a tool to track the diversity of its sources and reporting in real time, allowing the nonprofit media outlet to make the process a part of journalists' daily newsgathering process.
Attached to NPR's content management system, the tool allows reporters, producers, correspondents and editors to track information about their source's race and ethnicity, gender identity, geographic location and age. Dubbed "The Dex" in homage to the Rolodex, the tool also makes it easy for journalists to pull up reports later that monitor the diversity of the organization's sources over time.
The ability to create reports in real time is what makes Dex so powerful, said NPR chief diversity officer Keith Woods.

"One of the ways that we can do this is to do the work that Dex is guiding us towards, which is daily, weekly routine assessments of inclusion at a time when we can do something about it," Woods said. "We were doing annual surveys before and by the time newsrooms learned about the numbers, it was a full year in the past. Now, by the end of the week, you can know how you're doing."

"Counting sources doesn't make them more diverse. It doesn't unto itself change anything about who's on air. It isn't the end game at all. But it does have an impact on the individual, and that, we assume, will cause change," Woods said. "And it sets us up to answer some of the important questions moving forward around what levers we need to pull to increase the presence of various demographic groups in our content."
NPR's new tool highlights a larger trend sweeping newsrooms across the country amid what journalist Wesley Lowery described in The New York Times as "a reckoning over objectivity." Apart from guiding media relations efforts, these trends in newsrooms are a reminder to find diverse voices for internal storytelling efforts and to consider a wide range of experiences when trying to build your community inside (and outside) your organization.
---
THE WORKPLACE
Remote, in-person, or a mix of the two, office culture is under constant strain in these uncertain times.
As many companies shift their office reopening strategies to accommodate the ever-changing needs and concerns of a post-pandemic workforce, it's on communicators to ensure employees remain engaged in corporate culture.
Tune in on Aug. 25 for our webinar, "Communicating Your Return-to-Workplace Plan to a Distributed Workforce." Top takeaways from the afternoon will include:
How to communicate your timeline for returning to the office
Strategies for listening and addressing various employee hesitations around family care, health concerns and more
Vaccine messaging essentials, such as privacy, safety and religious affiliation
And more
Plus, panelists will tackle the "Great Resignation" with potent tips and tools to retain your best workers and help employees feel like they belong.
---
TACTICALLY SPEAKING
The Walt Disney Company has announced a new service called Disney Genie coming to its Disneyland and Walt Disney World Parks this fall. The free service, which will be integrated into its existing smartphone app, allows guests to create their own custom itineraries. It includes the option to skip the lines at popular attractions for an additional fee per ride. The service will also include Genie+, which lets guests select the times that they want to return to an attraction with a reduced wait for a daily fee.
"This allows us to, No. 1, create a better guest experience," Josh D'Amaro, the chairman of Disney Parks, Experiences and Products, said in a Zoom interview. "It should be obvious, but a better guest experience is better for our business. No. 2, it allows us to best utilize our capacity—you can distribute demand much more effectively through your ecosystem. And then obviously there is revenue attached to this. That revenue we get to then reinvest in new experiences."
By positioning this new service around the guest experience, D'Amaro artfully anticipates the potential blowback that the service will get from customers who already feel a trip to Disney Parks is too expensive. His words about anticipating change, meanwhile, leave open the potential for Disney to pivot its strategy based on guest feedback.
---
TAKE OUR SURVEY
These days, it seems that the sky's the limit for employees, in the driver's seat in a piping hot job market.
If you're looking for benchmark data to take to your bosses the next time you ask for a raise or search for a new job, lend us a hand—and help yourself and your peers while you're at it. Participate in Ragan's Salary & Workplace Culture Survey, a comprehensive look at salaries, benefits, culture, bonuses and other aspects of the job in a fast-moving industry.
Both internal and external communicators are encouraged to participate.
By taking part, you will receive a $150 discount to a Ragan virtual conference of your choice and be entered to win one of five $50 gift cards. All who complete the survey will receive a full report on the findings. Responses are anonymous. Enter by Sept. 17.
Take the Ragan Salary & Workplace Culture Survey now.
Old Navy explains creation of inclusive women's clothing lines
Old Navy has announced that it will change the sizes for its women's clothing lines to make them more inclusive as part of the company's new "BODEQUALITY" campaign, which will eliminate plus-sized designations in its stores. Old Navy CEO Nancy Green announced the brand's reasoning in a blog post.
BODEQUALITY represents an innovative and fully inclusive shopping experience in stores and online through a human-centered design approach. No separate "Plus size" sections. No "one-size fits all" mannequins or models. This is size equality, price equality, and style for women everywhere. What I'm most proud of is how this effort stays true to our values of democratizing style for all while unlocking one of our key growth opportunities outlined in the Power Plan 2023. It is a transformative moment for our brand and our customers, that further establishes our leadership position in inclusive fit and style.
Old Navy further explained the extensive amount of research and costumer consultation that the company undertook to reevaluate its fit process and size standards.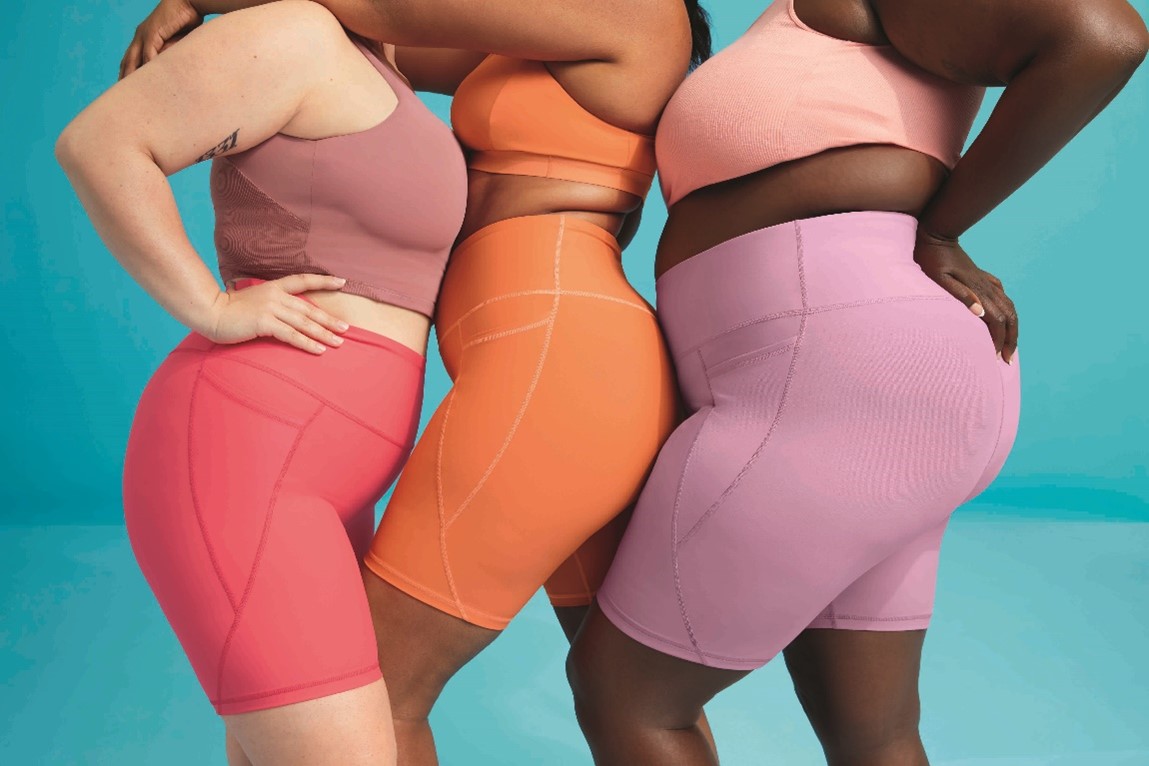 Courtesy of Old Navy
According to its press release:
Steps the fashion retailer implemented into their women's fit and design process include:
Administered body scans of 389 women to create digital avatars based on real women's bodies.
Ran fit clinics with numerous models in sizes 20-28 to build new fit blocks based on their unique proportions, revamping the industry practice of scaling up from smaller sizes.
Obsessed over every design detail, from pocket placement and their proportions, to denim waistband pitch and ankle tapers, to the body lengths of dresses, tops and outerwear, to ensure consistency in fit and aesthetic across styles and sizes.
Partnered with full-time fit models in size eight and 20 to review every single style on both women side-by-side.
Interviewed hundreds of women about body image and related fashion concerns.
Old Navy didn't stop there, as the landing page for BODYQUALITY features actual quotes from its customer surveys alongside the action that Old Navy took to address the feedback: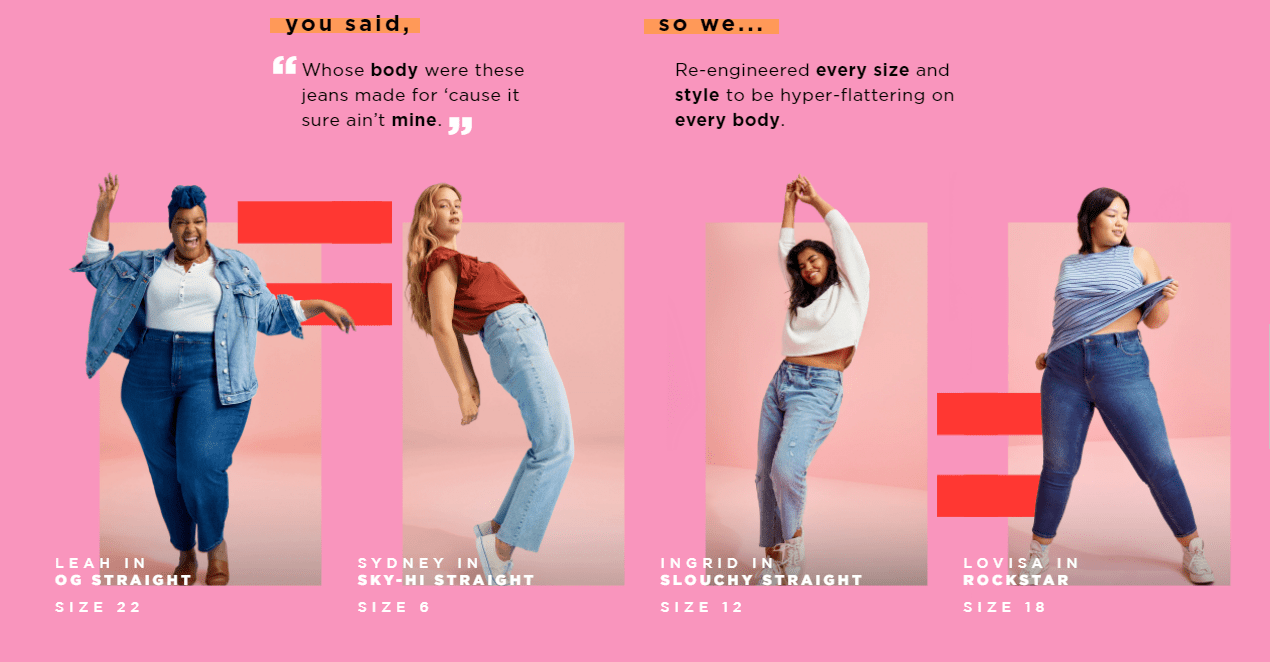 What it means:
Old Navy's new campaign provides a masterful example of how surveying your customers and stakeholders to drive business decisions can help your brand emphasize its values.
The rollout of this news also demonstrates how you can amplify the footprint of your new program/innovations by publishing a thought leadership piece, written by your executive, alongside the standard press release. While Green's words in the blog post define the brand's values for consumers, the press release provides the specifics of how Old Navy is delivering on its promises, providing multiple touchpoints for journalists to engage with the story.
COMMENT