IKEA discontinues 70-year-old catalog, KFC and Lifetime offer holiday 'mini-movie,' and Dentsu to lay off 6,000
Also: American to offer pre-flight COVID-19 tests, 70% of UK consumers say digital content affects perception of accompanying ads, remote meeting etiquette, and more.
Hello, communicators:
KFC and Lifetime have partnered on an "original mini-movie" called, "A Recipe for Seduction." The film stars Mario Lopez as Colonel Sanders and will premiere on Dec. 13 at Noon Eastern time:
I may joke about a lot, but I'd never joke about fried chicken or a Lifetime Original Mini-Movie. This Sunday, tune into Lifetime at 12pm ET/PT to watch @MarioLopezViva as the Colonel in the premiere of "A Recipe for Seduction," a KFC and @LifetimeTV Original Mini-Movie pic.twitter.com/5hAmCHevXz

— KFC (@kfc) December 8, 2020
It's real! @MarioLopezviva is Colonel Sanders. Don't miss this year's epic Lifetime Original Mini-Movie presented by @KFC. "A Recipe For Seduction," premiering Sunday, December 13th at 12PM. #ItsAWonderfulLifetime pic.twitter.com/EdGtn9lVER

— Lifetime (@lifetimetv) December 8, 2020
The trailer looks every bit as wacky as the marketing team who previously created fried chicken Crocs, a chicken-scented Yule log, a "Colonel Sanders Bearskin rug" and more.
Here are today's top stories:
IKEA to discontinue its catalog
The furniture company is bidding adieu to its 70-year-old print catalog as it focuses on ways to reach customers and encourage sales digitally. IKEA said its online sales increased 45% worldwide last year, as it saw more than 4 billion visits to its website.
The IKEA catalogue has a phenomenal 70-year legacy. We have decided to turn the page, to say goodbye to the IKEA catalogue and we look to the future with excitement as the work continues to find new ways to amplify the unique IKEA home furnishing knowledge.https://t.co/8oiXXSZxjt pic.twitter.com/7Wzu3j0VZn

— IKEA (@IKEA) December 7, 2020
The Ikea catalog grew from 285,000 copies in its first year to 200 million copies in 2016, its biggest year. At its height, Ikea produced nearly 70 versions of the catalog, in 32 different languages. 2020's edition ran 200 pages long.
In a press release, Konrad Grüss, managing director, of Inter IKEA Systems B.V., said:
Turning the page with our beloved catalogue is emotional but rational. Media consumption and customer behaviors have changed, and IKEA is already increasing digital investments while volumes and interest in the catalogue have decreased.

… Over the past few years, IKEA has been transforming many aspects of how to reach and interact with our customers, to meet customers wherever they are. Now the work will now continue to amplify the unique IKEA home furnishing knowledge, products and solutions in the best possible way—to inspire the many people through existing and new ways, channels and formats.
IKEA will create a tribute to its catalog in the fall of 2021, "filled with great home furnishing inspiration and knowledge."
Why it's important: You, too, should find ways to "meet customers wherever they are." That includes creating and distributing mobile-first messages and short, snackable content across digital and social media platforms. Use data and audience insights as your guide, and you can also follow IKEA's lead to make savvy business and marketing decisions that are "emotional, but rational."
---
TACTICALLY SPEAKING
American Airlines will soon offer passengers COVID-19 tests that can be administered at home, which can help travelers avoid quarantine requirements. The kits costs $129, and once the test is received, results will come within 48 hours. 
The initiative, which starts Wednesday for travel beginning Saturday, is the latest from airlines to try to encourage bookings. Compounding the virus-induced slump in air travel are quarantine requirements abroad and within the U.S.
The move follows similar offerings from United Airlines, which gave pre-flight COVID-19 tests to passengers traveling to Hawaii, and later London. Additional airlines might soon offer their own initiatives around COVID-19 testing, to boost the continuing travel slump as uncertainty continues.
---
MEASURED THOUGHTS
Integral Ad Science surveyed internet users in the United Kingdom, revealing that 81% of those surveyed want the ads they view to match the content they're currently watching, and 4 in 5 want the same when reading content online. Here's a breakdown across several categories: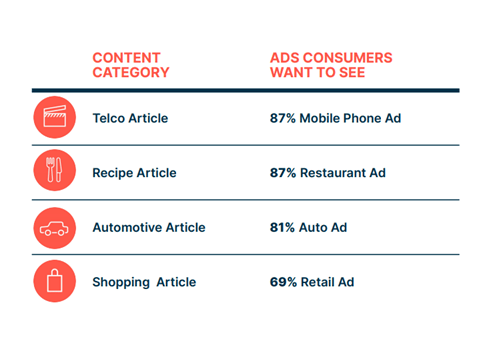 Seventy percent of consumers surveyed said the content surrounding an advertisement also affects their opinion of the marketing messages—and ads paired with either positive or neutral headlines received a more favorable reception and better consumer sentiment: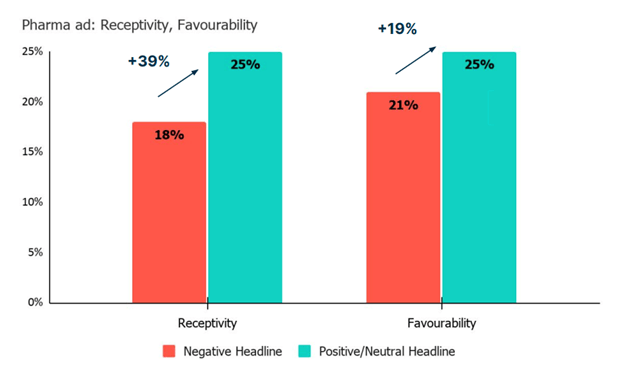 You can read the entire report here.
---
CRISIS LEADERSHIP NETWORK
Looking for more insight on how to address the current global crisis and lead your organization into a strong recovery?
Join Ragan's Crisis Leadership Network to network and brainstorm with peers, get the latest intelligence and research and start to strategize for the future of your organization.
Learn more about this exclusive membership here.
Dentsu to cut 6,000 jobs
The international advertising and PR agency holding company headquarted in Tokyo announced it's restructuring, which includes laying off roughly 12.5% of its 48,000 employees. In the next two years, Dentsu is also reducing the number of its brands from more than 160 to six global leadership brands.
Dentsu International told CampaignLive: 
Consumer intelligence is at the heart of everything we do at Dentsu International. We believe integrating our business around the consumer is the greatest advantage we can give our clients and the greatest competitive advantage we can give ourselves.
However, the company has been struggling before the COVID-19 crisis, reporting a loss for 2019 as well as 2020.
"Dentsu, which has been slower to adopt digital marketing in its home market, has struggled to offset the downturn in traditional forms of advertising such as television and print," the Financial Times reported.
 Why it matters: If you haven't started embracing digital content practices as a heavyweight in your PR and marketing strategies, the time to change course is now. The consumer behaviors that have changed throughout COVID-19, such as shopping more online, are here to stay.
---
SOCIAL BUZZ
Isabel Lara, executive director of media relations for NPR, recently shared a relateable virtual meeting moment:
"And if you just sighed we heard you" #QuarantineLife #WFH #pleasemute

— Isabel Lara (@isalara) December 8, 2020
You can add it to the common phrases heard this year, which include, "Please mute your mic" and, "Can you see my screen?"
---
TAKE OUR SURVEY
We want to know about how PR agencies are building lasting, sustainable relationships with clients, what is working and what is rubbing both parties the wrong way. That's why we're partnering with The Institute for Public Relations on a new survey to learn more about the state of the agency/client relationship.
Please take this 10-minute survey here.
---
EDITOR'S PICKS
As you're altering your holiday campaigns and searching for ways to engage consumers and employees during COVID-19, don't forget the power of gifts. These can come in the form of interactive content and holiday sweepstakes for your social media followers or thoughtful gifts given by you or your entire organization to members of your workforce, partners, influencers and more.
Check out these gift ideas:
---
WHAT YOU SAID
We asked if you're incorporating lighthearted and inspirational content into your digital marketing and social media efforts, and unanimously, all who weighed in say it's a focus because you need the uplifting boost among crisis communications and heavier content:
Are you looking at ways to add uplifting and lighthearted content into your digital marketing and social media strategies?

Share with us what you're doing to break through the noise online below and under the #DailyScoop hashtag.

— PR Daily (@PRDaily) December 7, 2020
Is there a question you'd like us to ask in an upcoming poll? Let us know!
---
SOUNDING BOARD
Are you working on ways to write more inclusively/create more inclusive content for your digital media campaigns? 
Are you working on ways to write more inclusively/create more inclusive content for your digital media campaigns?

Share what you're doing below, and we'll dish in tomorrow's #DailyScoop.

— PR Daily (@PRDaily) December 8, 2020
Share your thoughts below or on Twitter using the #DailyScoop hashtag.
Editor's note: Ragan Communications may earn a commission through our affiliate partnerships when purchasing items in our content.
COMMENT