Instagram responds to WSJ report, 3 in 5 Americans support White House vaccine rules, and Apple's annual event sparks debate online
Also: California recall highlights COVID-19 and vaccination topics, Whirlpool offers $1,000 bonus to vaccinated workers, Litecoin creator apologizes for spreading misinformation, and more.
Hello, communicators:
Gov. Gavin Newsom survived the recall vote in California on Tuesday after opponents tried to unseat the incumbent Democrat amid criticism of his handling of the COVID-19 pandemic, wildfires and other crises.
The election was called by the Associated Press 45 minutes after polls closed, with Newsom defeating top challenger Larry Elder, a conservative radio host who has drawn comparisons to former U.S. president Donald Trump.
Newsom's message to Californians after the victory centered efforts to curb the rise of COVID-19.
He said he was "humbled, grateful, but resolved" and that Californians had said "yes to science, we said yes to vaccines."
The election is a reminder of how the COVID-19 crisis continues to be the central issue facing many Americans, driving their decisions and priorities as we enter the fall flu season.
Here are today's top other stories for communicators:
Instagram responds to Wall Street Journal report with research
The social media platform has been linked to negative mental health outcomes for teens, according to a story that ran this week in the WSJ. The platform published a blog post from Karina Newton, head of public policy, which sought to provide Instagram's side of the story. Newton offered a competing narrative about users' experience on the app.
The question on many people's minds is if social media is good or bad for people. The research on this is mixed; it can be both. At Instagram, we look at the benefits and the risks of what we do. We're proud that our app can give voice to those who have been marginalized, that it can help friends and families stay connected from all corners of the world, that it can prompt societal change; but we also know it can be a place where people have negative experiences, as the Journal called out today. Our job is to make sure people feel good about the experience they have on Instagram, and achieving that is something we care a great deal about.
Newton goes on to list actions the platform will take to address the mental health issues faced by teens on its platform.
The post continued:
One idea we think has promise is finding opportunities to jump in if we see people dwelling on certain types of content. From our research, we're starting to understand the types of content some people feel may contribute to negative social comparison, and we're exploring ways to prompt them to look at different topics if they're repeatedly looking at this type of content. We're cautiously optimistic that these nudges will help point people towards content that inspires and uplifts them, and to a larger extent, will shift the part of Instagram's culture that focuses on how people look.
What you should know: Instagram's response to the story in the Wall Street Journal is a masterclass in how to work within the boundaries of fact and science to offer a competing narrative to a negative news story. The post is careful to own that some users do have a negative experience on the app, and it outlines the many efforts the team is undertaking to interrupt those experiences.
However, the post falls short of completely convincing the reader that the problem will be resolved quickly, in part because the issue intrinsically rejects easy answers. The nuanced response from Instagram at least shows that the team is grappling with the complexity of the issue, but regular updates and actions will be required to prove to consumers that the brand is serious about solving pernicious problems on its platform.
---
MEASURED THOUGHTS
The new measures from the White House aimed at motivating more Americans to get vaccinated have approval from about 3 in 5 in the U.S. The Morning Consult shared data revealing that requiring vaccines for workers has bipartisan support, though Democrats are much more likely to support the measures.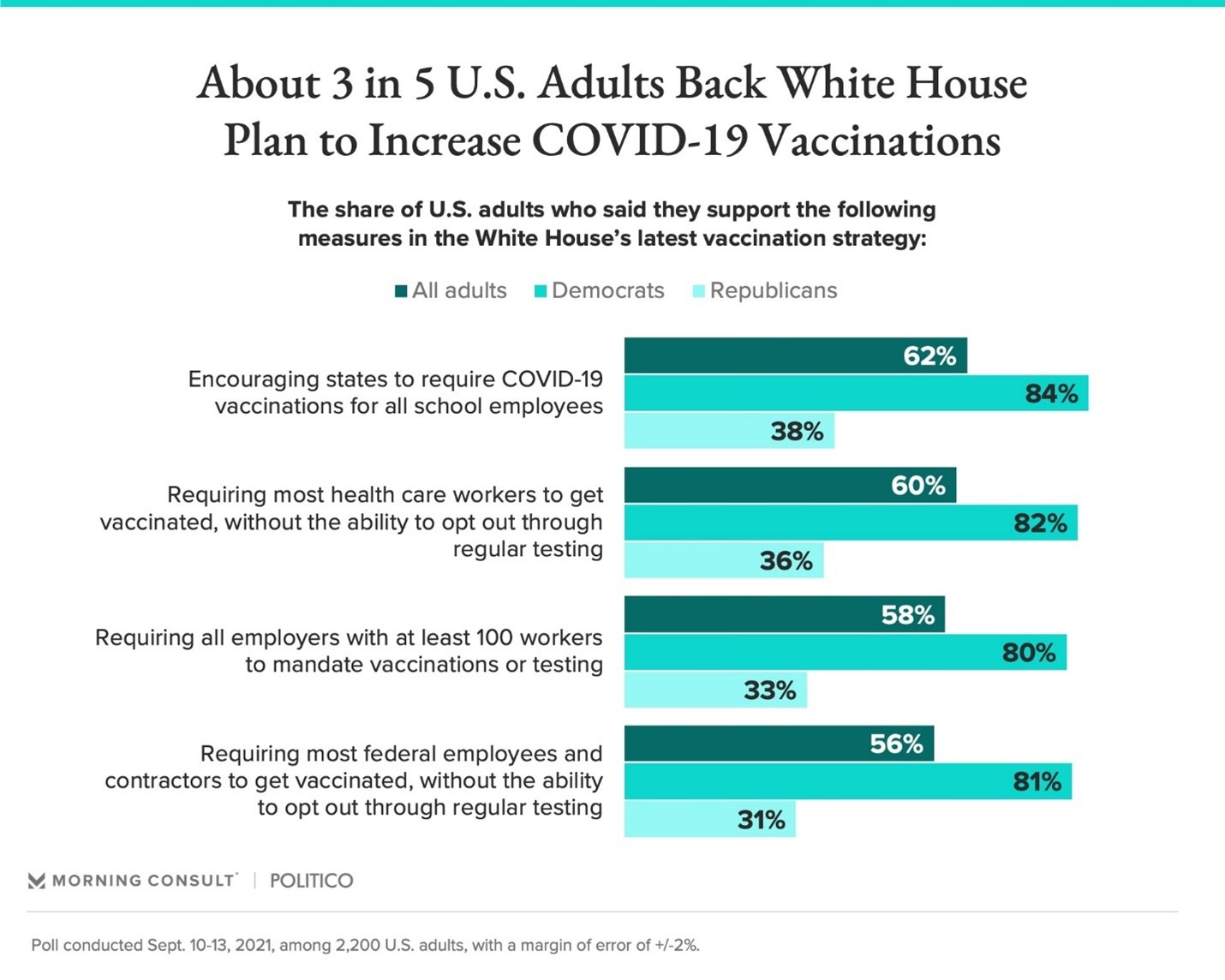 The partisan divide is clearer for Americans when asked whether vaccine requirements protect or violate their rights as citizens.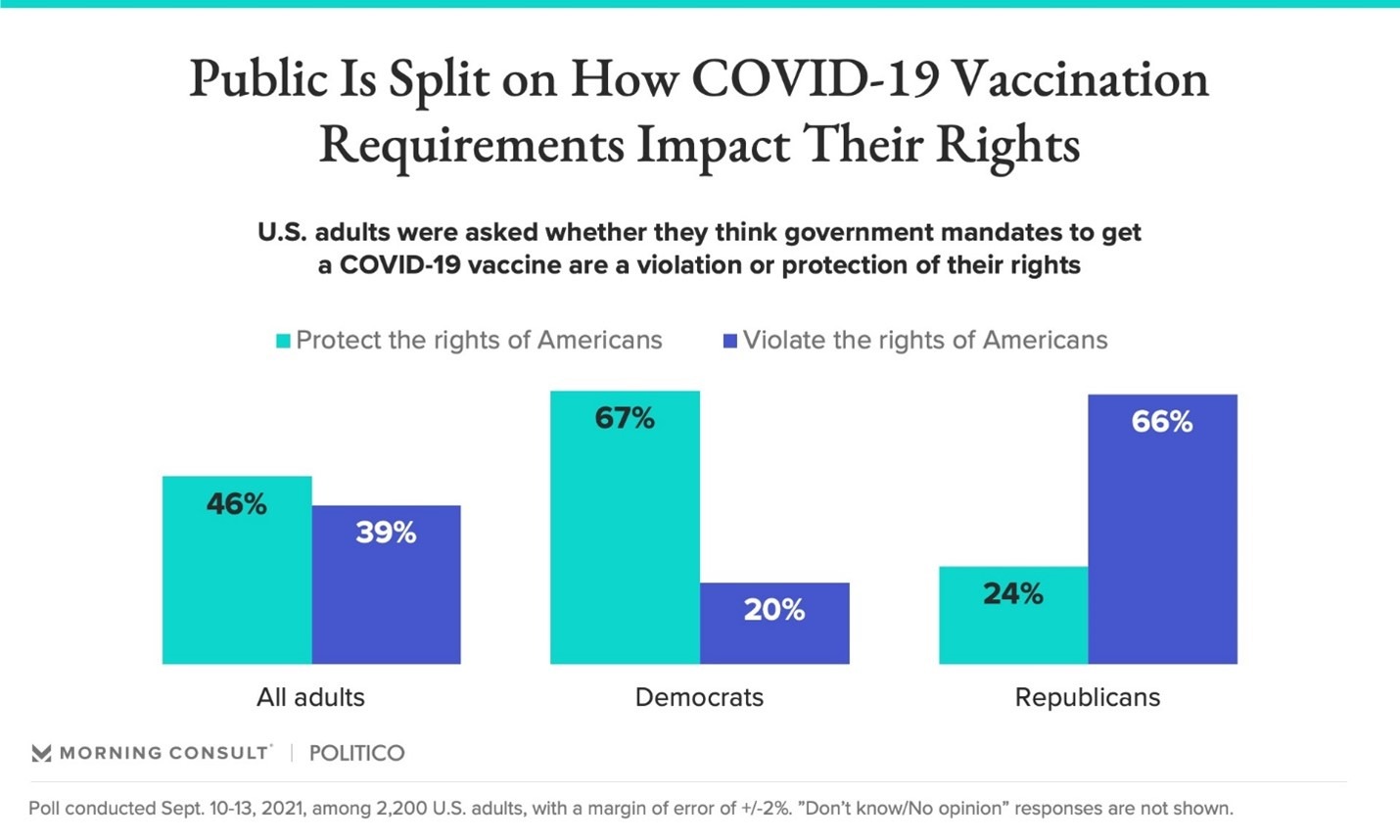 The data is a helpful reminder that the new vaccination rules from the White House, while approved by a slim majority of Americans, are likely to see stiff resistance from many groups who still have their doubts about the vaccine and the country's pandemic response.
Social media users share about Apple's big launch event
Tech giant Apple set the Twittersphere ablaze with its annual September event, sharing the latest product news and releases planned for the months ahead.
After a few turbulent weeks, Apple's annual September event attempted to draw focus back to the key driver of its success: the iPhone #WSJWhatsNow pic.twitter.com/PytbsqAZ28

— The Wall Street Journal (@WSJ) September 15, 2021
However, some felt the big event lacked the swagger and surprise releases that were a part of earlier events:
Welcome to the #AppleEvent where we release the same thing as last year with a *brand new* price tag. Click the ♥️ to see where we spent R&D budget this year!

— JerryRigEverything (@ZacksJerryRig) September 14, 2021
Others found themselves desperately trying to avoid buying the new wares on display:
I do not need an iPad Mini. I do not need an iPad Mini. I do not need an iPad Mini. I do not need an iPad Mini. I do not need an iPad Mini. I do not need an iPad Mini. I do not need an iPad Mini. I do not need an iPad Mini. I do not need an iPad Mini.

— Dieter Bohn (@backlon) September 14, 2021
The event still manages to drive plenty of media coverage and online buzz, with a dedicated hashtag and writeups in The New York Times and elsewhere.
What you should know: The product event still holds sway as virtual connection has replaced in-person gatherings and celebrations. Brand managers and PR pros should consider the many ways a virtual or hybrid event can engage a worldwide audience, but still think about how to offer an exclusive experience to brand insiders and fans.
For customers who have been with your company for years, the new virtual format might fail to impress or offer the feeling of being an insider.
---
THE WORKPLACE
Whirlpool is offering a $1,000 bonus to employees who receive the COVID-19 vaccine, as part of its effort to ramp up vaccinations after the Biden Administration launched new vaccine rules.
Our employees' health and safety remains our top priority," Whirlpool said in a statement. "Throughout this pandemic they have been working tirelessly to serve our consumers, who are depending on our products more than ever to clean, cook and provide proper food and medicine storage in their homes, and we are working to ensure we can deliver."
The move is an example of how some companies are responding to Biden's new rules for employers with 100 workers or more. The new regulation says those companies must ensure workers are either vaccinated or receive regular testing.
With companies facing a potential fine of $14,000 per violation, a $1,000 bonus for vaccinated employees could be a good investment to avoid costs later down the road.
---
TAKE OUR SURVEY
If you're looking for benchmark data to show your bosses the next time you ask for a raise, lend us a hand—and help yourself and your peers while you're at it. Participate in Ragan's Salary & Workplace Culture Survey, a comprehensive look at salaries, benefits, culture, bonuses and other aspects of the job in a fast-moving industry.
Both internal and external communicators are encouraged to participate.
By taking part, you will receive a $150 discount to a Ragan virtual conference of your choice and be entered to win one of five $50 gift cards. All who complete the survey will receive a full report on the findings. Responses are anonymous. Enter by Sept. 17.
Take the Ragan Salary & Workplace Culture Survey now.
Litecoin creator admits they 'screwed up' over fake Walmart press release
The Litecoin Foundation, the entity behind the cryptocurrency Litecoin—which was the subject of a fake Walmart news release—is apologizing for helping to spread fake news about the coin.
"We try our best to not tweet fake news and this time we really screwed up," Charlie Lee, creator of Litecoin and managing director of the foundation, said on the "Bloomberg Technology" television program. "I deny that it has anything to do with us and we'll try our best to figure out who did it — and we will stop fake news from spreading."
Walmart and press release distributor GlobeNewswire are investigating what happened that allowed the fake release to go out, bamboozling some press outlets and sending the price of Litecoin temporarily rocketing up.
An employee for Litecoin Foundation retweeted the story after CNBC and other outlets reported on the fake news release, an honest mistake according to the foundation.
Bloomberg continued:
"This morning I woke up and found out that Walmart is accepting Litecoin, and I was like, 'Wow that's awesome,' — and it turned out to be fake," Lee said of the incident. "We didn't have a partnership," he said, adding that anyone can start accepting Litecoin without having to talk with the organization first.
What you should know: As misinformation continues to plague media outlets and consumers, everyone expects that companies will do their part to root out fake news stories and double-check sources.
However, the threat poses a problem for social media managers who can't be faulted for believing the veracity of a CNBC story based on a bogus release. The episode also calls into to question the newswire press release model, which has proven to be vulnerable in recent years.
COMMENT
2 Responses to "Instagram responds to WSJ report, 3 in 5 Americans support White House vaccine rules, and Apple's annual event sparks debate online"
Ronald N Levy

says:

Facebook's Instagram situation is a classic PR challenge and a good answer is provided online partly by clicking "How Facebook News Works." Facebook's PR people are among the best who've ever lived. Their online messages protect the company and help the public by doing what is rare and difficult: giving persuasive
answers even before a challenging question is asked.

Ronald N Levy

says:

Not only does Facebook deserve credit but so does PR Daily for this expert report that Instagram's response "is a masterclass in how to work within the boundaries of fact and science to offer a competing narrative to a negative news story."

If the company had just denied everything, it would be less convincing to the public because people know that all have sinned and no one is 100% free of all blame. But as PR Daily wisely recognizes, the company "is careful to own that some users do have a negative experience on the app, and it outlines the many efforts the [company's] team is taking to interrupt those experiences."

What makes PR Daily great, especially compared to those newsletters that are largely rewritten personnel announcements, is not just reports of the news but reports of what we can learn from a piece of news. So readers are both informed and educated. The w hole Ragan team is an effective group of educators. Winners of Ragan awards are PR winners who've been selected by top PR experts.