Kraft pulls 'send noodz' campaign, IKEA asks for old furniture for #BuyBackFriday, and Facebook bans anti-vaccine ads
Also: A majority of execs think organizations need to push DE&I efforts forward, Chris Rock promotes Verizon's 5G serices, Facebook Messenger gets a redesign, and more.
Hello, communicators:       
Verizon turned to Chris Rock to show off its 5G capabilities on the iPhone 12—the first iPhone to carry it.
Perhaps the smartest line in the commercial is at the beginning, when Rock proclaims, "Oh, it's not about me. I get it." The line is a reminder to make your content about the viewer—not your organization.
Here are today's top stories:
 Kraft Macaroni & Cheese pulls 'send noodz' campaign
Kraft Heinz's cheesy noodle brand backtracked on its #SendNoods campaign after consumers lashed out at the family-friendly product for its suggestive marketing messages. Kraft deleted the social media content around the campaign, but consumers' tweets remain under the hashtag—and consumers are still criticizing the company in new social media posts.
"For National Noodle Day last Tuesday, Kraft Mac and Cheese encouraged adults to send free noodles to loved ones to provide comfort and make them smile," a representative for Kraft Heinz said in a statement emailed to TODAY Food. The social promotion resulted in over 20,000 consumers across the country receiving boxes of America's favorite Kraft Mac and Cheese. We're always listening to our consumers and appreciate the feedback.
Why it's important: When selecting your content—whether videos, visuals or text—consider all members of your audience. Doing so can help you sidestep anger as you re-evaluate whether a sassy campaign fits with your brand's voice and tone. Considering all of your audience members can also help you craft more inclusive messaging.
---
SOCIAL BUZZ
Facebook announced it's banning anti-vaccine ads on its platform as it partners with global health organizations and launches a flu vaccine information campaign, serving its users content supporting vaccination efforts.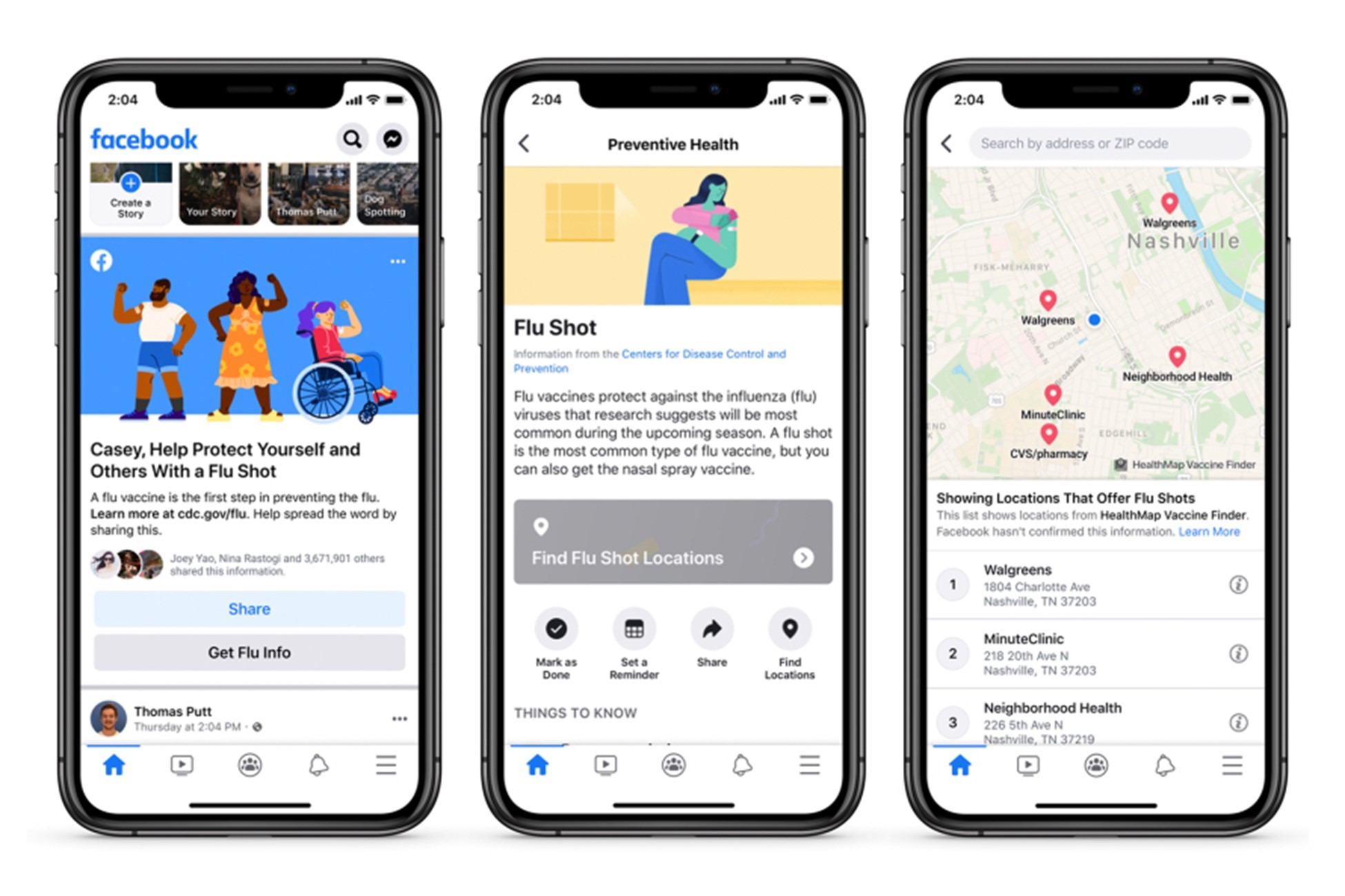 In a news release, Facebook's head of health, Kang-Xing Jin, and Rob Leathern, director of product management, wrote:
Ads that advocate for or against legislation or government policies around vaccines – including a COVID-19 vaccine – are still allowed. We'll continue to require anyone running these ads to get authorized and include a 'Paid for by' label so people can see who is behind them. We regularly refine our approach around ads that are about social issues to capture debates and discussions around sensitive topics happening on Facebook. Vaccines are no different. While we may narrow enforcement in some areas, we may expand it in others.
There are still several ads from anti-vaccination groups currently running on the platform, but Facebook says it will begin enforcing the new policy "over the next few days." The anti-vaccination groups themselves will continue to be allowed on the platform — organic or unpaid content discouraging vaccination is still permitted, per Facebook's platform rules.
---
MEASURED THOUGHTS
In Porter Novelli's Executive Purpose Study 2020, the agency reported that a majority of today's leaders (89%) think organizations must advance diversity, equity and inclusion initiatives in their workplaces, with 84% thinking a company can't really be purpose-led without strong DE&I efforts: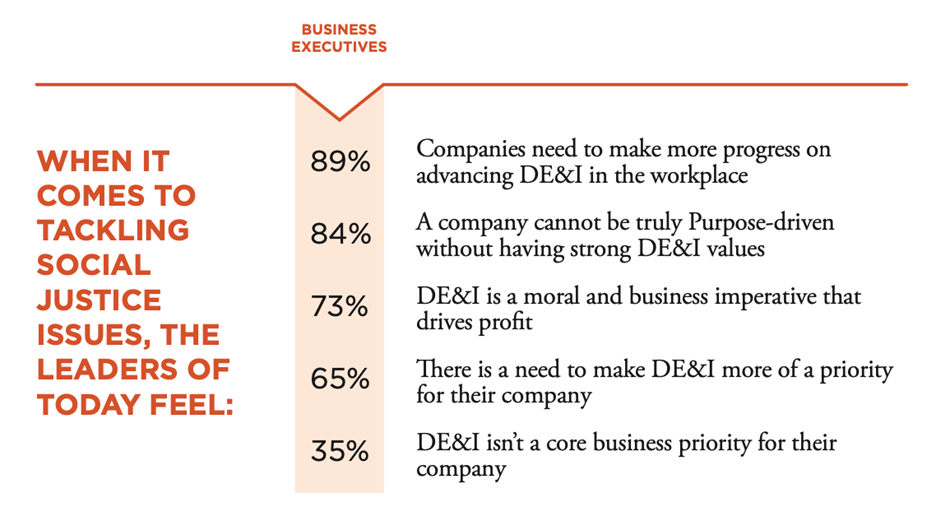 Image courtesy of Porter Novelli.
You can read the entire report here.
---
CRISIS LEADERSHIP NETWORK
Looking for more insight on how to address the current global crisis and lead your organization into a strong recovery?
Join Ragan's Crisis Leadership Network to network and brainstorm with peers, get the latest intelligence and research and start to strategize for the future of your organization.
Learn more about this exclusive membership here.
Ikea to buy back used furniture on #BuyBackFriday
 The Swedish furniture company is making a play on Black Friday, instead asking consumers to sell old furniture back to the company. What it can't resell in its stores IKEA will donate to nonprofit organizations and local communities. The campaign runs from Oct. 27 to Nov. 3.
Do something Green on Black Friday.

Between 24 Nov – 3 Dec, you can sell your old @IKEA furniture back to us – and we will give it a new home.

If we can't resell it, we will recycle or donate it to community projects to help those most affected by Covid-19. #BuyBackFriday pic.twitter.com/g0o7dqiShx

— Pia Heidenmark Cook (@PiaHCook) October 13, 2020
Under the plan, it will offer vouchers worth up to 50% of the original price, to be spent at its stores.

… "By making sustainable living more simple and accessible, Ikea hopes that the initiative will help its customers take a stand against excessive consumption this Black Friday and in the years to come," it said in reference to 27 November, when lots of retailers offer discounts on their products.
 Why it's important: Sustainability initiatives are becoming increasingly important to organizations, especially as consumers shop and give their loyalty to brands that align with their values and make a difference in the world. Consider ways you can get involved in sustainability efforts. For a bigger impact, invite your customers and employees to join you.
---
DOWNLOAD OUR REPORT
Though 70% of communicators are not looking beyond 2020 in terms of strategic planning, they also don't expect our current state of crisis to ease up by the end of the year. Operating in a constant state of crisis and rapidly responding to events throughout the world are top challenges for communicators, our recent report, Ragan Survey of Internal Communicators, revealed.
The survey sheds light on top challenges, with insights including top issues, what the "return to the office" looks like, which departments internal communicators will collaborate with the most and more.
To learn more about how to rise to the challenges facing organizations across industries, join us at Ragan's Internal Communications & Employee Experience Virtual Conference on Oct. 14. You'll learn from internal and employee communications experts from National DCP, Deloitte, Charles Schwab, American Psychological Association and more.
---
SOCIAL BUZZ
Facebook Messenger has a new logo and app design, which "reflects a shift to the future of messaging—a more dynamic, fun and integrated way to hang out with your favorite people," Facebook wrote in its newsroom.
If you haven't yet included messaging apps and platforms into your social media strategies and campaigns, reconsider. As users bases grow for messaging apps including Facebook and its Instagram and WhatsApp, brand managers have more opportunities to reach and engage with their audiences in more effective and efficient ways, such as chatbots, to answer frequently asked questions.
---
EDITOR'S PICKS
If you're one of the many communicators working from home during COVID-19, you're missing out on the office lunchroom, coffee maker, water cooler and vending machine. However, Kantar reported that snacking is up while we WFH, and you can join the crowd without leaving your home office.
Taste test these snack possibilities:
Check out Vega's line of protein powders for organic and plant-based shakes.
---
WHAT YOU SAID
We asked where you stand on brand managers using Gen-Z slang terms in their messages and content, and 58% of you said it's not a good look, while 40% said it's OK on social media, but not in other copy. Only 2% of you supported regularly using the terms:
Where do you stand on brand managers using Gen-Z slang terms in their messages?

Share your thoughts with us below and we'll share in tomorrow's #DailyScoop.

— PR Daily (@PRDaily) October 13, 2020
Is there a question you'd like us to ask in an upcoming poll? Let us know!
Editor's note: Ragan Communications may earn a commission through our affiliate partnerships when purchasing items in our content.
COMMENT