Lyft offers context on long-delayed safety report, almost half of all journalists cover five beats or more, and WeWork goes public
Also: St. Ives skincare launches Instagram contest, Axel Springer's CEO apologizes to employees, Pinterest announces video features, and more.
Hello, communicators:
Skincare brand St. Ives launched an Instagram contest for college students aimed to address their stress around the costs associated with school, noting how that stress can lead to unhealthy skin and breakouts.
Actress and recent college student Sierra Capri encouraged undergraduate students to share their "good, clean, fun ways" they de-stress on Instagram for the chance to win up to $50,000 for free tuition and books for one year along with a year's supply of St. Ives Solutions products.
View this post on Instagram
"As a full-time student studying biology who was also juggling acting auditions, I remember the financial stress of college like it was yesterday," Capri said in the press release.  "Many times, that stress would manifest as breakouts. I wish at the time I had a line like St. Ives Solutions—it's an easy, low-stress approach to caring for skin and keeping it in glowing condition."
By deploying Capri to share her personal story about how stress leads to skincare problems, St. Ives communicates its message and promotes its new product without leaning on scientific data or dry research insights that are less likely to resonate with its target Gen-Z audience.
Here are today's top stories:
Lyft offers context for numbers in long-delayed safety report
Rideshare app Lyft has released its first safety report, nearly two years after Uber, reporting more than 4,000 reports of sexual assault dating from 2017 to 2019. Lyft originally said it would release the data three years ago following Uber's report which disclosed approximately 6,000 reports of sexual assault in 2017 and 2018.
"We recognize that sexual assault is chronically underreported, and it can sometimes be months or years before a survivor is ready to come forward and report what happened — if they choose to do so at all," the company wrote. "Knowing this, Lyft included any incident reported in 2017, 2018 and 2019, regardless of when the incident was reported to have occurred. Lyft intentionally uses broad definitions … to classify instances of sexual assault."

"The safety incidents referenced in this report account for 0.0002% of all trips," Lyft wrote in its safety report.

"This report details the frequency of some of the most serious safety incidents that are reported to Lyft, which are statistically very rare," Lyft wrote. "But behind every number, there is a person who experienced that incident. Put simply, even one of these incidents is too many. That is what drives our relentless work to continuously improve safety for riders and drivers."
Lyft also included several charts in the report that break down specific incident numbers and procedures: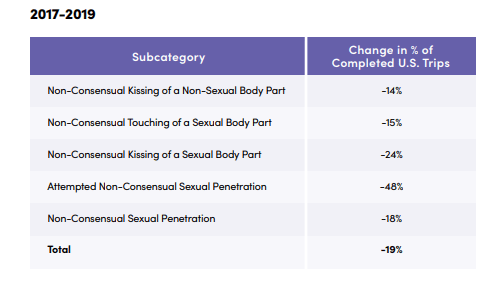 Why it matters:
By failing to fully explain why it took so long to release this report, and why the data only goes up to 2019, Lyft's otherwise thorough and detailed accounting suffers from questions of relevance and accuracy. This highlights the fact that your data is only as useful as it is timely. Work with your analytics and data intelligence colleagues to communicate expectations around how quickly those insights can be compiled into an external-facing report and make sure the people authoring the report understand the expected timeline as part of your company's larger purpose and values communications.
---
MEASURED THOUGHTS
In Cision's Global State of the Media report for 2021, almost half of journos (46.8%) surveyed said that they cover five or more beats.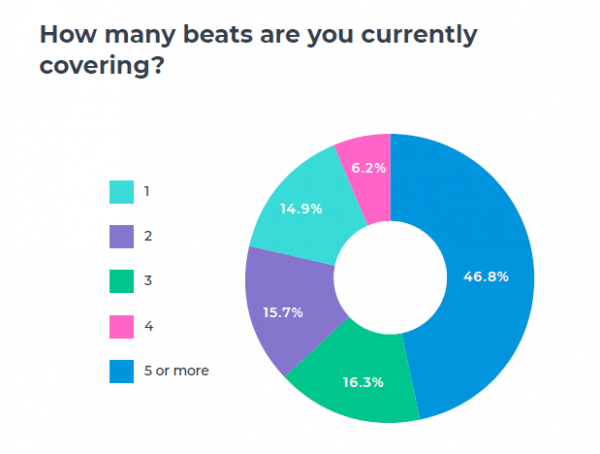 These numbers make an even stronger case for researching the journalists you want to pitch and personalizing your outreach based off of that research. Understanding that their specific niche sits at the intersection of multiple beats will quickly identify which angles will land on deaf ears, and perhaps give you story ideas that are conceived with their larger body of work in mind.
Check out the full report here.
---
CRISIS COMMUNICATIONS
Mathias Döpfner, the CEO of Politico's parent company Axel Springer, acknowledged during a Q&A with Politco staffers that it was a mistake to tell The Wall Street Journal last week that he planned to institute a paywall. That interview came less than two months after he told staff, "We're from Berlin. We don't like the concept of walls."
Politico staffers have told Axios they feel Döpfner's comments were a bait and switch.
When asked [during the recent Q&A] whether Politico's free website would go behind a paywall Döpfner said, "The answer is no. Absolutely not. No decision has been made. My answer honestly was very unfortunate. It was my mistake." "The immediate answer — do you implement a paywall? I said no but then I elaborated how important paid content is for us and I believe in that. That is actually the main reason we acquired Politico because it was based so much on a subscription model," Döpfner said.

He also noted that we should call it "paid content or subscriptions and never again paywall, because I truly think — apart from the Berlin Wall — it is a negative psychology. Wall excludes people or keeps people imprisoned and that's not what we should do. It's an offering, so in general, something positive."

"Whether concretely in the case of Politico, the B to C (business to consumer) part of the business should be either partly subscription or completely subscription-driven, that is something we would like to discuss with you and be assured — we would never — if we had made the decision or think we should make the decision, announce it publicly before we speak to you. Our approach would be to ask you what do you think is right," he said, noting they took a similar approach with Insider.
By contradicting his own words to employees, Döpfner's authority and credibility took a hit, both with internal and external audiences. By apologizing to employees and taking responsibility, he emphasizes why speaking to employees about larger company changes before the press is a crucial order of operations.
---
SOCIAL BUZZ
Pinterest announced several new features during its annual Creators' Festival event this week. They include a TikTok-esque vertical video "Watch" feed for pinned content that Pinterest says will help users discover content, a "Takes" option that acts as a response to Pinterest's Stories-styled Idea pins feature, an original content series driven by its creators, and more.
Pinterest is deliberately designing a product rooted in inspiration, inclusivity and positivity for Pinners, creators and brands. These latest features address the changing needs and expectations of creators and consumers online, and they enable everyone to inspire, build and reach new audiences;  engage with a community around shared passions; earn money with original content and become a storefront for merchants.
By making video the key focus of all its new features, Pinterest borrows some of the best features from competitive social media platforms and ties them back to its distinct edge as a discovery platform. By sharing how its product design is informed by its values, the company seizes an opportunity to emphasize its commitment to creators and consumers alike and highlight the importance of communicating accessible design decisions.
---
TAKE OUR SURVEY
If you're looking for benchmark data to show your bosses the next time you ask for a raise, lend us a hand—and help yourself and your peers while you're at it. Participate in Ragan's Salary & Workplace Culture Survey, a comprehensive look at salaries, benefits, culture, bonuses and other aspects of the job in a fast-moving industry.
Both internal and external communicators are encouraged to participate.
By taking part, you will receive a $150 discount to a Ragan virtual conference of your choice and be entered to win one of five $50 gift cards. All who complete the survey will receive a full report on the findings. Responses are anonymous.
WeWork acknowledges fraught past after (finally) going public
WeWork went public on Thursday, closing out the day up 13.9% more than two years after it first tried to launch an IPO. That initial plan fell apart in 2018 after investors objected to the company's operations and founder/ex-CEO Adam Neumann. The company has since been sued by several executives and employees of harassment and discrimination.
Neumann and WeWork were the subject of a Hulu documentary, and Apple TV+ is currently producing a show called "WeCrashed" starring Jared Leto and Anne Hathaway that documents the company's problems.
While celebrating the IPO, executives past and president acknowledged the company's tumultuous journey.
"You've said this is a story with drama," WeWork Executive Chairman Marcelo Claure told CNBC's "Squawk Box" on Thursday. "Sure, this is a story where a lot of people wrote documentaries that it was the end of WeWork. Well the resistance, the persistence of these people is incredible. This company is here, is stronger than ever, and no doubt that we're going to be celebrating many more milestones."

Claure told "Squawk Box" that everybody has "an important role to play" and that Neumann deserves credit as the visionary who came up with the idea. Neumann congratulated the new leadership team during an interview with the media Thursday morning at the outdoor beer garden at The Standard, an expensive hotel in New York City's meatpacking district.

He and co-founder Miguel McKelvey "couldn't be happier" to celebrate the IPO, Neumann said. "This has always been about the team and about what we did together, and we're just so proud today and for this day," he said.
What it means:
By framing the company's past transgressions as part of a larger "story with drama," Claure positions past milestones as part of a journey that future happier events will rectify. Treating your company's past crises as a story also tees you up to spotlight the characters who brought that story to life and the work that they do, assuring audiences that your company has learned from the people and issues that once caused problems.
COMMENT