Macy's Thanksgiving Parade announces mask and vaccine rules, content types that perform best on social media, and United Airlines explains process for vaccine exemption requests
Also: The labor market gets hotter, Burger King follows McDonald's with celebrity marketing, conventions and trade shows look to rebound, and U. of Delaware flubs COVID messaging.
Hello there again, communicators:
We're tracking reports of jobless claims hitting their lowest numbers in 18 months. The data suggests that cooling job growth has been hindered by labor shortages rather than cooling demand for workers.
Initial claims for state unemployment benefits dropped 35,000 to a seasonally adjusted 310,000 for the week ended Sept. 4, the Labor Department said on Thursday. That was the lowest level since mid-March 2020 when mandatory closures of nonessential businesses were enforced to slow the first wave of COVID-19 cases.
The low unemployment numbers also come as a record number of job openings remain unfilled.
The number of job openings hit a record high of 10.9 million on the last day of July, the Department of Labor said Wednesday, as businesses struggle to lure back workers in the wake of COVID-19's shock to the economy.
Here's the rub for comms pros: Employer branding and reputation work will continue to be a top priority, as the labor market shows no signs of slowing down and competition for workers will remain sky high.
Here are today's other top comms stories:
Macy's Thanksgiving Parade announces vaccination requirements for workers
The annual parade in New York City will bring back in-person festivities this year but will require workers to get vaccinated and wear masks.
"Macy's Thanksgiving Day Parade has been a New York City institution for more than nine decades, growing to become an icon of American pop culture as it annually marks the official start of the holiday season," said Will Coss, Executive Producer of Macy's Thanksgiving Day Parade. "For our 95th celebration, we are delighted to return this cherished holiday tradition closer to its original form as we march down the streets of New York City and into the homes of a nationwide audience."

"We are thrilled to welcome back in its full form the Macy's Thanksgiving Day Parade, a world-renowned celebration that ushers in the magic of being in New York City during the holiday season," said New York City Mayor Bill de Blasio. "We applaud Macy's work to creatively continue this beloved tradition last year and look forward to welcoming back Parade watchers to experience it safely, live and in person this November."
Workers will be required to wear masks regardless of vaccination status, but some exemptions could be made for singers and performers as deemed appropriate by Macy's.
What you should know: As rules regarding masks and social distancing continue to change, it's essential to work with partners and build consensus around how to best protect everyone participating in live events.
With the CDC recommending mask use even for vaccinated people amid the increased risks of the Delta variant, consider how you can communicate about mask use in a way that shows care for workers and visitors to your locations, while keeping in mind that a vocal section of the population is increasingly ready to push back on mask rules.
---
MEASURED THOUGHTS
Video and images top the list for content that helps marketers achieve their goals on social media. The data comes from the Sprout Social Index Edition XVII: Accelerate.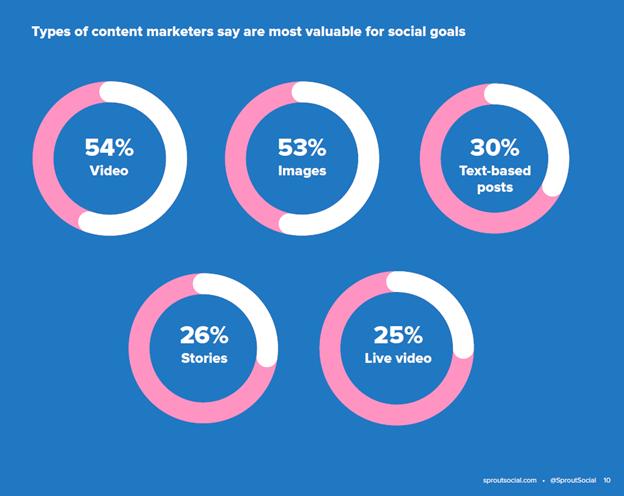 As for what platforms remain most popular for brands, Facebook continues to lead the pack, with newcomer Clubhouse bringing up the rear.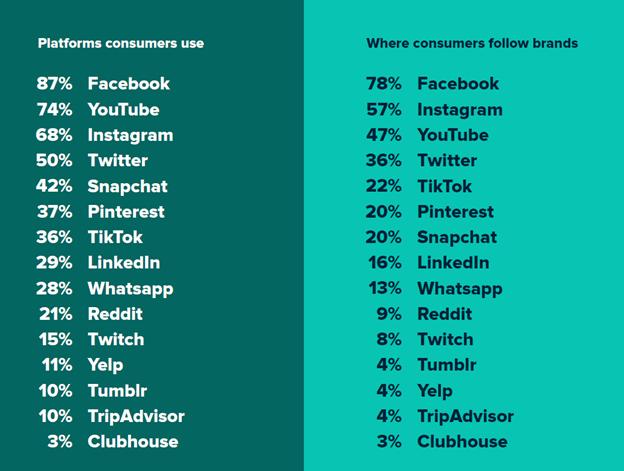 United Airlines explains how it will handle exemption requests for vaccine rules
The airline has set a deadline of Sept. 27 for its 67,000 U.S.-based employees to get vaccinated. Those who fail to comply face termination. While it says more than half of employees who weren't vaccinated before the mandate have now received at least one shot, it is also sharing how it will handle requests for medical or religious exemptions from the vaccine rule.
The airline said that in most cases, employees who refuse to get vaccinated won't be allowed into the workplace starting Oct. 2.

United says requests for medical exemptions will be judged by medical staffers including nurses, while requests for waivers based on religious beliefs will be handled by personnel-office employees.

The process for handling workers whose exemptions are approved will vary slightly depending on the employee's job.
What you should know: United is putting extra effort into explaining its new vaccine mandate as a response to the rising threat posed by the Delta variant. By using statistics and expert analysis on how the virus is poised to ravage U.S. communities this fall, the airline hopes to show its employees that the new rules are a response to a real threat—and not a whimsical decision made without a thought for employee welfare or autonomy.
Despite many of us suffering from COVID-19 news fatigue, consider how some audiences aren't paying close attention or have been reluctant to consume COIVD-19 content. Overcommunication is still a best practice for internal comms and updates on COVID-19 response.
---
TACTICALLY SPEAKING
Burger King is copying McDonald's with its own version of the celebrity-curated meal, working with some of music's biggest names to develop signature combos to drive sales and create buzz.
For example, rapper Nelly created the "Cornell Haynes Jr. Meal" that includes a Whopper with cheese, small fries and small Sprite. The meal from Brazilian singer Larissa Machado, which fans recognize as Anitta, is the same as Nelly's meal but has an Impossible Whopper instead. Rapper Lil Huddy, a.k.a. Chase Hudson, created a meal that includes its new spicy chicken sandwich, four-piece mozzarella sticks and a chocolate shake.
The campaign is a reminder of the power of influencer marketing in an overcrowded and fractured media landscape. Even though the tactic is a reproduction of McDonald's idea, by working with other artists and audiences, Burger King is likely to still find success and create connections with fans.
In a world where personalization is everything, it's not as necessary to have a brand new or inimitable brain wave to capture the imagination of consumers. You just have to offer them something that's a little different from what a competitor might be serving. And in the world of influencer marketing, that's as simple as finding a new face to hawk your wares.
---
CRISIS COMMUNICATIONS
The University of Delaware is warning faculty not to notify students if a classmate has a confirmed case of COVID-19 as infection rates are rising on campus amid a return to in-person instruction. Instead, students who have been in contact with a confirmed case will be notified by the university's heath department.
The email said that "if an instructor is notified by a student that the student has covid-19, the instructor may not tell the class that someone has tested positive for covid-19." Instead, the university said, professors should tell students that "given the current incidence of covid-19 on campus, we should assume that we may have contact with individuals who are shedding covid-19, perhaps unknowingly."
The story highlights the difficulty of creating and effectively communicating about the processes put in place to manage rising COVID cases in U.S. workplaces. While the program might be an effort to exert institutional control over the stories about COVID-19 cases on campus, the message also seems to fly in the face of common sense for external audiences.
When creating your COVID-19 reporting strategy, make sure to highlight how you will keep everyone informed about new cases and how you will work to halt the spread of the virus within your organization. If you have a reason for restricting speech around cases of the virus, make such rules explicit in your communications.
Conventions and tradeshows struggle to rebound 
Venues like Chicago's McCormick Place, the largest convention center in the U.S., are laying off workers as they wait for a hopeful return to in-person events in 2022 or 2023.
Steve Hill, CEO and president of the Las Vegas Convention and Visitors Authority, said 2022 is shaping up to be a good year for the industry. But he acknowledges a lot will depend on the situation around COVID-19 and whether international travel restrictions are lifted. Foreigners can account for 20% to 30% of attendees at the city's major events, he said.
However, some see the rise of virtual opportunities as an essential part of the convention/trade show experience.
AP continues:
Sherrif Karamat, the president and CEO of the Professional Convention Management Association, is not so sure, particularly as more convention attendees question the environmental impact of travel. Karamat is excited about the prospect of virtual conferencing bringing the world closer.

"Learning should not be limited to any one channel. Business networking should not be limited to any one channel," he said.
What you should know: The ongoing pandemic has many organizations rethinking their approach to in-person networking and programming. Flexibility and adaptability will be key, as well as the ability to integrate digital and virtual experiences.
However, there remains a strong appetite for in-person connections, and those experiences should make a strong showing once audiences feel safe enough to once again gather. However, business audiences are going to be more cautious than consumer audiences and travelers who have already returned to pre-pandemic habits.
COMMENT
One Response to "Macy's Thanksgiving Parade announces mask and vaccine rules, content types that perform best on social media, and United Airlines explains process for vaccine exemption requests"
Ronald N Levy

says:

As jobless claims have gone down, shortage-of-workers problems have gone up. At the marvelous Italian restaurant La Famiglia on New York's Long Island, the top chef and part owner sometimes has to do dishes!

With jobs now higher-paying than in the past, a PR challenge for unions may be getting workers to join. A PR challenge on the employer side in many fields may be internal communications because if new employees now get earnings close to employees with years on the job, will the veterans feel they should be getting more?