McDonalds announces 'McPlant' line, Pizza Hut offers meat-free sausage, and Ulta partners with Target for 'shop-in-shop' boutiques
Also: Primark UK's shopping bags double as wrapping paper, 4 in 5 consumers say websites are more important than social media, Four Seasons jumps on election branding, and more.
Hello, communicators:
Fernando Machado, global chief marketing officer for Restaurant Brands International, recently applauded Primark's marketing team for its holiday shopping bags, which double as wrapping paper: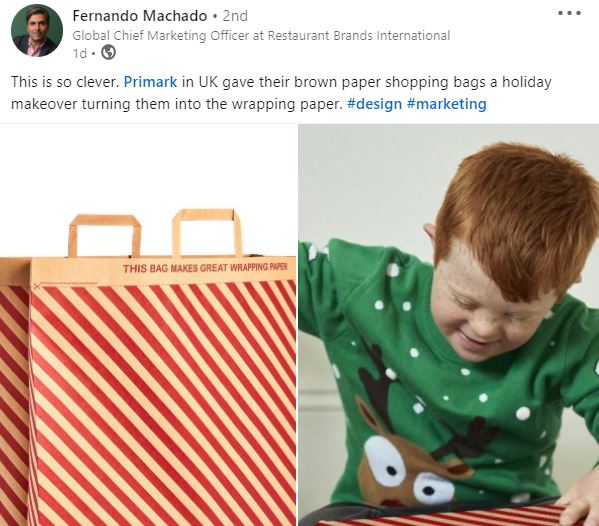 The effort encourages sustainability while offering an easy alternative to gift wrapping.
Here are today's top stories: 
McDonald's announces 'McPlant' line as Pizza Hut launches Beyond Meat topping
McDonald's is entering the plant-based meat market with a line of menu items it's aiming to release next year. The product line, called "McPlant," will offer plant-based burger patties, and later, chicken substitutes.
McDonald's has not yet disclosed the supplier for the line. A company spokesperson declined to identify their supplier but said that McDonald's will not be manufacturing the products.
But a spokesperson for Beyond Meat said in a statement to CNBC that the company co-created the plant-based patty that will be available as part of the McPlant line. Shares of Beyond rose as much as 4% in afternoon trading after falling as much as 6% earlier on Monday.
Pizza Hut is also going meatless, and announced on Tuesday that consumers can order the pizza chain's "Beyond Italian Sausage" pie or its "Great Beyond" pizza.
Why it's important: More organizations will turn to plant-based options and menu alternatives as consumers continue to embrace vegetarian and vegan diets, along with healthier options. The alternatives also provide a sustainability win for brands that can make the items a competitive part of their offerings.
---
TACTICALLY SPEAKING
Arby's made a splash online by launching a limited-edition "Deep Fried Turkey Pillow." The product,which Arby's described as "part stylish sleep mask, part cloud, and all your new favorite pillow," is already sold out:
Patrick Schwing, Arby's chief marketing officer, said in a company blog post:
Our Deep Fried Turkey sandwiches are one of our guests' returning favorites, and we wanted to take a different approach to this limited-time offering. This holiday season, leave the deep frying to us – the meat experts. And once you've enjoyed one of our deep-fried turkey sandwiches or the wrap, you can rest with the Deep Fried Turkey Pillow Hat. It's the complete holiday experience.
Though consumers can no longer purchase the $59.95 PR and marketing stunt, you can still enter to win one of the coveted items. The fast food chain is also offering customers a coupon for 50% off an Arby's turkey sandwich.
The effort, which has already grabbed headlines, is set to cause even more social media buzz, as consumers can virtually try on the hat with Instagram and Snapchat filters: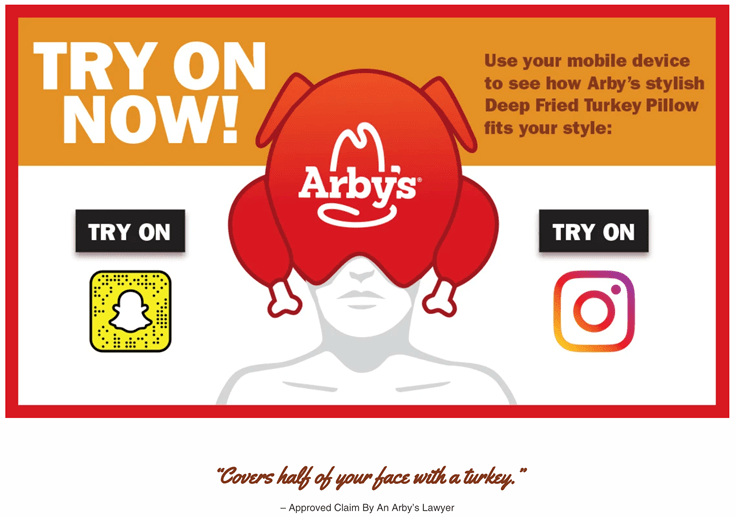 The move is a clever way to grab attention through quirkiness, while also offering engaging social media content.
---
MEASURED THOUGHTS
Best SEO Companies recently surveyed more than 1,000 small business owners and consumers, revealing that 55% of business owners consider their social media presences to be the most effective for their bottom lines. However, 4 out of 5 consumers said an organization's website is more important than its social media profiles: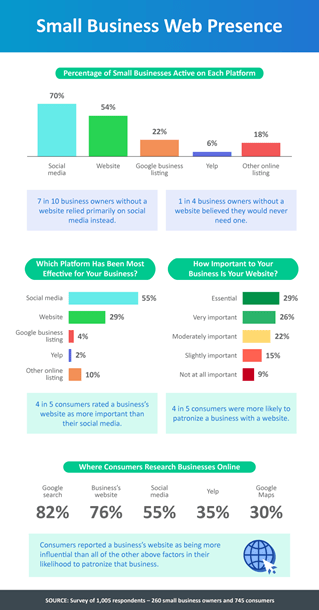 Image courtesy of Best SEO Companies.
Google ranks high for consumers researching organizations, with 82% turning to the search engine to find what they need, while 76% get their information from organizations' websites and 55% look to social media for answers.
Learn the SEO and analytics secrets that can boost both your website and social media presences at Ragan's Google & SEO for Communicators Bootcamp on Nov. 19. Speakers from Condé Nast, MIT's Sloan School of Management, Google Brazil, PMG, Lewis Global Communications and Klarna will show you ways to rank high with your content and increase traffic. Join us here.
You can read the entire report here.
---
CRISIS LEADERSHIP NETWORK
Looking for more insight on how to address the current global crisis and lead your organization into a strong recovery?
Join Ragan's Crisis Leadership Network to network and brainstorm with peers, get the latest intelligence and research and start to strategize for the future of your organization.
Learn more about this exclusive membership here.
Ulta to launch stores inside Target
The beauty retailer is partnering with Target to create "shop-in-shop"  boutiques in more than 100 Target locations starting in 2021. Ulta will train Target employees as "beauty consultants."
The shops, which will each be about 1,000 square feet and carry makeup, skincare, and fragrance, will operate beside existing beauty sections in Target stores the companies said Tuesday. Financial terms of the deal weren't disclosed.

… Combined, Target and Ulta have more than 100 million active loyalty program members across Target Circle and Ultamate Rewards.
Why it matters: As more consumers continue to buy online and look for alternatives to shopping in person, including curbside pickup, retailers must get creative to stay afloat during COVID-19 and beyond. That includes partnering with other organizations and influencers to reach potential consumers.
---
TACTICALLY SPEAKING
Four Seasons Total Landscaping is taking advantage of its time in the limelight by selling stickers, masks and more carrying phrases such as, "Lawn and Order," and, "Make America Rake Again."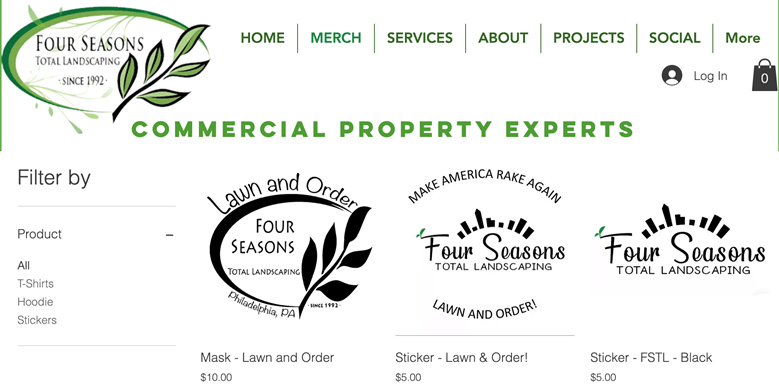 Image courtesy of Four Seasons Total Landscaping.
Four Seasons Total Landscaping, a family-operated business in Philadelphia, found itself the subject of merciless mocking on Saturday after President Trump tweeted, "Lawyers News Conference Four Seasons, Philadelphia, 11 a.m.." He later deleted the post and tweeted again, revising the location to a similarly named venue, Four Seasons Total Landscaping.

… Four Seasons Total Landscaping issued a statement on its Facebook page on Sunday morning, saying it was "honored" to host the news conference and was saddened by the "harsh judgment" it received from the public.
---
CATCH UP WITH OUR REPORT
More than half (57%) of social media managers say they plan to leave their current position within two years, according to a new survey from the Institute for Public Relations, Ragan Communications and the University of Florida. Though these managers are ambitious, the career path to social media leadership roles remains unclear.
The report sheds light on social media pros' career trajectory as well as the challenging lack of resources and employee burnout that's on the rise. Check out the findings here.
To learn more about how to prepare for the future of social media and more, join us at Ragan's Future of Communications Conference, Nov. 10-11.  You'll learn from PR, social media, marketing and internal communications experts about the top trends and what's on the horizon for the industry.
---
EDITOR'S PICKS
Vice President-elect Kamala Harris inspired many on Saturday night during her acceptance speech, in which she acknowledged "all the women who have worked to secure and protect the right to vote for over a century," saying she "stand[s] on their shoulders." For many, the words were empowering—and you can further that motivation by gifting empowering books, cards and more to the women in your life.
Consider these tokens:
---
WHAT YOU SAID
We asked if your organization responded on social media to the projected winner of the 2020 presidential election, and overwhelmingly, 89% of you remained silent—while 11% threw their hats into the digital ring.
Did your organization respond on social media to President-elect Joe Biden winning the election?

Weigh in below and we'll share in tomorrow's #DailyScoop roundup.

— PR Daily (@PRDaily) November 9, 2020
Is there a question you'd like us to ask in an upcoming poll? Let us know!
---
SOUNDING BOARD
What did this year look like for you, PR and comms pros? Sum up your efforts during 2020 with a GIF.
What did this year look like for you, PR and comms pros? Sum up your efforts during 2020 with a GIF. Share below, and we'll include the top responses in tomorrow's #DailyScoop.

— PR Daily (@PRDaily) November 10, 2020
Share with us below and under the hashtag #DailyScoop, and we'll share in tomorrow's roundup.
Editor's note: Ragan Communications may earn a commission through our affiliate partnerships when purchasing items in our content.
COMMENT
One Response to "McDonalds announces 'McPlant' line, Pizza Hut offers meat-free sausage, and Ulta partners with Target for 'shop-in-shop' boutiques"
Ronald N. Levy

says:

It's getting so overdue for the meat industry to have a great PR firm do a program on ADVANTAGES OF REAL MEAT. Advantages to the public are huge and numerous but won't be widely known unless the industry comes up with the unity and the bucks to communicate the truth!

One could feel like yelling at those meat guys: "At least do it for your families. The wife you save may be your own!"

A program could not only sell consumers on buying genuine meat for yourself but also win in Washington for programs to not let pizza companies nor anyone else sell what people may think is real meat although it isn't. There should be more honesty -in-labeling laws.

Schools and hospitals can be encouraged to communicate "Health Hints: Are you getting too many carbohydrates?" Senior citizen groups could be furnished with tapes and films on "Fake Meat: How to Guard Your Health."

Where are the PR executives (or by now their offspring) who so successfully cautioned the public years ago about the advantages of using real butter instead of margarine-type substitutes?

There's no end to what could be done but so far there seems no beginning to DOING it.