Microsoft announces permanent hybrid workforce, British Airways' chief steps down, and how far in to the future PR pros are planning
Also: NFL Network suspends sportswriter for social media ad, crucial SEO tips for success, Oreo shows off LGBTQ+ flag colors with its iconic cookies, and more.
Hello, communicators:       
NFL Network suspended analyst and sportswriter Ian Rapoport for two weeks after he posted an ad to his Instagram account for Manscaped, a hair-removal company. Rapoport didn't have approval for the posts.
— Ian Rapoport (@RapSheet) October 10, 2020
Most employee suspensions that make headlines are due to tweeting inappropriate remarks or old social media posts making the rounds online. NFL Network's decision can serve as a reminder to discuss your organization's social media policy with all your employees, so they're sure what they should and shouldn't do across their own social media profiles.
If you don't have a social media policy as well as guidance for employee posting, now's the time to create those assets.
Here are today's top stories: 
Microsoft announces permanent 'flexible workplace'
The tech company's executive vice president and chief people officer, Kathleen Hogan, said Microsoft's goal is "to offer as much flexibility as possible to support individual workstyles, while balancing business needs and ensuring we live our culture." That includes being more flexible with work hours and locations, as well as allowing some roles to be partially remote permanently.
Our guidance is to help employees plan ahead for the future. For now, returning to many of our offices around the world is still optional for employees, except for essential onsite roles. While we've shared that we will challenge long-held assumptions and seek to be on the forefront of what is possible leveraging technology, we have also communicated that we are not committing to having every employee work from anywhere, as we believe there is value in employees being together in the workplace.
As many workforces remain remote amid COVID-19, Microsoft is preparing for the future as well as leaning into the current reality, with jokes such as this from its social media team:
*Joins meeting*
…
*Mutes mic*
…
*Laughs at joke*
…
*Unmutes mic*
…
*Laughs at joke again*
…
*Mutes mic*

— Microsoft (@Microsoft) October 9, 2020
Why it's important: Give your employees as much guidance as you can, so they can plan for the future. This includes considering remote and hybrid work policies beyond the COVID-19 crisis. The more you can adjust your company culture and employee opportunities to meet current behaviors, the better. Don't delay making these changes, as they can also help you attract and retain top talent.
---
TACTICALLY SPEAKING  
Hilton's Conrad Washington D.C. hotel recently racked up kudos after making a couple's "replacement" honeymoon special. The couple booked a "staycation" at the hotel in place of their original 30-day European vacation, and Conrad's front office director, Vera Vandijk, brought flavors of the Netherlands, France, United Kingdom and Germany into the hotel suite:
First stop! @ConradWDC where their "passport" was stamped to kick off the global excursion. pic.twitter.com/WgCVGqTs8I

— Conrad Hotels (@ConradHotels) October 8, 2020
Soon after, they "arrived" at the Waldorf Astoria Versailles- @TrianonPalace. For a personalized touch, they were greeted with the iconic French beverage, Perrier along with a list of historic landmarks on their must-see list. pic.twitter.com/0POQFUFlw1

— Conrad Hotels (@ConradHotels) October 8, 2020
In a press release, Hilton wrote: 
After hearing Jacob's story, the team at Conrad Washington D.C. made plans to bring a taste of Europe to the couple during their stay. They contacted luxury Hilton hotels across Europe, including Waldorf Astoria Berlin, Waldorf Astoria Amsterdam, Waldorf Astoria Versailles – Trianon Palaceto and Conrad London St. James, to share personalized notes, photos and videos with Jacob and Abbie throughout their stay, even sending themed canapés and cocktails for each city and creating imaginative passports to commemorate their "travels."
The effort is a great example of tailoring your offerings to your audience and the power of listening to your consumers' needs. The couple proclaimed that they are "proud to be Hilton loyalists for the rest of [their] lives."
---
MEASURED THOUGHTS
Red Website Design recently shared an infographic with 20 technical SEO tips to help you rank higher on Google, which includes making your website and content mobile-friendly and boosting loading speed.
Considering that more than 56% of consumers use their smartphones and other mobile devices to access your offerings, it's crucial to adopt a mobile-first mentality. To add to the urgency, each extra second your website takes to load will cause you to lose 7% of consumers.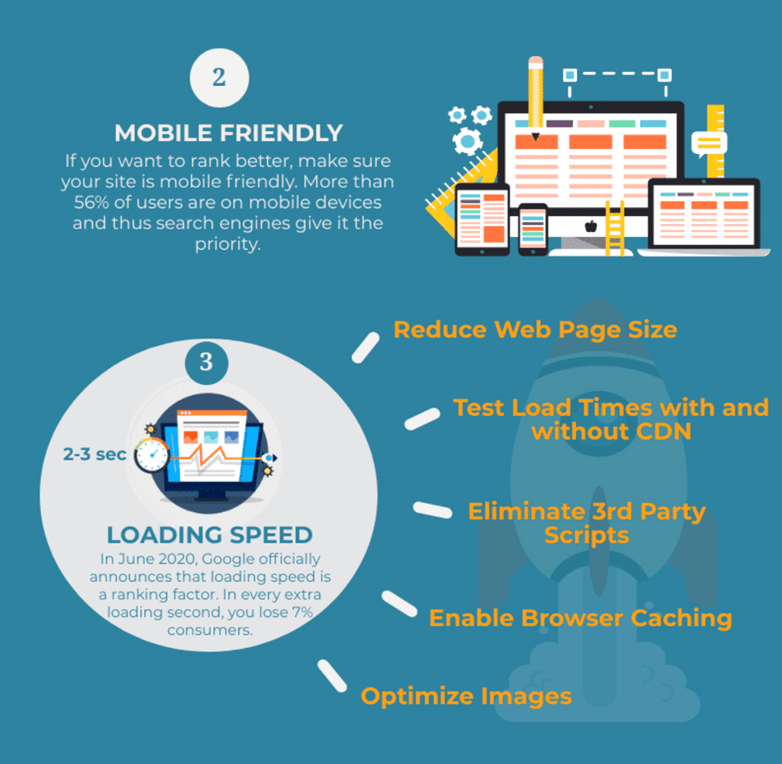 Image courtesy of Red Website Design.
Take these website tips to heart and make your content equally snackable for increased engagement, clicks and conversions.
You can check out the entire infographic here.
---
CRISIS LEADERSHIP NETWORK
Looking for more insight on how to address the current global crisis and lead your organization into a strong recovery?
Join Ragan's Crisis Leadership Network to network and brainstorm with peers, get the latest intelligence and research and start to strategize for the future of your organization.
Learn more about this exclusive membership here. 
British Airways chief steps down
Alex Cruz, the airline's chief executive since April 2016, has resigned—and Aer Lingus' chief, Sean Doyle, will take over.
[British Airways] is cutting 13,000 staff and has been criticised by staff and MPs who claim the airline has been following a "fire and rehire" policy, which left some employees facing pay cuts of up to 50%.

Luis Gallego, chief executive of IAG, which owns BA, said: "We're navigating the worst crisis faced in our industry and I'm confident these internal promotions will ensure IAG is well placed to emerge in a strong position." 
Why it's important: The BBC reported that Cruz did "the dirty work" in terms of job and cost cuts, and "now a fresh pair of hands is needed." As many organizations are making difficult business decisions as the COVID-19 crisis continues, alienate your employees at your own peril. Otherwise, your moves might boost profitability, but come at a steep cost in terms of employee retention and tarnished reputation.
---
DOWNLOAD OUR REPORT
Though 70% of communicators are not looking beyond 2020 in terms of strategic planning, they also don't expect our current state of crisis to ease up by the end of the year. Operating in a constant state of crisis and rapidly responding to events throughout the world are top challenges for communicators, our recent report, Ragan Survey of Internal Communicators, revealed.
The survey sheds light on top challenges, with insights including top issues, what the "return to the office" looks like, which departments internal communicators will collaborate with the most and more.
To learn more about how to rise to the challenges facing organizations across industries, join us at Ragan's Internal Communications & Employee Experience Virtual Conference on Oct. 14. You'll learn from internal and employee communications experts from National DCP, Deloitte, Charles Schwab, American Psychological Association and more.
---
SOCIAL BUZZ
Oreo recently celebrated #NationalComingOutDay with limited-edition rainbow cookies:
We're loud and proud about our love for love, and you should be too! 🏳️‍🌈🏳️‍🌈 Whether you're an ally or member of the LGBTQ+ community, join our #ProudParent campaign and you could snag some exclusive Rainbow OREO Cookies! pic.twitter.com/Ux0jAa7UeY

— OREO Cookie (@Oreo) October 10, 2020
It also used the cookies to explain, alongside partner PFLAG, the different colors of LGBTQ+ flags:
We're celebrating #NationalComingOutDay with the different LGBTQ+ flags. Have questions about the flags? Ask and our friends at @PFLAG can help answer them! pic.twitter.com/ZHVnIJ6YpP

— OREO Cookie (@Oreo) October 11, 2020
The Bisexual pride flag consists of three horizontal stripes: one magenta, one purple, and one dark blue. pic.twitter.com/Y3LxLjNN2t

— OREO Cookie (@Oreo) October 11, 2020
The content encouraged viewers to watch Oreo's short film, "Proud Parent":
A loving world starts with a loving home. Watch OREO's new film #ProudParent

— OREO Cookie (@Oreo) October 8, 2020
The efforts showcase the power of storytelling to address social issues while tying in a brand mention (in this case, the brand's iconic sandwich filling) subtly and cleverly.
---
EDITOR'S PICKS
If you're not fully coherent before the first cup of coffee in the morning, you're not alone. Caffeine consumption has continued as many work from home, and whether you're preparing to return to the office or continue working remotely, boost your mood with a coffee cup that shows off your personality, values or humor.
Consider these mugs:
---
WHAT YOU SAID
We asked how far into the future you're aiming your strategies and campaigns, and nearly 64% of you are planning for 1-3 months ahead, while 18% of you take it day by day. Nearly 14% are planning for 6-12 months in the future, while almost 5% are looking at 3-6 months ahead:
How far into the future are you planning your campaigns and strategies?

Share with us your thoughts for planning and adjusting amid COVID-19 and other crisis below, and we'll share in Monday's #DailyScoop.

— PR Daily (@PRDaily) October 9, 2020
Is there a question you'd like us to ask in an upcoming poll? Let us know!
---
SOUNDING BOARD
Which area could use the most help (by strengthening your skills, securing more budget, etc.)?
On your team/in your organization, which area could use the most help (by strengthening your skills, securing more budget, etc.)?

Share your thoughts with us below, and we'll share in tomorrow's #DailyScoop.

— PR Daily (@PRDaily) October 12, 2020
Share your insights below and under the hashtag #DailyScoop. We'll share in tomorrow's roundup.
Editor's note: Ragan Communications may earn a commission through our affiliate partnerships when purchasing items in our content.
COMMENT