Microsoft loses TikTok bid, Amazon to hire 100,000 employees, and Peeps won't be on shelves for holidays
Also: The conundrum of long-term branding strategies, print publications' decline accelerates during COVID-19, Instagram might charge for links in descriptions, and more.
Hello, communicators:
Marketing cartoonist and author Tom Fishburne recently tweeted about the conundrum of measuring long-term branding efforts. Though the cartoon is meant for marketers, PR pros can also relate:
"Sales Impact of Advertising" – new cartoon and post on the tension between long-term brand building and short-term direct response https://t.co/QRoPB73ZBG#marketing #cartoon #marketoon pic.twitter.com/TMKRDogL17

— Tom Fishburne (@tomfishburne) September 13, 2020
Communicators, how do you help set expectations for your efforts? Share with us under the hashtag #DailyScoop.
Here are today's top stories: 
Microsoft loses bid for TikTok
As the deadline for the social media app to announce a partner or sale in the United States fast approaches, Oracle seems to be the remaining frontrunner.
On Sunday, Microsoft released this terse statement:
ByteDance let us know today they would not be selling TikTok's US operations to Microsoft. We are confident our proposal would have been good for TikTok's users, while protecting national security interests. To do this, we would have made significant changes to ensure the service met the highest standards for security, privacy, online safety, and combatting disinformation, and we made these principles clear in our August statement. We look forward to seeing how the service evolves in these important areas.
Even though Microsoft will no longer potentially purchase or partner with TikTok's parent company, Byte Dance, Walmart said it's still interested.
"Walmart continues to have an interest in a TikTok investment," the retail giant said in a statement on Sunday. "We know that any approved deal must satisfy all regulatory and national security concerns."
Why it's important: The future of TikTok has been on the minds of communicators across industries, especially as a partnership could change branding and marketing offerings—just as a U.S. ban on the app could cut off the opportunity to reach the app's millions of users, many of which are coveted Gen Z consumers.
---
SOCIAL BUZZ
Protocol editor Mike Murphy reported a Facebook patent application that would enable Instagram users to pay for links within their captions:
Here's a thing: would you like to be able to put links in your Instagram captions? What about for $2 ? https://t.co/mMxCC0wCch

— Mike Murphy (@mcwm) September 13, 2020
This, of course, has long been one of the biggest complaints about Instagram: that if you want to include a link to a story, product, or anything else in your post you can't add URLs to captions of photos. Most people go the "link in bio" route, and verified Insta users can add links to Stories. The question here will be whether Instagram influencers, brands, and other users will be willing to pay a per-link fee. But it seems like a no-brainer to generate revenue for Instagram if this goes into effect.
Neither Facebook nor Instagram have announced the feature or testing for it, but PR and marketing pros should keep their eyes open for future ad offerings as well as best practices on Instagram. That way, you can best leverage your content to drive traffic and action, whether you're an advertising partner or going the organic social media route.
---
MEASURED THOUGHTS
In its report titled Global Entertainment & Media Outlook 2020-2024, PricewaterhouseCoopers reported that newspaper and consumer magazine circulation revenue has been steadily declining, and the COVID-19 crisis has caused it to slump even more.
"Global revenue will fall by 14.3% in 2020, with consumer magazines to be hit hardest," PwC wrote.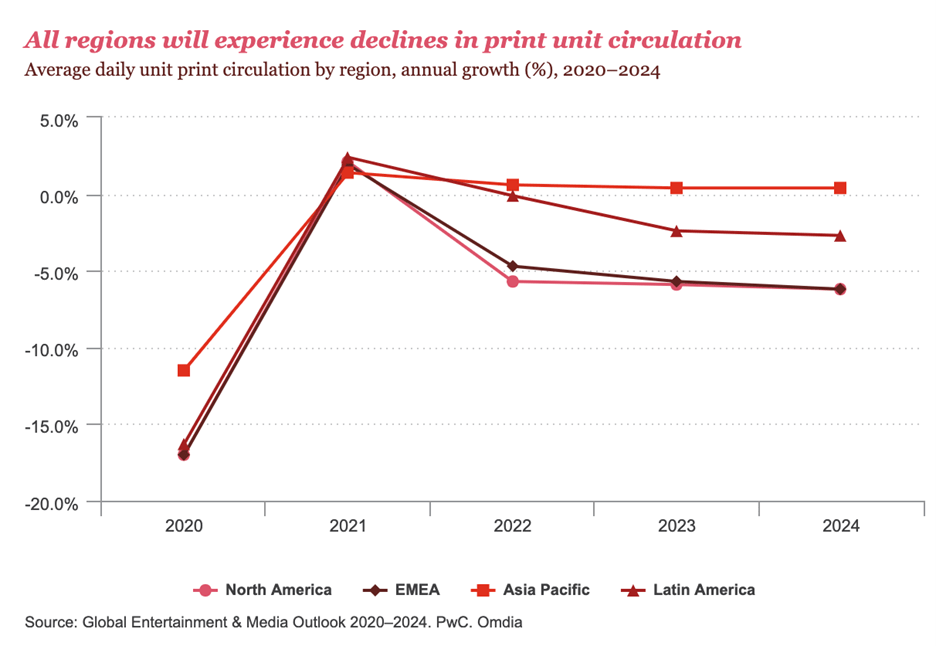 Digital publishers and social media platforms have become print media's biggest competitors, so if you haven't already started shifting your content and thinking of ways to cater to digital-first audiences, you might want to add that to your next brainstorm session.
You can read the entire report here.
---
CRISIS LEADERSHIP NETWORK
Looking for more insight on how to address the current global crisis and lead your organization into a strong recovery?
Join Ragan's Crisis Leadership Network to network and brainstorm with peers, get the latest intelligence and research and start to strategize for the future of your organization.
Learn more about this exclusive membership here. 
Amazon to hire 100,000 workers
The e-commerce company said it's entering another hiring spree to keep up with consumers' shifting behavior and the rise of online shopping during COVID-19 and beyond.
The world's biggest online retailer said the positions are for full and part-time work in its home country and Canada, and these will include roles at 100 new warehouse and operations sites it is opening this month. The Seattle-based company employed 876,800 people as of June 30, excluding contractors and temporary personnel.
The news reflects Amazon's constant need for labor to pick, pack and ship products to shoppers' doorsteps, with a 40% revenue rise last quarter and the biggest profit in the retailer's 26-year-history.
Why it's important: Whether you're hiring employees or announcing furloughs and layoffs, remain as transparent and supportive in your communications as possible. Don't delay such announcements, but instead, build into your company culture an atmosphere of trust and two-way communication. Don't forget that your employees' behaviors have changed just as your consumers' have, so tailor your messages to them as well.
---
TAKE OUR POP QUIZ
Embracing inclusive language is at the heart of effective diversity and inclusion efforts, but do you have blind spots when it comes to which words and phrases you should or shouldn't include?
Test your inclusive language knowledge in Ragan's D&I Pop Quiz. Sponsored by Yammer and Workplace from Facebook, your answers to this quick five-question test might surprise you.
As thanks for taking it, you'll get $100 off registration to The Communicator's Role in Diversity, Equity & Inclusion virtual conference, Sept. 17-18. Results will be shared at the event, and your answers will be confidential and anonymized.
---
TACTICALLY SPEAKING
Peeps in the shape of pumpkins, Christmas trees and more won't be on shelves this year, due to COVID-19 halting production.
"In early May, we resumed limited production after making extensive changes in our plant that ensure the safety of our associates," Just Born said in a statement.

"This situation resulted in us having to make the difficult decision to forego production of our seasonal candies for Halloween, Christmas and Valentine's Day in order to focus on meeting the expected overwhelming demand for Peeps for next Easter season."
The problem affecting Peeps' parent company, Just Born, is one hitting many brands. If you fall into this category, be up front and transparent about your offering changes, along with what consumers can expect next.
Then, take a nod from the marshmallow candy's brand managers and focus on providing useful content, such as recipes:
For a treat that really POPS with PEEPSONALITY, try these fun Summer Push Pop PEEPS! ☀️🐰 https://bit.ly/PEEPSSPP

Posted by PEEPS on Wednesday, May 27, 2020
---
SOUNDING BOARD 
As consumer and employee behaviours have changed during COVID-19, have your social media strategies changed as well?
As consumer and employee behaviors have changed during COVID-19, have your social media strategies changed as well?

Share with us your insights and experiences below and we'll share in tomorrow's #DailyScoop.

— PR Daily (@PRDaily) September 14, 2020
Share with us your insights and experiences below and under the hashtag #DailyScoop.
Is there a question you'd like us to ask in an upcoming poll? Let us know!
COMMENT