Minneapolis cancels plans to use social media influencers ahead of George Floyd trial, brands tweet for Golden Globes, and 77% of 'outperforming' CEOs say workplace wellness is crucial
Also: Arby's takes aim at McDonald's with new fish sandwich, Brazo Electric Power files for bankruptcy, Apple and Target team up to attract more consumers, and more.
Hello, communicators:
Step aside, participants of fast food's "chicken sandwich wars."
Arby's is striking out against competitor McDonald's with its new "Crispy Fish" offering. It's offering consumers a check for $3.79 if you "feel like you've ever settled for a Filet-O-Fish":
If you feel like you've ever settled for a Filet-O-Fish, Arby's wants to give you a check for $3.79 to try Arby's Crispy Fish. Apply for your check today at https://t.co/tSfYznJOCp. #ArbysFishCheck pic.twitter.com/xmUDMpKFo6

— Arby's (@Arbys) February 28, 2021
"Currently the home of the best fish sandwich in the quick-service industry, Arby's felt obliged to make things better for anyone who has accepted a square-shaped fish sandwich," the fast food chain said in a press release.
The move is a cheeky PR and marketing stunt that plays off the multitude of headlines and social media conversations about chicken sandwich offerings from Popeye's, Chick-fil-A, McDonald's, Wendy's and Burger King.
Here are today's top stories:
Minneapolis drops plan to use influencers ahead of former police officer's trial
According to The Minnesota Reformer, the city planned to hire "trusted messengers" with large social media followings to share messages during the upcoming trial of Derek Chauvin, the former Minneapolis police officer charged with second-degree murder in the May 2020 killing of George Floyd.  Each influencer would get paid $2,000.

On Monday, it dropped those plans following public criticism. The local Fox affiliated reported:
"We will not pursue the cultural social media partners," said City of Minneapolis Director of Neighborhood and Community Relations David Rubedor.
"When we make a mistake, we will acknowledge that and we will do better," City Coordinator Mark Ruff added.
Why it's important: The city took swift action and changed gears by listening to its audience. Earning positive sentiment from your community in such a public crisis must be earned. Safety preparations and crisis communications are well underway as the city and its organizations prepare for more protests and crises. Communicators across organizations and locations should prepare now to potentially pause PR and marketing campaigns or silence social media feeds if necessary. "Jury selection begins March 8 with opening statements March 29," the Associated Press reported.
---
CRISIS COMMUNICATIONS
Brazo Electric Power Cooperative, the largest of its kind in Texas, filed for Chapter 11 bankruptcy protection on Monday, after a winter storm left more than 4 million residents without power for several days, sparking a public health crisis as Texans scrambled to stay warm amid freezing temperatures. 
The company in court documents says it received an essentially unpayable $1.8 billion bill from the Electric Reliability Council of Texas, the entity that maintains and operates much of the state's electricity grid.

… Ratepayers and politicians have criticized ERCOT's leadership for failing to prepare for the storm. In the immediate days after the record cold temperatures, customers reported exorbitantly high electricity bills. The organization is under investigation by Texas counties and the Federal Energy Regulatory Commission.

… The price for wholesale electricity was set at the maximum price of $9,000 per megawatt hour for more than four straight days. ERCOT also imposed other ancillary fees totaling more than $25,000 per megawatt hour.
---
SOCIAL BUZZ
Many brands took part in Sunday's virtual 78th Annual Golden Globes Awards, with organizations including the Hollywood Foreign Press Association, Amazon Prime Video and HBO sharing messages emphasizing diversity and inclusion:
Here's the statement made by the Hollywood Foreign Press Association at tonight's #GoldenGlobes. pic.twitter.com/3DFF8uexHg

— Golden Globe Awards (@goldenglobes) March 1, 2021
We are committed to telling the stories that deserve to be heard. Disrupting is in our DNA, and amplifying underrepresented voices is one way we #ChangeTheNarrative. pic.twitter.com/A7YkiBHIY6

— Prime Video (@PrimeVideo) March 1, 2021
Congratulations to the Golden Globes winners and nominees. We celebrate the stories nominated and awarded, but recognition is most rewarding when it reflects the diverse stories our creators bring to life. We look forward to a future with representation of not just some, but all.

— HBO (@HBO) March 1, 2021
Brand managers for Charmin, Velveeta, Doritos and Panera Bread took a humorous approach to capturing the limelight:
To all of those who came in #2 tonight, you're still #1 in our eyes. #TheGlobes

— Charmin (@Charmin) March 1, 2021
— Velveeta (@EatLiquidGold) March 1, 2021
Make ✍️ solid ✍️ gold ✍️ Doritos ✍️ for ✍️ Amy ✍️ Poehler #GoldenGlobes

— Doritos (@Doritos) March 1, 2021
"We're truly humbled and honored that our flatbread pizza is taking home a Golden Bowl for best cheese pull :,)…

— Panera Bread (@panerabread) March 1, 2021
---
CRISIS LEADERSHIP NETWORK
Looking for more insight on how to address the current global crisis and lead your organization into a strong recovery?
Join Ragan's Crisis Leadership Network to connect and brainstorm with peers, get the latest intelligence and research and start to strategize for the future of your organization.
Learn more about this exclusive membership here.
---
MEASURED THOUGHTS
IBM just published its 2021 CEO Study, which gathers insights from more than 3,000 executives and most senior public sector leaders to reveal the strategies helping them overcome unprecedented crises and challenges that organizations across industries have been grappling with over the past year, including the changing future of the workplace.
More than half of chief executives (56%) said it's crucial to aggressively pursue operational agility and flexibility in order to deal with these challenges and succeed despite rapidly shifting landscapes and consumer behaviors.
Nearly half (46%) of "outperformers" surveyed—those who "reported high revenue growth compared to their peers over the three years prior to 2020 and during 2020 itself"—said their organization's mission and purpose was essential to employee engagement, in comparison with only 30% of those from underperforming organizations: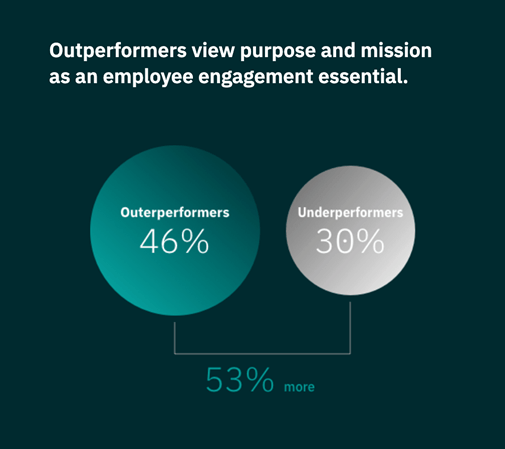 Most chief executives at outperforming organizations (77%) also said they support workplace wellness initiatives and efforts, even if it lowers profitability.
More than 50% of chief executives at underperforming organizations identify hybrid workforces as a challenge they're currently wrestling with, but they risk falling behind. Their counterparts in outperforming organization are preparing now for the future of remote work and crafting long-term strategies that support employees wherever they work.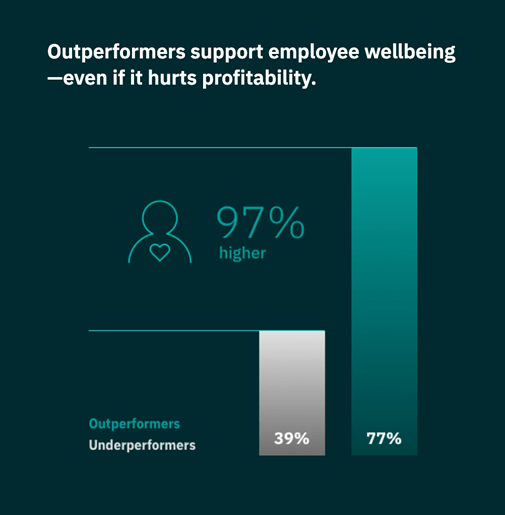 You can read the entire report here.
Apple partners with Target and Tonal opens inside Nordstrom
Apple will open mini stores within 17 Target locations, with additional stores planned for the fall. Apple products will also get special branding on Target's website.\ 
Target Chief Growth Officer Christina Hennington said the dedicated area will catch customers' eyes and make its sales floor more experiential. It will also have videos and displays that are more engaging, she said.

"When we have something that is uniquely compelling and different, whether it's in the assortment, how the experience is brought together or service—which is a big component of what we are talking about with the Apple experience—it draws our guests in, which then drives traffic, and of course sales over time," she said.

In a statement, Apple said the company looks forward to "continuing to work with Target on exciting new ways to serve customers in-store and online."
Nordstrom is also leaning on the power of partnerships with a new deal with Tonal, an at-home fitness brand that sells a workout station for nearly $3,000.
 The department store chain announced Monday that it will be adding 40 mini Tonal shops to its stores, with the rollout beginning later this month. The 50-square-foot shops will be located in Nordstrom's active department next to workout apparel and other fitness accessories. Customers will be able to demo the Tonal device and speak with a Tonal employee.
Why it matters: As consumer behaviors shift during and beyond COVID-19, communicators should lean into e-commerce efforts and digital-first content and offerings. Organizations grappling to make these changes can find success with partnerships, which can offer consumers a "one-stop" solution for the products and services they seek. Communicators can dowble down on partnerships to exchange strategies and ideas, too.
---
SOCIAL BUZZ
Facebook recently announced its "Good Ideas Deserve to Be Found" initiative, which "highlights how personalized ads are an important way people discover small businesses on Facebook and Instagram, and how these ads help small businesses grow from an idea into a livelihood."
The social network is simplifying its Ads Manager dashboard, so that brand managers can better understand which ads are working and more easily optimize their campaigns. Facebook is also waiving fees through June for any organizations selling through the platform using its "Checkout on Shops," along with waiving fees for paid virtual events through August.
For restaurants, Facebook added a "Menu" tab option for business pages, so brand managers can upload their menus and leverage Facebook's feature, "Businesses Nearby," which it hopes will increase visibility for local businesses.
In a blog post, Facebook wrote:
It's a critical time to have this conversation because small businesses are facing the greatest challenge of their lifetimes, with 47% saying they might not survive the next six months, or are unsure of how long they will stay afloat if current circumstances persist. (Facebook 2020 US State of Small Business Report) And for many, digital marketing has been a lifeline, with two-thirds of small businesses across 17 countries reporting that they started or increased their use of digital tools for marketing, and 61% reporting they expect to increase the use of these tools post-pandemic. (Deloitte Digital Tools In Crisis)
Brand managers can learn more about these features through Facebook's "Business Resource Hub" and increase visibility by adding the #DeserveToBeFound hashtag on Facebook posts.
Facebook is also hoping that this campaign can shift focus from its recent $650 million settlement from a 2015 class-action lawsuit that claimed Facebook scanned and stored users' faces for its photo-tagging feature without permission.
---
DOWNLOAD EXCLUSIVE RESEARCH
Where communications fits in an organization is a crucial element of positioning communicators to champion important campaigns, protect reputation and branding, drive key messages and influence top-level strategies.
Are your PR and internal communications teams in sync, or do you place communications and marketing together? How does your organization view its communications function—and are you working on breaking down silos for collaborated, concentrated efforts?
Take a look at how several communicators fit within their organizational workflows with our exclusive case study.
Especially as organizations adjust to remote, dispersed and hybrid workplaces during COVID-19 and prepare for the future of work, considering where your communications team sits within your organization's flow charts can affect leadership efforts and help you successfully execute campaigns and inititiaves.
---
TACTICALLY SPEAKING
Jaguar Land Rover announced in a recent investor meeting that it's cutting manufacturing capacity by 25% over five years, writing off product investments that the company is scrapping in favor of focusing on the future of electric vehicles.
JLR has promised that it'll retain all of its manufacturing facilities—it's just kind of clearing a path for future development, especially pertaining to electric vehicle production.

… This news also comes in the wake of new CEO Thierry Bollore announcing that JLR's break-even point in terms of car sales has been lowered from 600,000 to 400,000. If you have the flexibility to rework your operation, now's a good time to do it.
The carmaker will introduce six fully electric Land Rover variants in the next five years. By 2030, it expects all of its Jaguar models and 60% of Land Rovers sold to be zero-emissions vehicles.
---
WHAT YOU SAID
We asked if you've taken a stand on social justice issues this year, and all of you who weighed in said yes—with your communications efforts focusing on highlighting your organization's values:
Have you taken a stand on social justice issues this year, similar to recent moves by Oreo, Hasbro and more?

Weigh in below and reply with your thoughts, and we'll share in Monday's #DailyScoop.

— PR Daily (@PRDaily) February 26, 2021
Is there question you'd like to see asked? Please let us know under the #DailyScoop hashtag!
SOUNDING BOARD
How do you stay on top of media coverage measurement and brand mentions?
How do you stay on top of media coverage measurement and brand mentions?

Weigh in below, and we'll share in tomorrow's #DailyScoop.

— PR Daily (@PRDaily) March 1, 2021
Weigh in below or on Twitter, under the hashtag #DailyScoop, and we'll share your insights in tomorrow's roundup.
COMMENT
No Responses to "Minneapolis cancels plans to use social media influencers ahead of George Floyd trial, brands tweet for Golden Globes, and 77% of 'outperforming' CEOs say workplace wellness is crucial"
Ronald N. Levy

says:

This PR Daily report about Minneapolis focuses attention on a PR problem any of our organizations may face when trying to enforce the law: (1) if you DON'T use force, you may get killed the way a Washington cop was killed by rioters in our capitol, but (2) if you DO use force, you may kill or injure a bad guy who in truth is entitled to not be injured.

In most countries including America, police and reformers fighting crime including discrimination and harassment don't go far enough or sometimes go too far.

It's hard to feel sorry for a billionaire but Saudi Arabia's Prince Mohammed bin Salman and others have been angrily accused worldwide after Saudi security men killed a fugitive named Khashoggi who had admitted keeping hush-hush a billion dollar ripoff of the public there. But in countries where stealing from the government is accepted, government officials are rightly called crooks and dictators. When a company tolerates discrimination and harassment, the company is rightly criticized as unfair or worse. But when would-be Romeos and embezzlers are outed, the company may be faulted for why didn't you nail them sooner.

PR has a big role in preventing harm from this situation because a company doing the right thing is sometimes not enough. It can be important for PR to communicate WHY it is the right thing and—as in the case of Minneapolis—to try influencing public opinion in favor of justice. This is difficult but what choice is there?