NBC pulls back the curtain on Olympics headaches, Super Bowl ads draw intense interest, and Spotify's CEO apologizes for Joe Rogan controversy
Also: American Heart Association launches Black History Month campaign, Delta asks for federal action on violent passengers, and more.
Hello, communicators:
The American Heart Association is celebrating Black History Month and American Heart Month simultaneously with the launch of its "Reclaim Your Rhythm" campaign, an initiative focused on health equity that urges Black women to take control of their mental and physical well-being. The campaign offers several tips for using music to promote well-being  and amplifies research finding that Black people who spend their early adult years in racially segregated neighborhoods were twice as likely to develop coronary artery calcium—a predictor of heart disease—as those who lived in less segregated neighborhoods.
The campaign kicked off on Friday, Feb. 4 with radio host Sybil Wilkes hosting an event called "Check In & Check Up for your Health":
"In recognition of the physical and emotional toll the global pandemic and structural racism has taken on Black women, AHA will help empower Black women to bring to light their overall mental and physical well-being by using and uplifting their voices and sounds," the campaign's description reads. "Reclaim Your Rhythm will also use music to get their hearts pumping, or to rest or relax."
This campaign demonstrates how an organization can stay true to its mission and core focus while leaning into a timely cultural conversation. Hear more about how this campaign came to be when American Heart Association director of communications Tresa Chambers and Ragan director of strategic programming Justin Joffe chat about AHA's internal and external DE&I work during Ragan's DE&I Summit for Communicators on Feb. 9.
Here are today's other top stories:
NBC Sports shares strategy for navigating winter Olympics challenges
NBC executives, producers and past anchors spoke to The New York Times about its strategy for broadcasting the 2022 Winter Games in Beijing, China. The network faces mounting challenges including broadcasting a spectator-free event, working with anchors broadcasting remotely from the US, dealing with athletes testing positive for COVID-19 and pressure to address rising tensions around China's record of human rights abuses.
This past December, President Biden announced a diplomatic boycott and said that no government officials from the U.S. would attend the games.
"The good news, if there is good news, in dealing with live sports in a pandemic, is we have a ton of experience at this point," said Pete Bevacqua, the chairman of NBC Sports. "Think about the last two years across our portfolio. We have become skilled out of necessity. Certainly there are challenges, and certainly there are harsh realities. But I think the beauty of sports and the beauty of Olympic sports is really needed right now more than ever, and that's the story we want to tell."

"My friends and colleagues at NBC have been dealt the worst hand imaginable," said Bob Costas, who served as the network's Olympics prime-time host for more than two decades. "The circumstances put an inevitable damper on the whole thing," Mr. Costas said. "The average person now fully understands the nature of the Chinese regime. It's not something that just news nerds are aware of. This is broadly understood."
Why it matters:
As NBC's Winter Games broadcast follows the challenges that came from airing the Summer Games in Tokyo last year, Bevacqua's words about acclimating to pandemic-era challenges illuminate the connection between the resilience of his team and the resilience of athletes.
Costas' words share the same sentiment more bluntly, emphasizing how past partners can be deployed as brand advocates and speak to your challenges with an unfiltered directness that might be considered inappropriate for your brand to use in the present moment.
---
MEASURED THOUGHTS
A new survey from HAVEN and Harris Poll found that nearly 61% of people planning to watch the Super Bowl are as interested in the ads as they are in the game itself.
While nearly half of all surveyed plan to use social media to interact during the big game, 62% of younger viewers (aged 18-44) said that social media will be their primary mode of interaction during the game, surpassing in-person conversation.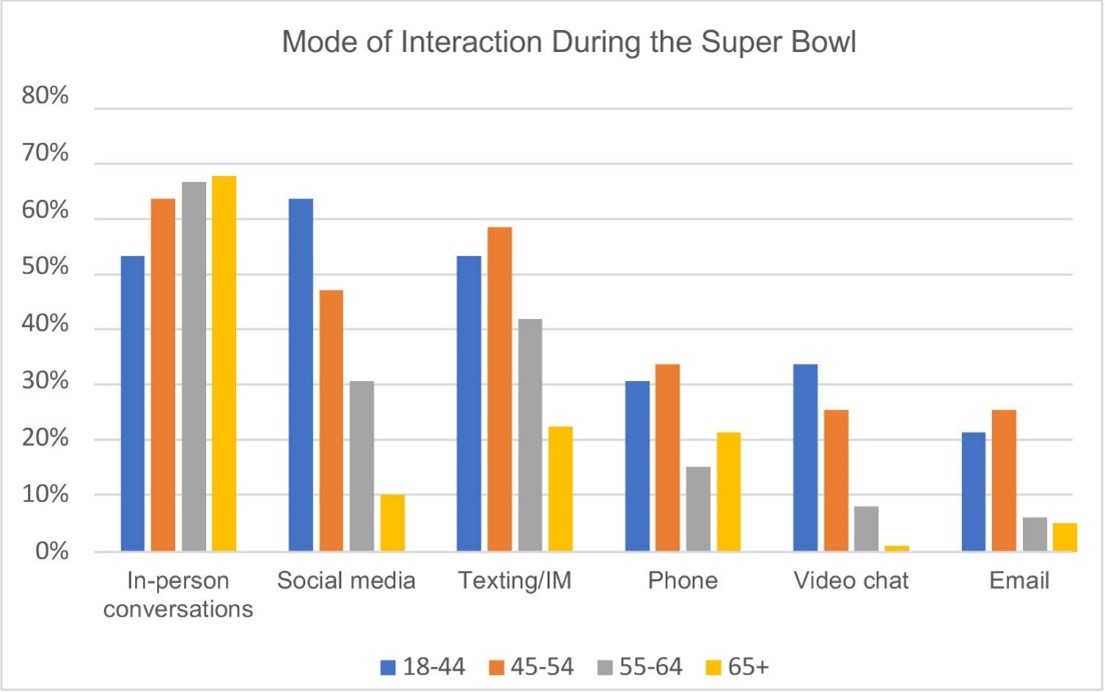 (Image courtesy of Haven/Harris Poll)
In the week leading up to the big game, these numbers emphasize how social media conversations can be more frequent than in-person conversations around the same topic—a trend that increased in the era of the pandemic when in-person gatherings are often scaled down. The numbers also suggest that younger people are more likely to be candid with their thoughts online, making a case for investing more in social listening efforts when your audiences fall in a younger age range.
Check out more from the survey here.
---
TAKE OUR SURVEY
We want to know about your career as a social media professional.
How big is your team? Are you valued at your organization?
If you're interested in helping benchmark the career path potential of social media professionals and shedding light on how social media is internally managed, viewed and evaluated, take our survey. The 2022 Social Media Career survey is a follow-up to a 2020 report by the Institute for Public Relations, Ragan Communications and the University of Florida.
Whether you're in charge of company social media or involved in social media for a client, we welcome your participation.
Respondents will receive a full report on the findings, which will also be shared on PR Daily.   Responses will remain confidential.
---
 CRISIS COMMUNICATIONS
Delta Air Lines CEO Ed Bastian sent a letter the Justice Department asking the government to prosecute disruptive passengers and place them on a federal "no-fly" list. The new list would be a departure from the current no-fly list, which the government uses to keep terrorist threats from boarding airplanes.
"In addition to the welcome increase in enforcement and prosecutions, we are requesting you support our efforts with respect to the much-needed step of putting any person convicted of an on-board disruption on a national, comprehensive, unruly passenger 'no-fly' list that would bar that person from traveling on any commercial air carrier," Bastian wrote to [Attorney General Merrick] Garland, according to a copy of the letter reviewed by CNN.

"This action will help prevent future incidents and serve as a strong symbol of the consequences of not complying with crew member instructions on commercial aircraft," Bastian said in the letter.
Bastian's statement about how a "no-fly" list would serve as a symbol to unruly passengers is also a message for hostile travelers—one shared and amplified by several digital news outlets. By communicating an escalation to the federal government, Delta also positions its brand as an industry leader by setting a public example for other airlines to join.
---
Announcing the PR Daily Leadership Network
PR Daily is launching the PR Daily Leadership Network, a unique membership group from Ragan Communications offering peer-to-peer advisory and team training along with a unique slate of resources and events to help public relations professionals break through the noise, increase their visibility and forge meaningful connections.
The Network provides daily insights and coverage on a range of topics including media relations, social media, measurement, Diversity, Equity & Inclusion, branding, thought leadership and crisis communications.
"The fast pace of change coupled with the demand on public relations professionals to protect and sometimes defend their company's reputation make it imperative for leaders to tap into the wisdom of other communicators and continue to learn and grow," says Diane Schwartz, CEO of Ragan Communications. "The PR Daily Leadership Network provides the answers but also encourages members to question the status quo and push for positive change."
Visit leadership.prdaily.com to learn more.
Spotify CEO apologizes to employees over Joe Rogan's use of racial slurs
Spotify CEO Daniel Ek apologized to employees after several past episodes of Joe Rogan's podcast surfaced wherein Rogan uses the N-word. The clips were shared by singer India Arie, who removed her music from the streaming service because she said she finds Joe Rogan problematic for the language he uses around race.
Ek said Rogan decided to remove the offensive episodes but emphasized the company has no plans to remove Rogan from its platform. Ek also said Spotify is committed to spending $100 million on music and audio content from "historically-minded groups."
The Wall Street Journal reports:
"There are no words I can say to adequately convey how deeply sorry I am for the way 'The Joe Rogan Experience' controversy continues to impact each of you," Mr. Ek said to Spotify staffers on Sunday, referring to Mr. Rogan's podcast. "Not only are some of Joe Rogan's comments incredibly hurtful, I want to make clear that they do not represent the values of this company. I know this situation leaves many of you feeling drained, frustrated and unheard."

"While I strongly condemn what Joe has said and I agree with his decision to remove past episodes from our platform, I realize some will want more. And I want to make one point very clear—I do not believe that silencing Joe is the answer," Mr. Ek said. "We should have clear lines around content and take action when they are crossed, but canceling voices is a slippery slope. Looking at the issue more broadly, it's critical thinking and open debate that powers real and necessary progress."
Rogan issued his second Instagram apology in under a week to address the clips, claiming that "I know that to most people there's no context where a white person is ever allowed to say that word, never mind publicly on a podcast, and I agree with that now."
What it means:
Spotify released its platform rules to the public last week after several musicians, led by Neil Young, removed their music from the service to protest Rogan's podcast which they said spread misinformation about COVID-19. A review of those platform rules specifically forbids "content that incites violence or hatred towards a person or group of people based on race, religion, gender identity or expression, sex, ethnicity, nationality, sexual orientation, veteran status, age, disability or other characteristics associated with systemic discrimination or marginalization."
While the policy does not reference racial epithets specifically, it does include "dehumanizing statements about a person or group" among the criteria that merits content removal. In one of Rogan's episodes, he compares walking through a Black neighborhood to walking through a scene from "The Planet of the Apes"—an example of a clear violation of Spotify's stated rules.
Ek's insistence that Rogan took down the offending episodes on his own, rather than Spotify remove them itself, allows Rogan to appear as the final arbiter rather than showing Spotify as a steward of its platform enforcing its guidelines.
COMMENT