NBCUniversal breaks 'perceived silence' on Golden Globes' diversity issues, Disneyland shares safety precautions ahead of reopening, and Honda talks production plant shutdowns
Also: Brands promote purpose initiatives on St. Paddy's Day, creative comms weigh in on the necessity of a kickoff meeting, Walmart to offer digital vaccination records, and more.
Hello, communicators:
The IRS announced yesterday that it is extending that tax filing deadline to May 17, 2021, a decision made in order to allow filers more time to figure out more complicated tax returns exacerbated by COVID-19.
"The various coronavirus relief programs created over the last year, including the bill signed into law just last week, have resulted in a large amount of extra paperwork for taxpayers this year and have required tax preparation firms to constantly update their systems, Sen. Mike Crapo of Idaho shared is a statement reported by CNN.
After a year when communicators have had to practice greater flexibility with changing plans and procedures, the IRS' extended deadline reminds us that there's nothing wrong with changing timelines, protocols and procedures in order to play catch up and realign stakeholder expectations. It is important, however, that those changes are communicated with as much lead time as possible.
NBCUniversal breaks 'perceived silence' on Golden Globes' diversity issues
The Hollywood Foreign Press Association (HFPA), the organization behind The Golden Globes, has come under increased scrutiny in recent weeks for the lack of diversity among its 87 members, which has not had a Black member in 20 years.
This week, more than 100 powerful entertainment publicists sent an angry letter to the HFPA that threatened to cut off access to their star clients if substantial changes aren't made to the HFPA's membership. In response, the organization announced that it would hire a DE&I expert and attempt to recruit Black journalists, and others from underrepresented backgrounds, to join its ranks.
The Hollywood Foreign Press Association… denied requests to hold press conferences for three major projects with Black-led casts in recent years, including "Bridgerton," "Girls Trip" and "Queen & Slim," individuals close to the projects told TheWrap.

All three projects submitted requests through their studio or streaming distributor to hold press conferences with the 87-member organization and were turned down for lack of interest or other reasons, according to individuals close to each project. None wound up receiving a single Globe nomination.
NBCUniversal, which has aired The Golden Globes for 25 years, had been silent on the scandal up until this week.
The Los Angeles Times reports:
In an interview with The Times, NBCUniversal Executive Vice President and Chief Diversity Officer Craig Robinson responded to the criticism and said the network has spent the last three weeks working behind the scenes in collaboration with its two partners—the HFPA and Dick Clark Productions.

"Our perceived silence on this should not be equated with apathy or a lack of concern," Robinson said. "We are taking these issues very seriously, and we also understand our role and the importance of our role in encouraging HFPA to make what we deem to be necessary changes—and we are using that influence."
Why It Matters:
When a brand or organization is embroiled in major crisis, all stakeholders must take responsibility and be aligned on a consistent communication strategy. Perceived silence in addressing to a partner's crisis will always be equated with apathy or lack of concern, especially when your brand or organization has a large platform. If there's work going on behind the scenes to rectify a publicly-known issue, share that work externally in an authentic, non-opportunistic way.
---
TACTICALLY SPEAKING 
Walmart announced a new initiative to provide its customers with digital health data, including vaccination records.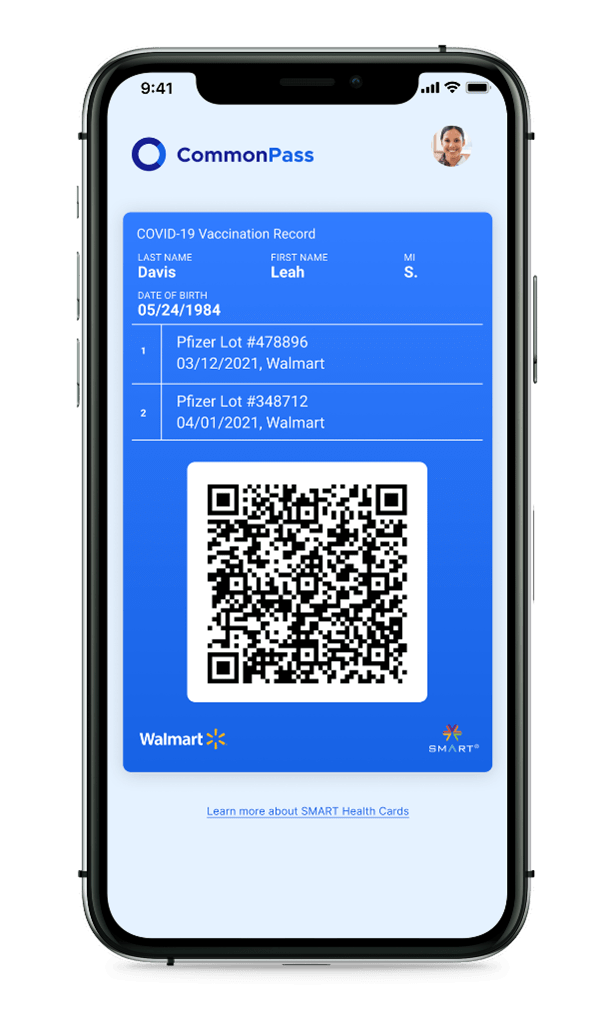 Image courtesy of Commons Project
"Our goal is to give customers vaccinated at Walmart free and secure digital access to their vaccine record and enable them to share that information with third parties seeking to confirm their vaccination status," said John Furner, CEO and President, Walmart U.S. "We are proud to be the first retailer to strategically partner with both The Commons Project Foundation and CLEAR, and we look forward to working with them to empower people with digital access to their vaccination records so they can use them whenever and however they choose."
"Walmart is the first huge-scale administrator of vaccines that is committing to giving people a secure, verifiable record of their vaccinations," said Paul Meyer, the chief executive of the Commons Project Foundation, a nonprofit in Geneva that has developed health passport apps. "We think many others will follow."
As the world starts to rebound from COVID-19, offering whatever resources or tools you can remains the most genuine way to built lasting relationships with stakeholders, offering them help that will not soon be forgotten. If your brand or organization is able to take the lead on any similarly bold innovations, always tie the work back to your audience and customers, making sure that they are the "why" informing that work.
---
SOCIAL BUZZ
Brands celebrated Saint Patrick's Day yesterday with a slew of social media posts. Some used their visibility during the holiday in order to plug purpose-driven partnerships:
We might not be marching this St. Patrick's Day, but we Irish look at the silver linings, not the clouds. Raise #AToastTo our frontline and essential Heroes, as we donate $600,000 to @TeamRubicon and organizations fighting food scarcity. See https://t.co/kC7gy0B2vE for more. 1/2 pic.twitter.com/fqw6CfbNGX

— Guinness US (@GuinnessUS) February 26, 2021
Others noted how the holiday traditionally fostered a sense of connectivity that people are missing this year, plugging their product while pledging that the celebrations would soon return:
Traditionally speaking, St. Patrick's Day is about joining in, wherever you are. Traditionally speaking, there wasn't much tradition to 2020. https://t.co/PwJ0QbGSwt#jamesonjoinin #jamesonconnects pic.twitter.com/ViYPpSXuKf

— Jameson Whiskey (@jamesonwhiskey) February 24, 2021
Irish Spring soap made light of the shrunken bar scene with a pun:
#HappyStPatricksDay 🧼🍀 pic.twitter.com/RR2rI3TBfP

— Irish Spring (@IrishSpring) March 17, 2021
NASA got in on the celebration, and shouted out the International Space Station, with a shot of Ireland from 250 miles up:
Happy #StPatricksDay! ☘️ Similar to finding a four-leaf clover, capturing this shot of the southern end of the Emerald Isle on a clear day from the @Space_Station took a bit of luck — just ask @AstroDrewMorgan! pic.twitter.com/fPb4gGnot0

— NASA (@NASA) March 17, 2021
Verizon's Careers account used the holiday as an opportunity to plug its Dublin office and the work that it does:
We're feeling lucky! And it's all because of our amazing team members around the globe – including Ireland. Did you know Verizon's Dublin office is a Global Strategic Center of Excellence and a Fleetmatics hub? Learn more from @Padraigcarroll2. #vzcareers https://t.co/oCQnZXrbRG pic.twitter.com/ubmjcCXu74

— Verizon Careers (@VerizonCareers) March 17, 2021
All of theses posts serve as a reminder that holidays and omnicultural moments offer ample ways for your brand or organization to craft timely, clever campaigns that tie back to your key messaging. Whether a certain event is incorporated into your communications strategy should ultimately depend on how holistic the tie-in will appear. Don't force it.
---
CRISIS LEADERSHIP NETWORK
Looking for more insight on how to address the current global crisis and lead your organization into a strong recovery?
Join Ragan's Crisis Leadership Network to connect and brainstorm with peers, get the latest intelligence and research and start to strategize for the future of your organization.
Learn more about this exclusive membership here.
---
MEASURED THOUGHTS
InMotionNow and InSource released a report on the management needs of creative teams in 2021, revealing that half of those surveyed said their creative teams do not have a comprehensive and collaborative project kickoff.
Image courtesy of InMotionNow and InSource.
Among the other half of teams that do have a kickoff, 84% cited the benefit of creatives getting the chance to meet with stakeholders from the outset of a project, while 77% cited the kickoff as an opportunity to develop processes for rushed and fast-tracked projects.
In this time when communicators must be especially nimble, these insights remind us that having a coordinated kickoff from the outset is not only a smart idea, but crucial to executing accelerated efforts with accuracy and maximum stakeholder buy in.
You can read the entire report here.
---
CRISIS COMMUNICATIONS 
Japanese auto manufacturer Honda announced that supply chain issues will force almost all of its U.S. and Canadian plants to cease production for a week.
The Japanese automaker added the issue will result in some production cuts next week at all U.S. and Canadian plants, citing "the impact from COVID-19, congestion at various ports, the microchip shortage and severe winter weather over the past several weeks."

Some U.S. and Canadian plants are expected to have smaller production cuts next week, but a spokesman for Honda added "the timing and length of production adjustments could change."
When unforeseen circumstances affect your deliverables, sharing details that explain why go a long way. Communicate what you don't know, as overconfidence in the face of risk will only lead to contradicting yourself later should your predictions not come true. Lastly, take care of your employees first and foremost by offering them resources to lessen the impact of the news.
Disneyland communicates safety precautions ahead of reopening
Disneyland announced an opening date of April 30 for its California theme parks yesterday, communicating a litany of new protols and procedures that the parks will undergo in order to maximize guest safety amid COVID-19.
New California state guidance allows amusement parks to reopen starting April 1 with 15% to 35% capacity, depending on the prevalence of the virus in each park's locality. Masks, social distancing and temperature checks will be required, along with reservations currently available only to California residents. Disney CEO Bob Chapek said that both California parks will operate at or around 15% capacity to gauge the effectiveness of its measures.
"We've seen the enthusiasm, the craving for people to return to our parks around the world," Chapek told CNBC's Julia Boorstin. "We've been operating at Walt Disney World for about nine months, and there certainly is no shortage of demand."

"I think as people become vaccinated, they become a little bit more confident in the fact that they can travel, and, you know, stay Covid-free," he added. "Consumers trust Disney to do the right thing, and we've certainly proven that we can [open] responsibly, whether it's temperature checks, masks, social distancing, [or] improved hygiene around the parks."
Disney's California parks have been closed for over a year, and the "House of Mouse" is banking on its positive reputation for preserving the integrity of guest experiences in order to ensure that the brand doesn't suffer any bad press akin to the hit it took upon Disney World's reopening this past July, when Florida was in the midst of record numbers of COVID-19 cases.
Since then, Disney World has effectively hosted the NBA season in a "bubble" at its Grand Floridian hotel and spa, demonstrating that the parks are capable of maintaining safety at a large scale. California's decision to only accept reservations from in-state guests is an escalation from Florida's policy, which does not deny reservations to any guest based on where they are traveling from.
Why it matters:
As businesses reopen to the public and real-life interactions resume, there will be no shortage of unforeseen variables and procedural tweaks necessary in order to navigate the transition. Don't be afraid to remind stakeholders of your brand reputation (assuming its positive), and use that reputation as a a guidepost to hold yourself, and your company, responsible to the standards it strives to maintain.
---
CONFERENCE ALERT
As the news cycle continues to rapidly shift and communicators grapple to create strategies that overcome content exhaustion and misinformation, it's crucial to embrace new best practices grounded in measurement, data and insights that can both build engagement and boost brand awareness.
Learn how to build stronger relationships with journalists to tell your story, and measure the results at Ragan's Media Relations & Measurement Virtual Conference on Wednesday, April 7.
Attendees will discover new and smart opportunities to overcome crisis challenges, pitch stories that reporters crave, better understand and deliver to target audiences through analytics and insights, enhance media relations efforts through the PESO model and brand journalism, prove the ROI of your efforts, and more.
Learn powerful insights and secrets from speakers at organizations including NAACP, PepsiCo, Goodwill, Pfizer, Hilton and Britannica Group.
---
WHAT YOU SAID
We asked What GIF best summed up your mood on Hump Day.
What GIF best sums up your mood this Hump Day, PR and communications professionals?

Share your spirit GIF below under the hashtag #DailyScoop. We'll share top responses in tomorrow's roundup. pic.twitter.com/phfdFleakT

— PR Daily (@PRDaily) March 17, 2021
Some of you got in on the Saint Patrick's Day spirit:
We know this isn't a GIF but this is EXACTLY how we were feeling today… because it's us! Happy #StPatricksDay pic.twitter.com/QxJcYQT5cW

— Sunwest PR (@sunwestpr) March 17, 2021
Some of you channeled your ambivalence at the week not being over yet:
— James Lambert (@jameslambert504) March 17, 2021
#DailyScoop pic.twitter.com/beWWtLdU3B

— D'Eric Watson (@DEricWatson) March 17, 2021
Overall, most of you seemed committed to carrying the good vibes through to EOW:
We got this! #DailyScoop pic.twitter.com/UDlPEvPeRD

— Jade Fulce (@fulceja) March 17, 2021
— Cody Walker (@Wlkr_Tejas_Rngr) March 17, 2021
Is there a question you'd like to see asked? Please let us know under the #DailyScoop hashtag!
---
SOUNDING BOARD
What's the most overused industry jargon term, PR pros and communicators?
What's the most overused term of industry jargon, PR pros and communicators? #DailyScoop

— PR Daily (@PRDaily) March 18, 2021
Got another one? Share your thoughts under the hashtag #DailyScoop. We'll share top responses in tomorrow's roundup.
COMMENT