USPS promises reliable holiday deliveries, shoppers plan to avoid Black Friday crowds, and Twitter reacts to McDonald's Mariah Carey partnership
Also: Reynolds Wrap shares hot dog-inspired turkey recipes, Boeing takes responsibility for Ethiopia crash, and more.
Hello, communicators:
Aluminum foil manufacturer Reynolds Wrap has a history of introducing ostentatious turkey recipes around Thanksgiving, from Flamin' Hot Cheetos to Glitter turkeys. This year, the company has introduced a trio of hot dog-themed recipes influenced by various regional hot dog styles. They include a Chicago-style turkey (heavily reliant on mustard and celery salt, no ketchup involved), a New York-style turkey (with a bright red ketchup glaze and lots of onion powder) and a chili cheese-style turkey (chili rub, topped with shredded cheese and jalapenos).
Each recipe, of course, stresses the necessity of Reynolds Wrap heavy-duty foil.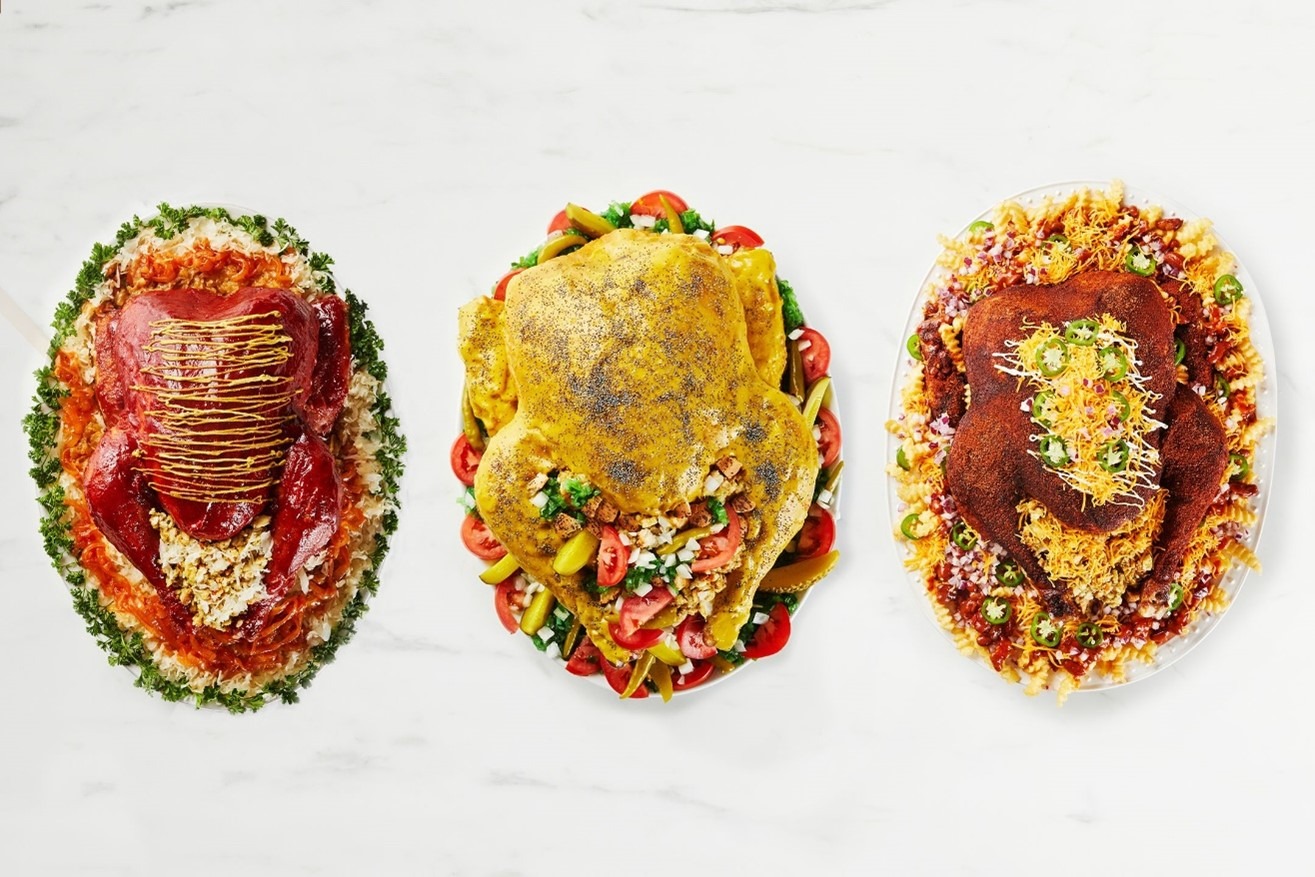 "At Reynolds Wrap, we know that people are just as passionate about how they enjoy their hot dogs as they are about their classic Thanksgiving turkey," Emanuel De Luca, consumer products senior brand manager for Reynolds, said in a press release shared with PR Daily. "So we're making this Thanksgiving the most fun yet by tapping into this passion with three Turkey Dog recipes that are sure to inspire debates as intense as whether or not a hot dog is a sandwich."
Reynolds' latest iteration of its novelty turkey recipe provides a fun example of how brand can create its own traditions around a seasonal celebration. De Luca's words about the intense debates among which hot dog variant reigns supreme also shows how your campaigns can offer a gimmick that uses an evergreen cultural debate to drive conversation about your product.
USPS postmaster DeJoy addresses concerns about holiday delivery reliability
United States Postal Service (USPS) postmaster Louis DeJoy shared updates and next steps for the USPS' controversial restructuring plan, dubbed "Deliver for America," during Wednesday's annual meeting with the Postal Service Board of Governors. The specifics of this plan focus around three tenets: committing to deliver to each address six days a week, committing to be self-sustaining and believing that the USPS will continue to be a necessary service for the American people.
DeJoy also acknowledged last holiday season's delivery woes as part of a larger COVID-19 delivery crisis, assuring stakeholders that the new plan would ensure timely deliveries.
According to USPS' transcript of DeJoy's remarks:
Regarding the peak season—I want to begin with three words—We are Ready! We set the targets early this year and immediately went to work. Rapid additions of facilities, equipment and modes of transportation, as well as significant efforts to stabilize our workforce are near complete.

I am also confident in the increased operating performance we are seeing throughout our existing network which will provide significant additional capacity. We took a long- term approach in our infrastructure requirements that will build resiliency into our operations not only for peak, but also for the future, as we begin to transform our operations.

Last year, for a variety of reasons, we were overwhelmed and were not able to meet the demands of the nation. As I stated this earlier, we are ready…so send us your packages and your mail —and we will deliver timely.
What it means:
DeJoy's confidence about the USPS' holiday delivery plans set up this upcoming season as a test of the USPS' restructuring plan, which so far has seen the biggest slowdown in mail delivery time in over a generation, including significant reduction in airmail service along with geographic limits on how far mail can travel in one day. Dejoy also hopes to reassure all stakeholders, including employees and partners, that these planned slowdowns won't undercut the USPS' core commitments.
DeJoy's reframing also illustrates how your messaging can ensure past mistakes won't be repeated by acknowledging those mistakes, aligning with those who have expressed concerns over the crisis in the past and assuring stakeholders that those mistakes won't happen again.
---
MEASURED THOUGHTS
A new study from Morning Consult found that 76% of consumers said dealing with crowds during Black Friday isn't worth it. Meanwhile, 77% said that nonessential stores should close on Black Friday to give employees the day off.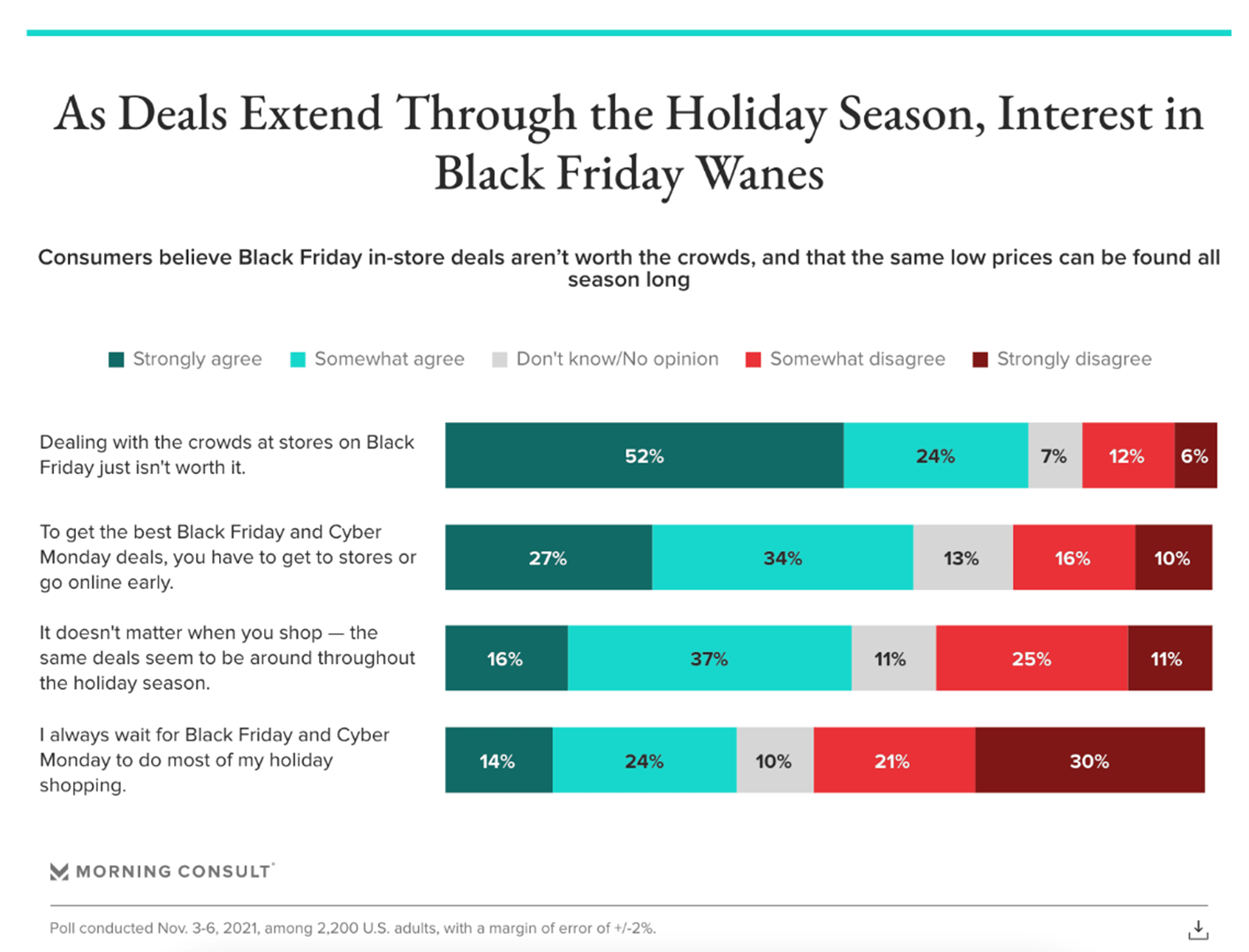 This data makes a case for rethinking your Black Friday campaigns to acknowledge the continued shift toward e-commerce and consider how your messaging about deals and sales considers your workforce. "As workers increasingly take to social media to broadcast poor working conditions, brands are becoming more cognizant of how their policies impact public perception," the study's authors write.
---
Announcing the PR Daily Leadership Network
PR Daily is launching the PR Daily Leadership Network, a unique membership group from Ragan Communications offering peer-to-peer advisory and team training along with a unique slate of resources and events to help public relations professionals break through the noise, increase their visibility and forge meaningful connections.
The Network provides daily insights and coverage on a range of topics including media relations, social media, measurement, Diversity, Equity & Inclusion, branding, thought leadership and crisis communications.
"The fast pace of change coupled with the demand on public relations professionals to protect and sometimes defend their company's reputation make it imperative for leaders to tap into the wisdom of other communicators and continue to learn and grow," says Diane Schwartz, CEO of Ragan Communications. "The PR Daily Leadership Network provides the answers but also encourages members to question the status quo and push for positive change."
Visit leadership.prdaily.com to learn more.
---
CRISIS COMMUNICATIONS
Boeing took sole responsibility for the 2019 crash of its 737 Max plane in Ethiopia in a new statement, and is agreeing to pay damages to families of the 157 people who were killed in the crash.
In a statement, Boeing offered its "deepest condolences" to the families of those who died on the flight in Ethiopia and to the families of the 189 people who were killed months earlier in a crash of a 737 Max in Indonesia.

"Boeing is committed to ensuring that all families who lost loved ones in the accidents are fully and fairly compensated for their loss," it said. "By accepting responsibility, Boeing's agreement with the families allows the parties to focus their efforts on determining the appropriate compensation for each family."
Though the acknowledgement arrives two and a half years after the crash, Boeing's statement demonstrates how taking responsibility offers closure for the affected families and puts them first. Ideally, embracing a duty of care for affected consumer in a crisis should come in your very first holding statement.
Twitter users mock McDonald's latest celebrity partnership with Mariah Carey
McDonald's announced a planned partnership with music icon Mariah Carey to launch a "Mariah Menu" next month, which will give customers using the McDonald's mobile app a free menu item through Christmas Eve with a $1 minimum purchase. Carey announced the seasonal partnership in a YouTube video and series of tweets:
all I want for christmas is to tell u the next collab

— McDonald's (@McDonalds) November 10, 2021
Carey's explanation wasn't enough to keep social media users from making jokes about the campaign after McDonald's shared a confounding promotional image that displayed Carey standing by the ocean and appeared to depict a McDonald's restaurant underwater:
Mariah's back for the holiday season and this time, she's bringing a whole menu with her pic.twitter.com/loeeSfe6k2

— McDonald's (@McDonalds) November 10, 2021
what in the climate change is happening here https://t.co/yaK7TDrsQo

— Drew Tuma (@DrewTumaABC7) November 10, 2021
imagine it's day 23 of survivor, you wake up and see this https://t.co/QeOKOeJcAO

— goob (@gabebergado) November 10, 2021
Others became amateur sleuths as they sought to decode the meaning of the image:
Mariah Carey….M C…..MC Donald's…..menu

Mariah Carey Donald's Menu.

— Coolmath Games (@TheRealCoolmath) November 10, 2021
I think this is the reference and she's not bothered because she keeps getting those coins 🤣🤪 pic.twitter.com/apVuY5SYOg

— Scarlet Bitch (@wandarlandd) November 10, 2021
Why it matters:
As the latest chapter in McDonald's' series of musician meal partnerships, the Mariah Menu embraces the singer's reputation as the Christmas Diva with holiday-themed designs and music but incorporates sillier aspects of McDonald's online brand voice with mixed results.
Because it also went too far with the deep cut reference to a Mariah ocean meme, audiences latched on to the absurdity of the campaign instead of the distinct flourishes unique to Carey. This emphasizes the importance of defining the balance between your brand voice and the brand of your influencers before you craft messaging.
COMMENT