Oil industry falls short on climate pledges, vaccine mandates split US workers and Levi's exec says she was forced out over COVID-19 views
Also: Mozilla Firefox partners with Disney ahead of new movie and more.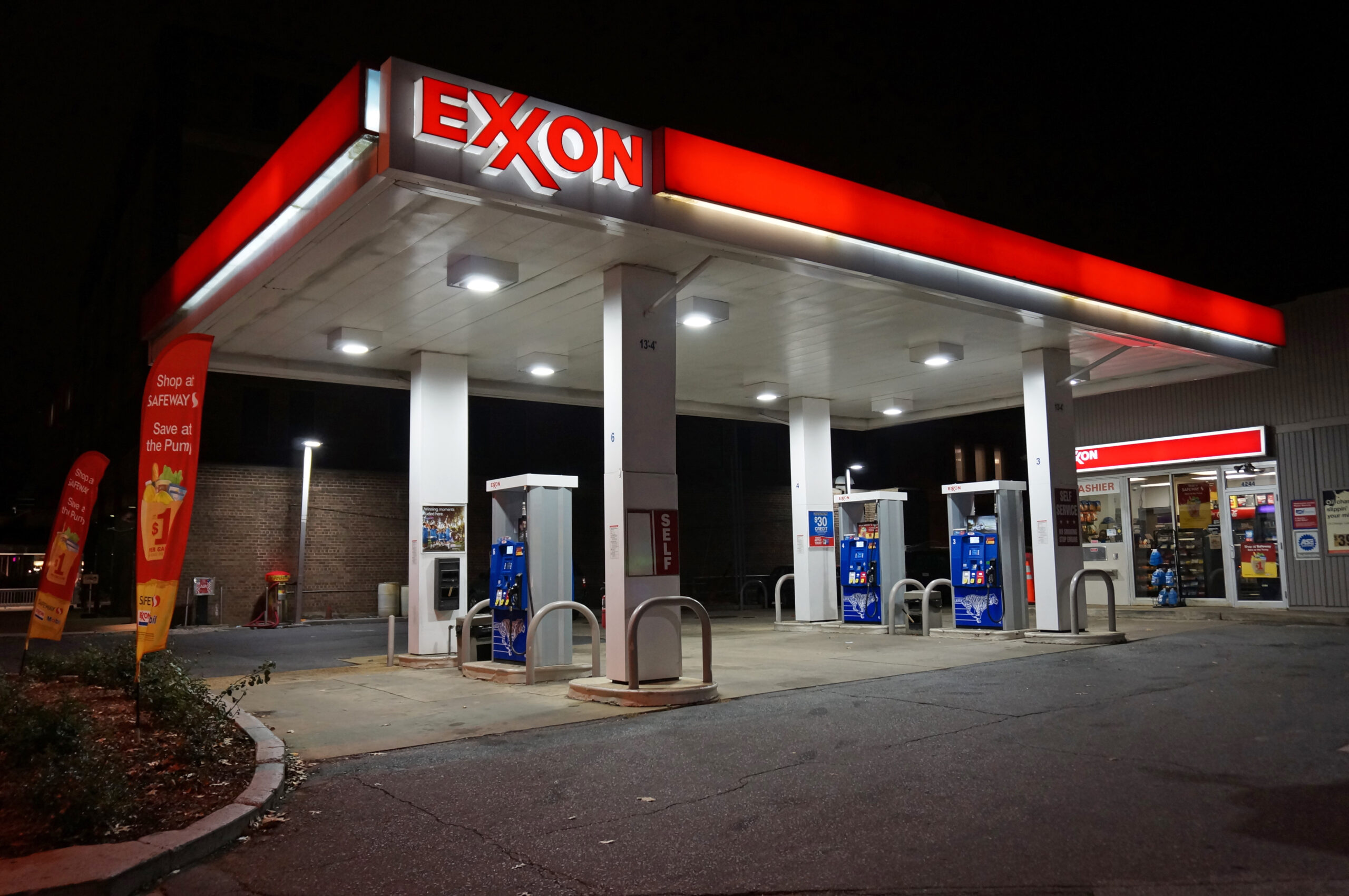 Hello, communicators:
Did you know that red pandas are often referred to as "fire foxes"?
Mozilla's Firefox team is partnering with Disney ahead of the premiere of its new animated film, "Turning Red," which tells the story of a young teen who transforms into a giant red panda whenever she feels a strong emotion. The movie is set in 2002, an important year in the history of the Firefox web browser.
Mozilla has created new Firefox desktop colorways and mobile phone wallpapers inspired by the movie, along with a landing page for "all things 2002 nostalgia."
In 2002, we were coming together for the first time to create what would become Firefox. We were looking at the internet and imagining what we wanted it to be, how we wanted to show up and how we could invite everyone to join us.

Back when Firefox was starting out, the internet felt just as unknown, exciting and scary as middle school feels for most people. Honestly, the online world still often feels unknown, exciting and scary. And that is a good thing. This has allowed Firefox to continually reinvent itself over the years, and we will continue to evolve Firefox as we grow with the world. But how we want to show up has not changed.
The campaign is an example of how your brand can use an upcoming pop culture moment to connect with wider audiences. As the competition for attention spans gets more and more fierce, partnership with others to drive awareness is a better and better investment.
Here are today's other top stories:
Study: Oil companies are all talk, no substance on climate
New research out of Japan shows that despite an increase in environment-related messaging, neither BP, Chevron, ExxonMobil nor Shell are actually on their way to a clean energy transition.
The study authors, from Tohoku University and Kyoto University, examined the four major oil companies to "comprehensively investigate the actual state of actions by oil majors to decarbonize and transition to clean energy." They say 12 years of quantitative and qualitative data from the companies shows a "mismatch" between the organizations' words, actions and investments.
The researchers said they found no evidence that the companies were investing in clean energy at a scale that would allow them to shift away from fossil fuels.

In fact, the study noted: "Glaringly, ExxonMobil generated no clean energy during the decade." BP's global renewables capacity—the largest among the four majors—amounts to only 2,000 MW, or the equivalent of about two large gas-fired power plants.
This is despite an increase in all four companies' use of terms like "transition," "emission" and "low-carbon energy," as depicted in the graph below: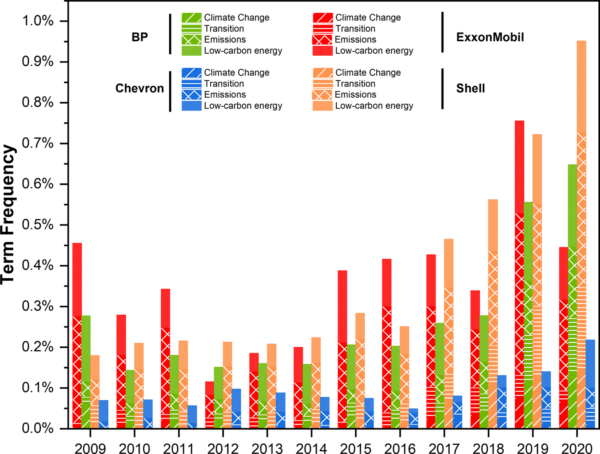 European oil companies BP and Shell were found to have taken significantly larger steps toward meeting climate goals than their American counterparts ExxonMobile and Chevron.
Over the study period, the European majors have more consistently acknowledged climate science, participated earlier in industry climate-change frameworks, adopted internal carbon pricing, spent and pledged more on clean energy, and recently set net-zero transition and energy product decarbonization goals. Trailing far behind, the American majors continuously exhibit defensive attitudes to renewables investment and the need to shift from fossil fuels, explicitly stating ambitions to grow rather than reduce hydrocarbon production.
Why it matters: PR pros know measurement is key to proving the effectiveness of your messaging strategy. But data can also reveal glaring shortfalls when comparing promises of progress to actual action, as shown in the study.
This data also comes as PR firms are facing criticism over their work for fossil fuel companies, work that critics say has helped slow the transition to a green, sustainable future and sown doubt about climate science. For organizations that want to build trust in 2022, it will be essential to have data to support claims on climate and sustainability, among other issues.
---
MEASURED THOUGHTS
A new report from Pew Research Center shows Americans are divided nearly exactly in half along partisan political lines about whether or not employers should require COVID-19 vaccines for workers. Twenty-two percent of American workers say their employer has required a COVID-19 vaccine.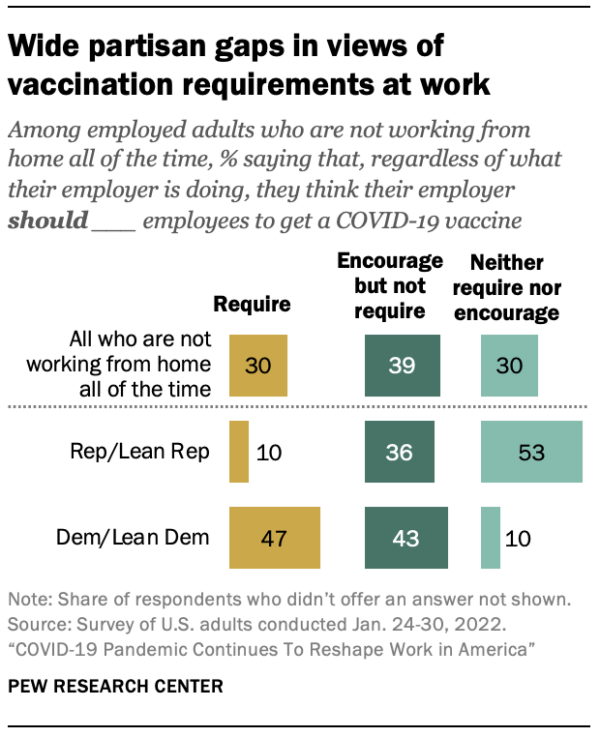 Forty-seven percent of survey respondents who identify as Democrats or leaning Democrat said employers should require employees to get the shot, while 53% of those who identify as Republicans or leaning Republican said employers should neither require nor encourage workers to get vaccinated.
This data speaks to the continued polarization of Americans about vaccine mandates in the workplace—and serves as a good reminder to PR pros that the work of explaining or defending your organization's vaccine policy isn't done yet.
Check out more from Pew Research here.
---
TAKE OUR SURVEY
We want to know about your career as a social media professional.
How big is your team? Are you valued at your organization?
If you're interested in helping benchmark the career path potential of social media professionals and shedding light on how social media is internally managed, viewed and evaluated, take our survey. The Social Media Career Survey is a follow-up to a 2020 report by the Institute for Public Relations, Ragan Communications and the University of Florida.
Whether you're in charge of company social media or involved in social media for a client, we welcome your participation.
Respondents will receive a full report on the findings, which will also be shared on PR Daily.   Responses will remain confidential.
Levi brand president Jennifer Sey speaks out after resigning post
After more than 20 years with American denim company Levi's, Jennifer Sey announced her resignation earlier this week with a lengthy blog post. She claims she was forced out over her public statements about public school closings during COVID-19.
"I wrote op-eds, appeared on local news shows, attended meetings with the mayor's office, organized rallies and pleaded on social media to get the schools open," Sey writes. "I was condemned for speaking out. This time, I was called a racist—a strange accusation given that I have two black sons—a eugenicist, and a QAnon conspiracy theorist."
After she appeared on Fox News with Laura Ingraham, Sey says she was asked to do an "apology tour": "I was told that the main complaint against me was that 'I was not a friend of the Black community at Levi's.' I was told to say that 'I am an imperfect ally.' (I refused.)"
Sey writes that her time with Levi's came to an end when CEO Chip Bergh told her it was "untenable" to stay.
What it means: Companies have the right to pick and choose their values and what they stand for, and it's not a new phenomenon for organizations to part ways with employees who don't embody those values. In this case, Levi's made a choice to stand by its commitment to COVID-19 safety in exchange for losing some top talent. There's no moral takeaway here, just a practical one: Companies often distance themselves from employees who are outspoken about issues that don't align with their public values.
---
Announcing the PR Daily Leadership Network
PR Daily has launched the PR Daily Leadership Network, a unique membership group from Ragan Communications offering peer-to-peer advisory and team training along with a unique slate of resources and events to help public relations professionals break through the noise, increase their visibility and forge meaningful connections.
The Network provides daily insights and coverage on a range of topics including media relations, social media, measurement, Diversity, Equity & Inclusion, branding, thought leadership and crisis communications.
"The fast pace of change coupled with the demand on public relations professionals to protect and sometimes defend their company's reputation make it imperative for leaders to tap into the wisdom of other communicators and continue to learn and grow," says Diane Schwartz, CEO of Ragan Communications. "The PR Daily Leadership Network provides the answers but also encourages members to question the status quo and push for positive change."
Visit leadership.prdaily.com to learn more.
COMMENT